Jacqui Irby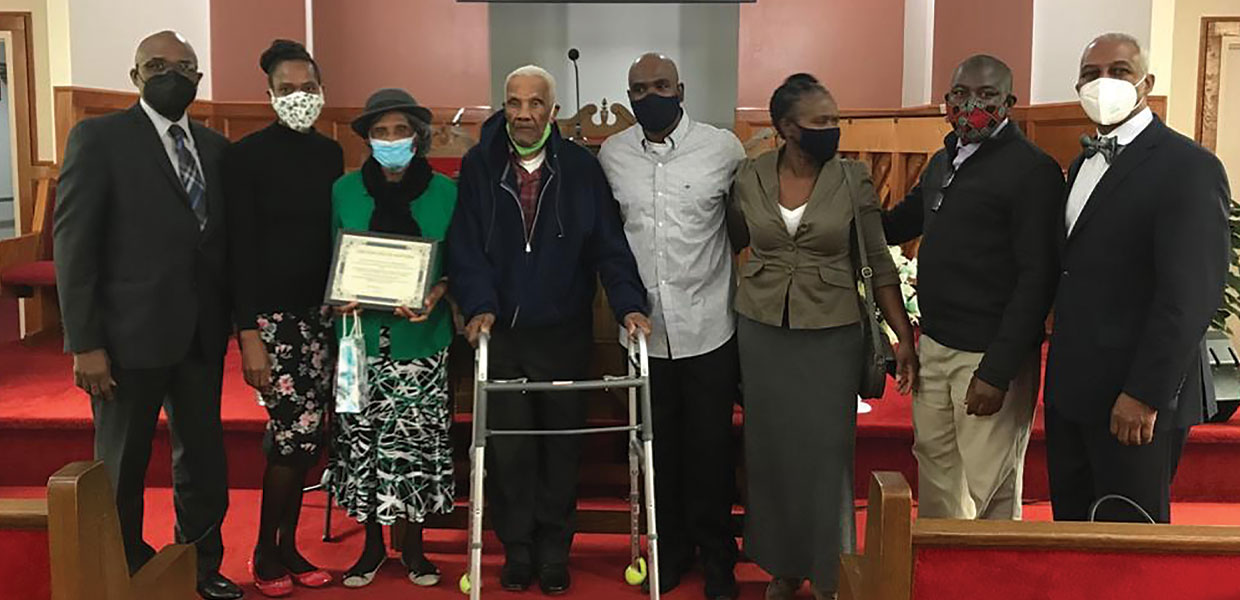 Pictured are David Long (left), pastor; Karen Weathers (the Walcotts' granddaughter); Mary Walcott; Joe Walcott; Clayton Walcott (the Walcotts' son); Bailey (the Walcotts' caregiver); Marlon Weathers (Karen Weathers' husband); and Linwood Stone, pastor.
David Long, pastor and Southern Union director of stewardship, personal ministries, Sabbath School, prayer ministries, and prison ministries, and Linwood Stone, pastor of the Tri-City Church in McDonough, Ga., had a phone conversation on April 1, 2021, that would lead to something remarkable. During that phone call, Long mentioned that he had been in communication with a church member he pastored at the Patmos Chapel Church in Orlando, Fla. That church member shared that she had a grandmother living in the McDonough area who wanted to be baptized into the Seventh-day Adventist Church as soon as possible.
Only days later, April 8, Long and Stone met with Mary Walcott, a 95-year-old Christian woman and her 101-year-old husband, Joe, who were both overjoyed at what they heard. It turns out that they had been witnessed to by Adventist caregivers, who studied the Sabbath School lessons and shared Bible truths with them, But, most importantly, they lived a life that represented Jesus. It was also discovered during the visit that the head elder of the Tri-City Church, Castor Gay, currently lives in the same neighborhood as the Walcotts, and knew them from his time living in New York.
Originally from Jamaica, West Indies, the Walcotts, have been married for 75 years, and have been blessed with 12 children, one of which lives next door to them, and several grandchildren. Mary Walcott was baptized on Sabbath, April 17, 2021. Her husband, not being able to enter the baptismal pool due to physical limitations, was brought into the Church on profession of faith.
South Atlantic | July 2021