BY shane Hochstetler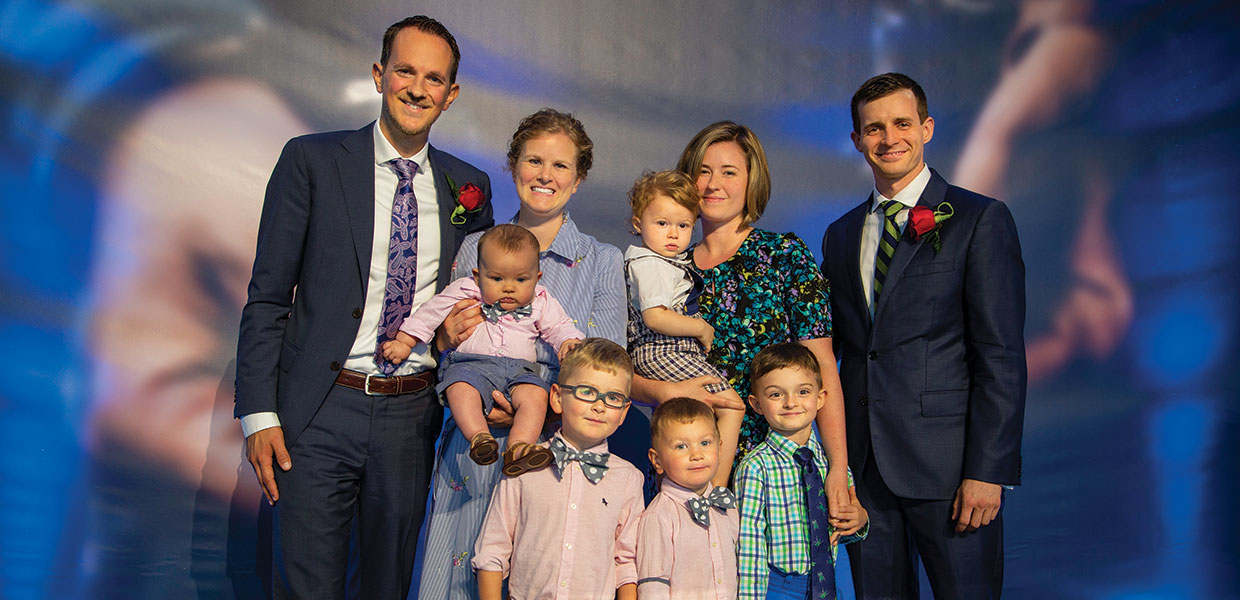 Samuel Riemersma (left) is accompanied by his wife, Amber, and sons, Isaac, Noah, and Elijah. Shane Hochstetler (right) is accompanied by his wife, Amy, and sons, Jack and Henry.
Stan Hobbs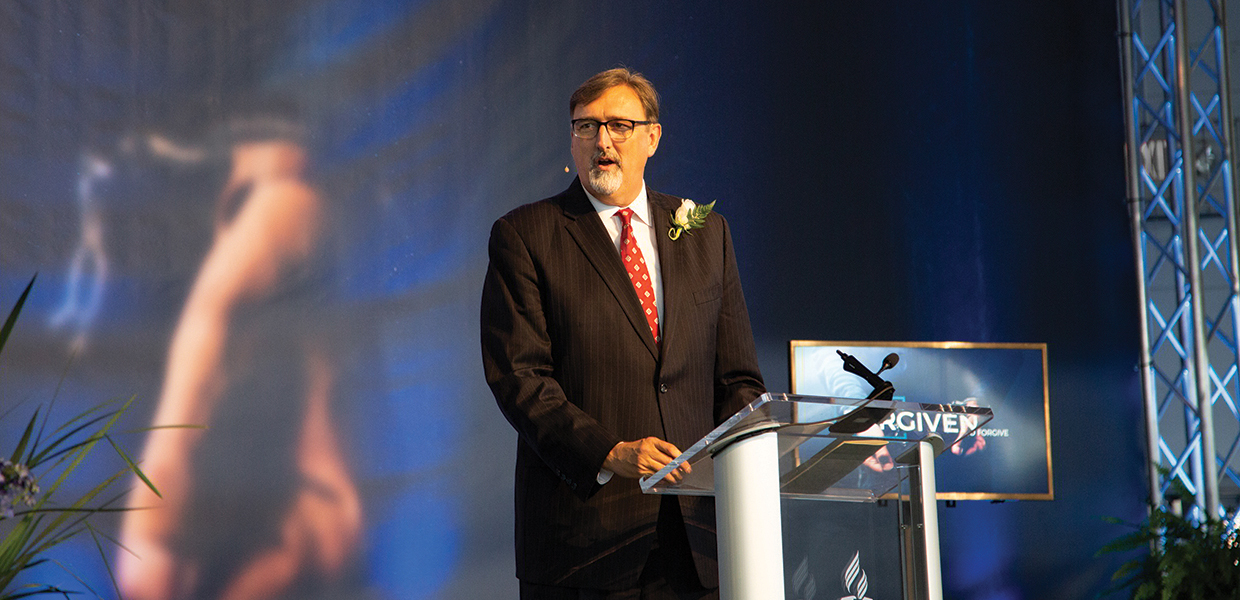 Robert Folkenberg Jr., speaks on the importance of maintaining the family as the pastor's first parish.
Stan Hobbs
Shane Hochstetler, communication director for Gulf States, and Samuel Riemersma, pastor of Community Church in Meridian, Miss. were ordained to the Gospel ministry on Sabbath, May 27, 2018, during Camp Meeting at Bass Memorial Academy.
Hochstetler was raised in a Mennonite home on the countryside of Ohio. He and his four siblings were homeschooled, and learned the value of hard work at a very early age.
At 10 years old, his family left the Mennonites, and became active members of a local non-denominational church. Having made such a significant spiritual change, Hochstetler felt sure he was now where he was supposed to be. This mindset remained until he began speaking to a young Adventist girl from his former Christian homeschool group. After several months of Bible study, Hochstetler was baptized in August 2008 at the age of 21, and married his Bible instructor, Amy, the following year.
They have two sons, ages two and five. As a family, they have served pastorally for a multi-church district, and currently in the Gulf States communication department. Their goal is to improve the representation of Christ through positive media and marketing throughout the Conference.
Riemersma was born to Dutch parents in the Netherlands. He grew up in the Dutch Reformed Church, and when he was a late teen, he and his family became Seventh-day Adventists through reading The Great Controversy, which a coworker had given to his dad. After graduating with a bachelor's in engineering in 2007 and working for a year in that field, Riemersma decided to take a year off to attend a Bible school in the U.S. called ARISE. This school was a pivotal part of Riemersma's life as he was called into fulltime Bible work ministry following graduation. He also met his wife, Amber, at ARISE, and they worked together as part of a Bible work team the following two years. After they married, he continued Bible work in New Zealand for another year.
God has blessed the Riemersmas with three wonderful and energetic boys, ages five months, three years, and four years old. As a family, they love spending time in the great outdoors, working on home projects, and serving God's Church in pastoral ministry. Riemersma recently graduated with a master's in pastoral ministry through the In Ministry program at Andrews University in Berrien Spring, Mich.
Robert Folkenberg Jr., president of the Chinese Union Mission, was the keynote speaker for the service. Folkenberg has previously served as president for the Upper Columbia Conference, and was instrumental in making way for churches to hire Bible workers there. Both Hochstetler and Riemersma served as Bible workers for Upper Columbia while Folkenberg was president. Dave Livermore, president of Gulf States Conference; Brian Danese, Conference treasurer; and Martin Fancher, Conference executive secretary, also participated in the afternoon service.
Gulf States | July 2018