BY WillieMae Peterkin Musgray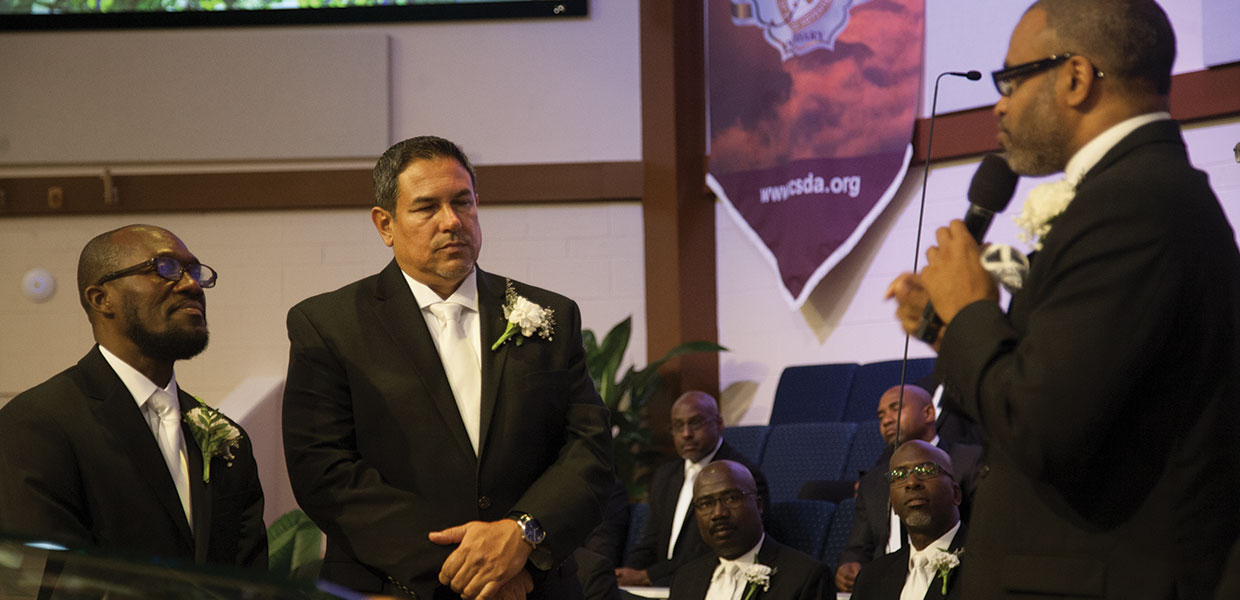 Newly ordained pastors Arnold Beauvais (left) and Rafael Ortega listen intently as they receive words of counsel from Clarence Wright (right), Southeastern ministerial director. The ordination service is one of the most sacred of all services in the life of a pastor.
Christopher Thompson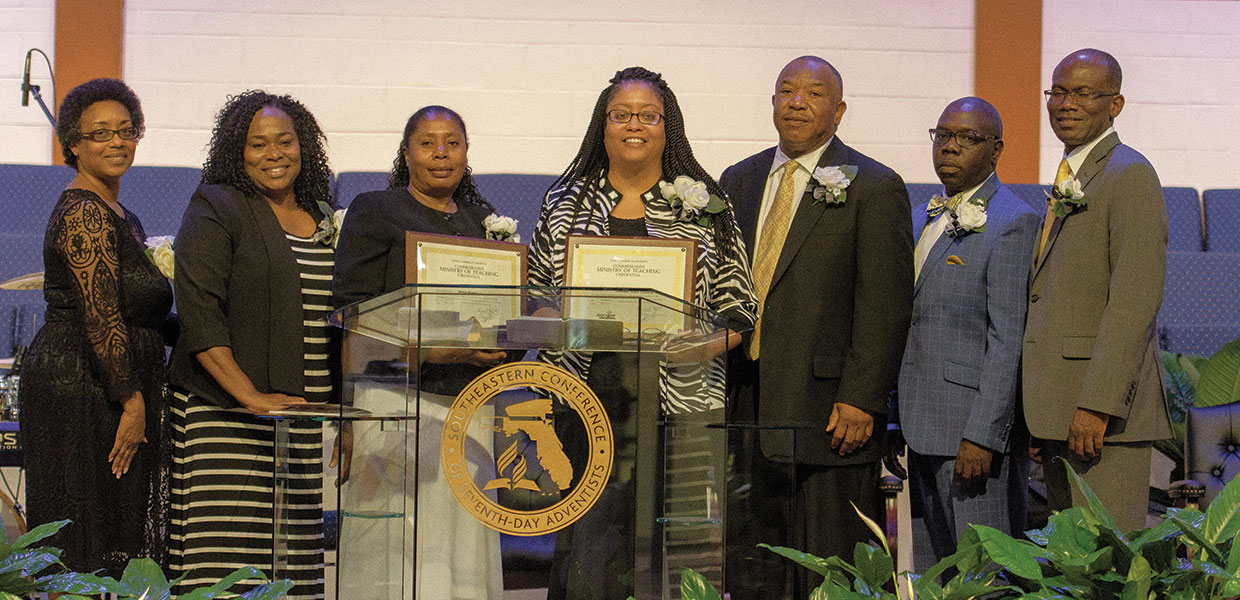 Newly commissioned teachers pose with Karen Winston (left), Southeastern Office of Education administrative assistant; Barbara Davis, Ed.D., education superintendent; Nerva Stephenson, teacher at Bethel Jr. Academy; Carolyn Pressley, teacher at Elim Jr. Academy; Gregory Mack, Conference president; Robert Patterson, Conference CFO; and Michael Owusu, D.Min., Conference executive secretary.
R. Steven Norman III
Southeastern Conference recognized two accomplished ministers through their ordination service, and two experienced teachers through their commissioning service during the 2017 Camp Meeting. Pastors Arnold Beauvais and Rafael Ortega were ordained, and Carolyn Pressley and Neva Stephenson were commissioned.
Beauvais successfully pastored 17 churches and companies. In his first assignment, the membership increased by 50 percent — growing the district membership from 1,000 to 1,500 in four years. He currently serves as the senior pastor in the district of Mahanaim Church in Naples, Fla., and Galilee Church in Immokalee, Fla.
Previously, Ortega conducted evangelistic campaigns in three different states, and was recognized by the Southern Union Hispanic Ministries Department as a leader in soul winning for Jesus. He also led the liquidation of the mortgage debt for the Silver Palms Church in Miami, Fla. He is the senior pastor of the Sheeler Oaks Church in Apopka, Fla.
The newly commissioned teachers believe it's important to keep a fresh approach in teaching God's children. Nerva Stephenson is a seasoned teacher at Bethel Junior Academy in Riviera Beach, Fla., where she enjoys teaching first grade. She wants each of her students to know Jesus as a Friend. Carolyn Pressley currently teaches at Elim Jr. Academy in St. Petersburg, Fla. In her sixth year as an educator, she commented that, "The service reaffirmed and reignited my flare for being intentional in my planning and delivery of my lessons. It's a blessing to teach … where I can openly testify about God. It's rewarding because I am preparing them for this life and the life to come."
Southeastern | September 2017