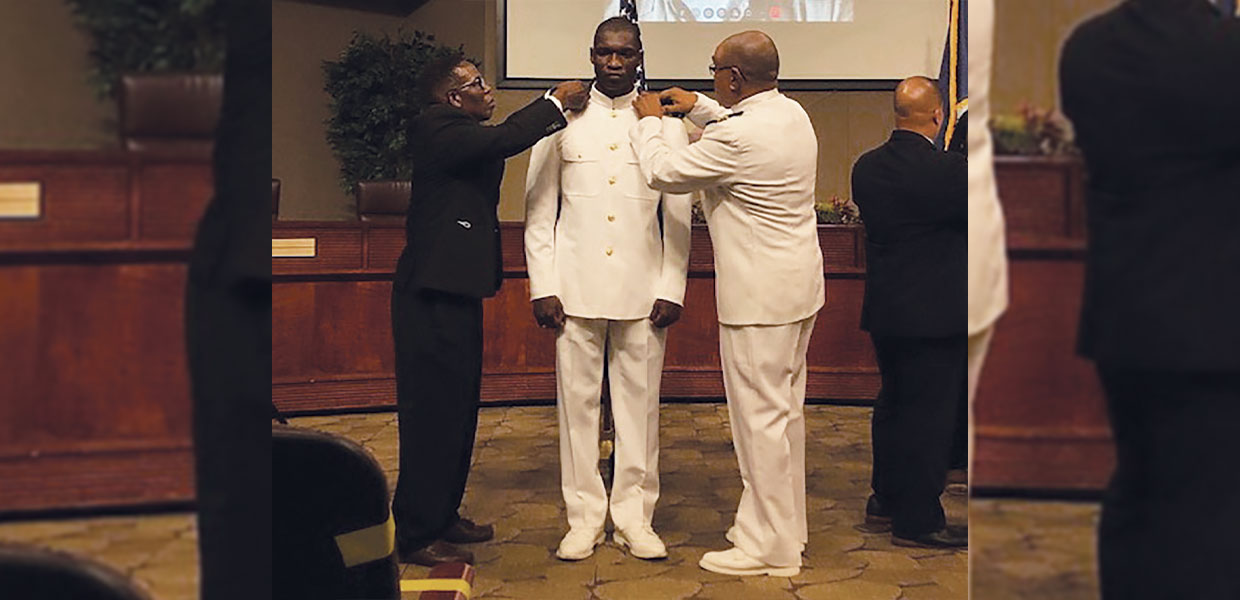 Pinning Ceremony participants include Elder Ahonkhai (left, Khoje's father); Omoikhoje "Khoje" Ahonkhai; and Anthony Winston, lieutenant commander.
Lesli Ahonkhai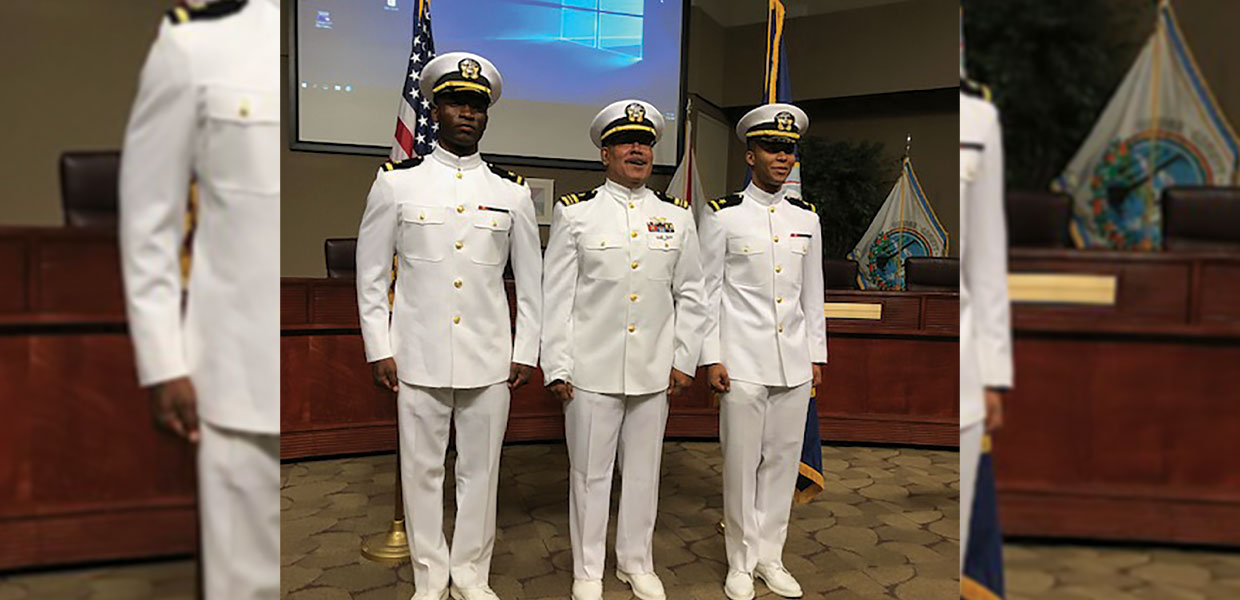 Omoikhoje "Khoje" Ahonkhai (left); Anthony Winston, lieutenant commander; and Joshua Haith, naval graduate

Lesli Ahonkhai
Jerry L. Demings, Orange County mayor, hosted in the Orange County Government Chambers a special graduation and commissioning recognition for two hometown Naval Academy graduates on May 22, 2020. Due to the COVID-19 pandemic last year, the United States Naval Academy canceled the traditional festive graduation week activities. Demings felt it was important to celebrate the accomplishments and milestones of these graduates. Ensign Omoikhoje "Khoje" Ahonkhai was one of the honorees.
Ahonkhai grew up in the Orlando area and attended Seventh-day Adventist schools from pre-K through 12th grade. He was active in youth ministries and volunteer work while attending Mount Sinai Orlando Church in Orlando, Fla., and reflects favorably about his experiences in the Southeastern Conference attending Pathfinder camporees, youth convocations, and AYM services.
Ahonkhai attributes his success and resiliency at the U. S. Naval Academy to his unwavering faith, strong work ethic, and family support. He is thankful for the unprecedented accommodations given to him to observe the Sabbath even during "Plebe" summer. Ahonkhai was recognized at the academy as "a man of faith dedicated to service."
After graduating from Forest Lake Academy with highest honors, Ahonkhai started his naval career by attending Greystone Preparatory School at Schreiner University in Kerrville, Tex., as a U. S. Naval Academy Foundation Honor Scholar. After one year at Greystone, he earned a congressional nomination and subsequent appointment to the U.S. Naval Academy in Annapolis, Md. During his time at the Naval Academy, Ahonkhai's leadership roles included battalion midshipman information systems liaison officer, squad leader, and ADEO (alcohol and drug education officer). He also participated as a member of the rugby, crew, and boxing teams at different times throughout the four years at the Academy. Ahonkhai graduated from the U.S.N.A. with a bachelor of science degree, and currently serves his country with faith and honor as a naval officer.
Southeastern | August 2021