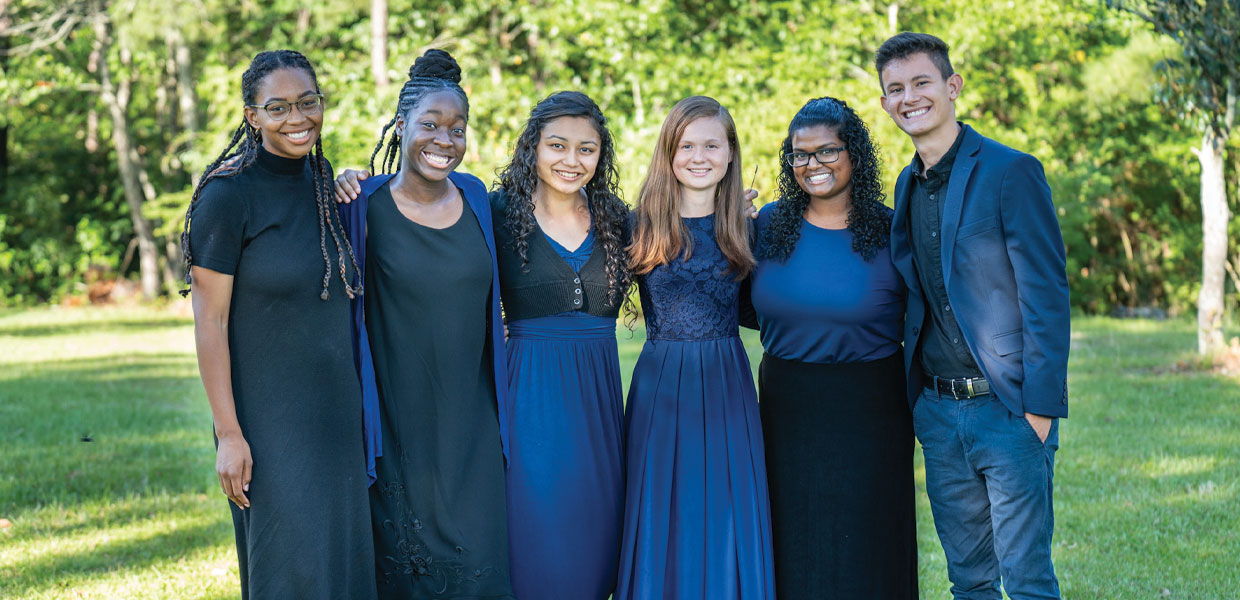 Cheyenne Williams (left), Hadassah Clark, Nasaya Acuna, Amalee Sandoval, Anisha Sukumaran, and Daniel Careno celebrate their dedication as lifestyle educators.
Kimberly Kodimer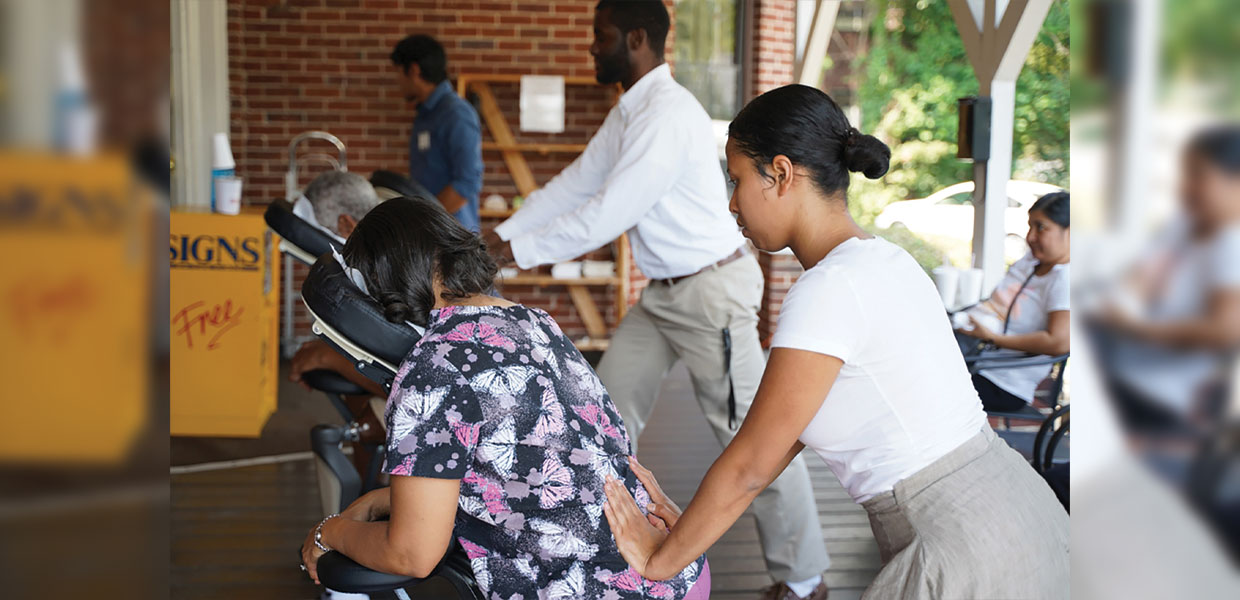 Students practice massage therapy as part of the training program.
Kimberly Kodimer
Medical missionary work brings to humanity the Gospel of release from suffering. It is the pioneer work of the Gospel. It is the Gospel practiced, the compassion of Christ revealed," Medical Ministry, page 239.
For more than 50 years, Uchee Pines Institute has offered medical missionary training programs to give students the knowledge and tools to help those suffering from disease and sickness of body, mind, and soul.
In June 2021, six students gathered from all areas of the United States and became the newest graduates of the "Lifestyle Educator" course. This course provides six months of intensive instruction in preventive medicine, natural remedies, and Gospel evangelism designed to give individuals a better understanding of God's methods for health ministry
The classes are offered in six, four- week blocks, with chapel class and one medical missionary class occupying one half of the day, and work experience in various campus departments occupying the other half of the day. There is also dedicated time set apart for personal devotions and Bible study.
The chapel classes each weekday morning offer the trainees an opportunity to gather together to study and seek God's will on various inspirational topics, including how to study the Bible, Christian finance, prophecies of Daniel and Revelation, and more.
"Throughout my time here, I learned over and over again that God works through His missionaries, and that the greatest blessings come from truly serving others," said Cheyenne Williams, a recent graduate.
Daniel Careno, a student, agreed, "Now that I've finished the first course, I know more about the principles of a healthy life and how to practice simple home remedies. I'm grateful to God for what I've learned here and for the great friends I've made. They have become like my family."
"Being at Uchee Pines has taught me many things," said Nasaya Acuna, "from biology classes which reveal the beautiful complexity of the human body, to the amazing benefits afforded through herbs and hydrotherapy
After completing the lifestyle educator classes, some students will continue with an advanced course of study, known as the "Lifestyle Counselor" track.
Uchee Pines also offers a "Healthcare Provider Internship," which is a one year training program for healthcare providers such as medical doctors, doctors of osteopathy, nurse practitioners, physician assistants, and chiropractors. This course is designed to give expertise in utilizing lifestyle change, natural remedies, and spiritual/emotional interventions to prevent and treat health conditions within the scope of one's practice or in public settings.
Learn more about Uchee Pines and its future programs at www.ucheepines.org or call 334-855-4764.
Gulf States | December 2021