BY Pastor Ryan Ashlock
Ryan Ashlock, pastor; church members; and the builder cut the ceremonial ribbon of the new Family Life Center.
Rebecca Carpenter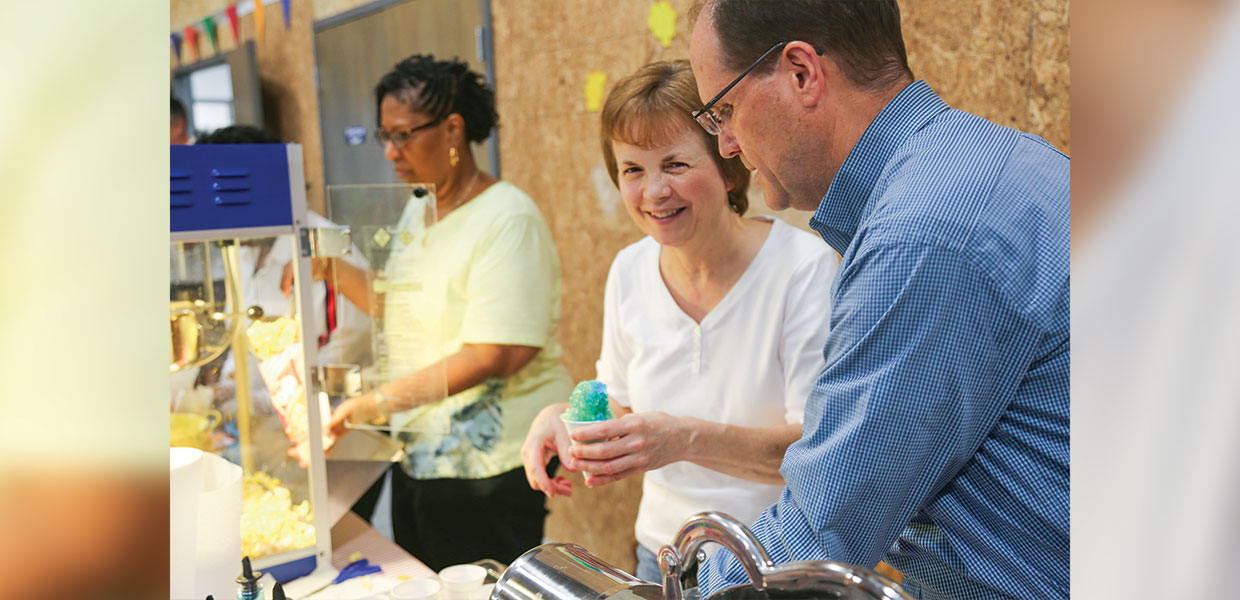 Rick and Kathy Russel manned the snow cone booth at the festival that followed the dedication of the new Family Life Center.
Rebecca Carpenter
The University City Church in Charlotte, N.C., held a grand opening celebration for their new Family Life Center on the evening of September 29, 2018. Members and guests gathered first in the church sanctuary for a worship service before crossing the parking lot for the ribbon-cutting in front of the new building. The evening concluded with a festival inside the Family Life Center that included games and food.
The 9,000-square-foot metal frame building was constructed by Rutherfordton-based Maple Leaf Design & Build, which also built the Family Life Center for the Arden, N.C., Church. Maple Leaf owner Bernie Dilgert was presented with a plaque during the ribbon-cutting. The Center contains a gymnasium, kitchen, and two finished classrooms. Storage space upstairs can eventually be converted into two or three additional classrooms during a future building phase.
The Family Life Center serves as home for Cornerstone Adventist Academy, a grades 1-8 church school now in its third year of operation. The school had previously been meeting in cramped quarters in the church fellowship hall. The church will also use the new building for fellowship and outreach activities.
Speakers at the celebration included Brian King, building committee chairman; Sonja Eberhart, CAA head teacher; Randy Davis, former pastor; Beth Grissom, church elder; Rick Russell, Carolina Conference treasurer; Gary Tolbert, former pastor; and Ryan Ashlock, current pastor. Captain Allan Rutledge, commander of the CMPD University City Division, also attended the event.
Carolina | February 2019