BY Glenda Hass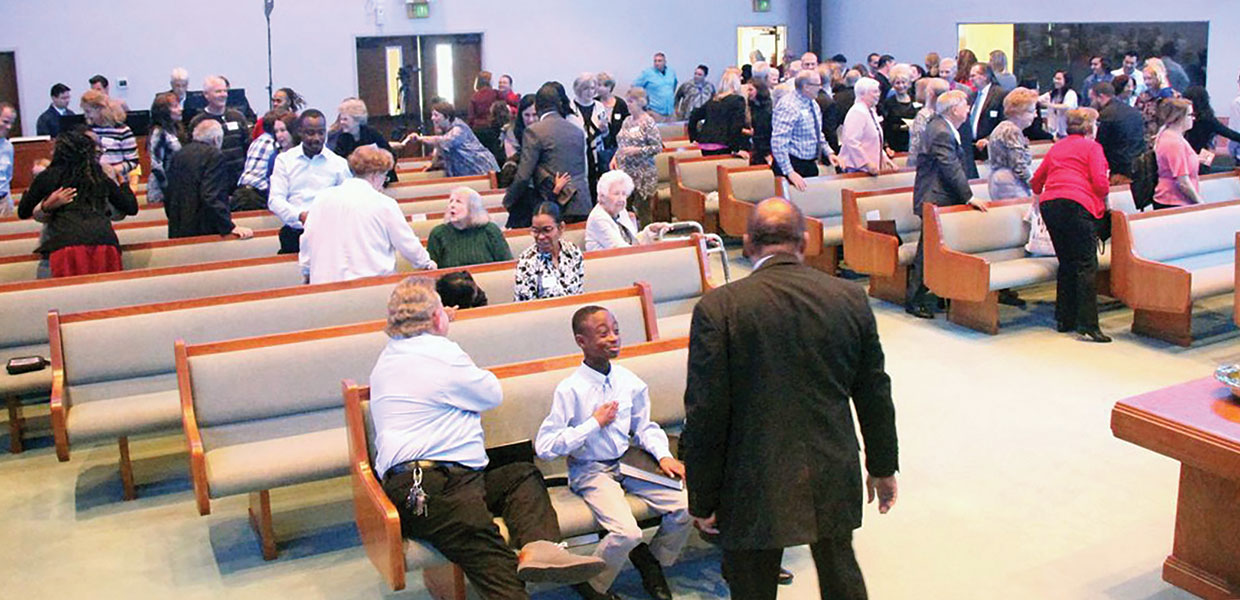 Guests make their way to their seats for the reunion Sabbath at University Parkway.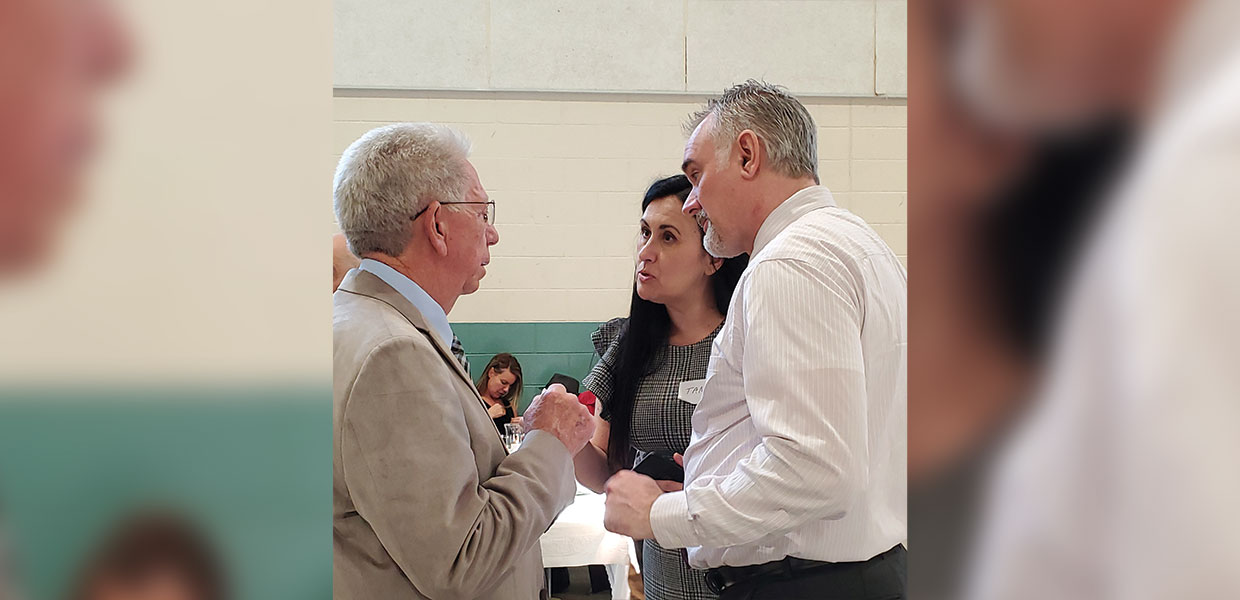 James Mangum (right), former pastor, visits with a guest at the fellowship meal.
A glimpse of our grand heavenly reunion," was the most frequent comment of members and visitors who attended University Parkway's Reunion Sabbath program on February 15, 2020. Approximately 140 visitors, including former members who had moved away, came to the special event, which honored them and their relatives who had passed away. James Mangum, former pastor, led out with the sermon, "The Reunion of All Reunions." A highlight of the service was an "In Remembrance" video, featuring photos of 76 members who had passed away since the church was dedicated in 1992. The video was produced by long time member Bert Rickles. Rickles said he found a song he had been looking for: "Wonderful Peace," back in October of last year, and prayed about how he could use it. "I was inspired by a similar moving service at Loma Linda that featured a memorial video." For the last four months, Rickles has reached out to family members to obtain photos of their loved ones and let them know about the reunion program. "The response to our service has been overwhelmingly positive." Besides Mangum, who now pastors the Old Westbury Church in Long Island, N.Y., Milton Hallock, retired former pastor, and his wife, Margaret, attended. Longtime member Gywin Black said it was the "best service [he had] ever attended at our church." His late wife, Ann, was among the video honorees. Assisting Rickles with planning the reunion was his wife, Mary, Jan Hussong, and Manny Siverio. Hussong said the experience has been very gratifying. Diane Erwin Kuutti, who visited from Atlanta, Ga., told her about "what an incredible blessing the service was to her… 'It offered me some kind of closure and more peace than I have had since the deaths of my parents,'" Hussong said Kuutti shared.
"Planning and carrying out the program was a wonderful experience," Hussong said, but noted that the greatest blessing for her was seeing the young people who had gone to the church school in past years. "Some are not Adventists, and some may have shown little interest in religion, but they came back …. Overall, it was a tremendous success."
Robert Meneses, newly appointed pastor, provided a brief welcome video. He and his family will move to Pensacola, Fla., to begin his ministry at University Parkway Church in April. A lavish fellowship meal followed the service, where members and guests mingled and caught up. The day ended on a solemn but fitting note with a memorial service for church member Ronnie Winslow, who had passed away the previous week.
Gulf States | April 2020