BY TRISNEY BOCALA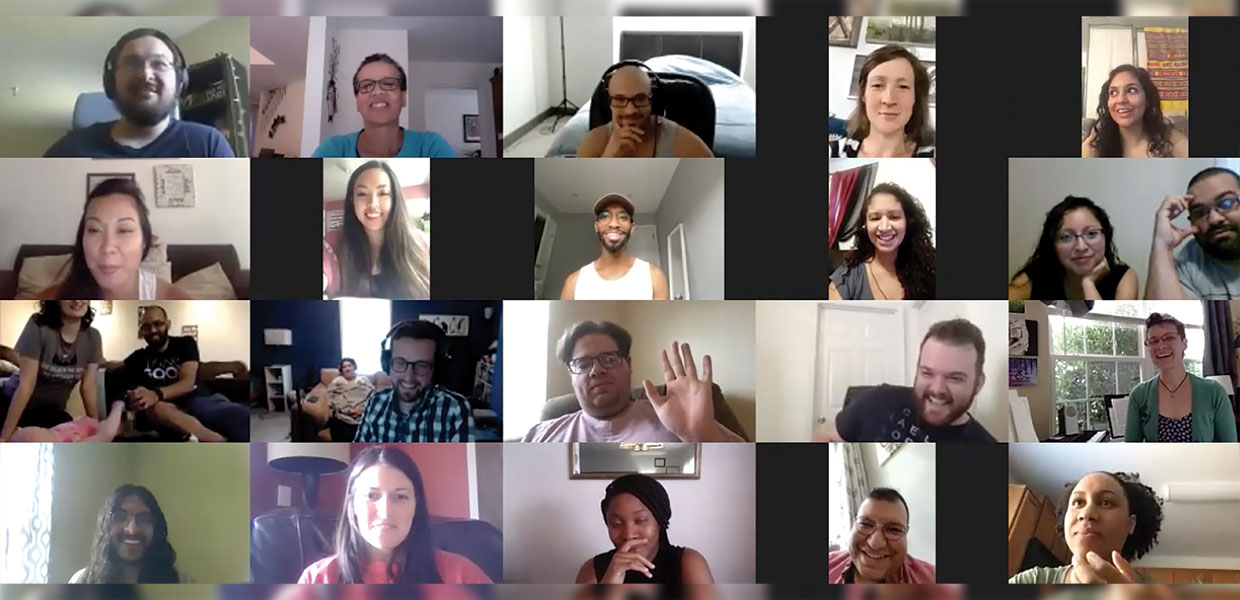 This summer nearly 50 Southern alumni participated in a virtual choir led by Gennevieve Brown-Kibble, D.M.A. (top row, second from left), professor in the School of Music.
This summer, a group of Southern Adventist University alumni, students, and faculty came together
virtually for a special musical project. Gennevieve Brown-Kibble, D.M.A., professor and conductor in Southern's School of Music, had the idea to form a virtual choir following an online family meeting.
"It occurred to me that there was a singing family separated by years and miles that could also be assembled," she said. "I had been in touch with a few of my alumni who were experiencing personal setbacks, and I felt singing could provide a kind of therapy like no other."
Brown-Kibble recruited alumni Curtis Prevo, '13, as audio technician, and Jeffrey Dean, '18, as assistant conductor, and together they assembled nearly 50 alumni of I Cantori, Southern's select chamber choir. The group prepared multiple recordings on the theme "How Can I Keep From Singing?" These will be released throughout the fall 2020 semester for various events in lieu of live choirs.
Dean and Brown-Kibble were scheduled to serve as guest clinicians for the 2020 Indiana Conference Music Festival in the spring. In preparation, they had commissioned an original work by local Chattanooga composer and music teacher Sarah Tullock. When the conference was cancelled due to COVID-19, Dean and Brown-Kibble worked with the virtual I Cantori choir to bring the song to life.
Over the summer, the group gathered several times via video conference for fellowship and preparation. Between meetings, choir members practiced and recorded their individual tracks, uploading them for Prevo to bring together into a cohesive blend. Through careful planning, he was able to produce a sound similar to what an audience would hear from a choir spread across a stage. Prevo gained much of his skill with recording equipment and software during the two years he worked for Southern's public radio station, Classical 90.5 WSMC, and he was glad to use his expertise on this project.
"While there is no real substitute for the musical energy and unity of singing shoulder-to-shoulder, I saw the value of the virtual community," Prevo said. Other participants agreed that they were blessed by the experience.
"Singing with members of my musical family from over the years, although virtually, was such an uplifting blessing during this difficult time," said Joel Westberg, a tenor who graduated from Southern in 2016 with a degree in music education. "It brought a smile to my face to see people I hadn't seen in years, and to do what we do best again — sing the Lord's praises."
Southern Adventist University | October 2020