BY Lindsay Cashio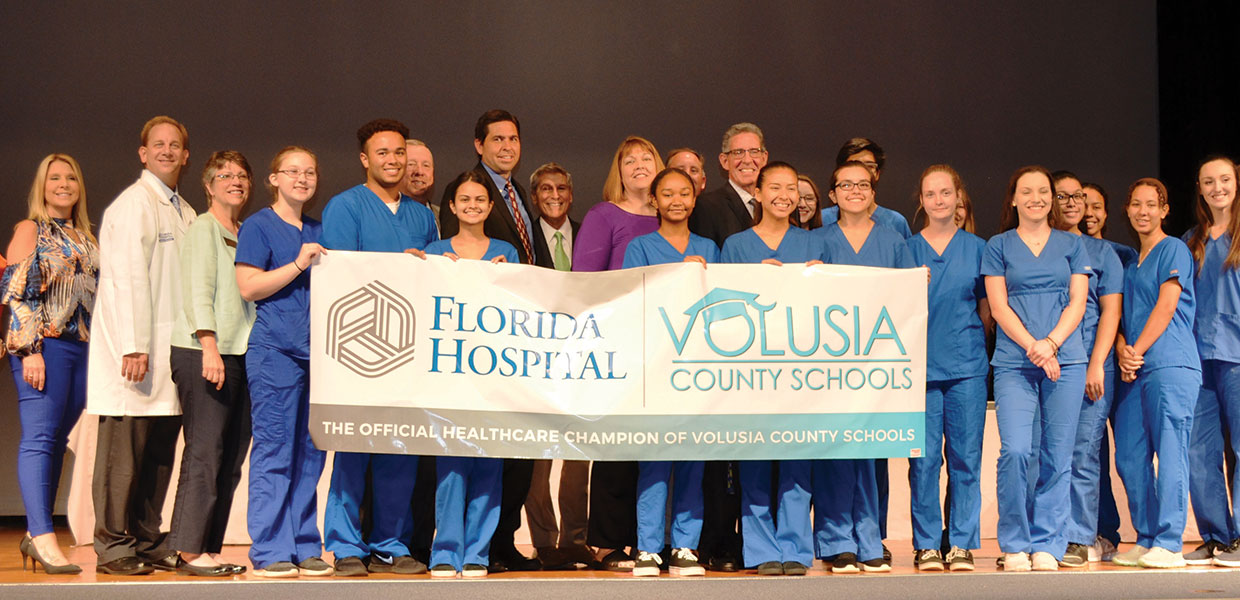 The agreement is the first of its kind between a school district and major health care provider.
During a special meeting, the School Board of Volusia County recently approved a historic agreement with Adventist Health System's Florida Hospital.
In the auditorium of Deltona High School, this partnership established the Florida Hospital Healthy Futures Program of Volusia County Schools. This agreement is the first of its kind between a school district and major health care provider, and will serve as a national model. The agreement includes the following:
A five-year, $2 million commitment by Florida Hospital
Direct involvement in the district's six high school health care academies and nine high school and middle school health programs, including internships
Coordinated care for student athletes, including a dedicated certified athletic trainer to serve as a school liaison
Health care services to students at 36 schools with the highest chronic student absenteeism
Florida Hospital naming rights to all high school and middle school health care academies and programs
With 78 schools, there are more than 63,000 students enrolled in Volusia County Schools.
"These students represent the future, and it is important that we help set them up for success, and that starts here, today," said David Ottati, CEO Adventist Health System's Central Florida Division – North Region, which includes the Florida Hospitals in Volusia County. "Since the early 1990s, Florida Hospital has been involved with Volusia's Health Science Career Academies, and this partnership is an extension of the hospitals' long-term commitment to their success."
Ottati explained that the partnership strives to address three main challenges impacting local schools, including chronic absenteeism, student athlete health, and career development within the health care industry.
"Last year, almost 17 percent of our students were chronically absent from school. Missing school for any number of reasons, including illness, can be a barrier for our students to learn, earn good grades, and even graduate," said Tom Russell, superintendent of schools. "Our goal is to decrease chronic absenteeism across Volusia County by 10 percent, which could significantly impact our students' education and help position them for success."
At the 36 schools with the highest rate of chronic absenteeism, Florida Hospital will help students with access to Florida Hospital eCare urgent care providers. Via the eCare app, students and their parents can receive a live and secure tele-health consultation for a range of urgent care issues such as pink eye, coughs/colds/flu, minor injuries, allergies, urinary tract infections, and more.
Florida Hospital will also assist students whose families are underinsured or uninsured and cannot afford care, helping students combat chronic conditions, and ease their journey toward wellness.
In addition, Florida Hospital will develop streamlined and coordinated care for Volusia County Schools' student athletes, including improved concussion protocols.
According to a study in the Journal of Athletic Training, there are an estimated 300,000 sport-related traumatic brain injuries — most of which are concussions — each year in the U.S. In addition, sports are second only to motor vehicle crashes as the leading cause of traumatic brain injury for young people, ages 15 to 24 years.
The Centers for Disease Control and Prevention reports that concussions can result in headaches, nausea, and irritability. While most people do not suffer from long-term impacts from a concussion, between 10 and 20 percent may experience additional symptoms, such as depression, headaches, or difficulty concentrating.
"As a parent myself, I understand how nerve-wracking competitive sports can be and the potential for injuries," Ottati said. "Parents should feel a sense of peace, knowing that if your child does get hurt in practice or a game, they now have a strong health care system standing by, ready to help their family during their time of need."
Furthermore, Florida Hospital has committed to helping students interested in a career in the health care industry. Florida Hospital will be directly involved in the district's six high school health care academies and nine high school and middle school health programs.
According to the U.S. Bureau of Labor Statistics, health care jobs are expected to have the fastest employment growth during the next 10 years, and Florida will have more than 50,000 job openings for nurses and nursing assistants in the next seven years. Within the health care industry, there is a large need for additional medical assistants, medical secretaries, and health services managers.
"With the help from community partners like Florida Hospital, our goal is to continue to create pathways that allow students to directly connect coursework with industry certifications and work-based learning opportunities to help prepare them for careers in the health care industry," said Kelly L. Amy, M.Ed., manager of strategic partnerships for Volusia County Schools.
"Our school board is committed to expanding vocational and college readiness programs, but cannot do it alone," Russell added. "Florida Hospital has stepped up to the plate. This is an exciting time for students in Volusia County Schools."
Adventist Health System | August 2018