BY CRISTA CRITTENDEN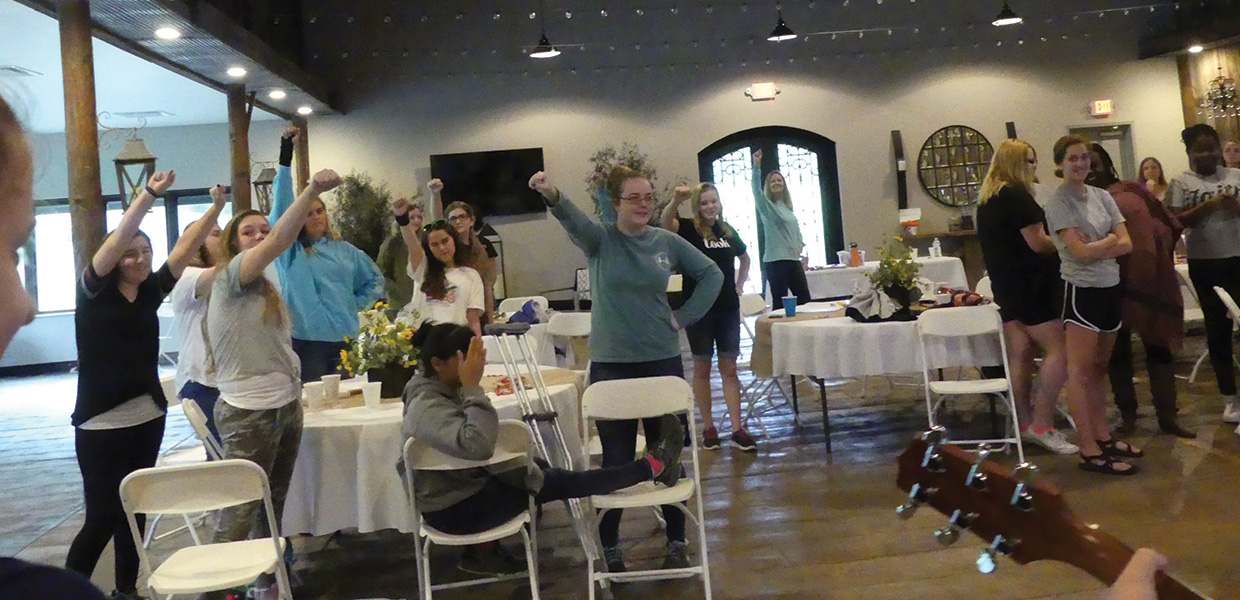 Kentucky-Tennessee Conference hosted their 2018 Young Women's Retreat at Paradise Ranch in Springfield, Tenn. Forty young women from 14 to 18 attended, including students from Highland Academy (HA), Madison Academy (MA), Tullahoma Christian School, and Woodbury School, and homeschoolers. The theme was "EmPOWered by Christ!" with a goal to mentor the young women, and enable them to become everyday heroes in their homes, schools, and communities.

Praise and Worship

The praise team, composed of HA student Jenna Crittenden, and homeschool family Mackenzie Arant, Brooklyn Arant, and Lauren Arant, led songs of worship and praise. The worship team reminded everyone that God is big enough to solve any problem.
Sharolyn Synder, Paradise Ranch owner, told an inspiring story of using her super powers to train wounded and rescued horses as equine therapists for people with special needs and spinal cord injuries in the Nashville, Tenn., area. Chelsea Inglish, pastor at Madison Campus Church, talked with the girls about how precious they are in God's sight, and how much they can accomplish if they put their trust in His strength and power. Her dog, Zoe, served as an illustration of how trusting God and letting Him lead can help you do more than you thought possible.

EmPOWerment Sessions

"Ride Like a Hero" leaders were Rod and Lisa Schwindt and family. The girls lived the thrill of the chase and the exhilaration of jeeping through the woods. They learned there is no obstacle they can't overcome with Christ at the wheel of their lives.
"Rescue Relay" was led by Michelle Arant and Chelsea Inglish. The girls were shown how to work together as a team. They took turns leading and following through simulated disaster situations, such as leading a group through a crumbled building, or through a field of debris without the benefit of eyesight or hearing, or passing water along a bucket brigade without the use of their hands. Each team showed remarkable patience, ingenuity, and grace as they worked together.
"God's Emergency Response Team" was led by Sarah Hillebert, HA girls' dean. The girls learned basic first aid and lifesaving skills. Hillebert showed the girls how to apply emergency response principles to their spiritual life. They were empowered to be prayer warriors for their friends in spiritual as well as physical distress.
"Defender's Alley" leaders were Jenna Crittenden and Mackenzie Arant. The girls were taught how to defend themselves and others from dangerous situations. They were also taught to have a basic awareness of their surroundings, and to make smart choices to keep themselves safe at all times. They were shown basic self-defense moves to protect themselves and others from physical attacks. They were then reminded that prayer and Bible study are the greatest weapons from spiritual attack.
"Warriors Recharging" was led by Chelsea Moore, Windi McKenzie, and Menié Bell. After a grueling day of learning to serve and protect, the girls were shown healthy techniques in natural beauty, and how to serve each other in chair massage techniques. Warriors and heroes need down time in their busy-ness to listen to God's calling, and "be still and know God."
Kentucky-Tennessee | January 2019