Bryant Stewart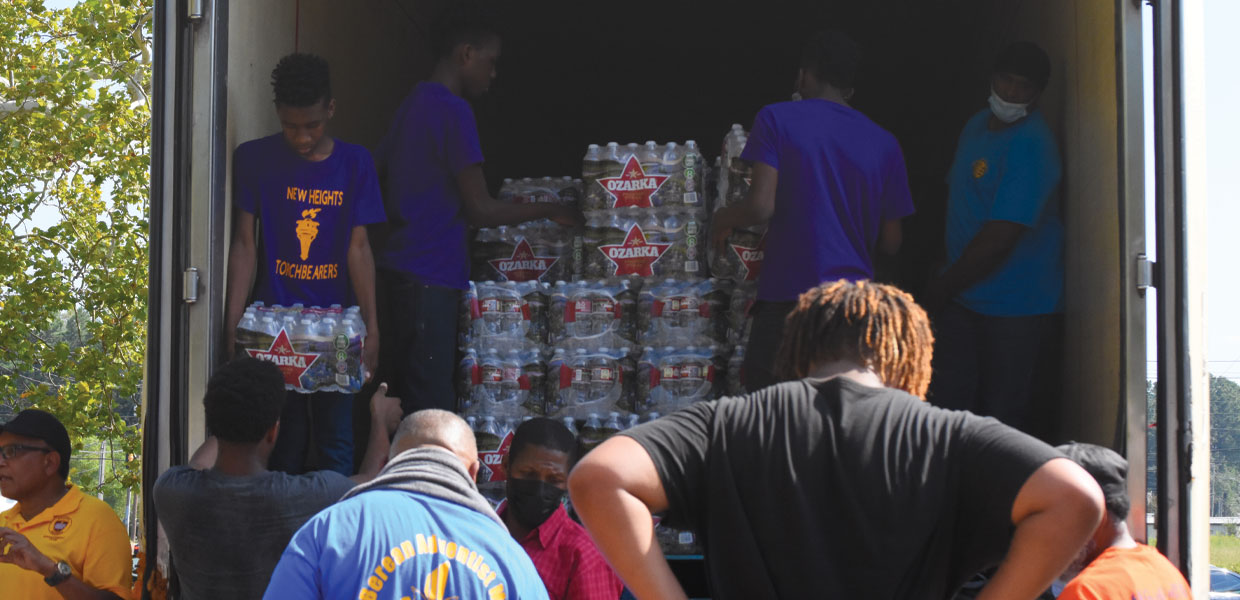 New Heights Pathfinders unload the 18-wheeler.
Jonathan Ogburn, principal of Bethany Christian Academy, loads a car with water.
Youth gives out food.
Youth Serve in Jackson
In August of 2022, a severe storm caused the Pearl River in Jackson, Miss., to flood. As flooding continued, the water treatment system began to fail. Residents were no longer able to safely consume the water. The South Central Conference Youth Department wanted to ensure that not just their churches had water, but the entire south Jackson community had the ability to perform essential functions. In partnership with E.E. Rogers Seventh-day Adventist School, Bethany Christian Academy (Montgomery, Ala.), the south Jackson, Berean (Jackson), Longview Heights (Memphis, Tenn.) Seventh-day Adventist churches, and the neighboring churches from Louisiana affiliated with the Southwest Region Conference, were able to give away more than 30 pallets of water, in addition to other household necessities.
More than 40 Pathfinders came together for this service project. One of the Pathfinders stated that volunteering creates stronger bonds between friends, family, and the community. Jonathan Ogburn, principal of Bethany Christian Academy in Montgomery, expressed that the experience was a wonderful opportunity to grow as a person. The residents of Jackson were truly blessed. One resident stated, "I am grateful that God sent so many caring individuals during our time of need. These lovely individuals have saved my family's life when we needed it the most."
South Central Conference Adventist Community Services and its regional partners provided the water that was given away through this service project. Funds were also received from other Adventist Community Services federations within South Central, along with other donors who sent funds to purchase water. At the onset, there was no water to be purchased in Jackson and nearby municipalities.
The water was trucked into Jackson by tractor-trailers and commercial rental trucks. Bryant Stewart, youth ministries director, believes that "when a servant has been faithful by wisely using the resources with which his Master entrusted him, the Master congratulates him, entrusts him with more, and invites him to share in His happiness. Let us continue to serve others and help build the Kingdom of God."
South Central | March 2023