BY Daniela Jean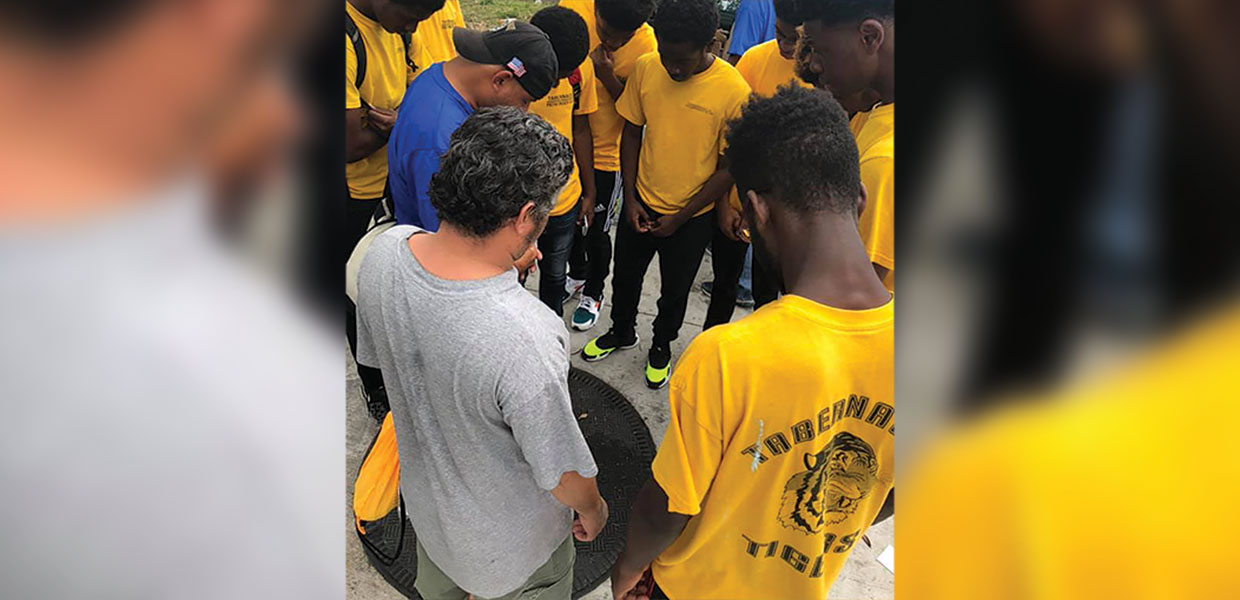 Tabernacle Church youth street prayer team in downtown Miami, Fla., pray with the community. Global Youth Day was a monthlong call to service for youth and young adults in Southeastern.
Daniela Jean
The Southeastern Conference Youth Ministries Department took a unique approach to this year's Global Youth Day (GYD) experience. A monthlong call-to-service initiative was launched to ignite youth and young adults throughout the various regions to serve their respective communities. Prince Lewis, Southeastern youth and young adults director, facilitated a GYD kick-off rally on Friday, March 1, 2019, at Mt. Pisgah Church in Miami Gardens, Fla. Unifying efforts with local leaders, more than 300 youth were in attendance. Lewis challenged youth leaders to facilitate service experiences throughout the various districts. The rally was streamed live, with more than 1.8K viewers.
During the following week, March 9, 2019, the Daughter of Zion Church in Palm Beach County hosted their free grocery drive. One thousand people received fresh produce and groceries.
Thousands of youth and young adults were deployed on March 16, 2019, to be the sermon and adopt a community. More than 30 sites throughout south Florida were in place for youth and young adults to serve. Both FeJAH (Fédération de la Jeunesse Adventiste Haïtienne) and South Florida Youth Federation facilitated projects. Tabernacle Church in Miami, Fla., organized numerous projects in the heart of downtown Miami that included a street prayer team, free load of laundry at local laundromat, and care packages for the homeless.
The Mt. Zion Church in Kissimmee, Fla., surprised law enforcement and fire personnel at two police precincts and a fire station with personalized goodie bags and personalized notes of encouragement.
The closing ceremonies were held March 23, 2019, at Northside Church in Miami. The finale concert featuring national recording artist Mike Brown and F.O.C.U.S. was a great celebration for all who had served all month long. Lewis affirmed the constituents, acknowledging the dozen youth groups who were recipients of service sponsorship that would aid in supporting their respective service projects. A community block party followed the concert. The month of March was dedicated to service and evangelism for the youth of the Southeastern Conference and the community at large. Lives were enriched, the Gospel was shared, and the mission continues!
Southeastern | June 2019