By BY Vinette Brown Dye, Educator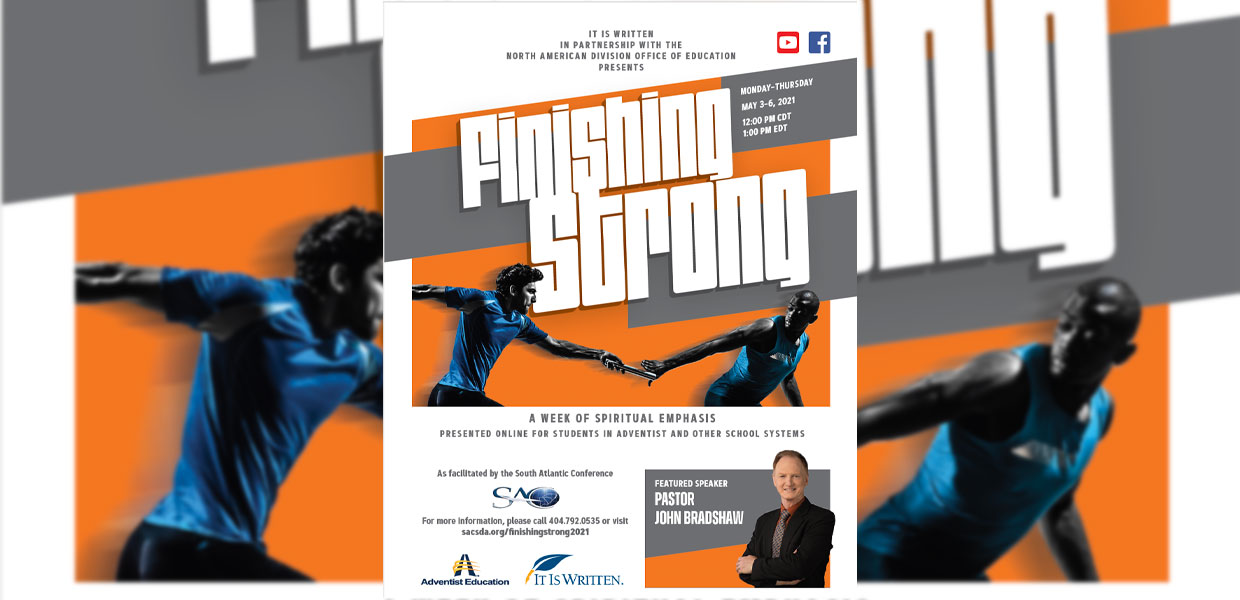 At a time when students have become untouchable due to pandemic mandates, it's nothing short of a miracle that approximately 4,500 school-based viewers each day were touched by the unmasked Gospel of Jesus Christ during "Finishing Strong 2021" — a South Atlantic Conference school-based evangelistic initiative, hosted by It Is Written, in conjunction with the North American Division's Department of Education.
For the second consecutive year, May 3-6, 2021, thousands of school-aged children in the North American Division and Canada set aside the ABCs of algebra, biology, and chemistry to tune in to a week of virtual spiritual emphasis, hosted by John Bradshaw, president and speaker/director of It Is Written. Watchers tuned in directly to Itiswritten.tv, the South Atlantic Conference's website, YouTube, and Facebook, for a total of more than 20,000 views. Breath of Life hosted the nationwide school evangelistic effort, May 2020.
The Finishing Strong program was initiated out of an urgent need to reach children and youth who had suddenly been displaced by being forced out of buildings with teachers who love and care for them, to continue learning at home, often alone, with nothing more than a virtual screen. "The smallest victims are the children," says Kim Gaiter, vice president of education at the South Atlantic Conference. "I just knew we couldn't let the school year end without giving them a sense of hope and, with intentionality, an opportunity to give their hearts to Jesus. I deserve no credit for coming up with the idea of a nationwide Week of Spiritual Emphasis. It was God who said, 'It must be done.'"
During the course of the Week of Spiritual Emphasis, Bradshaw shared lessons from Bible greats such as Daniel, Joseph, Gideon, Joshua, and Caleb. Correlations were made as to how they each faced trials that seemed insurmountable, yet they each finished strong. Many Seventh-day Adventist schools across the country participated with music, submitting questions, and reading Scriptures. Praise God that 45 children in the South Atlantic Conference alone made decisions for baptism!
Bradshaw shared the story of Sylvia Potts, an Olympic runner who, 15-feet before the finishing line, fell, leaving the runner without medal or rank in that race. There's a story of yet another Olympic runner, who collapsed at the finishing line, this time, only inches before meeting the mark. Hayley Carruthers had not the strength to get up, following her collapse, but instead crawled across the finishing line, beating her own personal best, and finishing strong.
For the South Atlantic Conference Department of Education, 2021 was a year filled with extreme challenges, devastating blows, tragedies, and setbacks. But, that is not how the year will be remembered. It will be a year remembered for having met the difficulties head-on. The department has gotten up, dusted off, regrouped, reconfigured, reinvented, kept on pushing on, and triumphed! Academic benchmarks were met and exceeded. Science fairs, spelling bees, graduations, Bible Bowls, and baptisms all took place amid the horror of ICU stays, isolation, and brushes with death. Every child still received the Three Angel's Messages, and all were offered the hope of eternal life in Christ.
Like Hayley Carruthers, some have crawled across the finishing line, but all have finished strong. To God be the glory, great things He has done.
As for 2022, as the song says:
"Many things about tomorrow,
I don't seem to understand.
But I know who holds tomorrow,
And I know who holds my hand."
– Ira Stanphill, 1950
"Let us run with patience the race that is set before us. Looking unto Jesus the author and finisher of our faith," Hebrews 12:1, 2.
South Atlantic | September 2021