of Academic and Spiritual Excellence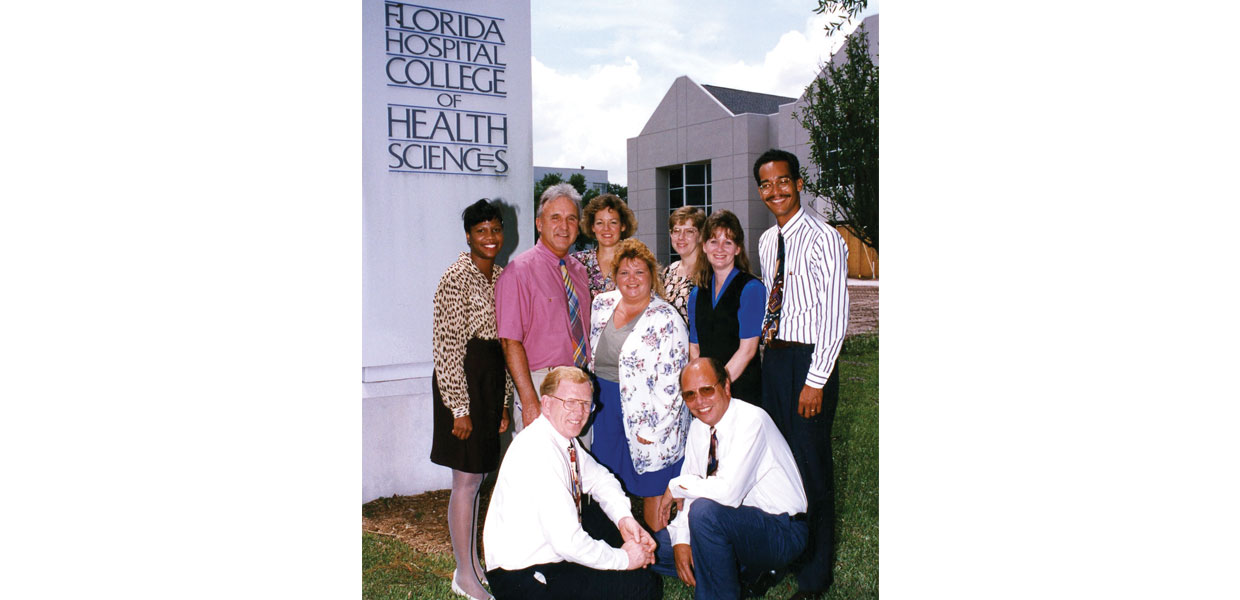 David Greenlaw, D.Min. (front, left), with some faculty and staff during ADU's early years.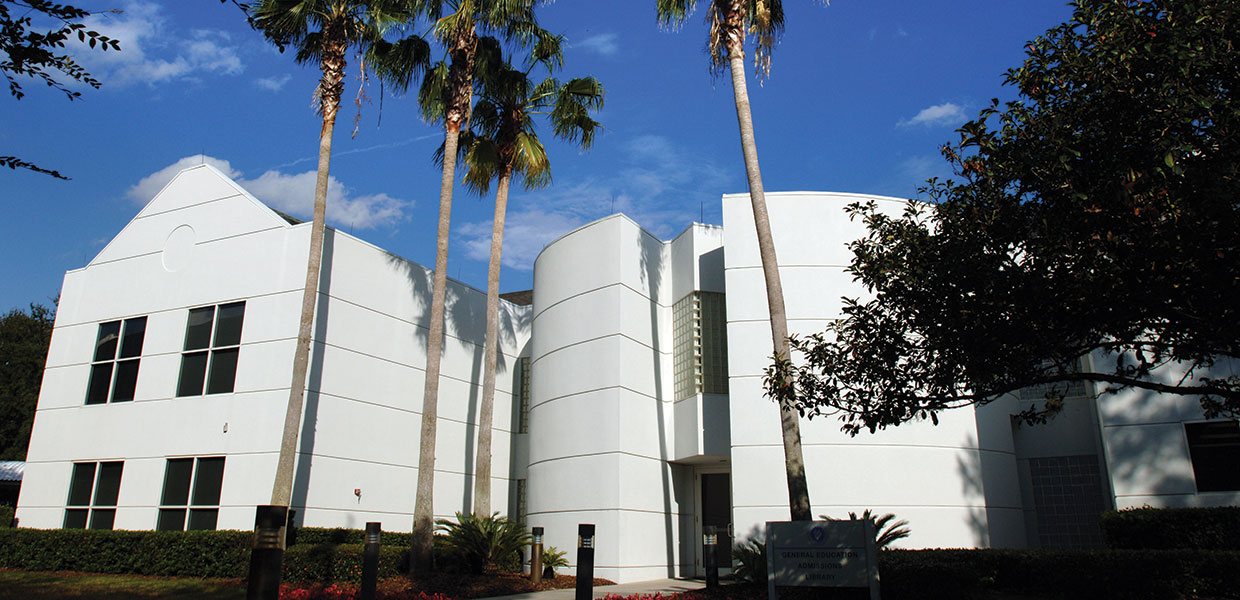 ADU's General Education Building, converted from the old Florida Hospital Seventh-day Adventist Church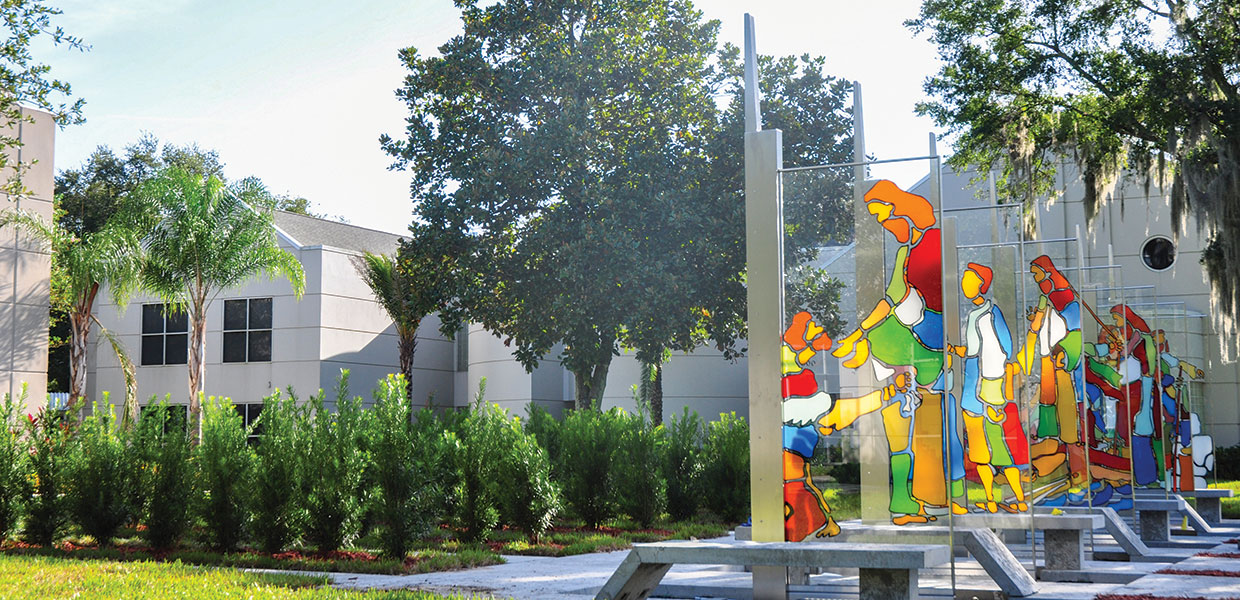 The Garden of Miracles, a daily visual reminder of ADU's mission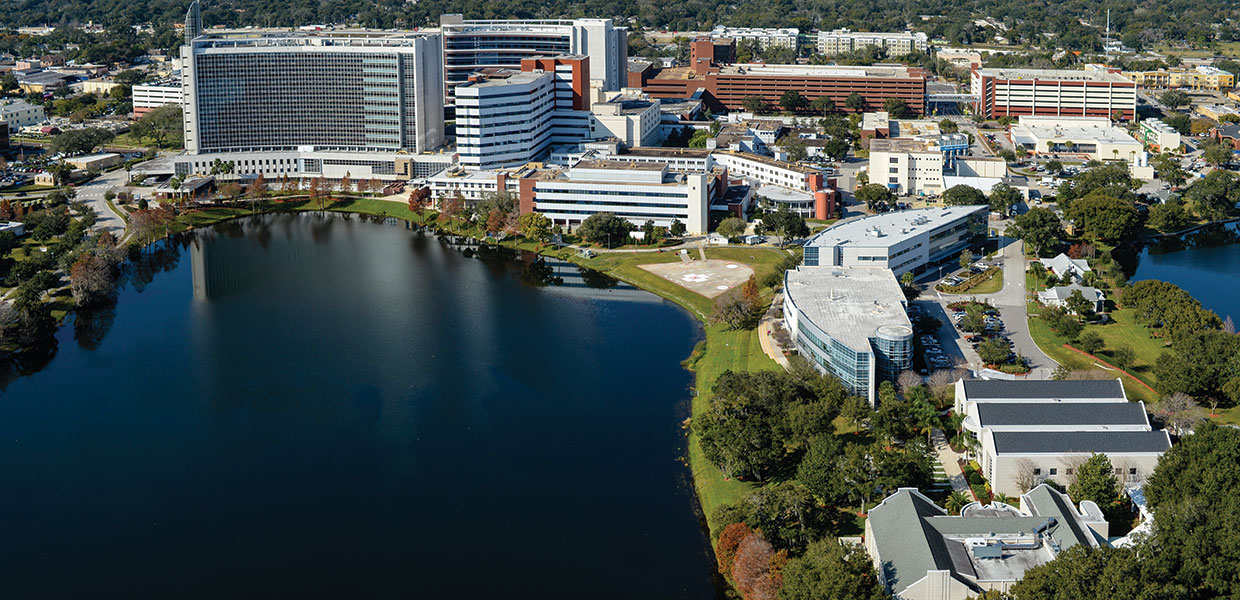 Aerial shot of ADU's campus (foreground) and Florida Hospital Orlando (background).
Adventist University of Health Sciences (ADU), Orlando, Florida, is celebrating its 25th anniversary, a milestone for a University sprouted from humble beginnings. For more than two decades, the University has been committed to a singular mission, developing skilled professionals who live the healing values of Christ — not only by providing students with a quality clinical education, but by nourishing their spiritual growth in a faith-based setting that prepares them to extend the healing ministry of Christ. From its founding through its transformation into a fully accredited institution of excellence and innovation, ADU has strived to foster leaders who will practice healthcare as ministry.
In 1989 Florida Hospital was looking at the future of healthcare and ways in which their incoming employees were being educated. At that time the hospital offered educational programs in nursing, radiography, and sonography. These diploma schools, however, were changing and starting to phase out in favor of A.S. degrees, which offered a more robust curriculum. In addition, the programs weren't providing enough benefit for the costs involved. Tom Werner, then president of Florida Hospital, saw an opportunity to open a new college that would provide a steady stream of new employees with the education and mission-focused values that Florida Hospital needed.
In 1990 Werner approached David Greenlaw, D.Min., ADU president, and asked if he'd take on the task of determining whether a college would be beneficial to the hospital. Outside consultants were brought in to research the expected costs, the process of accreditation, and obtaining the necessary licenses. An official report was compiled with the recommendation that Florida Hospital start their own college.
Greenlaw accepted the responsibility of establishing and directing the new institution, and right from the start, teaching healthcare as ministry remained the focus. "What was clear from the school's founding was that mission would drive the school as it grew," said Greenlaw, when asked about ADU's beginnings.
In 1992 ADU opened for its first registration under the name Florida Hospital College of Health Sciences. The first degrees developed by the college were based on the four programs the hospital had previously offered, now modified to associate degrees. Within a year of opening, the school increased its original roster with a new degree, an A.S. in radiation therapy.
As the school grew and registration numbers increased, it seemed time to look at expanding degree offerings. After considering other options, ADU chose to introduce an A.S. in occupational therapy assistant (OTA), which was in great demand.
In 1998 ADU introduced its first bachelor's program, a B.S. completion degree in nursing. And a decade later, the school introduced its first graduate program in nurse anesthesia. After the addition of the nurse anesthesia graduate degree in 2008, more followed: a master's degree in occupational therapy in 2011, a master's degree in healthcare administration in 2013, a master's degree in physician assistant studies in 2015, and the first doctoral degree in physical therapy in 2016.
In 2001 ADU continued its expansion by becoming one of the earliest schools to enter the online space. Now all students who felt the call to healthcare would have access to ADU's mission-focused education, no matter the distance. Currently, ADU offers online B.A. degrees in radiologic sciences, diagnostic medical sonography, and nursing, and graduate degrees in health administration. Later, a satellite campus location was opened in Denver, Colorado, which currently offers degrees in radiography, sonography, and nursing.
As ADU's online presence grew tremendously, Greenlaw observed that the school's name wasn't as quickly identifiable outside of the central Florida community, where Florida Hospital was a well-known entity. Greenlaw suggested a name change that would be instantly recognizable to prospective students, the Adventist University of Health Sciences. The new name aligned the school closer to the Seventh-day Adventist Church and to its parent organization, Adventist Health System, to reinforce the University's mission. Greenlaw commented that, "Changing our name to Adventist University of Health Sciences did not change who we are; it's simply a better reflection of who we've always been."
As ADU's OTA associate's degree program proved to be very successful, another B.S. degree was added that would bridge that program with one of six occupational therapy master's programs available in the state. Tia Hughes, department chair for the master of occupational therapy (MOT) program, eventually saw an opportunity for the school to develop its own master's program, and proposed its creation to Greenlaw and the school's senior administration.
Compelled by how many students were unable to attend an occupational therapy school due to distance, the program's development was approved in 2009. By 2011, the program had its first class of students. Although the setup was hard work for Hughes and her small team, she says it has "proven to be a huge blessing." And, the program is very popular. "We have been able to hire qualified and dedicated professors … and my students all get high-paying jobs after graduation."
After the introduction of its first graduate program in nurse anesthesia, ADU made plans to roll out more master's degrees over the next few years. At that time, the University only offered an A.S. in pre-professional studies, and Len Archer, Ph.D., chair for the program, felt the school should develop new bachelor's programs that would fully satisfy pre-requisites for graduate programs and Ph.D. studies. He helped introduce degrees in biomedical sciences and health sciences, which would each focus on preparing students for a variety of pre-professional programs, including physical therapy, physician assistant, occupational therapy, healthcare administration, and pre-med studies. Both programs were created with variability in mind, allowing students to optimize their course selection based on their future professional goals.
As ADU continued to evolve as a preeminent, faith-based healthcare institution, it was important to bring more focus to the mission and vision. To bring clarity to ADU's vision, an on-campus contest was created to choose the four words that would define ADU's core values. The chosen words — Nurture, Excellence, Spirituality, and Stewardship — are key pieces to the school's identity, interwoven into everything that ADU does.
Greenlaw also wanted to create a symbol on-campus that would serve as a constant visual reminder for students to live the healing values of Christ. After considering different options, a garden was chosen to represent the University's spirituality-driven vision. The beautiful Garden of Miracles was constructed in 2014 as an artistic expression of the healing ministry of Christ.
One challenge in supporting the mission of the University was bridging faith and learning for a student body consisting of a wide variety of backgrounds. Two years ago ADU's Office of Mission was established to enhance ADU's mission, and help connect students' faith with their clinical work. Its first task is to incorporate campus ministries into the structure of the University. The school's chaplains are part of the Office of Mission, and are vital to reinforcing the faith-based environment of ADU, working directly with students to deepen their relationship with God.
The second task involves collaborating with faculty to interweave faith into all courses. This approach to healthcare instruction has been uncommon in higher education, but the Office of Mission is devoted to unifying spiritual development and clinical learning in practical, effective ways.
"To that end, the Office of Mission is also working with the ADU's professional programs to help students bring their faith, in appropriate ways, into the clinical environment," says Don Williams, Ph.D., who was directly involved in the Office of Mission's inception.
Recently, the Office of Mission began a new initiative called Caring Rounds for students, giving them the opportunity to shadow hospital chaplains during their rounds and learn from first-hand experience. This direct contact has allowed students to engage on a personal level with patients, not just as professionals — all with the goal of reinforcing ADU's ethos of living the healing values of Christ.
In 2016, ADU opened two new centers of excellence to deepen the University's role in educational research: the Center for Advanced Ultrasound Education (CAUE) and the Center for Population Health Research (CPHR). The University recognizes the importance of utilizing the talents and passion of its faculty in advancing knowledge for the benefit of both the community and students of ADU. The new centers allow students to directly engage with faculty in creative scholarly endeavors.
ADU has made great strides since its founding 25 years ago, and school leaders are excited for its future. As always, preparing outstanding healthcare professionals who are service-oriented, ready to lead, and focused on mission remains the University's highest priority. Plans for more graduate programs are on the horizon, and in 2018 ADU is preparing to offer a doctorate in nurse anesthesia. ADU's vision includes working closely with Adventist Health System leaders in shaping the future of the University.
Even as ADU grows and matures, its mission to develop skilled professionals who live the healing values of Christ will remain the guiding force. Edwin Hernandez, Ph.D., ADU provost, says, "We want our graduates to be individuals of extraordinary character that bring purpose and hope to others."
ADU's next 25 years will be filled with exciting academic developments, but its vision is about more than superior clinical education. It's about ensuring that students will see all patients, regardless of diverse backgrounds, as children of God, and themselves as the heart and hands of Christ, demonstrating exceptional compassionate care.

Lisa Marie Esser is the communication manager at Adventist University of Health Sciences in Orlando, Florida.
Southern Union | February 2017