by Lisa Marie Esser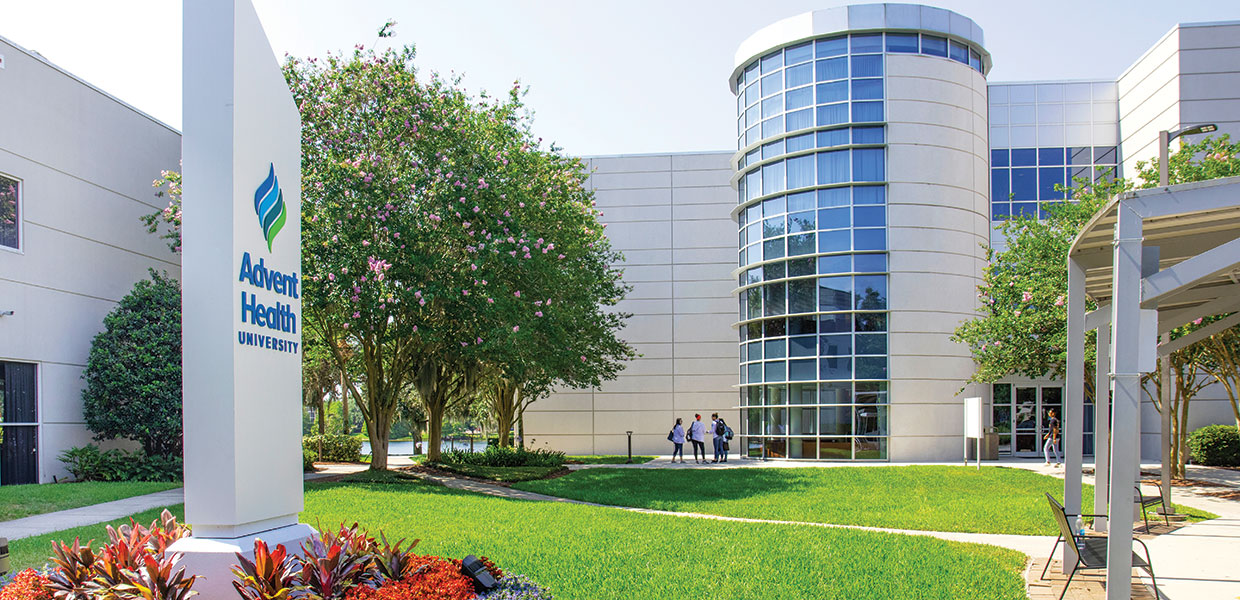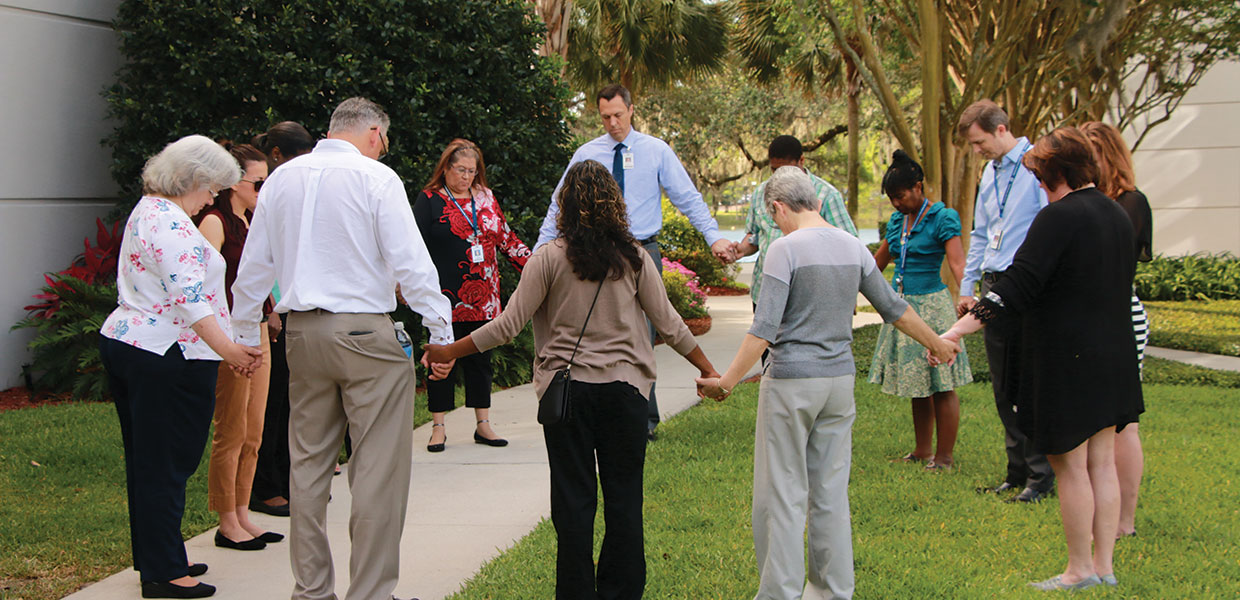 Faculty and staff pray together on National Prayer Day. Open worship is welcomed, and students are encouraged to participate.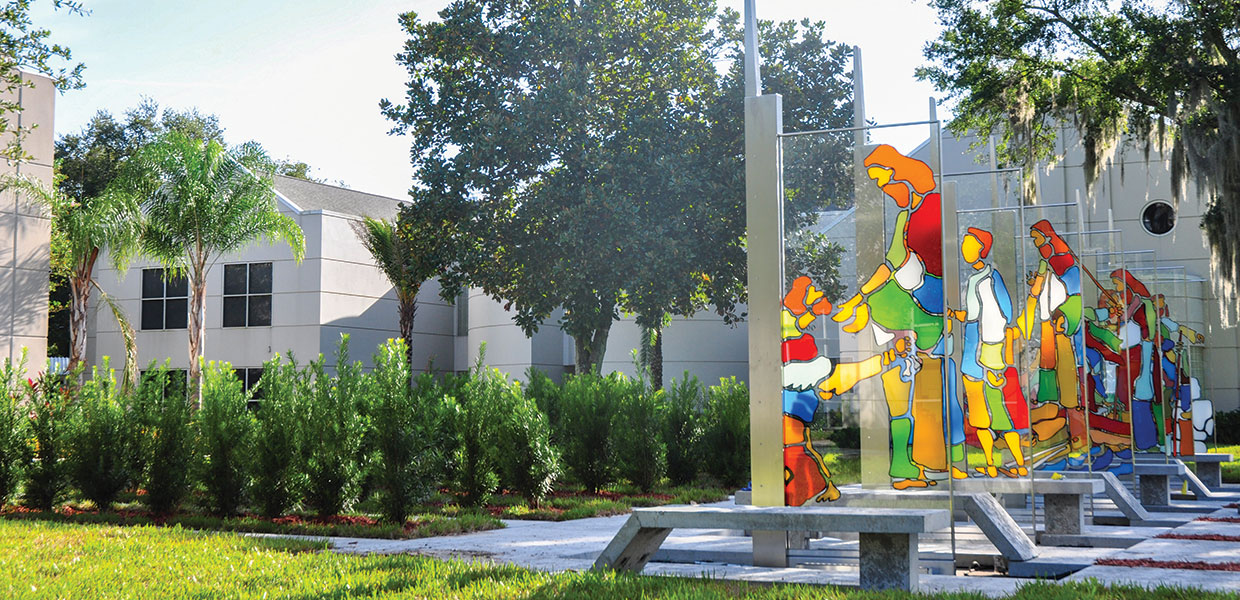 The Garden of Miracles is a visual reminder of AHU's mission to live the healing values of Christ.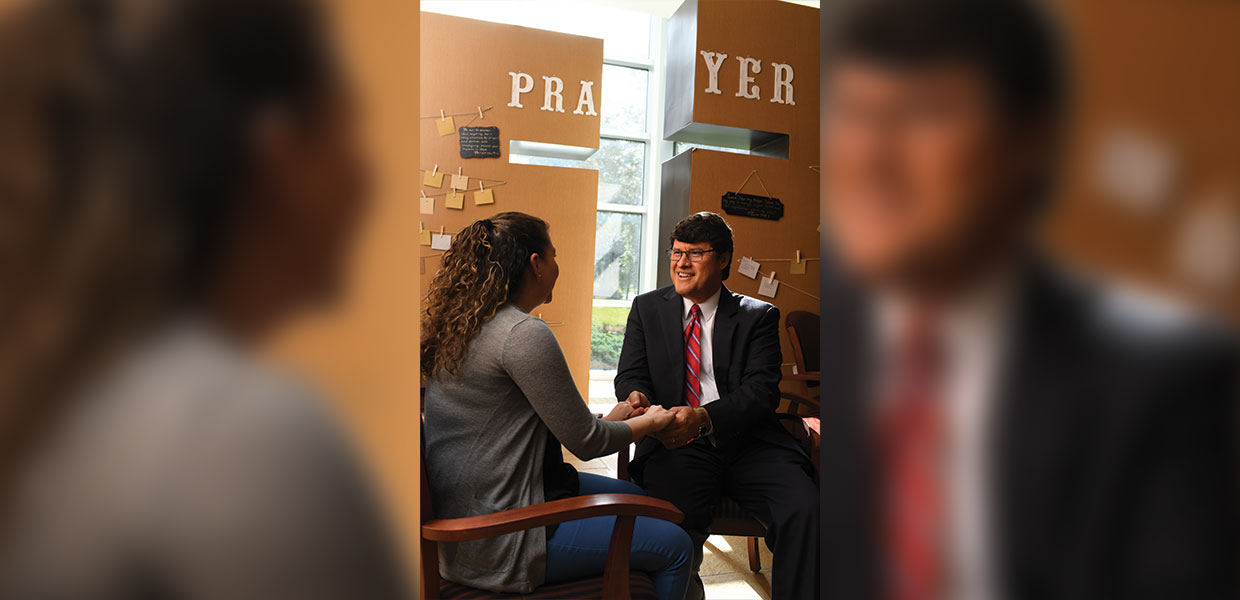 Edwin I. Hernández, Ph.D. (right), president of AHU, prays with a student in the University's Chapel.
AdventHealth University's (AHU) mission to develop skilled professionals who live the healing values of Christ carries forward the Adventist tradition of providing superior healthcare and teaching communities to live abundant, whole lives. AHU is dedicated to that pursuit by bringing both together within a faith-affirming environment.
Whole-person care is the cornerstone of AdventHealth's patient care experience, and, as the primary University in its network of care, AHU strives to educate a workforce of confident, compassionate caregivers with that same philosophy.
Edwin I. Hernández, Ph.D., president of AHU, talks to his employees about the "responsibility we share to advance the science and practice of whole-person care through education." AHU seeks to show students how to "lead lives characterized by uncommon compassion."
To teach this, the University has interwoven those principles — caring for mind, body, and spirit — into all aspects of the student experience, from the curriculum to the faculty and staff and the campus resources. Everything is designed with this mindset.
In their first year of college, students often have a mandatory first-year experience course that instills good academic success skills, and educates first-time college students on what campus resources are available to them. At AHU, this course is called philosophy of healthcare (POH). But, POH dives much further into the student's development. The second crucial goal of the course is to instill AHU's mission in the students, and ask them not only what they will do as healthcare providers, but who will they be.
This is the first step in the AHU student's whole- person care journey. The POH class instructor guides students to develop their own personal "philosophy of healthcare" by showing them how to recognize their assumptions, and then challenging them to approach each patient with equal compassion and without bias.
Courses are often taught by adjunct professors, many of whom are local pastors, so spirituality has a strong presence. With values of faith at the core of AHU's mission, it's critical to provide that guidance early in the student's journey. The course discusses the nature of humanity and "brokenness," and reaffirms the value of humanity. "Every person deserves equal care because we see everyone, including ourselves, as a child of God," said Janis Lowry, professor and manager of the POH course.
To ready students for the realities of being a healthcare provider, they must conduct a service learning interview. Each student interviews someone who has either given or received long-term care. They hear stories that are sometimes unpleasant, but Lowry expressed the importance of introducing them early to the harsher aspects of the profession.
The stories that students read and hear during the course, whether from personal interviews or the extensive course reading list, are a key part of what makes POH successful. "Hearing stories inspires compassion in people," said Lowry.
In addition to the instructor, each class is assigned an academic coach who will meet with students individually throughout the trimester to mentor them on building study skills. They also discuss the student's goals, and help them dig deeper into the topics covered in class, identifying areas to improve.
The students build a strong rapport with their coaches. A comment from one student's evaluation urged, "Keep the coaching."
Feedback from the students has a common theme — the course had elicited deeper introspection and understanding of why they wanted to be a healthcare provider. One student wrote that it "helped me to see that my job as a surgeon will cover the physical human body and the nature of the soul."
Another POH student commented that AHU was "the first place I've been told that my faith is a benefit in my job." The University encourages students to openly express their faith, and embrace its role in their healthcare career. By learning and living the healing values of Christ, AHU graduates can provide compassionate care to all their patients.
Another component of whole-person care integrated into the student's curriculum is the CREATION Health philosophy in the nursing program. Eight principles — choice, rest, environment, activity, trust, interpersonal relationships, outlook, and nutrition — provide direction to care for the whole person. This model is the foundation for their wholistic approach to care, and students are equally encouraged to follow these principles in caring for themselves and maintaining their optimal health.
"We are fortunate to have a model to encourage whole-person care that includes the spiritual needs equally as important as the physical and mental," said Janice Lowden-Stokley, Ph.D., R.N., associate professor of nursing.
Students are given opportunities to practice these ideals through patient interactions in their clinicals. In the occupational therapy (OT) program, the Hope Clinic, which was developed by department chair of OT, Tia Hughes, Dr.O.T., is a community clinic where students directly improve the lives of individuals who cannot afford care. Additionally, students complete a required number of service learning hours, which involves community engagement and outreach.
Outside of the classroom, AHU has created a campus that reflects Christ's healing values and the ideal of whole health. The Garden of Miracles art installation is a centerpiece of the campus that represents the seven healing miracles of Jesus. Each monolith is a reminder that Christ can make whole what was once broken — not just in the physical body, but also the mind and spirit.
Students are taught to treat physical ailments, but also to provide support by soothing fears and anxiety. To train students to understand whole-person care, AHU starts by leading them to find wholeness in their own lives.
For students experiencing emotional and spiritual dissonance, support is provided by campus ministries' chaplains, the Center for Academic Achievement's counselors and coaches, professors, and even each other. Many stories were shared about professors who go above and beyond to help students, who pray with them, and who check up on them. With a small, close-knit campus, a student's absence is notable.
To engage students with a patient's spiritual healing, the Office of Mission introduced Caring Rounds, which gives students in certain programs the opportunity to shadow hospital chaplains during their rounds. This direct contact has allowed students to engage on a personal level with patients, not just as professionals. Healthcare workers, out of necessity, operate on a task-focused, fast-paced schedule, but rounding with the chaplains reminds students that patient care also requires active listening, empathy, and compassion.
Ernie Bursey, Ph.D., professor of religion at AHU, also expressed the importance of students becoming "respectful, sensitive, and aware" of other religions if they intend to effectively extend the healing ministry of Christ. Particularly for healthcare providers, it's essential they are comfortable caring for people of other faiths, as well as engaging with coworkers and supervisors with different cultures and belief systems.
In his world religions for healthcare professionals course, Bursey asks students to interview someone of another faith tradition to discuss how they find spiritual strength in their religion. He said that the exercise often ends with students reaffirming their own faith. AHU welcomes a diverse campus with students from differing beliefs, ethnicity, and socioeconomic backgrounds, but all drawn to the same purpose of healing.
Caring for mind, body, and spirit is an ethos shared by everyone at AHU, and especially with the students who choose a Christian-focused education. Guided by its values of nurture, excellence, spirituality, and stewardship, the University leads students toward a career that incorporates the whole-care philosophy.

Lisa Marie Esser is the communications manager at AdventHealth University in Orlando, Florida.
Southern Union | August 2019