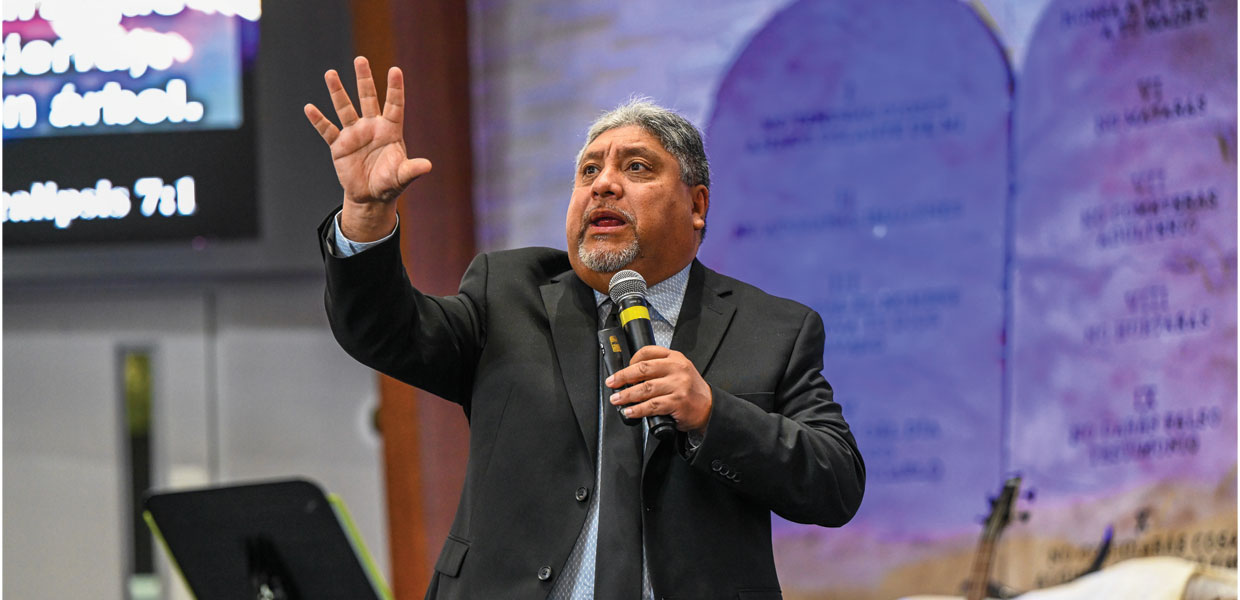 Julio Chazarreta is the director of Hispanic ministries at the Southern Union Conference.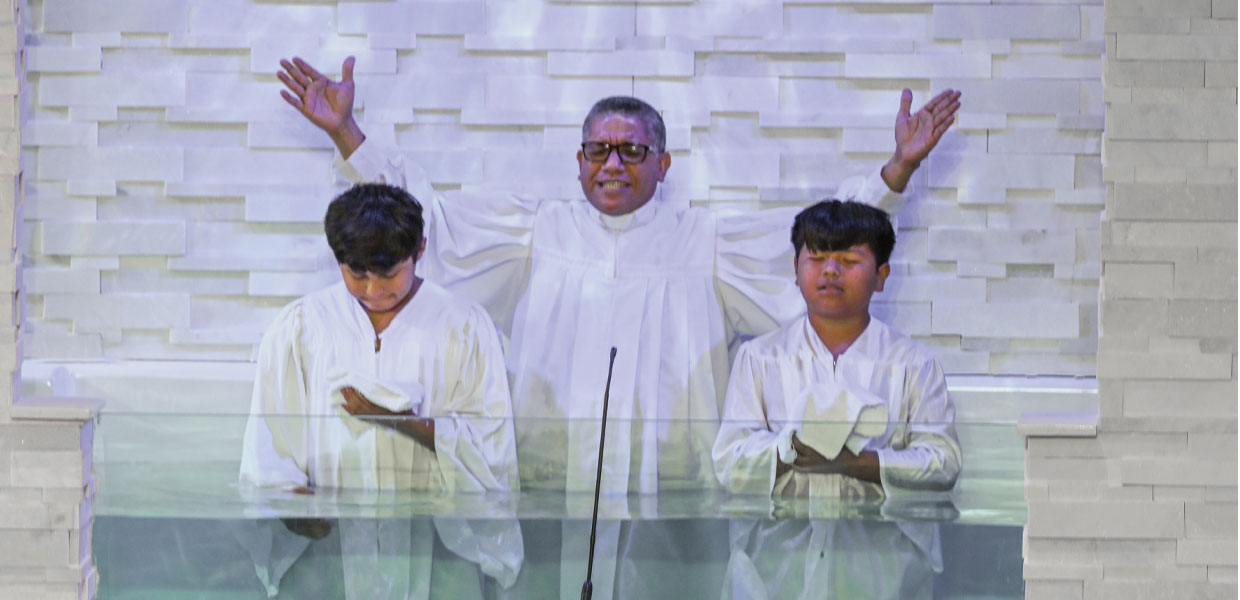 Estos dos jóvenes están listos para bautizarse.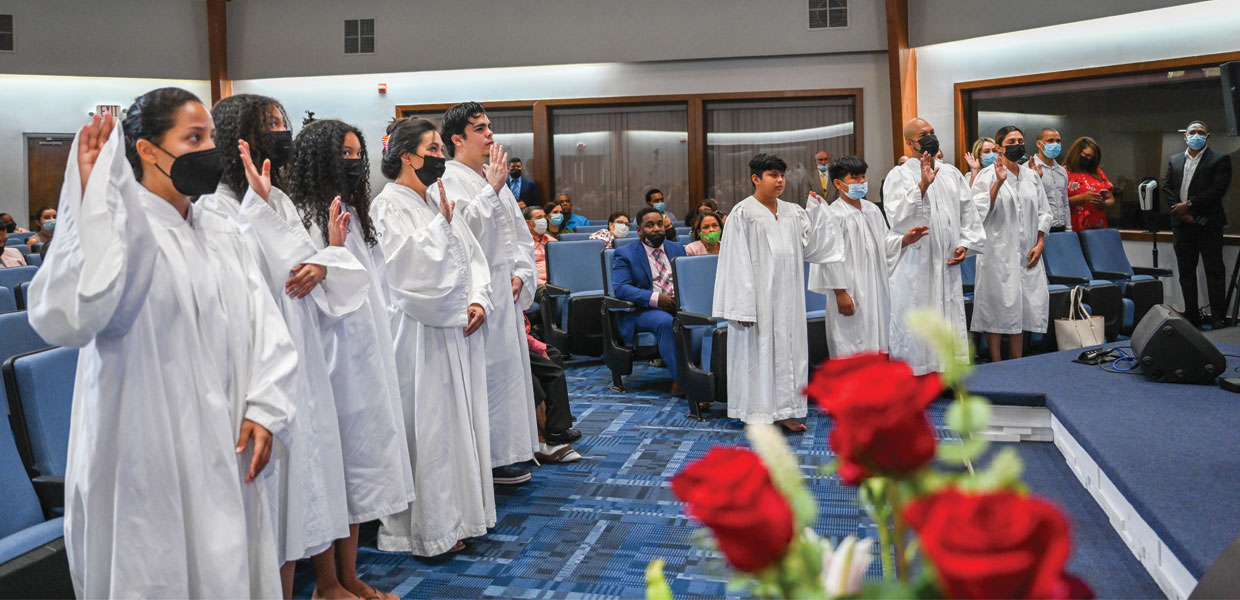 Baptismal candidates are taken through their baptismal vows.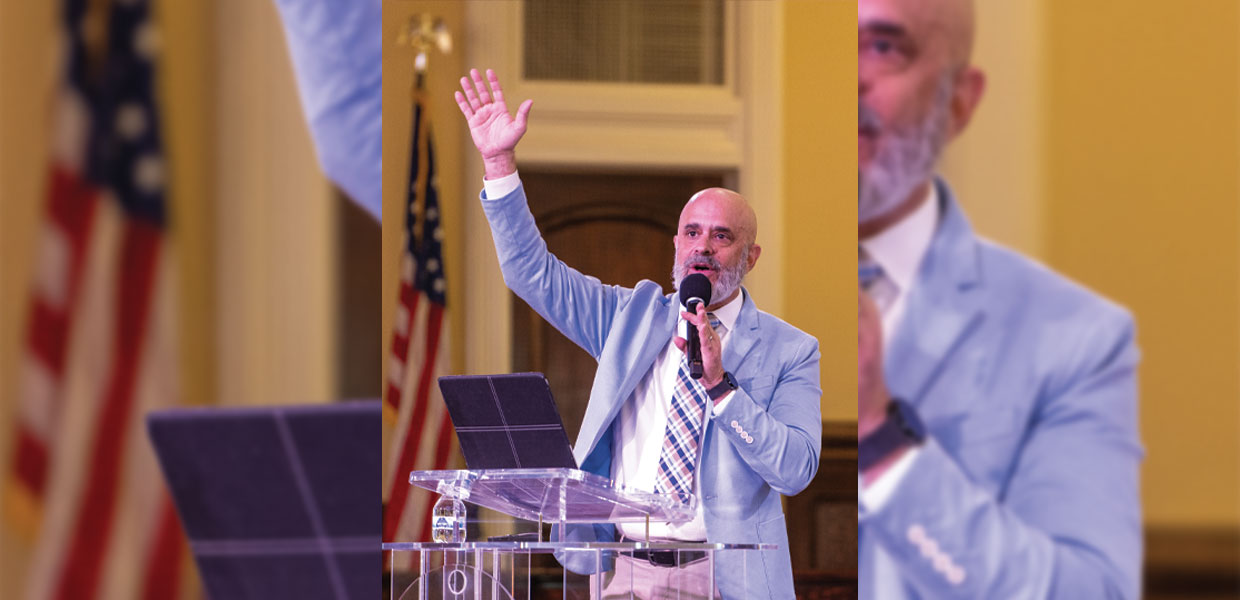 Roger Hernandez is the ministerial director at the Southern Union Conference.
Caravans and Campaigns
Last year we witnessed great victories for the Hispanic Ministries Department in the Southern Union. Through various campaigns and caravans, we had almost 3,000 baptisms and professions of faith.
As a department, we held evangelistic meetings in six metropolitan areas where all, or most of, the area Hispanic churches participated. Each congregation had a guest evangelist invited by the Southern Union and united under the theme "Todo Nuevo" (translated to "All New"). The evangelists emphasized the idea that, with God, everything can be new.
The invited evangelists spoke in Kissimmee, Florida; Mt. Olive, North Carolina; Apopka, Florida; Memphis, Tennessee; Miami, Florida; and several locations in the Georgia-Cumberland Conference territory.
Additionally, last year, we had eight lay training programs in Miami, Florida; Huntsville, Alabama; Nashville, Tennessee; Goldsboro, North Carolina; Cohutta Springs, Georgia; Nosoca Pines, South Carolina; Charlotte, North Carolina; and Raleigh, North Carolina.
We held our youth evangelistic caravan in August 2022. Every day we went to a different church, totaling eight churches. We started on Sabbath, August 20, at the Los Peregrinos Church, Miami, Florida, and ended at two of our universities: Friday, August 26, at Oakwood University, and the next day at Southern Adventist University. Through the weeklong caravan, the event was full of young people praising the Lord and making decisions to surrender to Christ through baptism. Hundreds attended in person and thousands followed us on the internet: our Facebook page, the Esperanza TV channel, and YouTube.
In addition to these activities, I personally conducted 12 local campaigns focused on the theme "Todo Nuevo" at various churches: Kissimmee, Florida; The Pilgrims, Florida; Metropolitan Atlanta, Georgia; Central Orlando, Florida; Forest City, Florida; Nashville, Tennessee; Avon Park, Florida; Lexington, Kentucky; Panama City, Florida; Raleigh, North Carolina; Miami, Florida; and Marion Oak, Florida.
Todo Nuevo Project
The event with the most significant impact and reach was called "Proyecto Todo Nuevo" ("Project All New"), named after the Hispanic Ministries 2022 motto.
The project emerged in April with a consensus with our eight conference Hispanic coordinators, and their respective work and support teams. Inspired by a quote from Ellen G. White, we dared to think that perhaps it was time to be part of the fulfillment of her statement: "More than a thousand people will be converted in a single day, most of them who will attribute their first impressions to reading our publications," Evangelism, p. 503 (1885).
Excited about what God could do, we collaborated with El Centinela magazine, a missionary magazine of the North American Division. On this occasion, it was a special issue, a bilingual edition where the authors were pastors from our territory. The magazine was distributed like autumn leaves. As a result, we received lots of interest in Bible studies and maintained connection with the local church.
Thanks to the Venezuelan musical group Melody, we also had a theme song with the title "Todo Nuevo." It was sung in our territory and continues to be sung in the Hispanic world, imparting a great blessing to the fellowship.
It was impressive to have most of the Southern Union churches in intensive evangelism during April. Ninety percent of the churches participated, and as a result, more than 1,100 people were baptized or had professions of faith for the glory of God. It not only brought others to the feet of the Master, but it also revived churches that, due to the pandemic, had not been fully re-established.
The "Proyecto Todo Nuevo" taught us to trust God more and believe that achieving great things is possible despite adversity. We were the first Union in the North American Division to achieve something of this magnitude in the middle of a pandemic. God gave us amazing results from this project, and we praise Him for it. He allowed us to experience more blessings than we imagined:
1. To achieve this, we had to work for a united purpose; the Lord accomplished that in our field.
2. A very high percentage of our churches got involved, which we can only attribute to God, who used pastors, or, as I always call them, "The heroes of this work."
3. Todo Nuevo was not only a commitment between coordinators and pastors, but also the members of the churches were enthusiastic.
4. The Church projected itself more aggressively for the benefit of the community.
5. God showed us one more time that He is still in control of our Church.
6. Not only were people baptized, but lives were also transformed.
7. Everyone involved learned to trust Jesus more.
Projection for 2023
This year, 2023, we will have significant challenges, and we need your prayers for the upcoming events. These challenges include six metropolitan campaigns with more than 12 preachers: West Palm Beach, Florida; Huntsville, Alabama; Kentucky, Tennessee; Mount Olive, North Carolina; Atlanta, Georgia; and Gulfport, Mississippi. We also seek prayer for our eight lay training programs that will take place in the South Atlantic Conference, Georgia-Cumberland Conference, Kentucky-Tennessee Conference, and at the PELC and EC3 conventions.
In addition, the 2023 caravan will be titled, "Jesus Wins!" The caravan will be held for two weekends with four women speakers. We will use materials from the main speaker, Elizabeth Talbot, speaker/director for the Jesus101 Biblical Institute, who will preach about Jesus at various locations.
During this year, I will lead a total of eight campaigns in various churches: Tucker East, Georgia; Raleigh, North Carolina; Downtown Tampa, Florida; Miami Ebenezer, Florida; Northwest Miami, Florida; Charlotte, North Carolina; The Pilgrims Miami, Florida; and Atlanta, Georgia.
But, our biggest challenge will be leading four campaigns that will start four new congregations. By the grace of God, we will plant churches in Charleston, South Carolina (Carolina Conference); Panama City, Florida (Gulf States Conference); Russellville, Alabama (South Central Conference); and Frankfurt, Kentucky (Kentucky-Tennessee Conference).
The challenges and the task are enormous, but we fully trust the God of the impossible, Who will give us His victory. He has been so good to us in these last days that we need not fear. And today, looking back, we hold onto this quote: "We have nothing to fear from the future unless we forget how God led us in the past," Ellen G. White, Last Day Events, p. 72.1
For this and much more, we praise Jesus, our Supreme Leader in the Southern Union, and our Adventist World Church. To Him be the Glory Forever!
Julio Chazarreta is the director of the Hispanic Ministries Department at the Southern Union.
Christina Coston, associate communication director at the Southern Union, contributed to this article.
Southern Union | March 2023