Through a rare natural phenomenon, Southern Adventist University is bringing together Seventh-day Adventist schools across the country.
by Angela baerg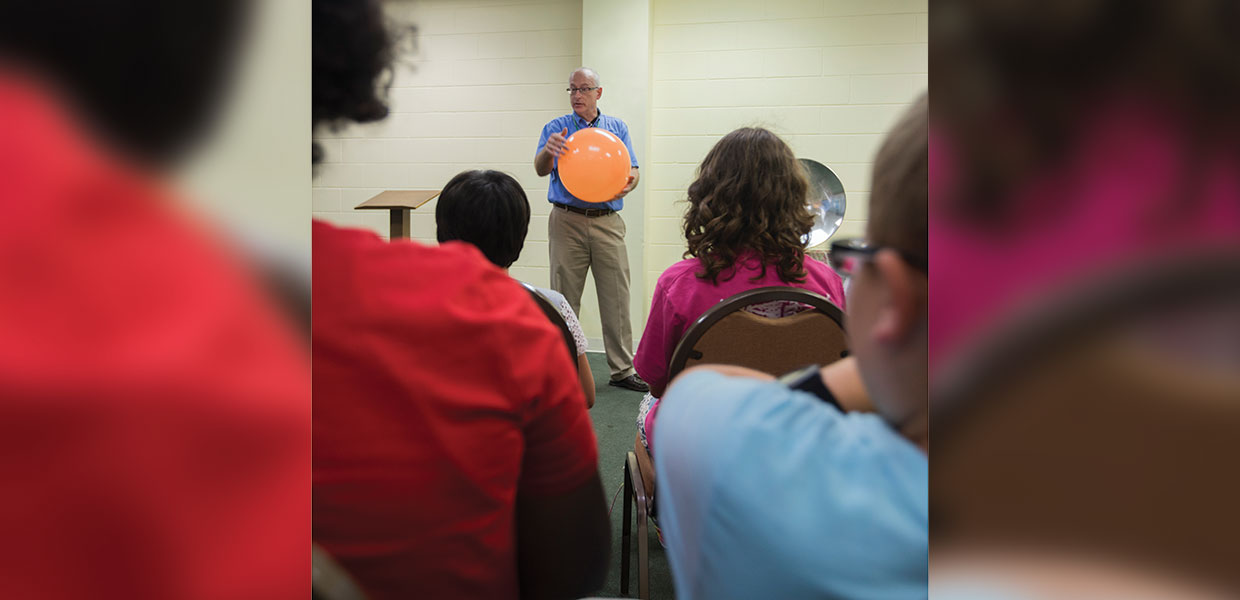 Chris Hansen, Ph.D., Southern Adventist University physics professor, holds a ball representing the sun as he explains a total solar eclipse to elementary students.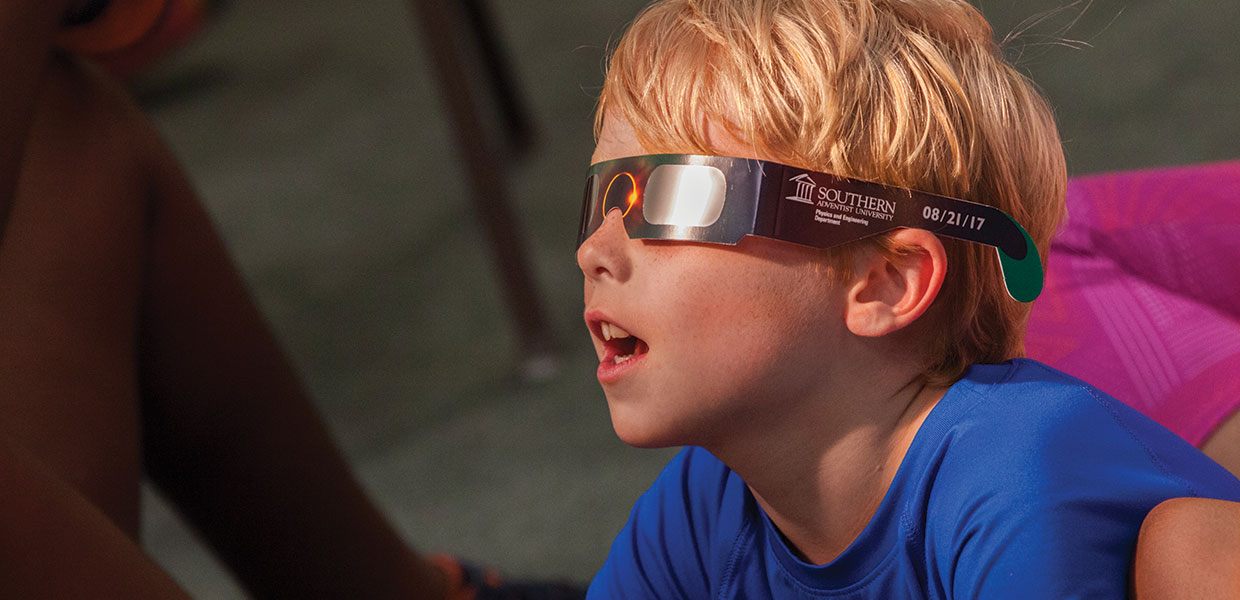 Students, wearing special glasses, stare at a bright light simulating the sun as they learn about eclipses.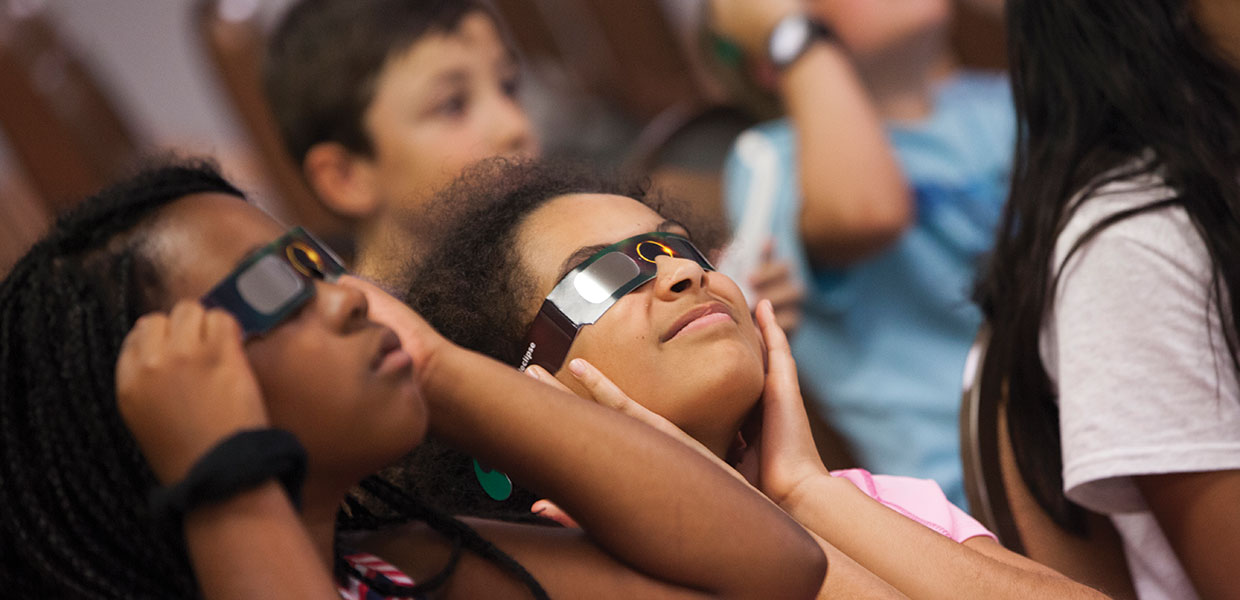 Southern is providing free eclipse-viewing glasses to schools participating in the project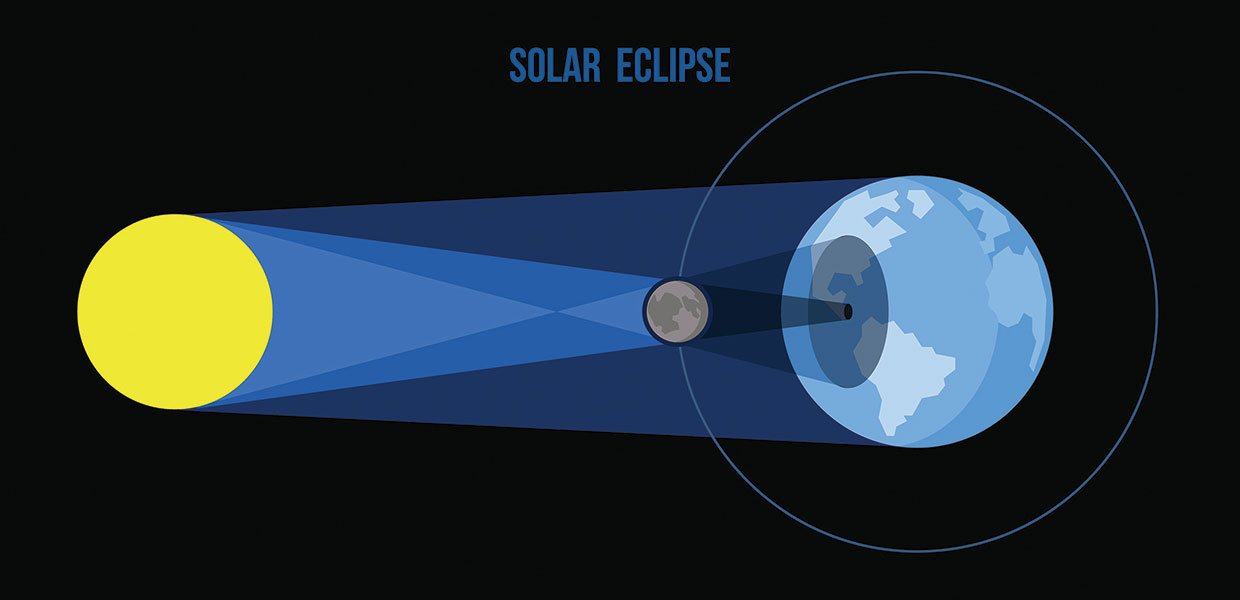 A total solar eclipse occurs when the sun, moon, and Earth line up perfectly, as they will on August 21, 2017.
A rare natural phenomenon will occur on August 21, 2017 — a magnificent total solar eclipse. Although eclipses of various magnitudes occur frequently, the last time an eclipse this spectacular took place in North America was in 1918. Some people travel the world in search of extraordinary eclipses, but during this event many United States residents will be able to view one from their own front doors.
The eclipse will first be visible in Oregon and pass through the Midwest before arriving in the Collegedale, Tennessee, area around 2:30 p.m. Those located in the center of its path — also called the "center of totality" — will witness an eclipse that lasts about two and a half minutes.
Since Southern Adventist University is located only 40 minutes away from where the center of the eclipse will pass, the Physics and Engineering Department faculty plan to capitalize on this unique opportunity for hands-on scientific study. They will host a field trip for physics students, an on-campus viewing party for all majors, and a virtual viewing party that is open to all North American Division (NAD) Seventh-day Adventist schools.

A Rare Opportunity

A solar eclipse is caused by the moon passing between the sun and the Earth, casting a large shadow on Earth's surface. The most common type is a partial solar eclipse, which occurs when the sun, moon, and Earth are not perfectly lined up, so the sun is only partly obscured. The second type of eclipse is an annular eclipse, when the moon does not completely block the sun, but instead appears like a dark disk on top of a brilliant ring. Finally, the last type of eclipse is a total solar eclipse, where the sun, Earth, and the moon are in a direct line. In this scenario, the sky becomes very dark, as if it were night.
It is this last and most rare form of eclipse that will occur on August 21. Rarer still is for an event of this magnitude to happen in one's own backyard. To make the most of this opportunity, Southern's Physics and Engineering Department is canceling all indoor classes on August 21, and instead spending the day in the most cutting edge, thought-provoking classroom of all — the great outdoors.
Together, students, faculty, and staff will travel to the center of totality in Athens, Tennessee, to view the full length of the eclipse and run experiments. They will log the pivotal moments during the eclipse, attempt to photograph the different phases, and use a spectrometer to compare and contrast the spectrum of the sun's corona in full sun and in totality.
The students who remain on campus will also have a special viewing party. Although Collegedale is not at the center of totality, more than 99 percent of the sun will be covered, and students will use special eclipse-viewing glasses to see the eclipse in near-totality.

Collaborative Learning

This opportunity is so unique and exciting that Chris Hansen, Ph.D., Physics and Engineering Department chair, did not want to limit it to Southern students alone. Instead he came up with the innovative idea to host a virtual viewing party. With the help of the NAD Office of Education, he reached out to all of the Seventh-day Adventist schools in the Division within the scope of the eclipse. He offered them free eclipse-viewing glasses if they would perform experiments, take pictures, and share their results with sister schools via Southern's website, southern.edu/eclipse. Anyone will be able to view the results as they are posted.
"It is a great opportunity to build community within our Seventh-day Adventist school system," Hansen said. "Plus it's science related, which makes it even better."
This virtual viewing party is the first of its kind within the North American Division school system, and so far Hansen has received an enthusiastic response. Twenty-six schools in the path of the eclipse — including at least 12 in the Southern Union — have signed up to participate, totaling more than 1,500 viewers. Schools range from the western-most school of Gem State Academy in Caldwell, Idaho, to the eastern-most school of Myrtle Beach Seventh-day Adventist Christian School in Myrtle Beach, South Carolina.
Chadd Watkins, principal of Highland Academy in Portland, Tennessee, has signed up the 100 staff and students of his school to participate. "I'm hoping the students will enjoy this once-in-a-lifetime event," Watkins said. "I want them to realize that we were created by the Master, and what we see is a result of His works, not some cosmic explosion. I hope all the schools are reminded that we are fearfully and wonderfully made."
Kelli Vigil is a teacher at Rapid City Seventh-day Adventist School in Rapid City, South Dakota. She has signed up the 17 students at her school, and is looking forward to the eclipse. As a teacher in a small school, she is very grateful for the free resources to enable them to participate in an experiment like this, and for the opportunity for her small school to feel connected to the Adventist community at large.
"Science is the fingerprint of God, but that is sometimes lost in the complex concepts and tricky vocabulary," Vigil shared. "The more interactive and hands-on our science work can be, the better! I think this will be an experience my students will always remember."

Angela Baerg is a Montessori preschool teacher who graduated in 2006 from Southern Adventist University in Collegedale, Tennessee.
Southern Union | August 2017