Debleaire Snell, pastor, preaches weekly at the Oakwood University Church in Huntsville, Alabama, and his sermons are aired worldwide on the Breath of Life Television Ministry programs.
Gianna Snell Photography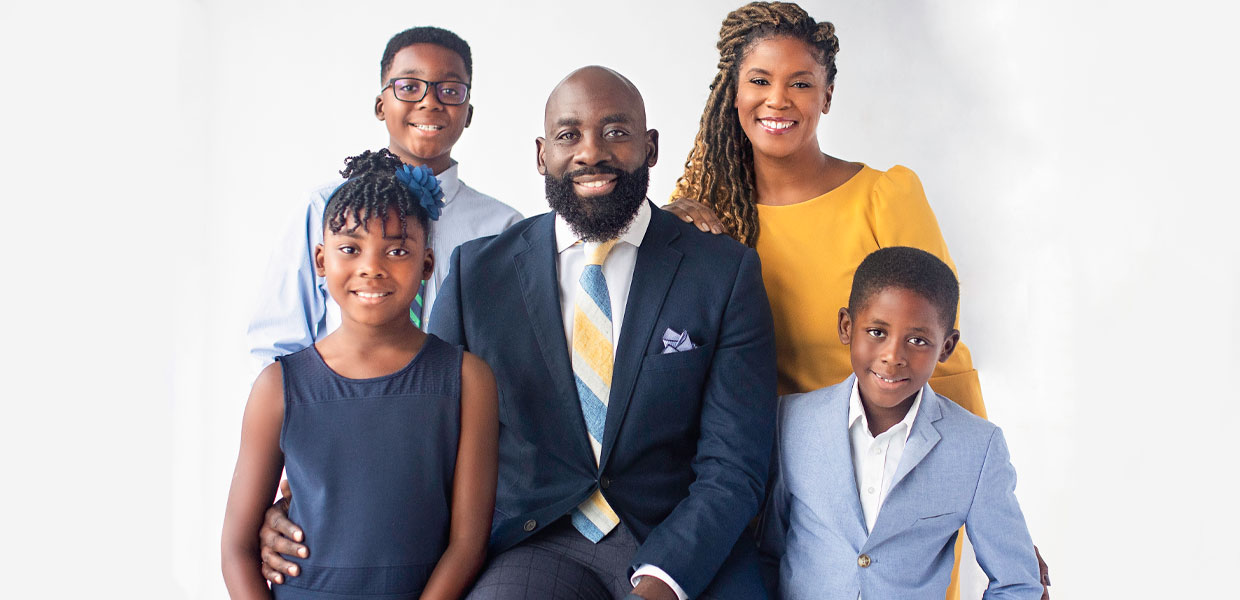 Debleaire Snell is the speaker/director of the Breath of Life Television Ministry as well as the senior pastor of the Oakwood University Church in Huntsville, Alabama. He is married to the former Gianna Norman, and they have three children, Jadon, Brooke, and Braydon.
B Nicole Photography
The Breath of Life (BOL) Television Ministry has a long and storied history.
Breath of Life was conceived under the creative and visionary leadership of Walter Arties, pastor. Its initial design was to create a media vehicle to reach the inner cities, and help evangelize urban communities. The ministry exploded under the legendary leadership of the late Charles Brooks, pastor. Brooks brought a unique preaching presence that captivated audiences of all ages and races.
After Brooks retired, Breath of Life was led by the legendary hands of the late Walter Pearson, pastor. Through the ministry of Pearson, the reach of Breath of Life was able to expand. He brought a creativity to the preaching moment, and the simplicity that made the Gospel relatable and attainable to all people.
Just over 12 years ago after Pearson retired, the ministry was placed under the very capable stewardship of Carlton Byrd, D.Min. Byrd was the first speaker/director to host Breath of Life from a local church context. Beginning at the Berean Seventh-day Adventist Church in Atlanta, Georgia, he eventually began to host the ministry from the Oakwood University Church in Huntsville Alabama. During his leadership tenure, thousands of individuals were baptized into the Seventh-day Adventist Church, and the ministry was able to connect with the unchurched in ways we never thought possible.
I've personally been impacted by all three of my predecessors, as the Lord used them to help transform communities and to build the body of Christ. I count it a tremendous joy to share in such a rich and sacred legacy. I hope to continue the tremendous evangelistic legacy of making Jesus Christ known through the preaching of the Gospel.
The Path Forward
We celebrate God's goodness to the Breath of Life Television Ministy in years past. As we forge ahead by faith, my prayer is that we would be able to function as a spiritual branch that provides nurture for the body of Christ. We would like for Breath of Life to help nourish our churches spiritually, evangelistically, and through equipping and training. My mission over time is to make sure that the contributions our churches make to Breath of Life are outweighed by the benefits they receive.
Evangelistically
We hope to continue the excellent traditions of evangelism started by Charles Brooks, and continued by Walter Pearson and Carlton Byrd. In the next two years, we have evangelistic revivals planned for Charlotte, North Carolina; Huntsville, Alabama; Bermuda; Seattle, Washington; Los Angeles, California; and Miami, Florida. In addition to full evangelistic crusades, Breath of Life will be hosting a number of weekend revivals, reaping meetings, and leadership trainings.
Educationally
We believe it is critical for Breath of Life to reproduce itself. In the fall of 2022, we will be launching our Breath of Life Media School. As we continue to emerge from the pandemic, a strong online presence is critical. Since the start of the pandemic, many of our smaller churches have struggled to have an online presence. This year's media cohort will focus on small churches. We hope to train pastors and AV leaders of churches that have less than 50 people in attendance. We hope to share the value of having a social media presence, appropriate lighting, website, management, and worship production. We want to share the competencies that are present at Breath of Life so that all of our churches are able to thrive.
We will also be launching the first semester of our Breath of Life School of Evangelism. We will be initiating a cohort for pastors who want to grow in the area of evangelism. Those with a hunger for evangelism will be given the tools for effective evangelism. Our hope is that this assists in giving our churches an evangelistic jumpstart. It is critical for traditionally strong churches to add to their growth, but the work cannot be completed until more of our churches are able to add to the God's Kingdom.
Spiritually
We want to make serious contributions to the spiritual life of our Breath of Life family. Through the preaching of the Gospel, we hope to make Jesus Christ known through our weekly television and streaming ministries. We also hope to multiply the content that our BOL app provides. Too often Seventh-day Adventists have to go to websites like U-verse or crosswalk.com to have day-to-day devotional needs met. We want our app to function like spiritual Walmart. Over the next couple of years, we look forward through our app to providing a verse for the day; Bible reading plans; prayer challenges; print and video devotionals for men, women, couples, and children; and topical spiritual content. We want to provide thoughtful doctrinal material along with spiritual content created by Seventh-day Adventists to help nurture the practicing Seventh-day Adventists. We ask for your continued support of Breath of Life. First, we ask for your prayers. Secondly, we ask that you would spread by word of mouth the things that BOL is doing that are impactful to you. Lastly, we request your continued financial support. BOL is a donation-based ministry. Your gifts allow us to fill up the airwaves and internet streams with the Glad Tidings of salvation.

is the speaker/director for the Breath of Life Television Ministry.
Southern Union | April 2022