by Lucas L. Johnson II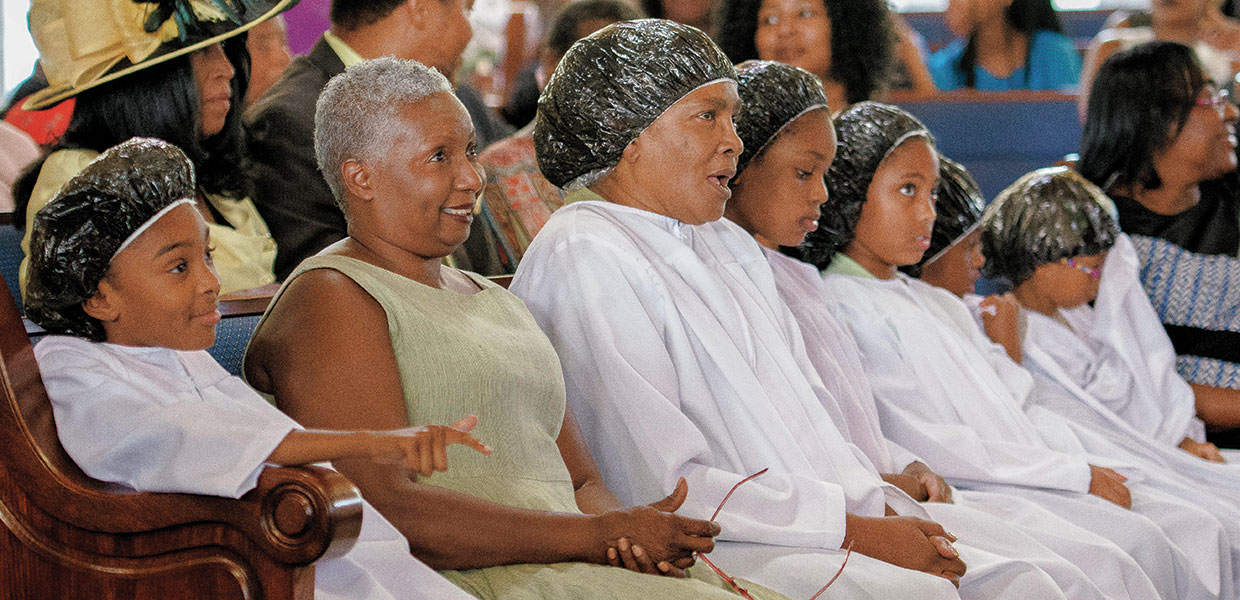 Joyce Thrower sits with some of the 38 baptismal candidates she and other Bible workers prepared for baptism during a 2017 evangelistic meeting held by William Smith, director of the publishing department at the Southern Union, and Larry Johnson, pastor at the Gethsemane Church in Raleigh, North Carolina.
R. Steven Norman III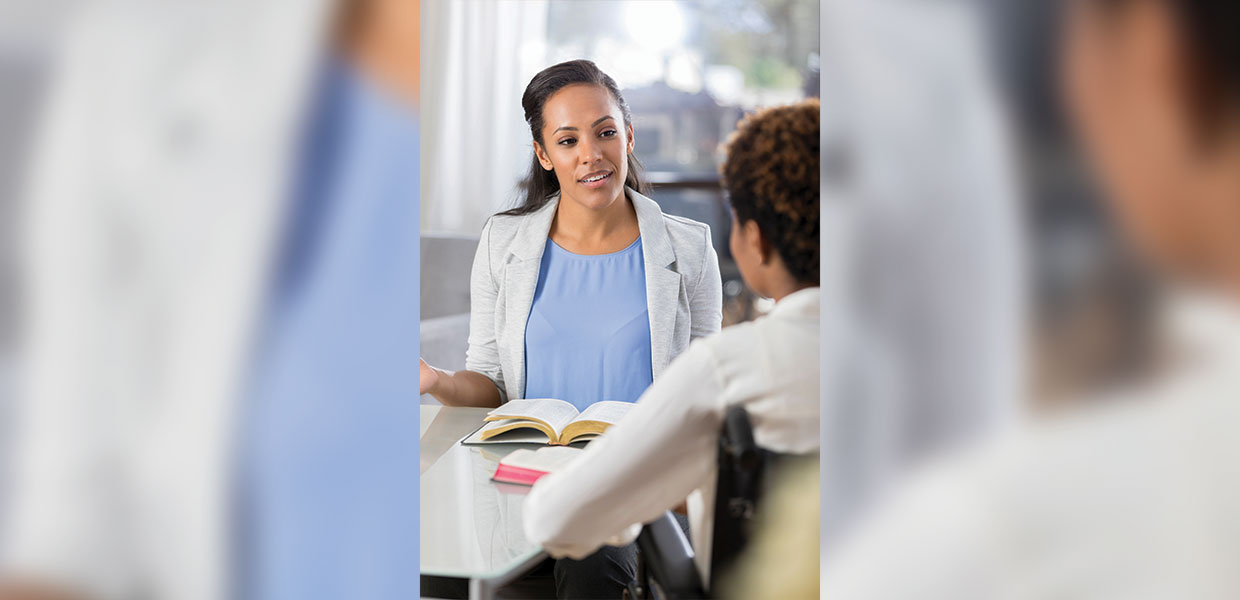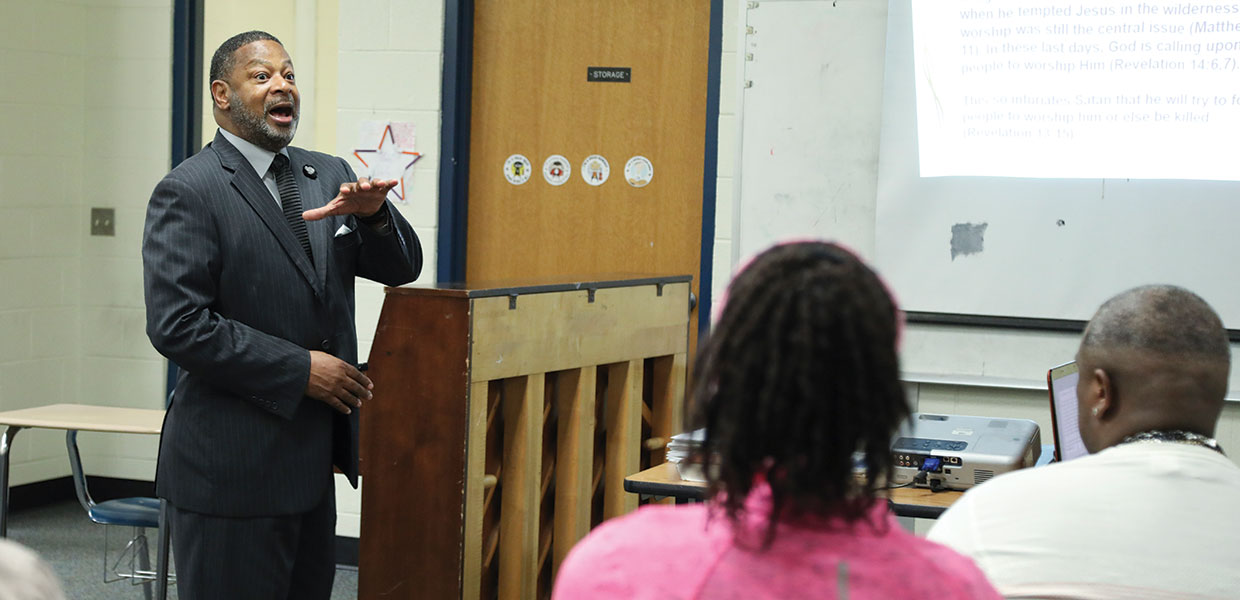 Darrel Jackson teaches during a Bible study session.
Courtney Herod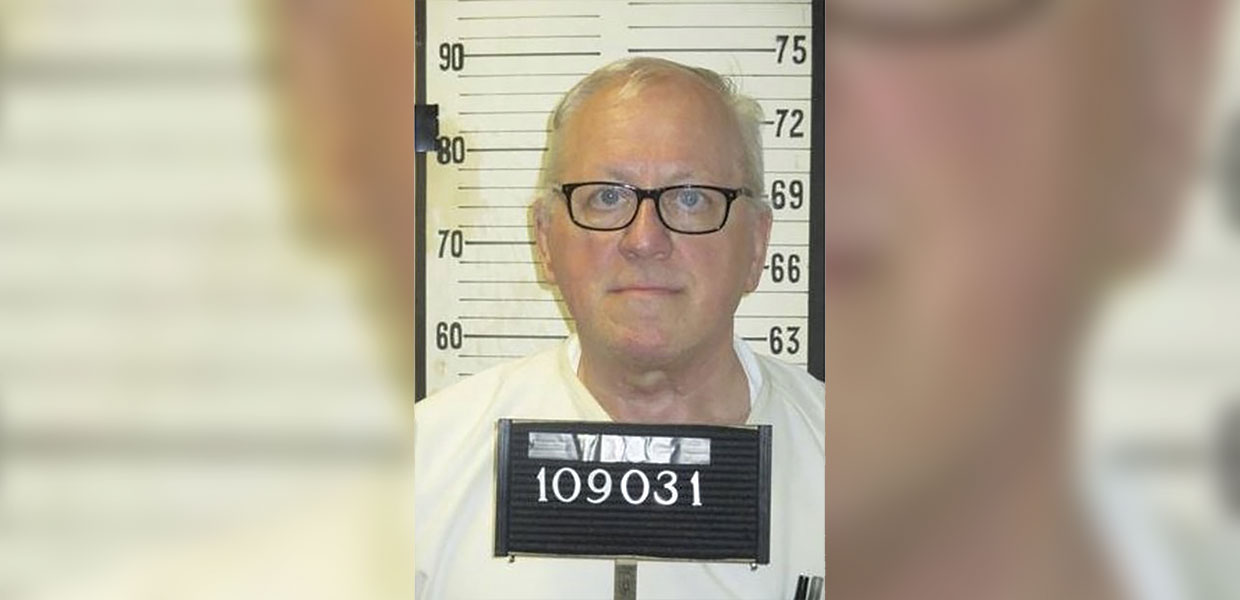 Don Johnson was led to Christ by a lay Bible worker while on death row. Now he leads religious services, and gives Bible studies to his fellow inmates on death row.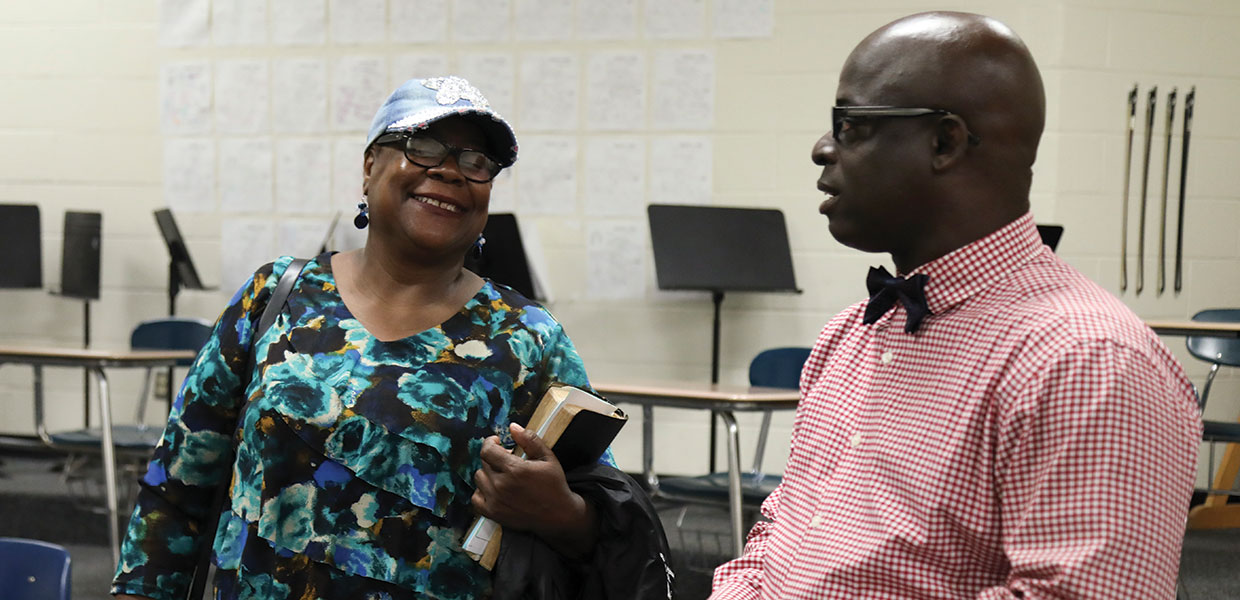 Minger Nesmith talks with a student.
Courtney Herod
"As Jesus was getting into the boat, the man who had been demon-possessed begged to go with him. Jesus did not let him, but said, 'Go home to your own people and tell them how much the Lord has done for you, and how he has had mercy on you.' So the man went away and began to tell in the Decapolis how much Jesus had done for him. And all the people were amazed," Mark 5:18-20 NIV.
Like foot soldiers in the military who protect our country in times of war, Bible workers or counselors beat the pavement and knock on countless doors to try to bring people to Christ amid today's spiritual warfare. They are key partners in the process of leading people to Jesus, and preparing them for church membership. Every church needs volunteers who will do Bible work. But, more specifically, every church needs witnesses — something any believer is capable of being because we all have a story about how Christ has touched our lives. He wants us to tell others.
These stories about Bible workers and how they go about sharing Christ will hopefully inspire you to do just that.

Joyce Thrower

At first Joyce Thrower did not think she was cut out to be a Bible worker. More than one person told her she should seriously consider it, but Thrower just wasn't feeling it. That is, however, until the Holy Spirit convicted her. When she did finally listen, and began doing Bible work in Huntsville, Alabama, in 2012, it did not take long for her to start winning souls, even though, she acknowledges, some were tougher to persuade than others.
About a year after becoming a Bible worker, she met a woman in the small city of Monroe, North Carolina, who was a known alcoholic. The woman was receptive to the Bible studies and meetings, and even attended church on Sabbath. But, when there was an opportunity to be baptized, Thrower says the woman would find some excuse not to do it. Her biggest excuse was that she needed to be sober before fully giving her life to Christ. Thrower says she kept praying for the woman. Then one Sabbath, out of the blue, the woman decided to be baptized. And, she stopped drinking. Thrower was overjoyed.
"I was happy for her because she wanted to change her lifestyle," says Thrower, who is part of the South Atlantic Conference, continuing, "and she loved Jesus so much, that she decided on her own."
Thrower says the woman's decision to get baptized affected those close to her. Some became interested in Bible study, and others started attending a Seventh-day Adventist church. Thrower says such stories of success motivate her to witness any chance she gets, which is why she does so on her part-time job as a Lyft driver.
"Sometimes I'll pray for the individual in the vehicle if I see they don't mind me doing it," she says. "Otherwise, I let them know, 'I belong to a prayer group, and we will put your name on our prayer list.' And, usually they appreciate that."
Adds Thrower: "I enjoy meeting people, talking about the love of Jesus, and just seeing them fall in love with Christ."
At the same time, she says soul winners have a responsibility to make sure the individuals they bring to Christ stay in the Church. That means staying engaged with them, as much as possible.
"If they give their hearts to Christ, but then they leave, then our work will have been in vain," says Thrower.

Minger Nesmith

Minger Nesmith, also in the South Atlantic Conference, has been a Bible counselor for 12 years, and he acknowledges that what they do can be hard work.
"You may get 20 rejections before that one person comes to the door," says Nesmith.
However, the rejections are worth it if just one person is brought to Christ. Nesmith recalls giving Bible studies to a woman in Atlanta, Georgia, who was a Baptist.
"I'm a Baptist, and I'm going to die a Baptist," he recalls the woman saying.
But, as Nesmith and his team continued giving her lessons, the Holy Spirit started to work. The woman gained a better understanding of the Sabbath day, and took a stance on her job. She decided not to work on the Sabbath. Nesmith and a pastor wrote her a letter to take to her employer.
After about two months of Bible study, Nesmith says the woman got baptized. She did not lose her job, and she's currently a strong member in the Church.
For anyone who wants to be a Bible worker, Nesmith says to be prayerful and "make sure their relationship is intact with God. Allow them to see Christ in you."
Nesmith says he and some of his colleagues plan to open a training school that will assist individuals who want to become Bible workers. One of those colleagues, Nesmith says, is his mentor, Darrel Jackson, who has been a Bible worker nationally and internationally more than 35 years. He has brought more than 5,000 people to Christ … and he's not close to being done.

Darrel Jackson

After hearing his story, one might say Darrel Jackson was destined to be a Bible worker. He learned about Adventism more than 40 years ago, in 1977, while visiting a friend in Tuscaloosa, Alabama. He was not much of a churchgoer.
"I went once a year, and that was on Easter," recalls Jackson.
His friend's cousin came over, and Jackson and the young woman hit it off. During a walk together, they were approached by a woman selling Message magazines. Jackson purchased one, which came with a free copy of the book, Steps to Christ. When she saw the book, the young woman with Jackson said she was familiar with it, and they discussed the free correspondence course in the back of the book. She said the course and subsequent lessons were informative, and that they had led her to become an Adventist. At first, Jackson says he took the Bible study course just to score points with his friend's cousin. But, as he read the lessons, he found them interesting, and before he knew it, he had completed the course. Still curious, Jackson asked the young woman if there was a church nearby that taught what was in the lessons. She told him yes, the one that she attended. When he visited, there was a new pastor who had not yet arrived. However, he was at that year's Camp Meeting. Jackson asked to attend, and out of the hundreds of people there, he just happened to run into the new pastor. It was a Holy Spirit-filled connection. After talking with the pastor and other Adventists at the Camp Meeting, Jackson asked to be baptized there.
Six months later, he married his friend's cousin, Patricia Harris, and he began to work in literature evangelism. Today, his Bible work, as well as his marriage, are blessed.
Jackson says he hopes more people will consider Bible work. But, for those who may not be comfortable doing so, there are other ways to steer people to Christ.
"We all have different gifts," says Jackson, who is in the South Central Conference, but frequently works abroad. "There's something all of us can do in the area of evangelism" … even if that person is behind bars, like Don Johnson.

Don Johnson

In 1984, Don Johnson was convicted of murdering his wife in a Memphis camping center that he managed, and he is currently on death row in Tennessee. However, during his incarceration, Johnson became a Christian and began leading a religious service. Recently, a petition was started requesting clemency for Johnson, who supporters say was redeemed by Jesus. The petition, which is being reviewed by Tennessee Governor Bill Lee, includes a plea from Cynthia Vaughn, the daughter of the woman Johnson was convicted of killing. Vaughn is also Johnson's stepdaughter, and says she's forgiven him.
At a news conference announcing the clemency campaign, Furman Fordham II, pastor, explained that Johnson's journey to becoming ordained as an elder at the Riverside Seventh-day Adventist Church in Nashville, Tennessee, while serving time on death row began when a now-deceased church member started a Bible study with Johnson 30 years ago.
When Fordham came to Nashville in 2006 to lead Riverside, he met Johnson in prison and was amazed to see an inmate leading a religious service.
"It said to me that Don's ministry was moving full circle," says Fordham. He later met an ex-prisoner who had studied the Bible with Johnson.
Johnson says he accepts God's will, "but … doesn't feel his work on Earth is done yet."
Supporters of Johnson, including Fordham, believe commuting his sentence to life in prison instead of death will allow him to continue to win souls for Christ.
Fordham says Johnson is another example of how anyone can be used to witness. He points to the story in the book of Mark, when Jesus heals the demoniac. When the man asks to stay with Jesus, He tells the man to go tell others what the Lord has done for him.
"He's an authority on his story, and the people who knew him before, knew that a change had taken place," says Fordham. "I believe that all of us have the capacity to say, 'This is what Jesus has done for me.'"

Lucas L. Johnson II is a former reporter for The Associated Press. He is also author of the book, Finding the Good, which was featured on National Public Radio.
Southern Union | May 2019