by wAshington johnson II, d.min.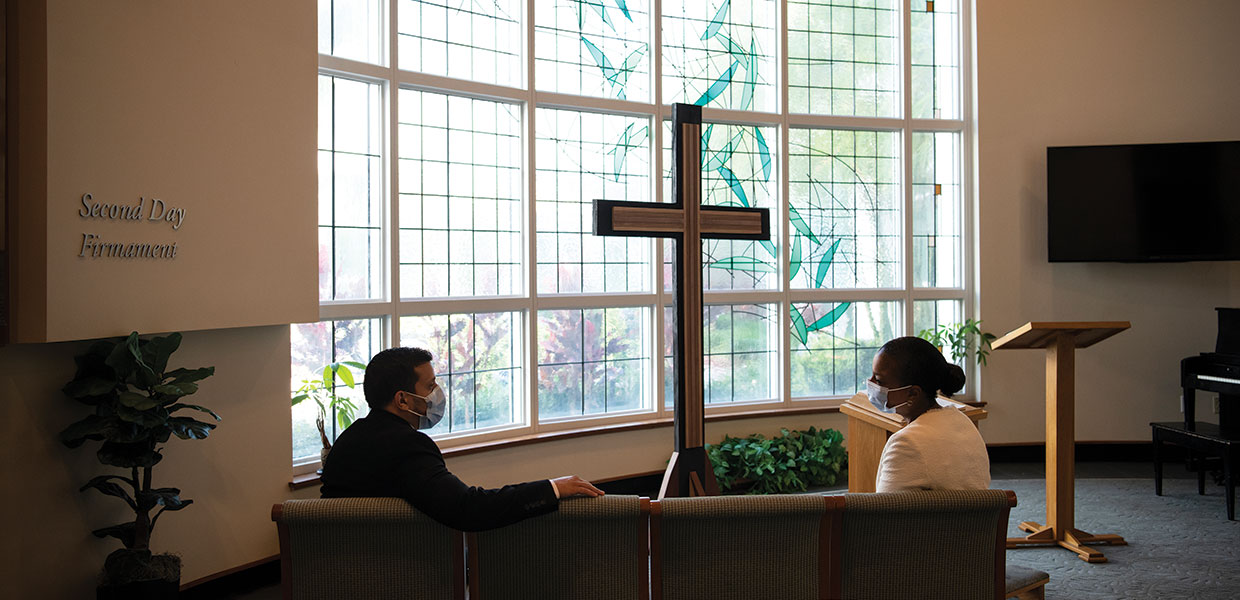 Chaplain Pedro Fernandez provides pastoral care during a quiet moment in the chapel at AdventHealth East Orlando.
Matt Rainey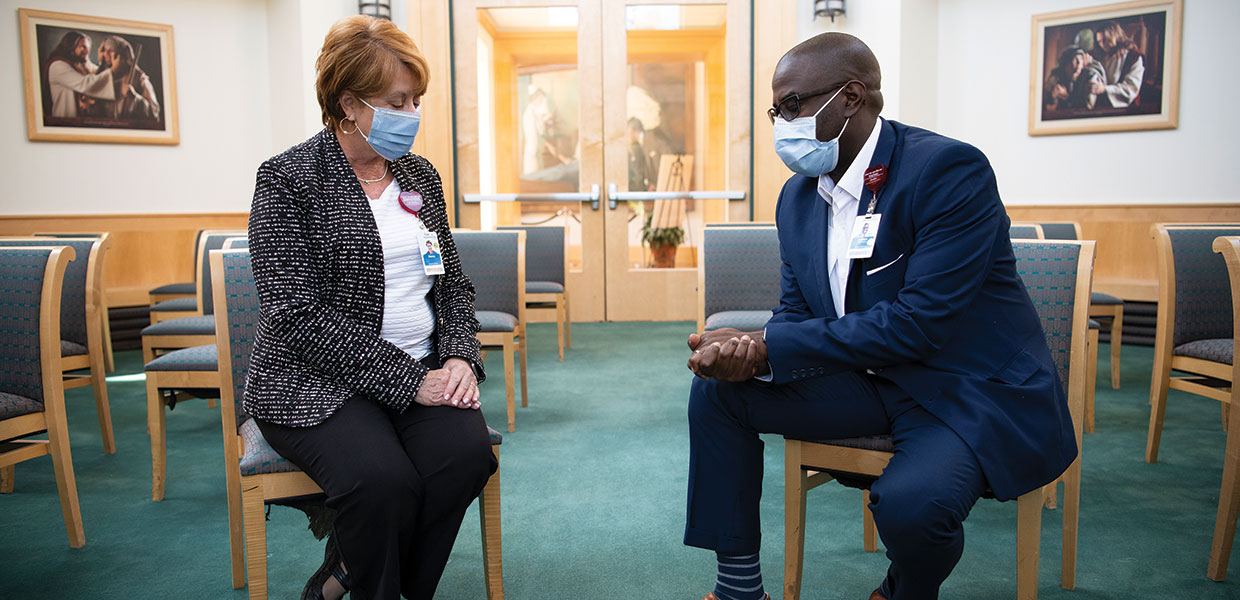 Chaplain Juleun Johnson prays with his colleague Nancy Maille. During the COVID-19 pandemic, chaplains minister to the needs of staff as well as patients and family members.
Matt Rainey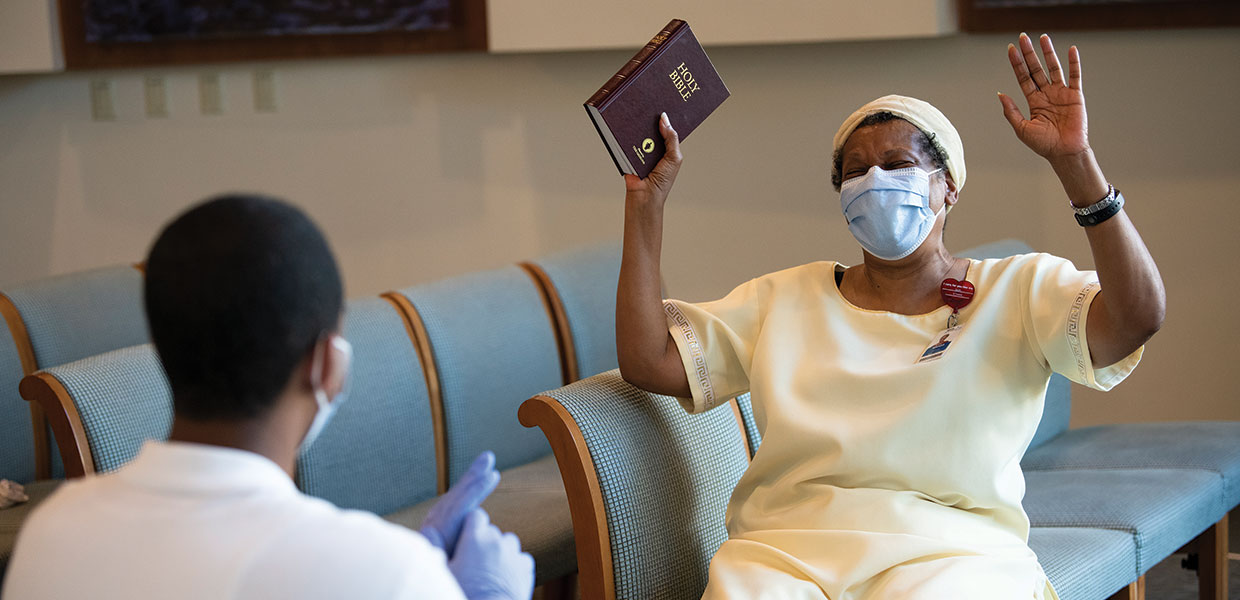 Chaplain Wanda Davis prays with team member Lorenzo Vargas at AdventHealth East Orlando campus, where she has served for 20 years.
Matt Rainey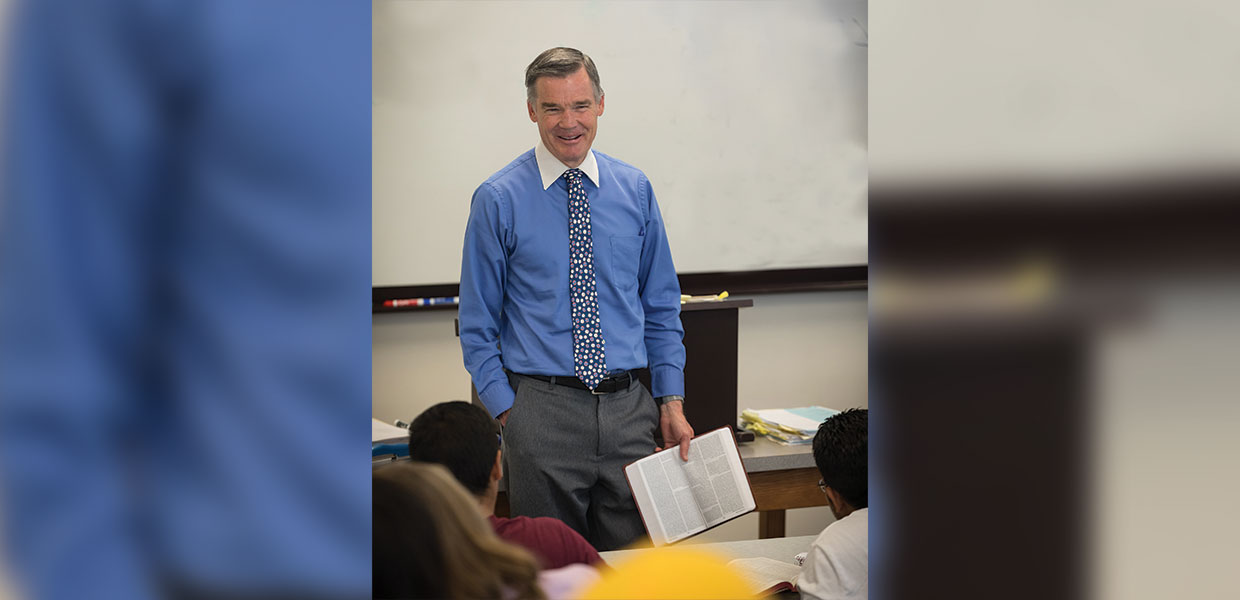 Greg King, Ph.D., dean of the School of Religion at Southern Adventist University, helps train prospective chaplains enrolled in the pastoral care major.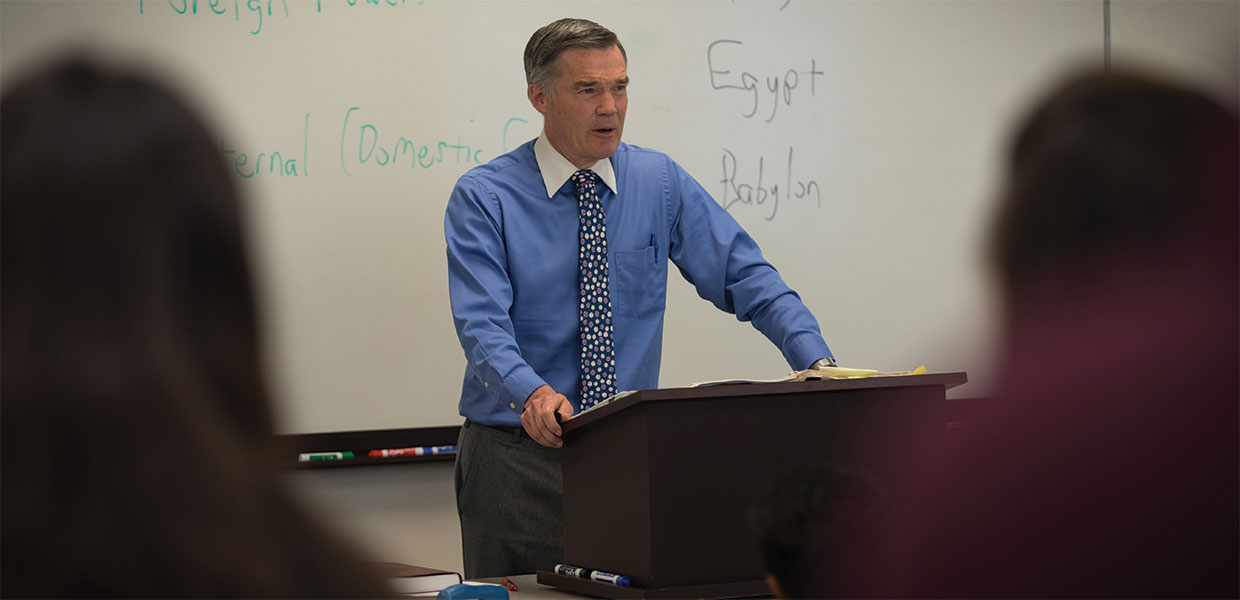 Greg King, Ph.D., dean of the School of Religion at Southern Adventist University, helps train prospective chaplains enrolled in the pastoral care major.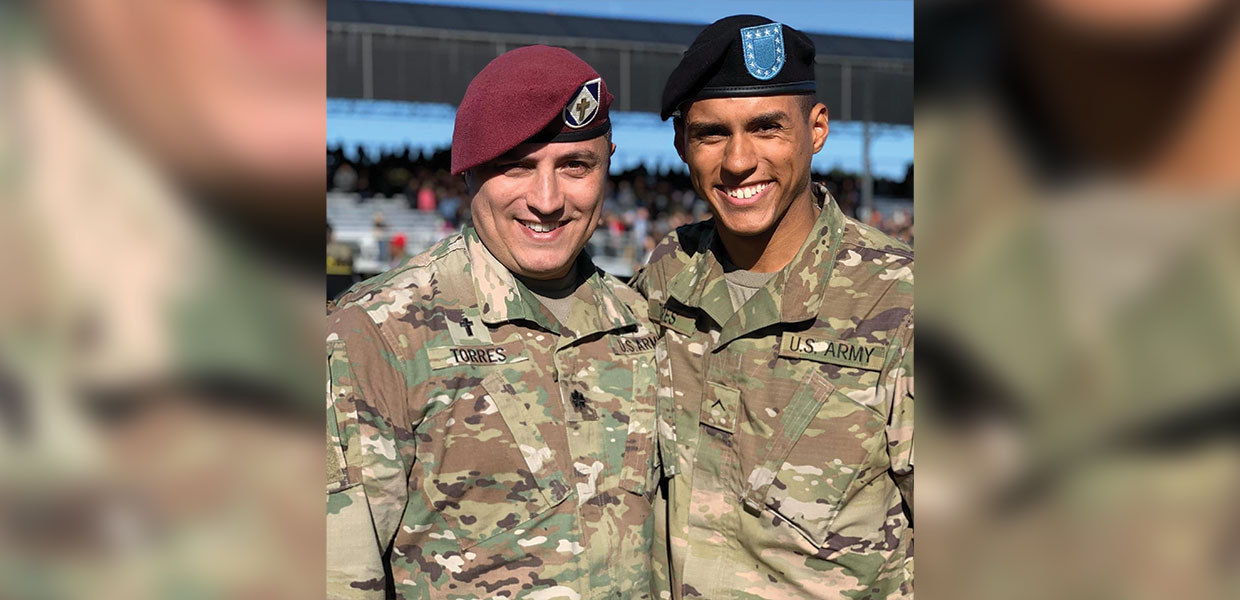 Lieutenant Colonel Jorge Torres (left), XVIII Airborne Corps deputy chaplain, stands with his son, Private Second Class Gabriel Torres. Jorge Torres is a chaplain at Fort Bragg, North Carolina, and he is able to retain his religious identity despite the religiously diverse setting.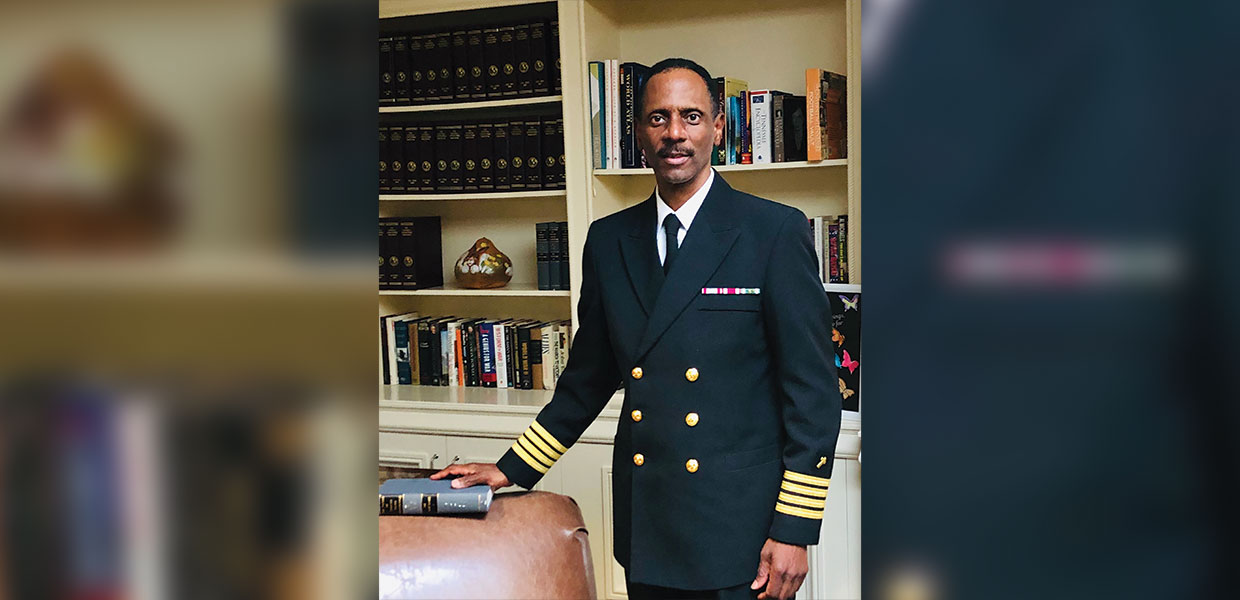 Captain Washington Johnson II, D.Min.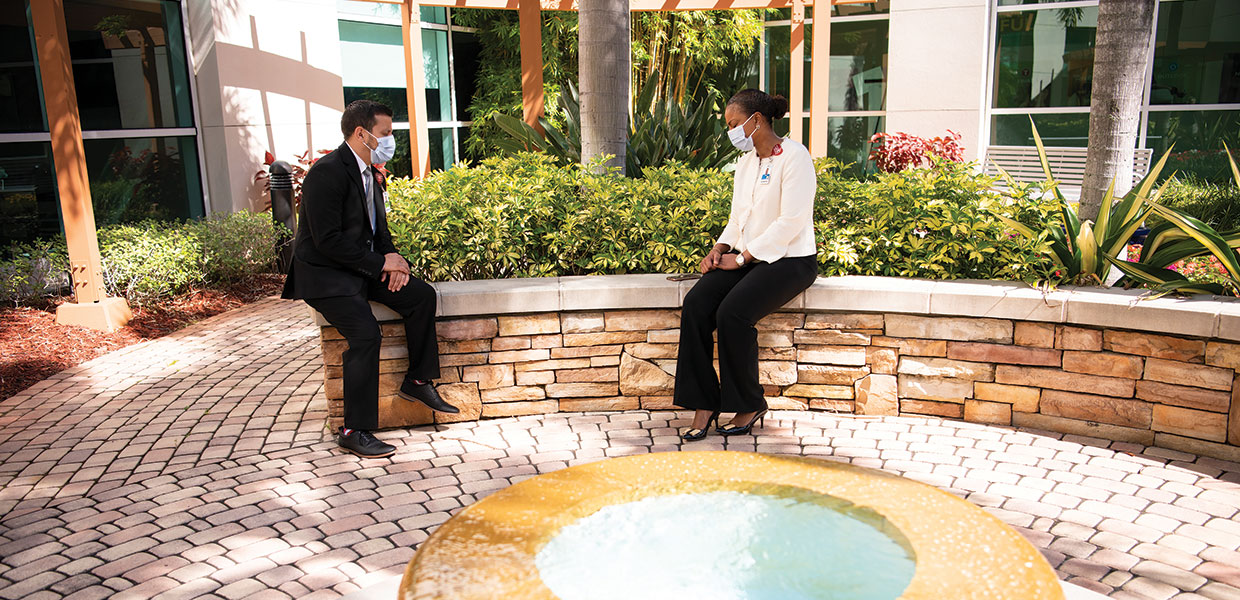 AdventHealth campuses provide a variety of peaceful spaces for prayer and spiritual renewal.
Matt Rainey
Few areas of ministry offer greater challenges, excitement, and opportunities than chaplaincy. This specialized ministry covers several areas, including educational campuses, community and government agencies, correctional institutions, healthcare facilities, and the armed forces. Chaplaincy requires 24/7 ministry to people of diverse faith groups, as well as those with no faith. Chaplains provide spiritual care and counseling, conduct worship services, perform weddings and funerals, oversee religious education, and advise military leaders, to name just a few of their broad responsibilities. The Southern Union Conference of Seventh-day Adventists covers a vast geographical area where chaplains are not only trained, but actively engaged in chaplaincy ministry.
Amid the COVID-19 pandemic, chaplains have been placed on the front lines of ministry like never before, facing additional challenges as part of their daily ministry. Spiritual care, while a natural aspect of chaplaincy ministry, has greatly increased in demand due to the nature of the COVID-19 illness, as well as significant losses due to death. Chaplain Wanda Davis, employed by AdventHealth in Altamonte Springs Florida, is among those who have managed to meet many of these challenges in a very unique manner. After being quarantined for more than a month on a cruise ship and later an Air Force Base during a vacation, Davis shared that her experience helped to prepare her to provide spiritual care to COVID-19 patients, who are not allowed to have visitors. Recognizing from her own quarantine experience that "people just need to know they're being cared for and that you are there for them," she has placed special emphasis on offering this type of care to COVID-19 patients through telephone calls since physical contact is limited or prohibited.
Chaplain Juleun Johnson, D.Min., director of mission and ministry for AdventHealth's South Market and lead chaplain at AdventHealth Celebration, shared that the COVID-19 pandemic has required "chaplains to work around the clock providing spiritual support, nurture, and encouragement to staff, patients, families, and community clergy." Johnson further described chaplains as "God's living letters of love, bringing calm and light to a world that is in chaos, and in desperate need of hope."
COVID-19 has additionally required creative and innovative approaches with all aspects of chaplaincy ministry, including funerals. I recently officiated a funeral where only a graveside service was allowed, with social distancing and masks for all attendees except the eulogist. At least for now, this may be the chaplain's new normal.
To address the need of Adventist chaplains, Southern Adventist and Oakwood universities are committed to preparing students for chaplaincy ministry careers. Greg King, Ph.D., dean of Southern Adventist University's School of Religion, recently shared that, "The field of chaplaincy presents abundant opportunities for ministering to people who might not ordinarily be reached in a traditional church setting. The School of Religion at Southern offers a major in pastoral care that is designed to help train prospective chaplains to serve in various areas of chaplaincy ministry." Leslie Pollard, Ph.D., D.Min., president of Oakwood University, described Oakwood's new chaplaincy preparation track, which operates in partnership with Advent- Health and Huntsville Hospital for its clinical pastoral education component, as a "significant advancement in the school's chaplaincy curriculum."
In addition to academic training, persons interested in chaplaincy within the North American Division have the opportunity to receive support, mentoring, professional development, and chaplaincy endorsement through the division's Adventist Chaplaincy Ministry (ACM) Department. According to Paul Anderson, D.Min., director of Adventist Chaplaincy Ministries at the North American Division, "Adventist Chaplaincy Ministries has been entrusted with the leadership, endorsement, and in some cases credentialing, of chaplains for 35 years, and continues this work today by serving over 700 endorsed chaplains in the North American Division."
Many of the chaplains within the Southern Union serve with AdventHealth, headquartered in Altamonte Springs, Florida. AdventHealth operates 50 hospitals across eight states, admitting 1,000 patients daily. The organization employs experienced chaplains who provide spiritual care throughout the AdventHealth healthcare system. Ted Hamilton, M.D., AdventHealth's chief mission integration officer, recently shared that, "Each and every day, AdventHealth's dedicated chaplains are engaged on the front lines of injury and illness, brokenness and despair, providing comfort, peace, and hope when needed — most through a gentle touch, a healing prayer, or a calming word."
Religious Pluralism
Because chaplains regularly minister in diverse religious settings, it is important that they develop an appreciation for religious pluralism — the attitude or ability to peacefully co-exist with other faith groups without apprehension or dismissal of one's own tenets of faith. LTC Jorge Torres, a United States Army chaplain at Fort Bragg, North Carolina, who serves as XVIII Airborne Corps Deputy, is very comfortable ministering wherever he is assigned without fear of losing his religious identity. Torres explained, "Among the many benefits of working in a diverse religious setting is the opportunity to learn firsthand the similarities and differences of other faith groups. When differences are greater than similarities, to the extent that a chaplain cannot directly perform the requested religious support due to a conflict with religious beliefs, a referral is made to another chaplain who is able to provide the requested support."
Religious pluralism is protected by the First Amendment to the United States Constitution, which states, "Congress shall make no law respecting an establishment of religion, or prohibiting the free exercise thereof …" Religious liberty, as it is defined, guarantees that multiple religions can worship peaceably.
Ministry of Presence
The "ministry of presence" is a term used to describe how chaplains minister — without words to facilitate spiritual and moral support when entering the room of a dying patient, the cell of a prisoner, a grieving parent, a student with test anxiety, or a service member experiencing post traumatic stress disorder (PTSD) or moral injury. It is often said that a chaplain's best sermon is preached without words when patients and family members are facing trauma or death. They appreciate the chaplain's prayers and quiet presence, which can be more comforting than a thousand spoken words.
Chaplain Makeba Garrison, a staff chaplain at West Cancer Center, Germantown, Tennessee, says, "The ministry of presence is first and foremost a state of constant prayer. Praying that none of my personal thoughts, agendas or assumptions will interfere with being available for the care seeker." The ministry of presence is an invaluable strategy for every chaplain, and potentially a key component to their success. As Stephen Davey states, "We do not have to be brilliant, articulate, biblical scholars; it is true that the greatest ability as a friend is availability. Just show up — and you exercise the ministry of presence."
Proselytism
Chaplains, regardless of the area in which they serve, are cautioned to avoid giving the impression of proselytizing — an attempt to convert others to one's own faith beliefs. Crossing this line in spiritual care can jeopardize a chaplain's ministry influence, as well as his or her employment. It is critical for chaplains to know the difference between evangelism and proselytizing. Barry Black, D.Min., Ph.D., demonstrates this distinction in an exceptional manner in his role as the 62nd chaplain of the United States Senate. His responsibilities include opening each session of the United States Senate with a prayer, and providing and coordinating religious programs and spiritual care for senators, senate staff, and their families. Black's duties are carried out superbly in spite of the United States Senate resembling a religious melting pot with Protestants, Catholics, Jews, and some senators listed as being unaffiliated with a religious denomination — pluralism at its best.
Another example is associated with my own deployment with the United States Navy as a chaplain to the Horn of Africa. A service member noticed that my diet did not include pork and, after a few weeks, inquired about it. I shared the reason for my dietary practice based on Scriptures found in Leviticus 11 and Deuteronomy 14. The service member was thankful for the information that was shared only by request. "Service members can share their faith (evangelize) but not force unwanted intrusive attempts to convert others of any faith or no faith to one's beliefs (proselytization)," Navy Lt. Cmdr. Nate Christensen, USA Today, May 3, 2013.
Seventh-day Adventist chaplains carry out their specialized ministry wholeheartedly, and from a deeply rooted spiritual motivation. The character of Jesus is illuminated in every act of service. Chaplains work long hours and weekends, sometimes requiring absence from some of life's most important events. They take seriously the words of Jesus spoken on the day of His ascension: "But you shall receive power when the Holy Spirit has come upon you; and you shall be witnesses to Me in Jerusalem, and in all Judea and Samaria, and to the ends of the earth," Acts 1:8 NKJV.
Chaplains in the Southern Union and throughout the North American Division are on the front line of service, which is invaluable and far-reaching!

Captain Washington Johnson II, D.Min., is the United States Navy Region Hawaii deputy chaplain, assistant director for Adventist Chaplaincy Ministries at the North American Division, and responsible for Chaplaincy Ministries at the Southern Union Conference.
Southern Union | June 2020