by Rachel Beaver and Deniqua Joseph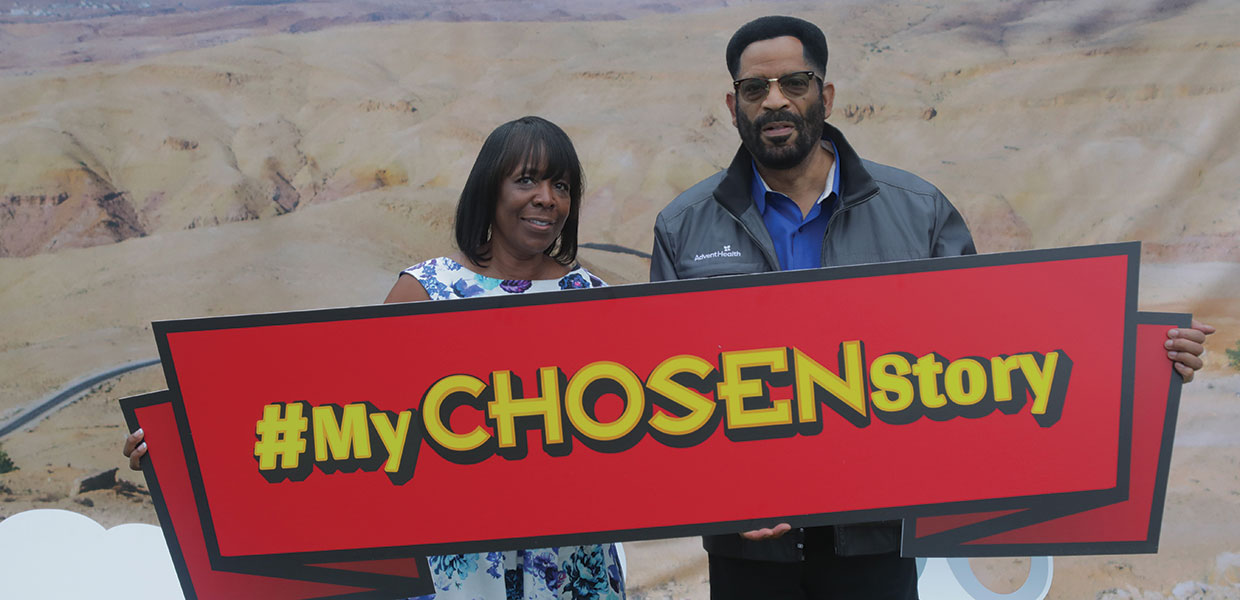 Ron C. Smith, D.Min., Ph.D., president of the Southern Union, and his wife, Yolanda, hold a #MyChosenStory placard while visiting the Southern Union camping area. You may see many pictures from the Camporee by searching for #MyChosenStory on Facebook or Instagram.
Courtney Herod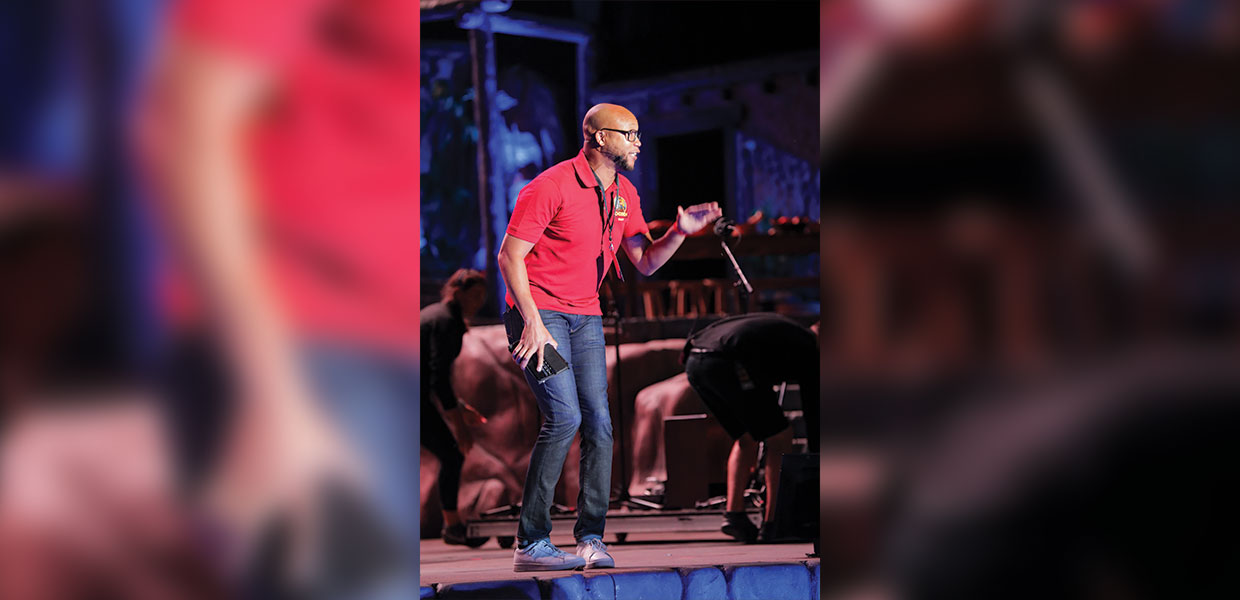 Damian Chandler, pastor, preached inspiring messages to crowds of 50,000 or more Pathfinders during the evening services. Many youth embraced Christ and were inspired by the lessons Chandler drew from the story of David and Goliath.
Courtney Herod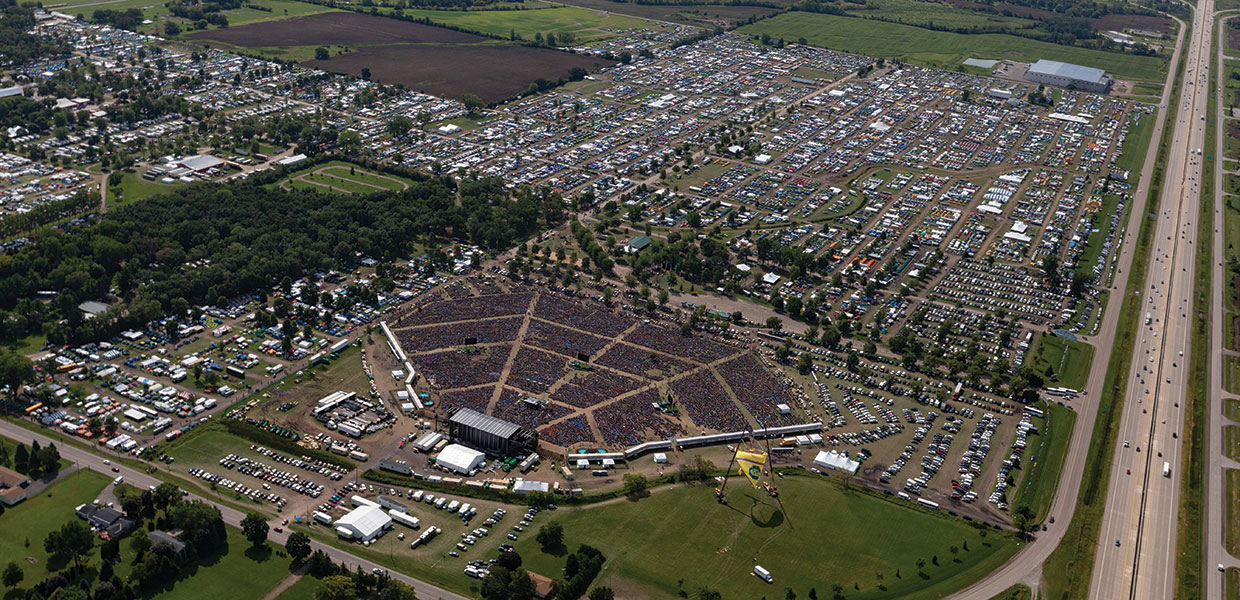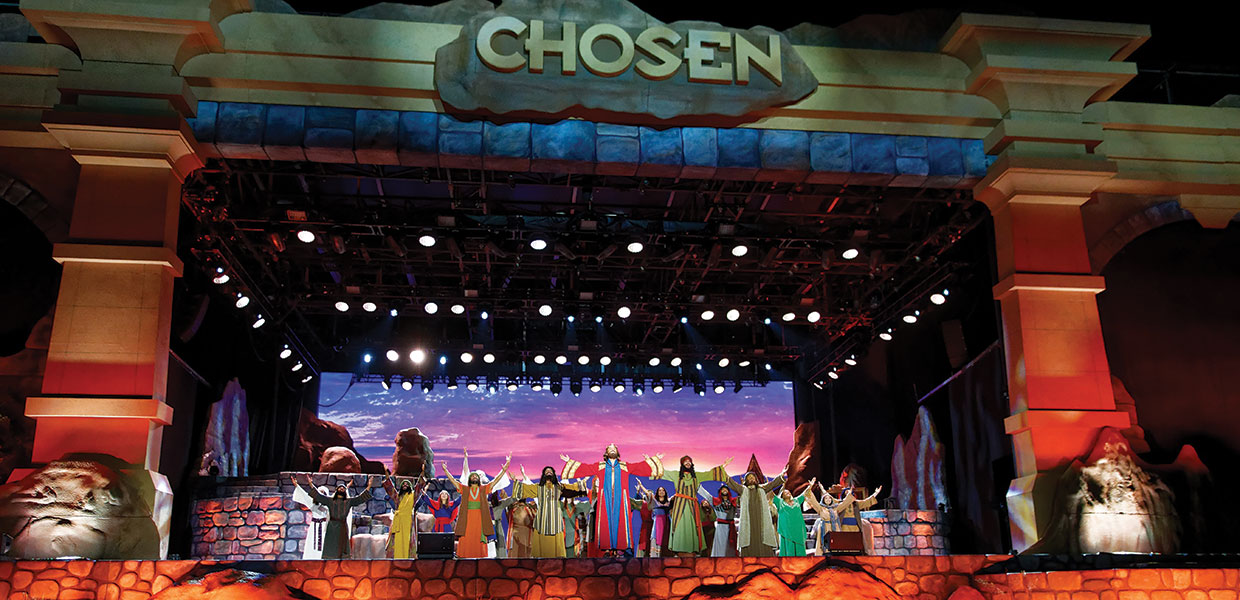 Each evening Pathfinders saw the story of David enacted, and learned how even when we make mistakes, God has chosen us for a reason, and we should embrace His calling.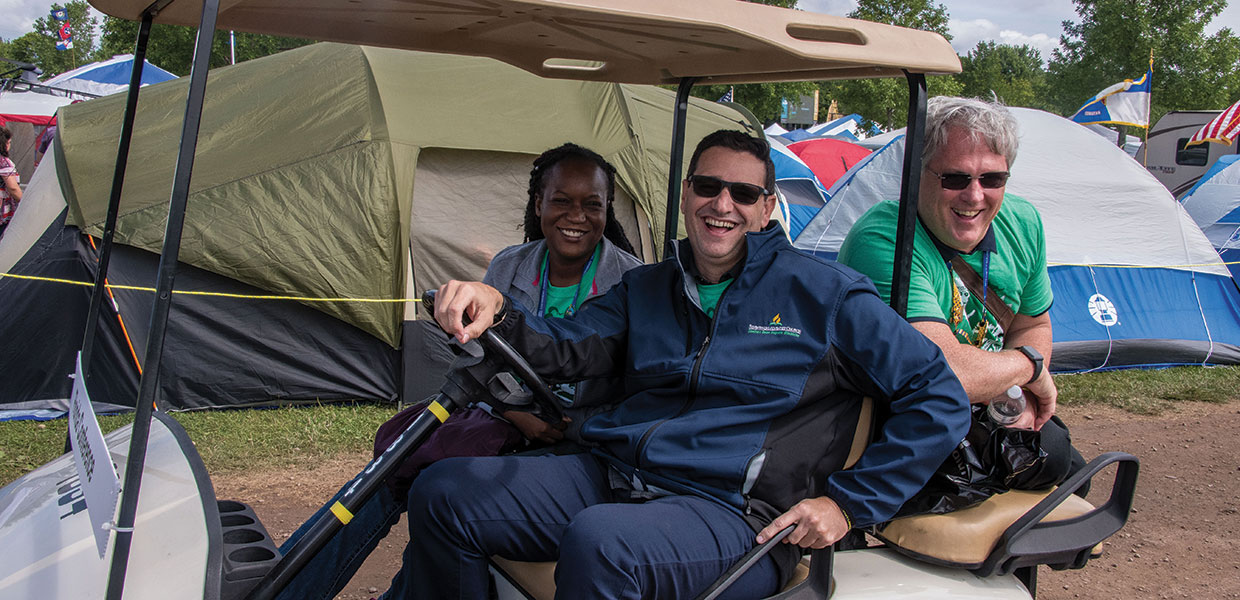 Florida Conference administrators Allan Machado, D.Min. (center), president; Elisa Rahming, treasurer; and Tim Goff, executive secretary, were among the Conference leaders who visited the Pathfinders and volunteers from the Conference.
R. Steven Norman III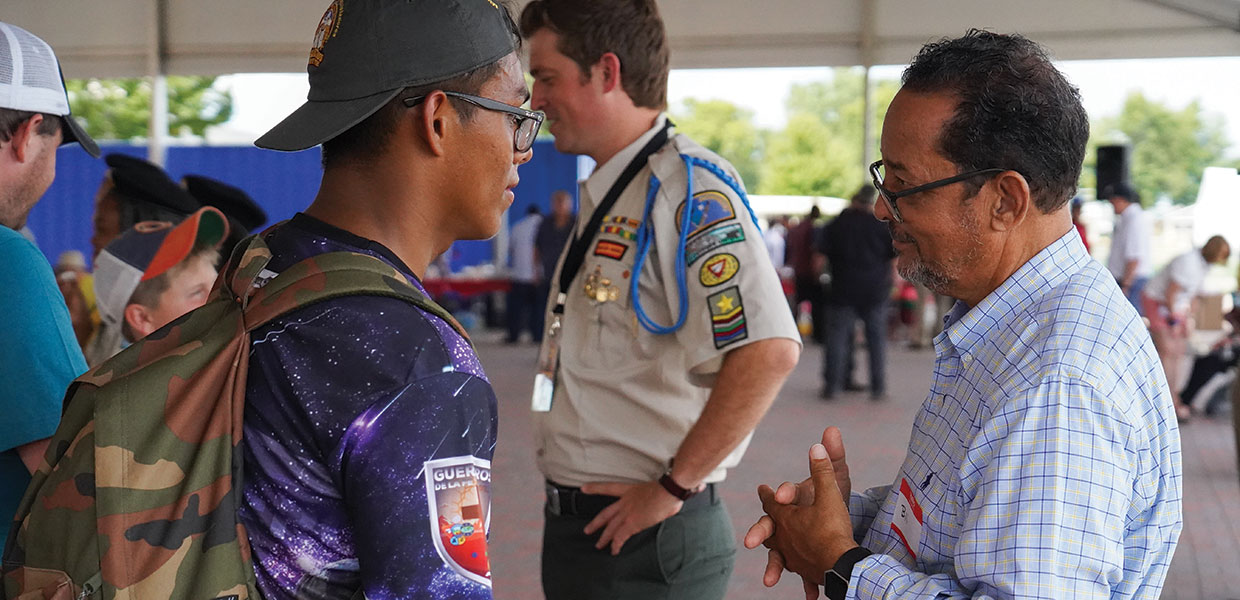 William Winston (right), president of the South Atlantic Conference, spoke with a Pathfinder who is interested in becoming a pastor during the NexGen pastor get together.
Mylon Medley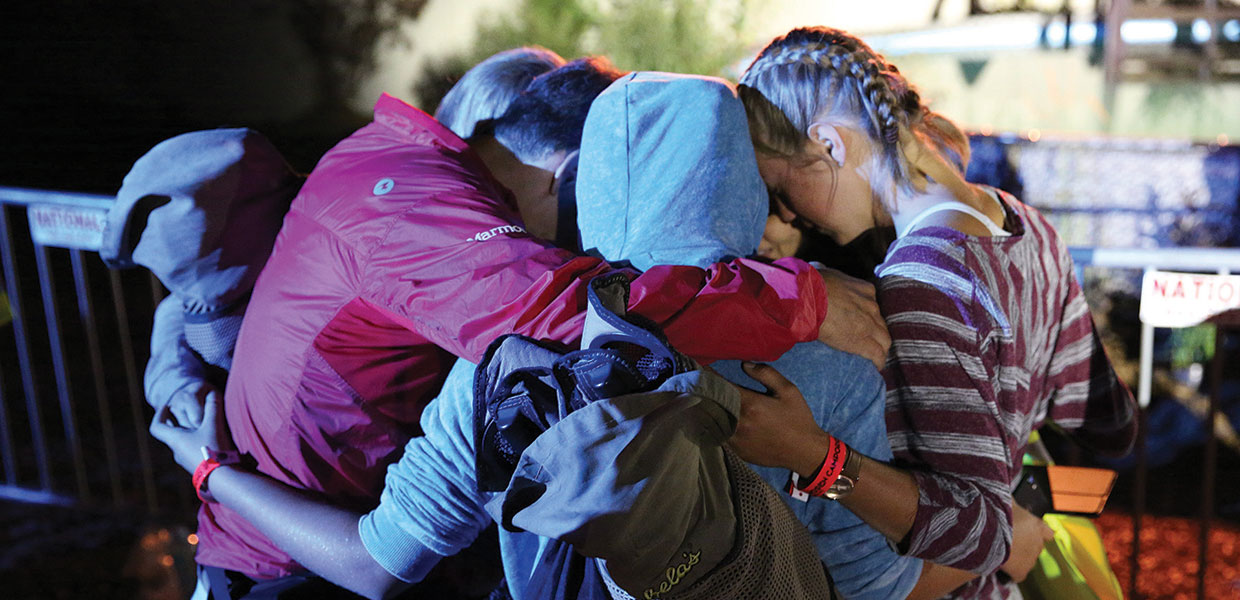 A group of Pathfinders poured out their hearts to God during the evening meeting.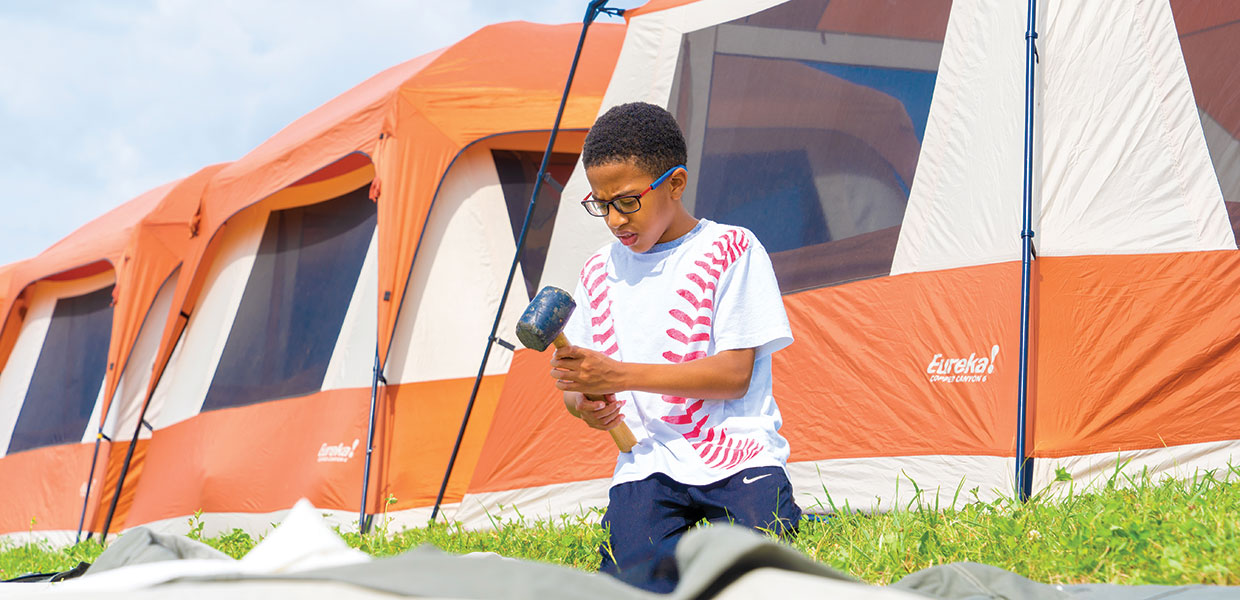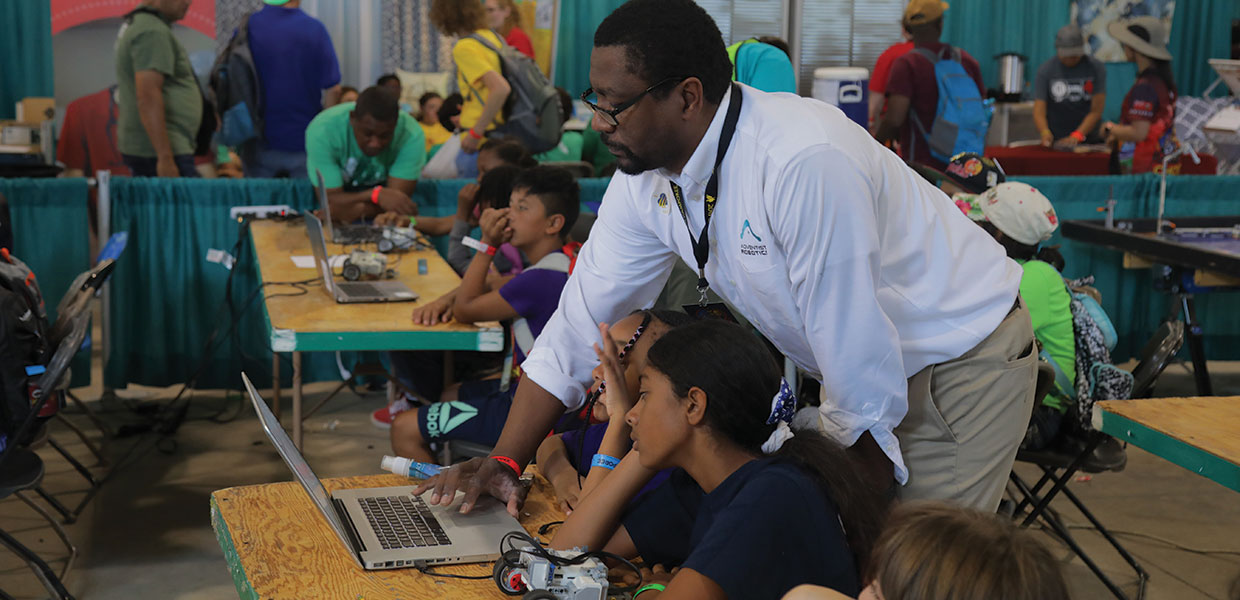 Robert Henley, innovation coordinator for the Florida Conference Department of Education, assisted Pathfinders working on a robotics honor.
Courtney Herod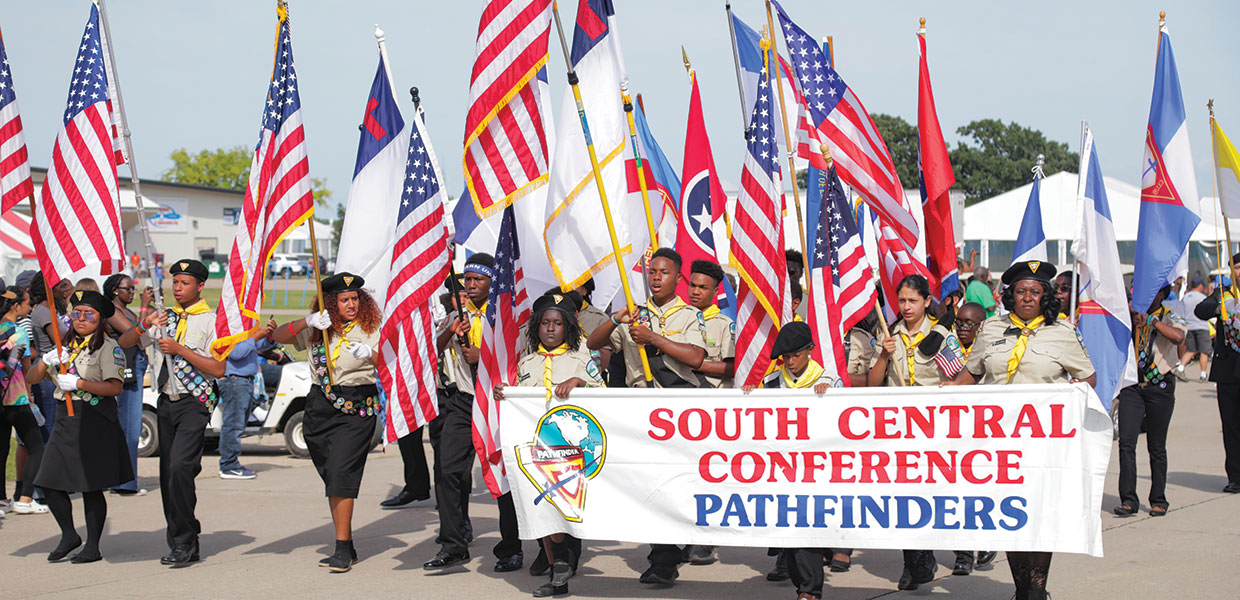 The South Central Conference Pathfinders participated in the parade on the final Sabbath of the Chosen International Pathfinder Camporee.
Courtney Herod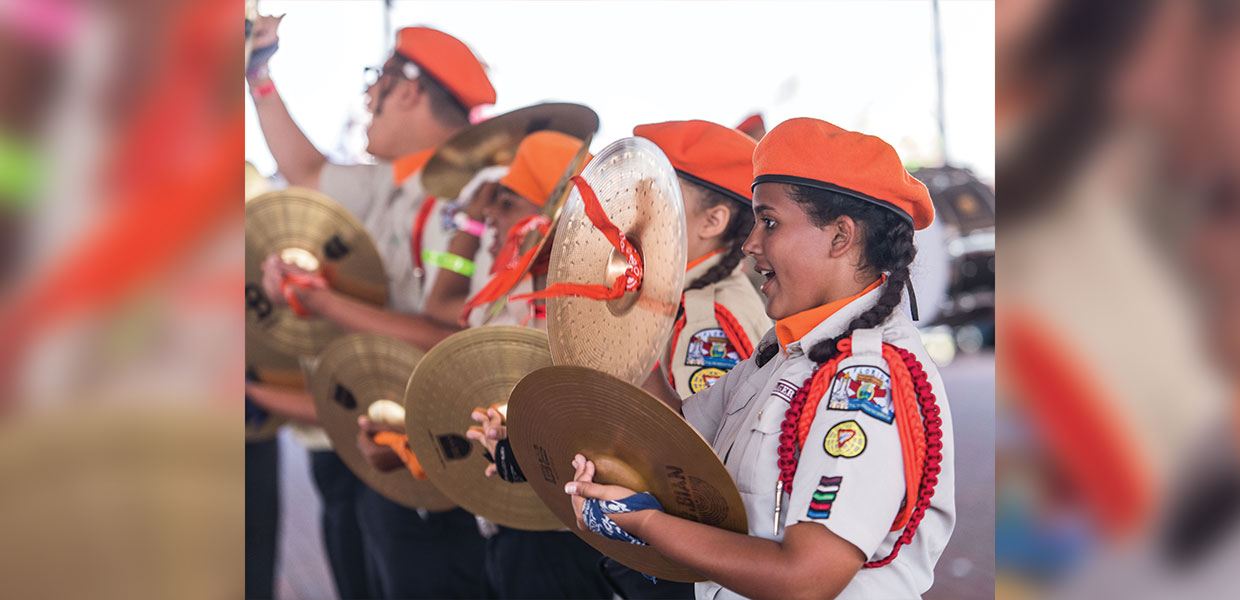 The Westchester Spanish Church Pathfinder Drum Corps won First Place in the Dream Competitions.
R. Steven Norman III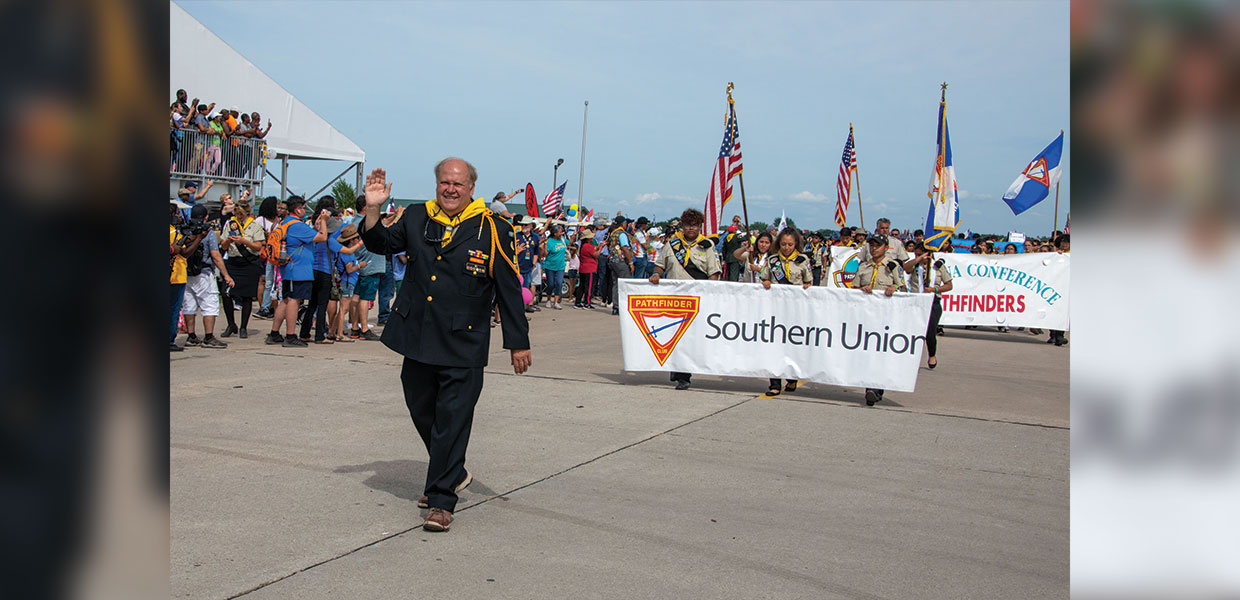 Ken Rogers, Southern Union youth ministries director, leads the parade on the final day of Camporee. Scores of Southern Union clubs and their international guests participated in the parade.
R. Steven Norman III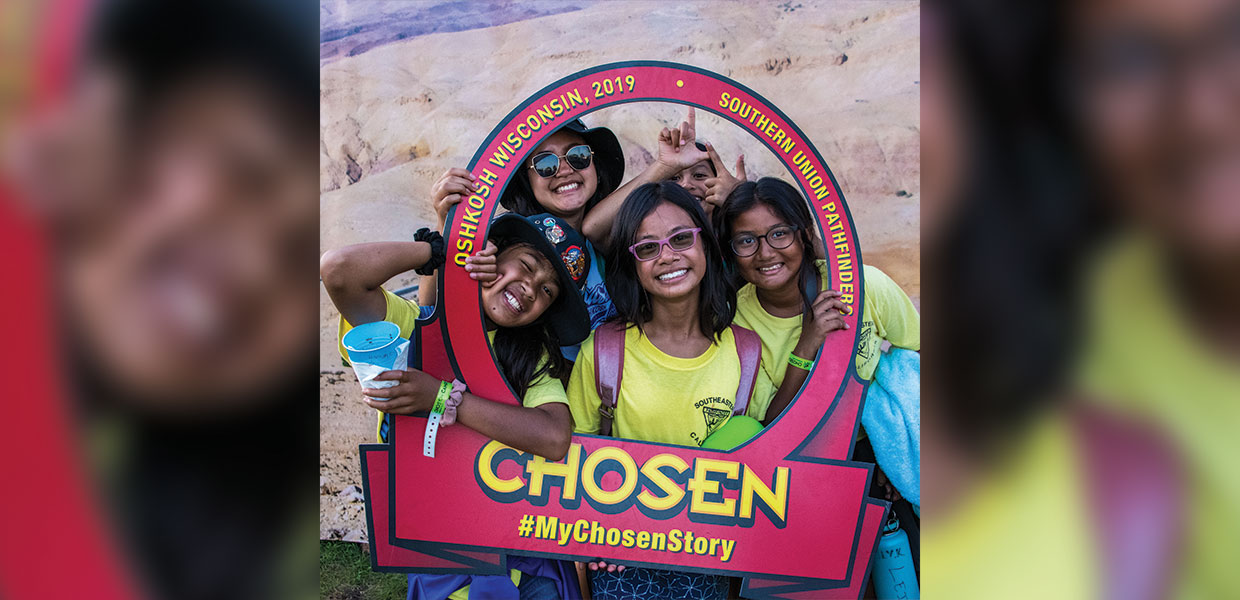 R. Steven Norman III
The 2019 International Camporee in Oshkosh, Wisconsin, was a spirit-filled week of fun and fellowship for Pathfinders around the world. The theme for the week, "Chosen," was centered on the story of David and Goliath and taught Pathfinders that we are all chosen by God to serve Him, and live according to His will for our lives.
More than 56,000 Pathfinders attended Camporee. Of those, 11,000 were from the Southern Union, making it the largest union there. Southern Union clubs traveled hundreds of miles to attend. Many clubs had to plan and fundraise for their trip years in advance, but their hard work was worth it when they finally arrived in Wisconsin. For some it took a day, for others it was a week-long trip across the country before reaching Oshkosh. One group, Bike For Life from North Carolina, even rode their bicycles all the way from North Carolina.
"We would wake up around 4:30 to 5:00 a.m., and ride to our next destination," said Cameron Zinke, a member of the Bike For Life group. "We also had brochures that explained who we were and what we were doing, and links for Bible studies."

Setting of Spiritual Community

The International Camporee gives Pathfinders a rare and unique opportunity to worship God with people from all over the world.
"Here [at Oshkosh], hundreds of people of the same faith are all brought together to enjoy each other's company," said Lance Jones from Florida Conference. "It is almost like a glimpse of what Heaven will be like."
Damian Chandler, keynote speaker this year, is currently the senior pastor of the Capitol City Church in Sacramento, California. From the very first night, Chandler piqued the Pathfinders' interest.
"Pastor Chandler came on stage and gave a powerful message," said Amarah Dawkins-Powell from Florida Conference. "He spoke of God seeing you even when you feel lost and meaningless. Though you may feel as though you serve no purpose, God has a purpose for you. He never fails to keep His promises, and will never leave your side. In the midst of confusion and chaos, God still has His hands on you and is watching over you. When he finished speaking, everyone rose to their feet and began to cheer. I found myself doing the same."
"Looking at Pastor Chandler, in my mind I knew that this guy was going to say the best thing I'd ever heard in one of these camps," said Daniel Valle from South Central Conference. "He said 'there is always going to be a giant in your life. Maybe it will be now or it may come another day, but all you have to know is that there is a giant coming in your life.' I thought about what the giant in my life was and how I really wanted to fight this giant just like David."
The drama production following the sermon was widely loved by both children and staff. The character of David was played by Jason Moore, a nursing student at Southern Adventist University in Collegedale, Tennessee. The play taught Pathfinders the story of David and how even when we make mistakes, God has chosen us for a reason, and we should embrace His calling.
The evening meetings touched the hearts of so many Pathfinders in different ways. For some, the story of David's struggles resonated with their own experiences. For others, they were just happy to be a part of something so big.
The theme song for the Camporee was composed by Roger, 19, and Ariel, 18, Lantigua of the Bowman Hills Church in Cleveland, Tennessee. The Spanish version was adapted by Raquel Martinez-Acevedo, and sung by Pathfinders from the Kendall Spanish and Westchester Spanish churches in Miami, Florida. Martinez-Acevedo has prepared the Spanish version for the last three Camporees.
"My favorite part of Oshkosh has always been the evening meetings," said Amy Cote from Georgia-Cumberland Conference. "There is something about seeing your favorite Bible stories being brought to life that gives them a whole new meaning. The actors become your role models, you cheer as Goliath is brought to the ground or when David is anointed to be the next king of Israel, and you sympathize with David as his brothers ruthlessly tease him about smelling like sheep and simply being different."
For Savannah Salter, a Pathfinder from the Bowman Hills club, the first evening meeting stirred her emotions in thinking about her journey from the 2014 International Camporee to 2019.
"I've been through a lot in the past five years, and my life has changed so much," said Salter. "That being said, on Tuesday night when the evening programs started, it finally sunk in that I was back. When the announcer said 'Camporee 2019 is officially open,' I started crying happy tears because of the journey I've been on to get back to that moment. For the rest of the evening I was brimming with emotions."
Many Southern Union Pathfinders made the decision for baptism at Camporee. Friends, family, and brothers and sisters in Christ witnessed as individuals of all ages demonstrated their profession of faith. Everyone cheered in support of their fellow Pathfinders' baptisms.
"It was a beautiful moment for the candidates and us, the witnesses, watching people give themselves to God," said Lance Litzenberger.
Something new that was incorporated into this year's experience was the anointing tent. Every day, Pathfinders were selected by their club leaders to be anointed. Once selected, they would meet at the Prayer Tent for 10- to 15- minute services that were held every 30 minutes until 5 p.m. The selected Pathfinders also received a special anointing pin after the service.

Never a Dull Moment

There were also countless honors and activities for the Pathfinders to enrich themselves. Many interesting honors were offered, including Dutch oven cooking, plastic stitching, drawing, and dinosaurs. The event also had no shortage of activities both on and off site. Campers hopped on busses to take trips to off-site activities such as the YMCA, the mall, a basketball tournament, and water parks. There were also countless on-site activities like zip-lining, a petting zoo, horseback riding, and flight simulation. The flight simulator inspired Rudi Russel to become a pilot when she grows up.
The drum corp and drill competitions were full of talented Pathfinders who had been preparing for this competition for months.
"I was especially excited to perform in the drilling and marching competition," said Xiana Reeze from the Emmanuel Wildcats Pathfinder Club. "I was very nervous because it felt like one million people were watching me, but I trusted in God and did my very best. As we waited for our names to be called, we felt discouraged for a second, but then over the loudspeaker we heard 'Emmanuel Wildcats, first place!' I felt a rush of joy run through my body."
"We competed in the freestyle and drum corp categories on Thursday in the Southern and Southwestern unions' competitions," said Mekeida Olivia Ervin from Madison Mission Pathfinder Club. We were surprised when they called our names for the 1st place trophy! Everybody including our Pathfinder leaders started to scream! It was an experience that we will never forget."
But even outside of the competition, the streets were often filled with the sound of drums making their way across the camp. One group from the McDonald Road Church in McDonald, Tennessee, paraded down the street drumming on the bottoms of plastic buckets held together by duct tape and rope.
Pin trading is also a popular Oshkosh tradition. Many Pathfinders started with none and traded their way up to a sash full of pins from all over the world. They walked the streets for hours in hopes of striking the perfect deal and getting a rare pin or completing a set.
"Seeing the shiny new pin being handed to you after a long endeavor from your camp is one of the most rewarding activities held in the International Camporee," said Sabina Rojas-Fanco from Carolina Conference.
"Pin trading at Oshkosh is a way of life," said Tierza Saint-Hilairen from Florida. "If you had none, then you had to get some because pin trading is half of the Oshkosh experience."
As popular as pin trading is, Ken Rogers, youth director for the Southern Union, did something a little differently this year. In lieu of a pin, Southern Union Pathfinders were given a special Oshkosh 2019 scarf.
Campers left Oshkosh to return home with smiles on their faces and precious memories tucked away, and an excitement to return for Oshkosh 2024. There is something that Christians of all ages can learn about David. Everyone makes mistakes, but everyone still has a purpose and a calling from God. In His eyes, we are all chosen.
Attendee Ghadi Nshimiyamana, from Kentucky-Tennessee. shared his wisdom on the message from the Camporee, and encourages us to have hope for the future: "I was very excited to see young people who were also eager to spread the message of Christ. Jesus can choose you; it doesn't matter if you are a child or an adult. If you pray for something, do not ever stop until something happens. May God have mercy on you and God be with you. Jesus is coming soon. Be ready!"

Rachel Beaver and Deniqua Joseph

Rachel Beaver is a senior public relations major in the School of Journalism and Communication at Southern Adventist University in Collegedale, Tennessee. Deniqua Joseph is a senior communications and public relations major at Oakwood University in Huntsville, Alabama.
Southern Union | October 2019