Continuing need for volunteers and assistance following hurricane

by Charis Olnee McLarty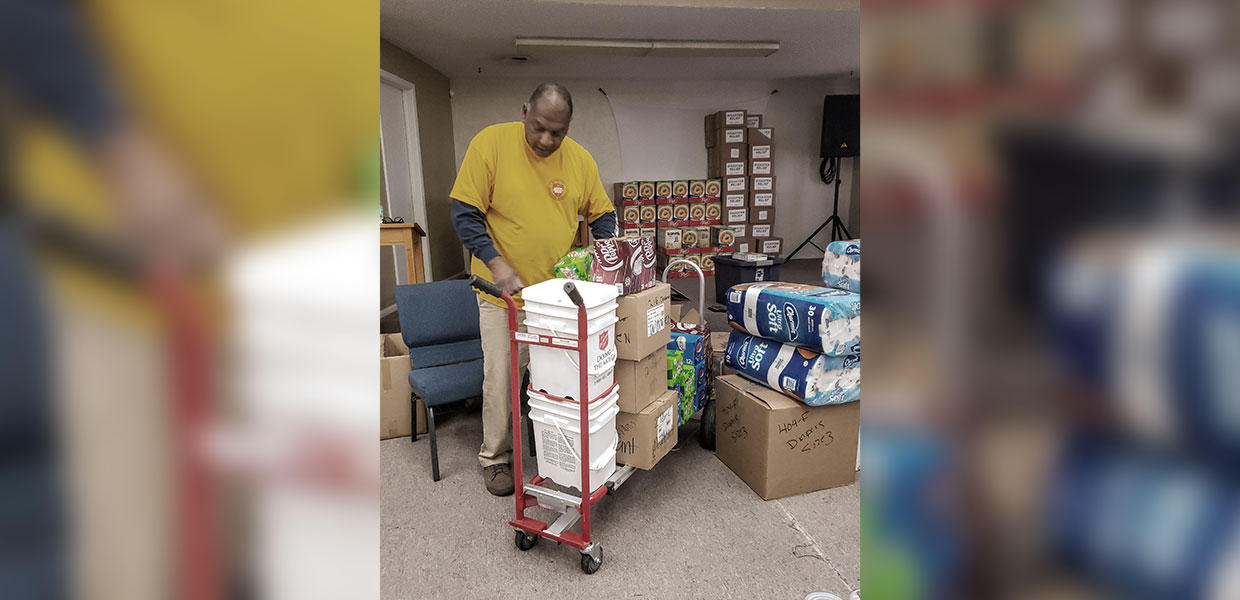 Michael Holmes assembles donations for the community.
Charis Olnee McLarty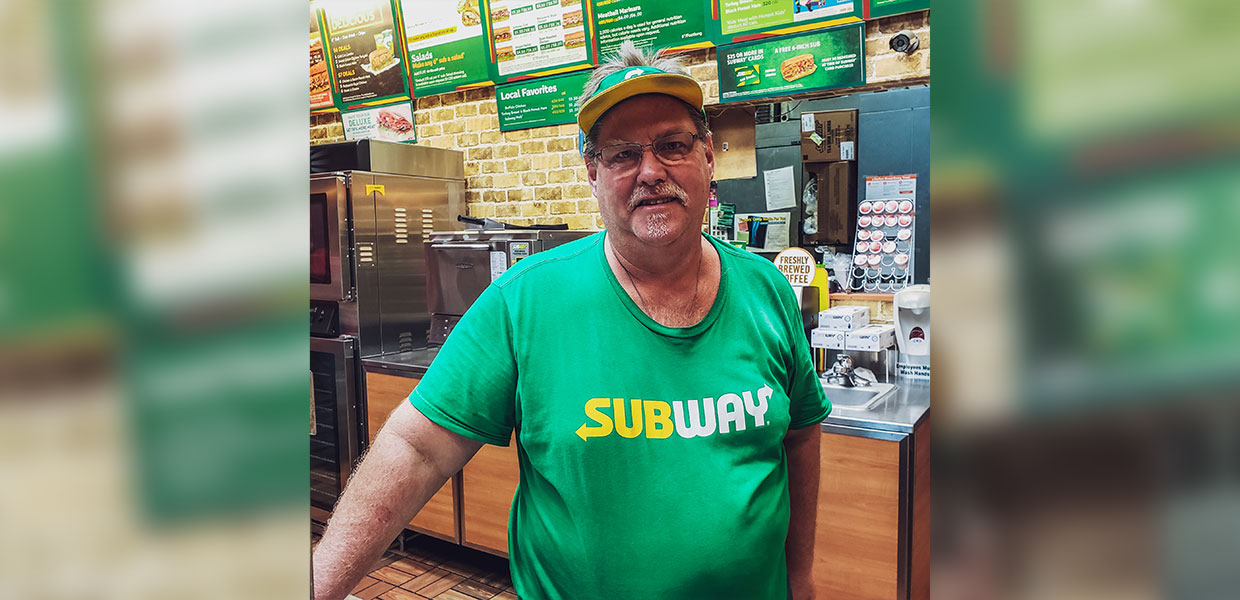 Matt, a Subway associate, lost many of his possessions during Hurricane Michael, but not his courage. He likes to tell hurricane victims, "Remember the best part of the storm made it through — you! Never, never, never give up!"
Charis Olnee McLarty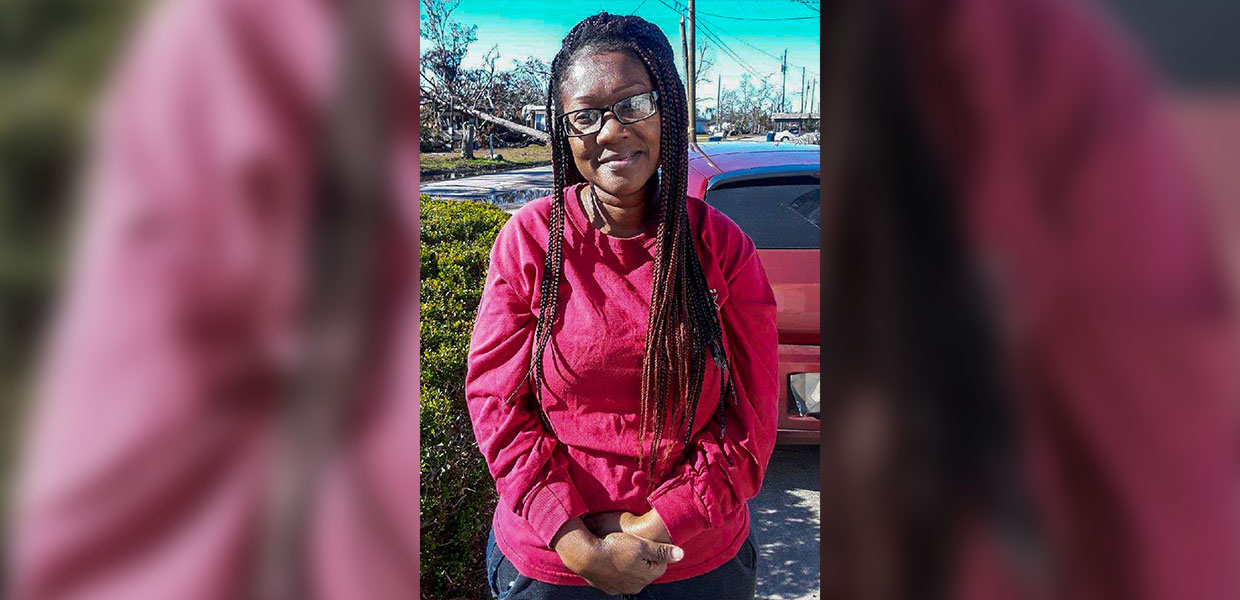 Tasha came to the ACSDR distribution center for food. Afterward she tearfully praised God and repeatedly expressed her gratitude for the food, cleaning supplies, hygiene items, and clothing she was able to receive.
Charis Olnee McLarty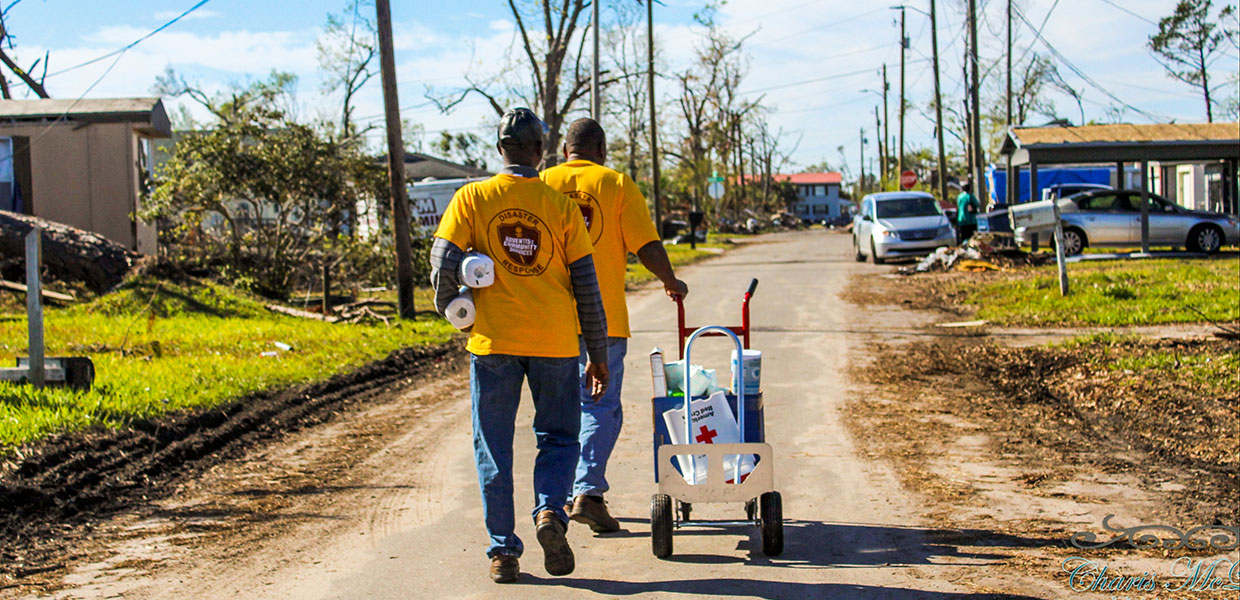 ACSDR volunteers Michael Holmes (front) and George McPherson deliver food, toiletries, and cleaning supplies to an elderly couple down the street.
Charis Olnee McLarty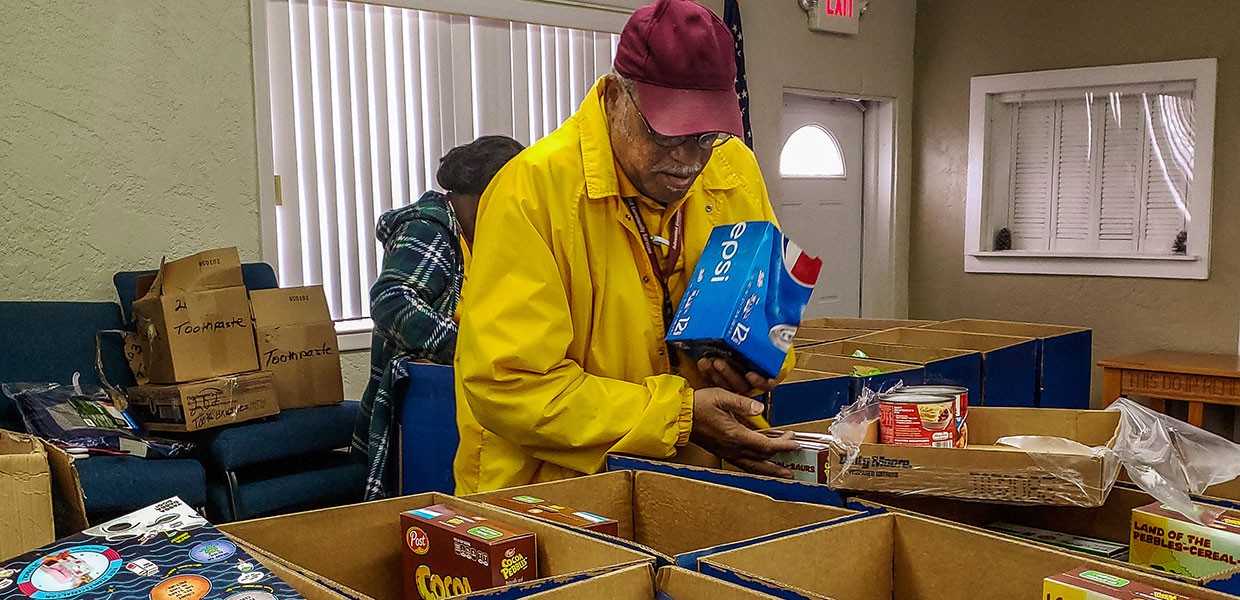 Wayne Blanding put finishing touches on food boxes.
Charis Olnee McLarty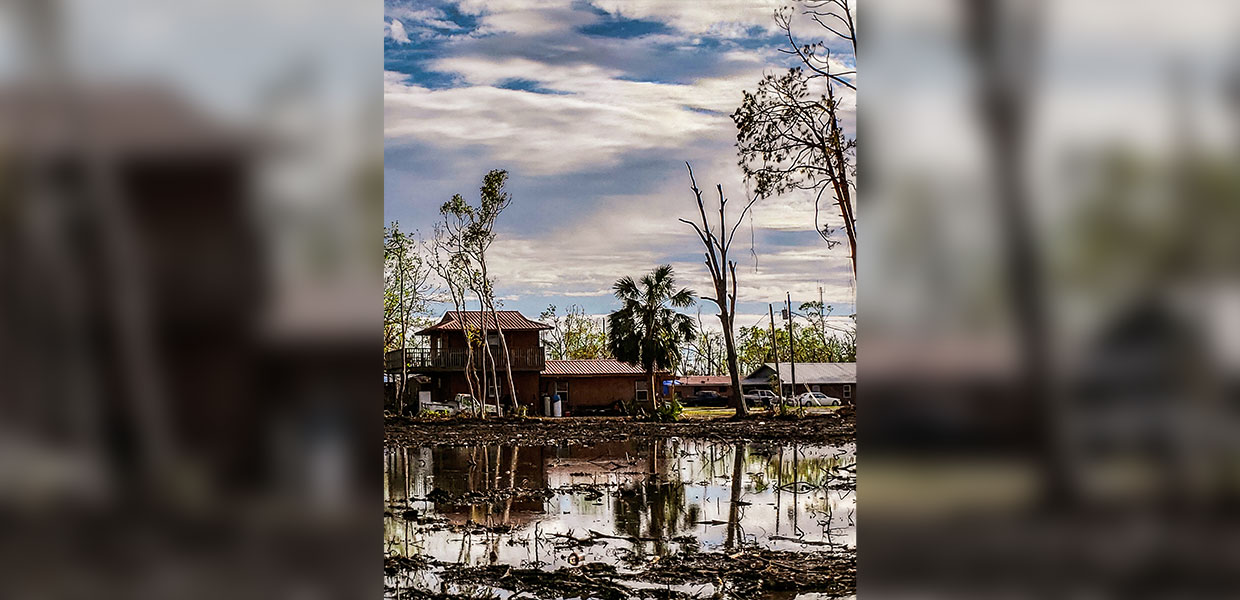 Devastated Panama City, Florida, after Hurricane Michael
Charis Olnee McLarty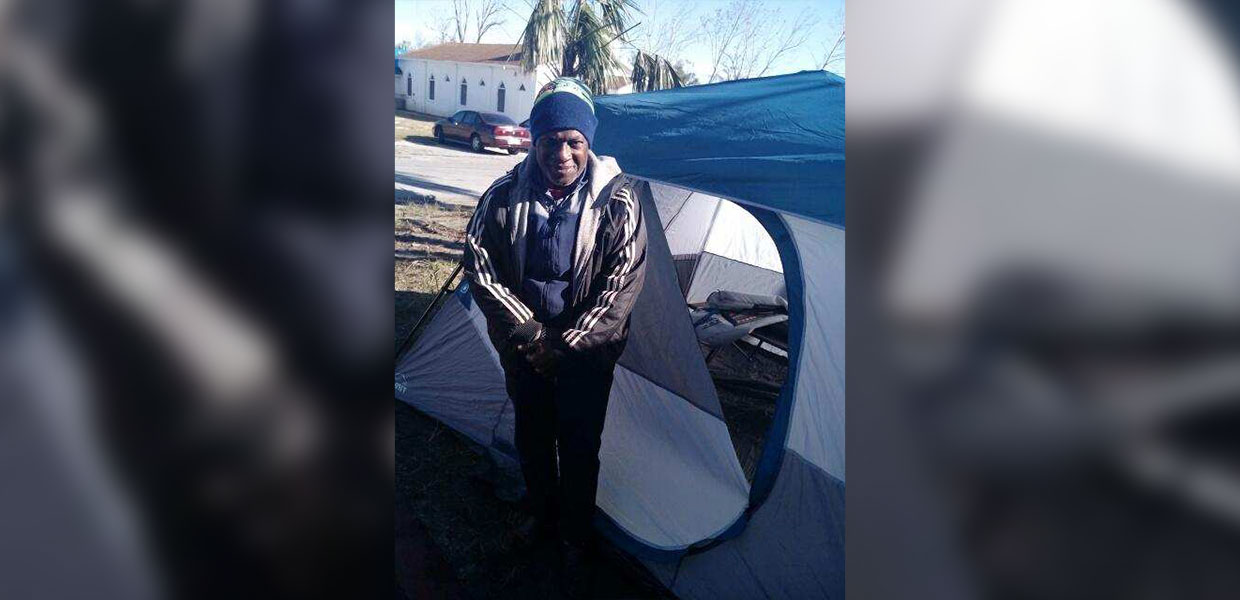 Dennis Myrick stands in front of the tent that was given to him for temporary accommodations.
Charis Olnee McLarty
Hurricane Michael blasted the Florida Panhandle on October 10, 2018, causing catastrophic damage. One of the strongest hurricanes to make landfall in North America, Michael had sustained winds of 155 mph. After fierce winds ceased and ocean waves calmed, the aftermath of Hurricane Michael was overwhelmingly evident.
Panama City, Florida, population approximately 37,000, experienced widespread devastation with the loss of lives, homes, and livelihood.
Since October, Adventist Community Services Disaster Response (ACS DR) has been operating a distribution center housed in the Maranatha Church in Panama City. Donations from individuals, organizations, and the Tallahassee warehouse have enabled ACSDR to serve 300 to 500 people weekly. Social media, fliers, and word of mouth have been very effective advertisement.
On a daily basis, stories are told of the resilient people in Panama City who are trying to keep hope alive. One man, "Brian," was already dealing with having a terminal brain tumor; then came the added burden of having his apartment condemned, and trying to find a place for his family.
A Mexico Beach couple had to sleep in their sport utility vehicle after they lost their home and most of their possessions. And, as if things could not get any worse, their SUV ran out of gas. Then came a ray of hope out of the despair. Their vehicle happened to stop in front of a distribution center, and the family was able to get gas, food, clothes, and warm hugs.
Then there's "Dennis," whose home also had to be condemned because of the severe damage caused by fallen trees. He was living on his front porch with a few salvaged items when the ACS DR volunteers met him. Shelters were not readily available by this time. However, while in a store, two complete strangers overheard volunteers talking about Dennis' situation. They inquired about his living conditions, then decided to help buy some essential items. Thanks to the generous, anonymous donors, Dennis got a new tent and cot, which provided a safer, drier, and more comfortable living arrangement.
After receiving a recommendation from her friend, "Tasha" came to the ACS DR distribution center hoping for a miracle. Since the hurricane, Tasha and seven family members have been living in her house. The 90-day supply of emergency food assistance had been depleted. The day Hurricane Michael made landfall was to have been Tasha's first day of employment after being too ill to work for two years. Tasha tearfully praised God and repeatedly expressed her gratitude for the food, cleaning supplies, hygiene items, and clothing she was able to receive.
"Mr. Matt," a Subway associate, has made it his goal to encourage everyone that enters the store, or that he meets in the community. He lives on the outskirts of the city, but was still affected to a large degree. The home he lives in wasn't badly damaged, but many of the possessions he left in his friend's home were destroyed by the downed trees. However, to him possessions are merely material items that do not matter long term. Rather, he wants people to have hope and trust God. He noted there was an increase in the number of suicides in the area after the hurricane, which he attributed to the despair and hopelessness people felt as a result of their losses. Matt told hurricane victims, "Remember the best part of the storm made it through — you! Never, never, never give up!"
Though news cameras may have gone on to a new story, the real humans of Panama City, Florida, will need assistance for years to come due to loss of property and income, and decreased local access to healthcare. There are still some people without electricity because they cannot afford to pay for repairs that are needed before electrical services can be restored. The loss, which occurred in a few hours, will take years of recovery, as evidenced with other hurricanes like Andrew, Irma, and Katrina.
There are two hospitals in the city, but only one of them has the emergency room in operation. There are several examples of what people have had to do in order to be able to receive healthcare. Soon after the hurricane, Tasha's grandmother needed emergency hospitalization, but the ambulances were unable to get to her home because of downed trees and live wires. She drove her to a local hospital; however, the only section open was the emergency room. The hospital flew her to another hospital 70 miles away. Likewise, "Melissa" and her family temporarily located out of town for nearly a month so her husband could receive dialysis treatment.
It has been several months since hurricane Michael left the Florida Panhandle devastated, but the needs are still fresh. Panama City and the surrounding affected areas need continued support. We can meet their needs by volunteering, donating, and praying.
Said Wayne Blanding, the ACS DR distribution center manager, "We can use help always, particularly in the mobile distribution. Our greatest need now is bleach, laundry detergent, and cleaning supplies. Whenever I'm feeling low in spirit, God sends someone to lift my spirit, usually by the very people I'm here to take care of. He always reminds me He is here — amidst all the destruction and misery, HE IS HERE."
The local churches continue to help, and the distribution center operated by the South Central Conference is expected to serve Panama City and the surrounding areas through the end of March. Audrey Norman, office manager for the center, says, "My belief is that God allowed the local Seventh-day Adventist church facilities to only sustain minimal damage so they could serve as support centers for fellow hurricane survivors in Bay County, Florida. Furthermore, this provides a tremendous opportunity for church members to be hurricane 'thrivers' — survivors reaching out to help others who have experienced the disaster. What a wonderful way to show the love of Christ! How rewarding to know God was able to use you to touch the hearts and lives of His children!"
Over time, however, the number of volunteers has decreased, which impacts the ability of the distribution center to meet needs.
"I believe that the greatest need of the hurricane survivors and thrivers of Bay County, Florida, is not unlike that of other persons who have experienced a disaster," says Norman. "These are real humans like you and I that need to know they have not been forgotten. This can be proven to them with visible and tangible support. Just saying, 'I will pray for you,' isn't enough. Put some legs, hearts, and hands on your prayers by giving hugs, a listening ear, kind words; [and] helping with debris cleanup, employment, healthcare, and emotional and spiritual care."
If you would like to volunteer or assist, you may contact Wayne Blanding, distribution center manager of the Panama City Adventist Distribution Center, at 205-903-5550. The address is 1217 East 14th Court, Panama City, Florida 32401.

Charis Olnee McLarty, M.P.H., is a nursing student at Daytona State College. She volunteered in the Panama City, Florida, disaster relief efforts.
Southern Union | February 2019