By Janell Hullquist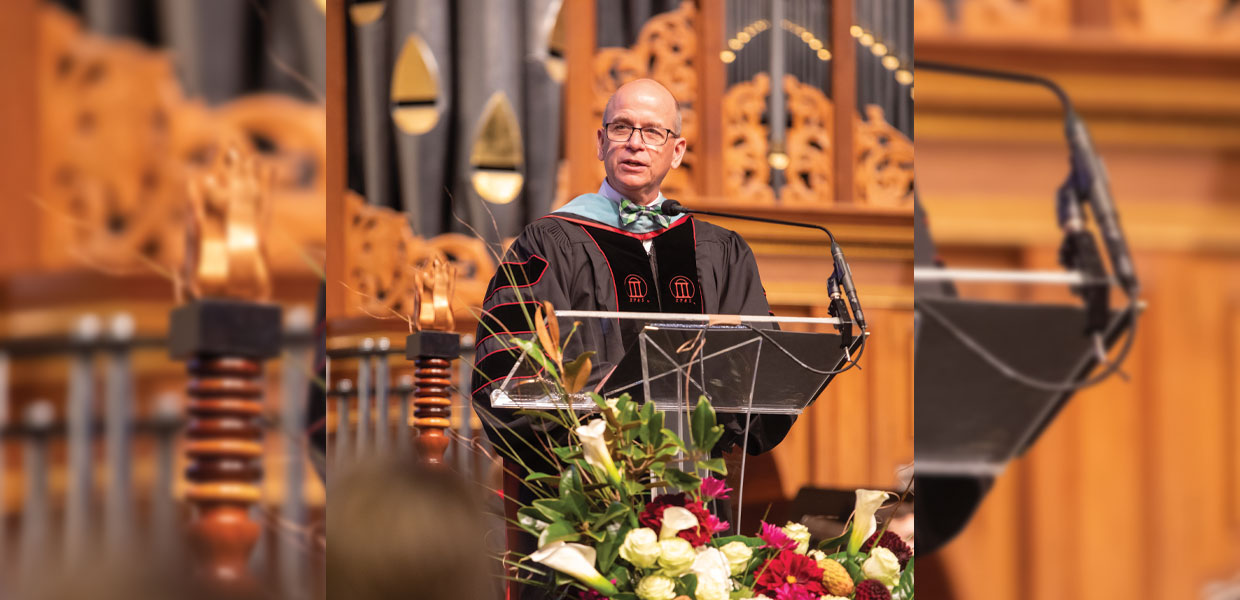 Ken Shaw, Ed.D., was inaugurated as Southern Adventist University's 27th president on September 30, 2021.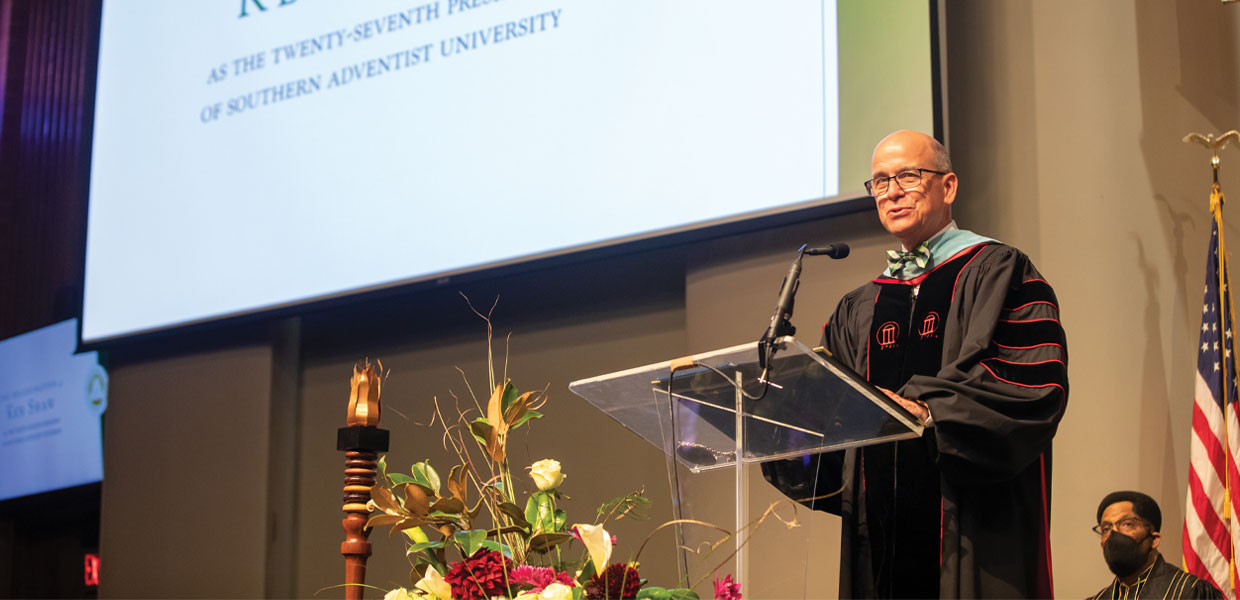 During his inauguration, Ken Shaw, Ed.D., challenged Southern's employees and students with 1 Corinthians 15:58: "Therefore, my beloved brethren, be steadfast, immovable, always abounding in the work of the Lord, knowing that your labor is not in vain in the Lord," (NKJV).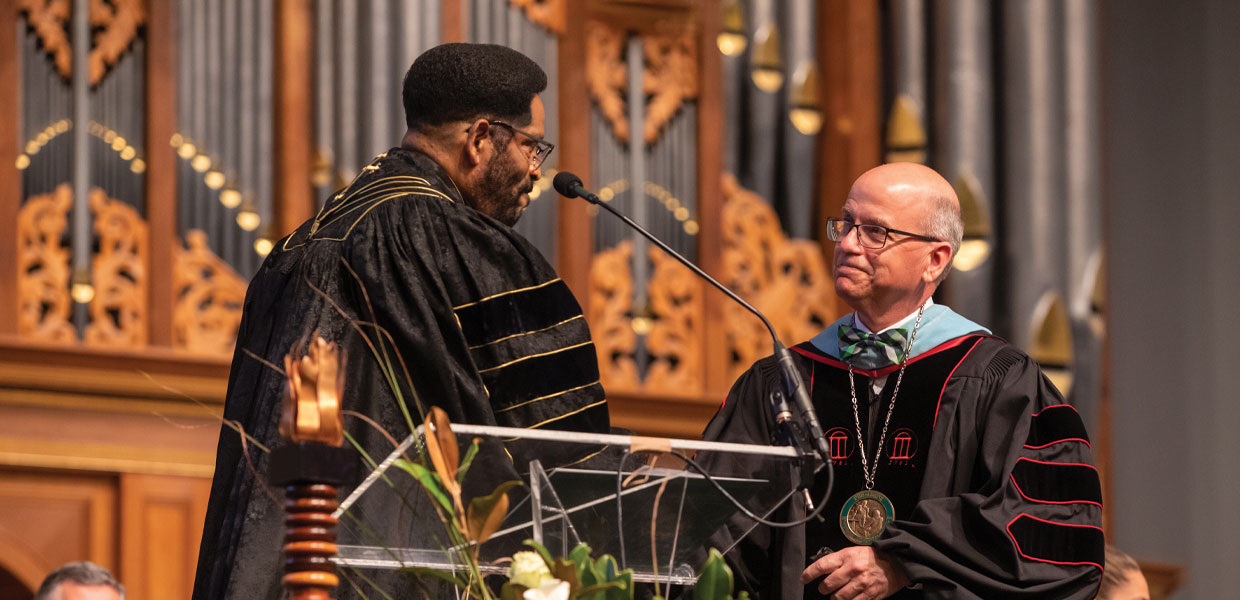 Ron C. Smith, D.Min., Ph.D. (left), chairman of Southern's Board of Trustees and president of the Southern Union, presented Ken Shaw, Ed.D., with the presidential medallion.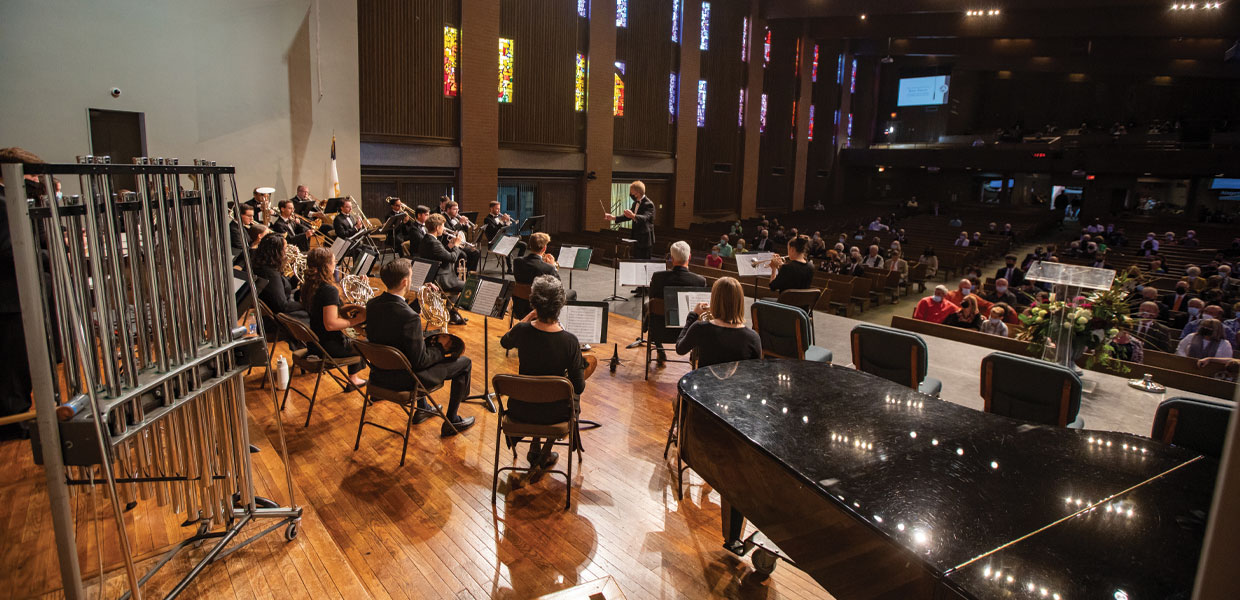 School of Music ensembles performed several selections during the ceremony.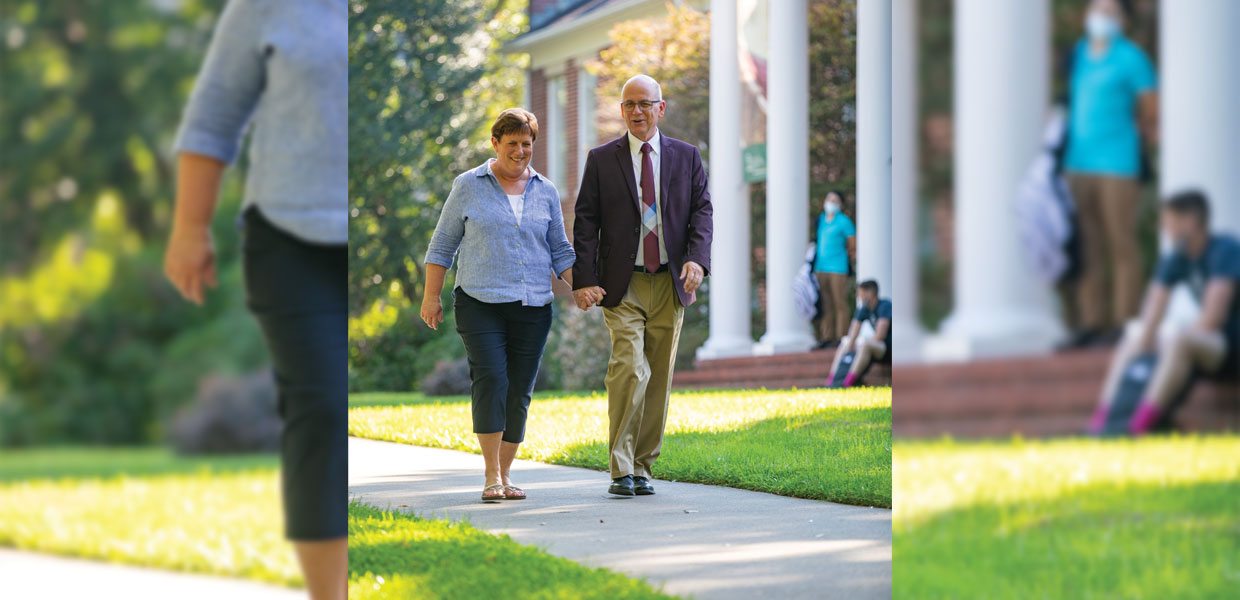 Ken and Ann Shaw are both Southern alumni and fondly remember walking across campus together as students.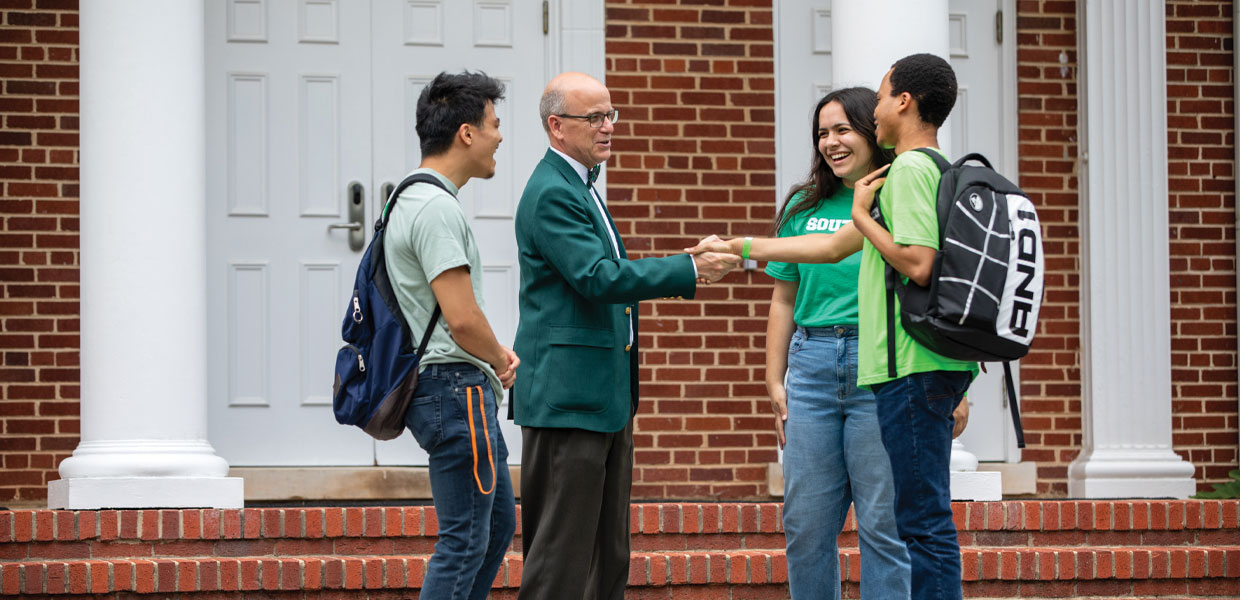 Ken Shaw, Ed.D., president, enjoys meeting students all across campus.
Ultimately, it is Ken Shaw, Ed.D., relationship with God that grounds him, and provides the basis for his leadership.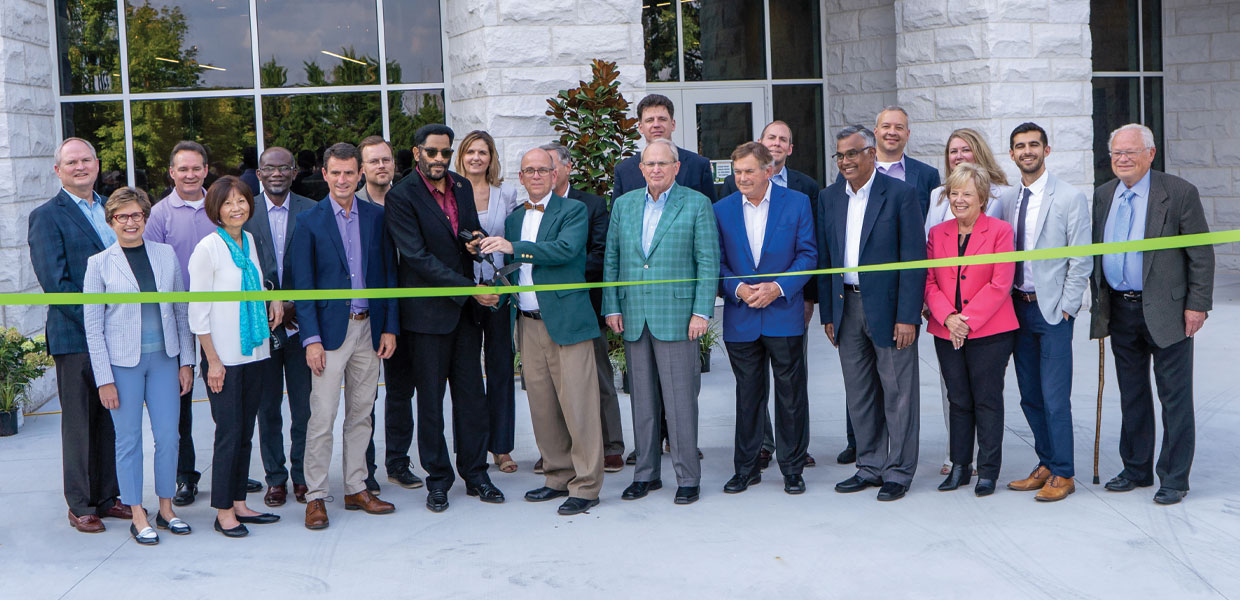 Southern's Board of Trustees joined the ribbon-cutting festivities for the Bietz Center for Student Life.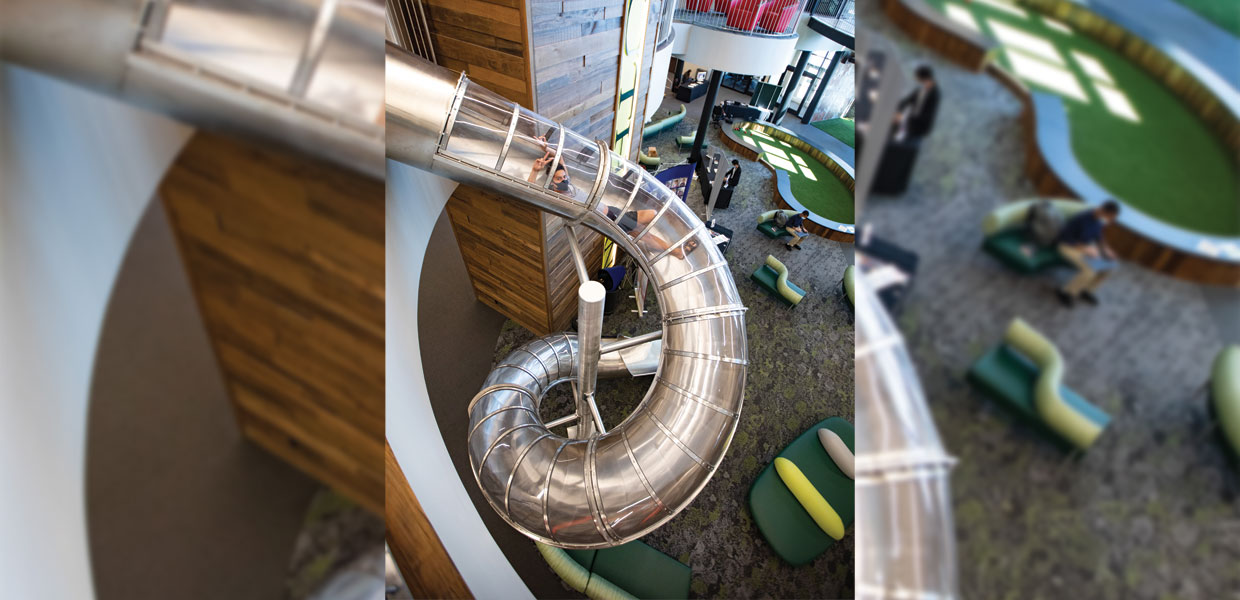 Students enjoy the many options available to them in the new Bietz Center — both practical and fun.
As Ken Shaw, Ed.D., entered the presidential office at Southern Adventist University on June 1, 2021, he found himself coming full circle. His Southern experience began 45 years earlier, when he attended Southern with his future wife, Ann, graduating in 1980 with a degree in mathematics. Now, after decades serving in higher education, God has brought Shaw back to Southern as the first alum to serve as the institution's president.
Shaw was chosen unanimously by Southern's Board of Trustees on February 28, 2021, after an extensive search process. As Ron C. Smith, D.Min., Ph.D., chairman of Southern's Board of Trustees and president of the Southern Union Conference of Seventh-day Adventists, expressed, "The unanimous decision of the board is strong evidence that the will of God has been executed. We thank the Lord for His providential leading and anticipate His blessing in the Southern community as a result of Dr. Shaw's acceptance."
Southern held an inauguration ceremony to officially install Shaw as Southern's 27th president on September 30, 2021. Representatives from sister schools, friends of the University, faculty and staff, students, and family members joined together to seek a divine blessing on Shaw's leadership, and celebrate the beginning of his tenure at Southern.
Following God's Call
Shaw enters this chapter in his career with confidence in God's ongoing guidance.
"We were comfortable where we were, but we sensed God's calling in our lives," Shaw said. "Sometimes He puts you in places you never thought you'd be, but when He calls you, He will enable and equip you."
Shaw comes to Southern with a wealth of experience. Most recently he served as president at Southwestern Adventist University in Keene, Texas. Previously he worked at Florida State University for 25 years in various capacities, from assistant professor of mathematics education to campus dean of Florida State University Panama City and academic dean of the College of Applied Studies. His track record as a leader in higher education includes increasing enrollment, establishing new academic programs, and improving institutional financial stability.
After completing his bachelor's degree at Southern, Shaw went on to earn his master's degree in mathematics from Middle Tennessee State University, and a doctoral degree in mathematics education from the University of Georgia.
The learning environment holds a special place in Shaw's heart. As a professor, he enjoyed the challenge of finding different ways to express an idea in order to connect with each student.
"I loved seeing students' lightbulbs come on as they had 'I get it' moments," he remembers.
Forward Thinking
In addition to his passion for teaching, Shaw is an advocate for community partnerships, and has presented papers on their importance. While in Texas, he regularly wrote a column for the Cleburne Times-Review, and in Florida he served with various groups that were recruiting industry to the area and helping grow small businesses. As a leader and mathematician, Shaw values strategic thinking and analyzing metrics to optimize results.
"It is important for a university president to always be thinking ahead, planning where the school should be in three, five, or 10 years," Shaw said. "But, in order to effect change and keep the University moving forward, it's critical to surround yourself with wonderful people and leaders, and I've been impressed with the faculty and staff at Southern. Hats off to my predecessors for building a strong team!"
Ultimately, it is Shaw's relationship with God that grounds him and provides the basis for his leadership.
"I enjoy my spiritual devotions every morning, taking time to reflect on a few Bible verses which provide a strong foundation for my day," Shaw said. "We all have busy, complex lives, but when we pause and spend time with our God, relying on Him, He can carry our burdens and recharge us to do what we need to do each day."
Shaw's favorite Bible verse is Isaiah 40:31: "But those who wait on the Lord shall renew their strength; they shall mount up with wings like eagles, they shall run and not be weary, they shall walk and not faint," (NKJV).
"There are many headwinds in higher education, but I see every challenge as an opportunity," he said. "This isn't my school, this is God's school; He directs us as we carry on the important mission of Southern Adventist University, transforming lives for eternity. Nothing is too big for God to handle."
Coming Home
As a Southern student in the late '70s, Shaw participated in the band — where he played baritone — and enjoyed exploring the surrounding area with Ann. The two were married prior to his senior year at Southern and had two children, who later also graduated from Southern.
The Shaws describe returning to Southern now as "coming home" and find that while clothing styles and technology may have changed, much remains the same.
"I can still smell the Little Debbies being baked across the street, and the grounds and buildings are very familiar, although updated," Shaw said. "More importantly, I sense that campus culture is still similar to when I was a student. There is a sweetness that goes beyond the smell of Oatmeal Cream Pies baking — a sweet spirit on campus. People are friendly and pleasant, and it speaks well to Southern's legacy of providing Christian education."
As president, Shaw aims to increase efforts to make Southern more accessible to all students. He hopes to grow the University's endowment fund in order to make more financial aid available, while strengthening the school's financial foundation. His vision is to continue providing a solid Seventh-day Adventist education for all Southern Union constituents, while making it widely known that the University's doors are open to students from all denominations.
"Students are the life blood of the institution," he said. "I love meeting as many of them personally as possible, listening to their stories and how God is leading them. For 129 years, Southern has offered a wonderful Christian education, and any student who has a desire for that experience is welcome here."

Janell Hullquist is the editorial manager at Southern Adventist University, where she earned a degree in mass communication in 2005.
Southern Union | November 2021