by Mario Roberts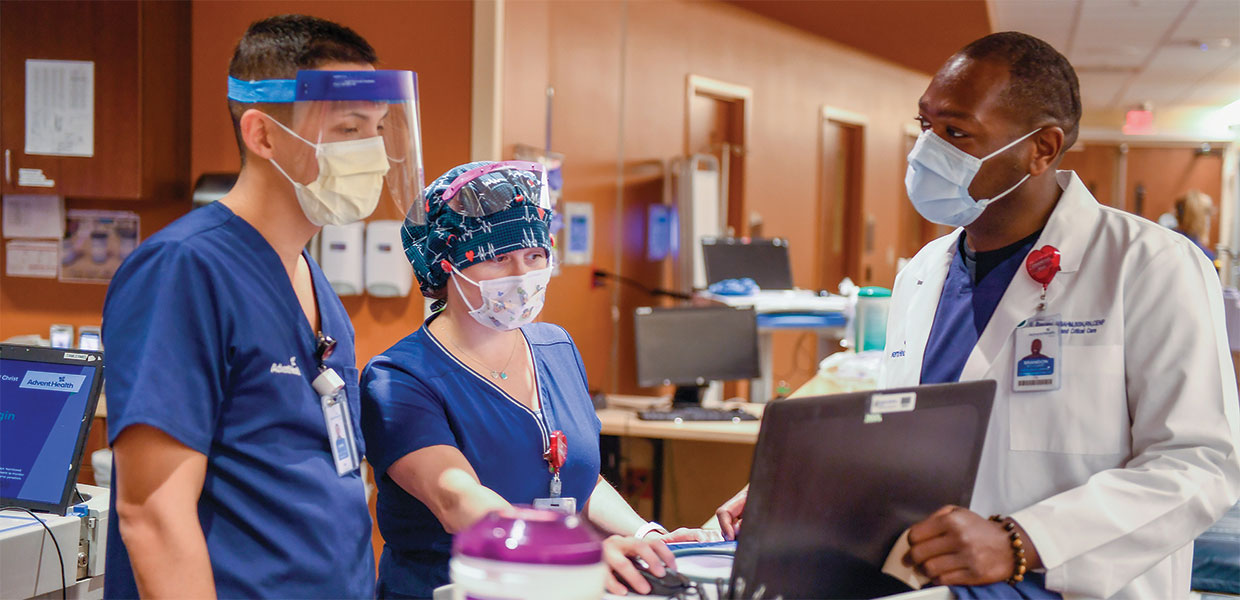 Brandon Bougard (right), assistant vice president of nursing services for AdventHealth Tampa, checks in with clinical staff while rounding at AdventHealth Tampa.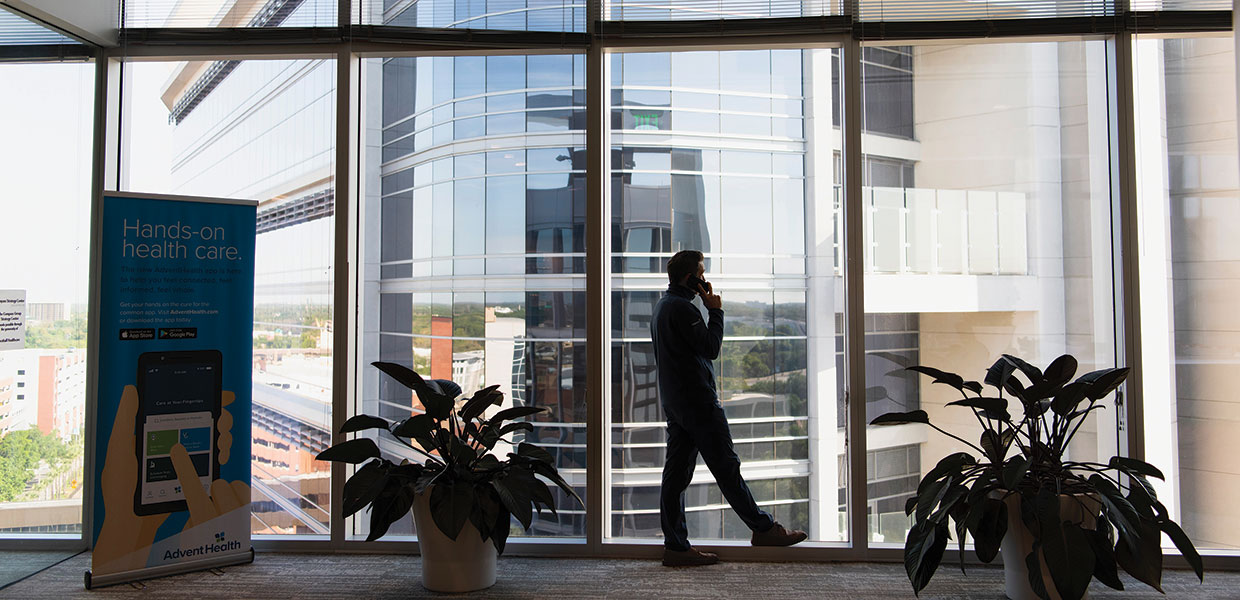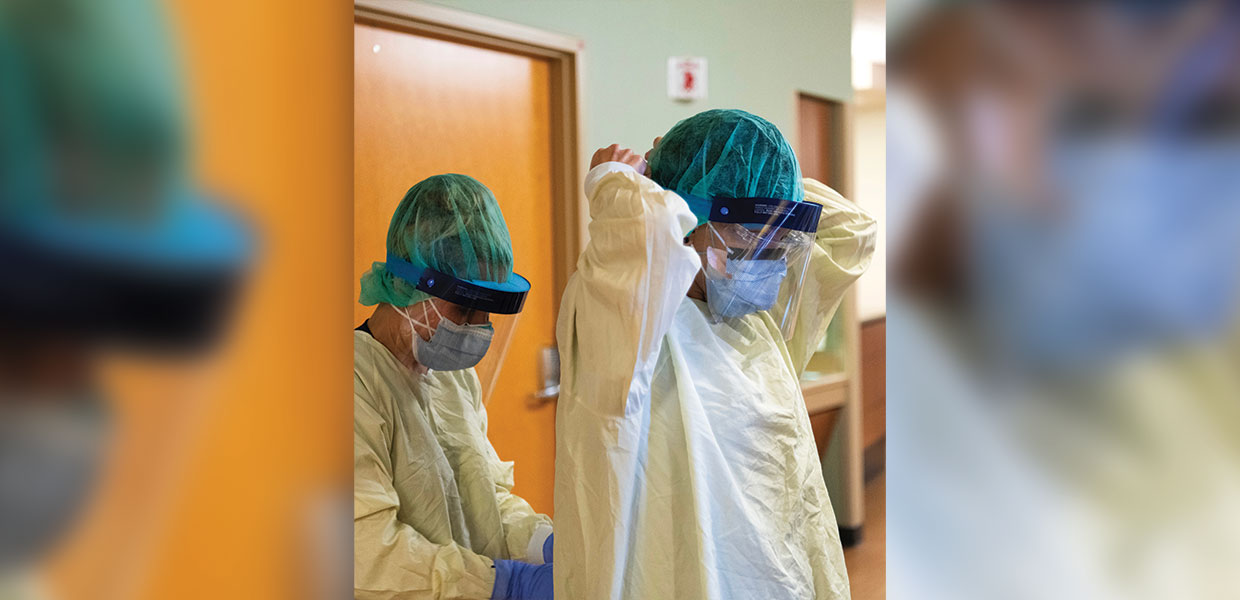 An AdventHealth clinician assists a fellow caregiver with personal protective equipment.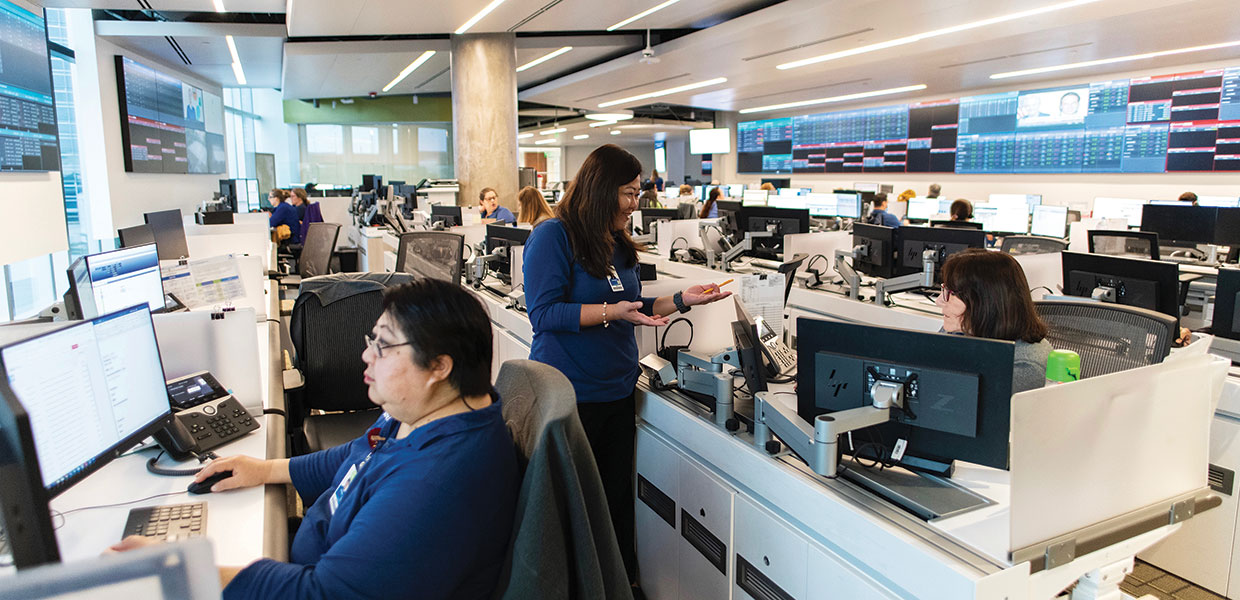 The health system's Mission Control is helping efficiently coordinate care in central Florida for COVID-19 patients and others.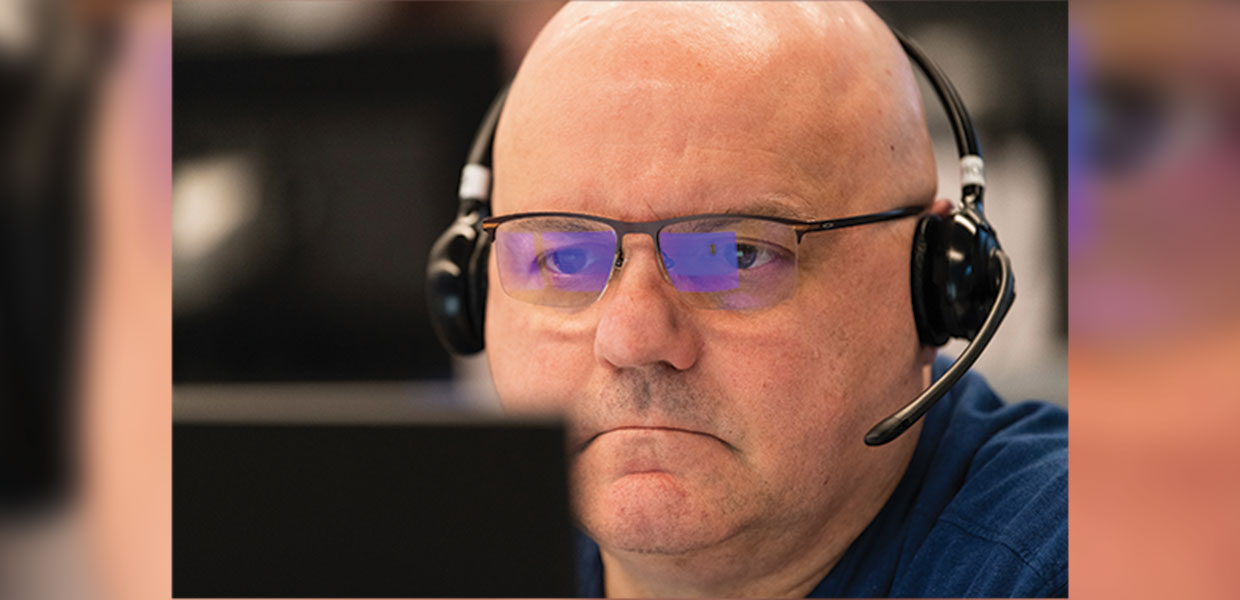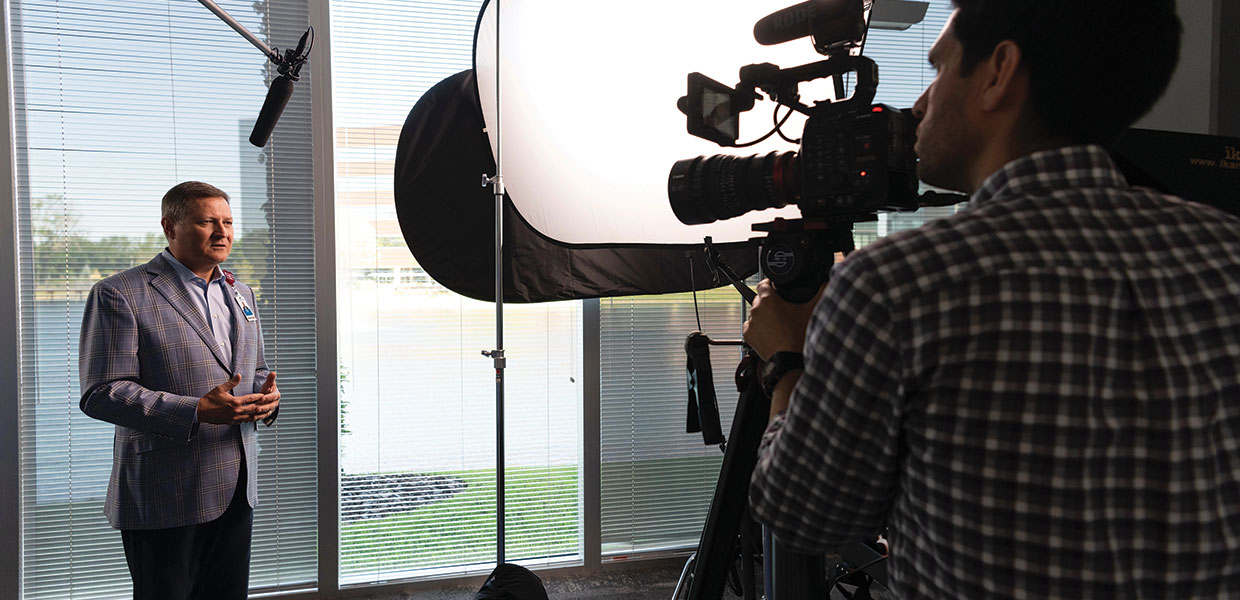 Terry Shaw, AdventHealth president/CEO, records a video message from the corporate office updating team members on the organization's response to COVID-19.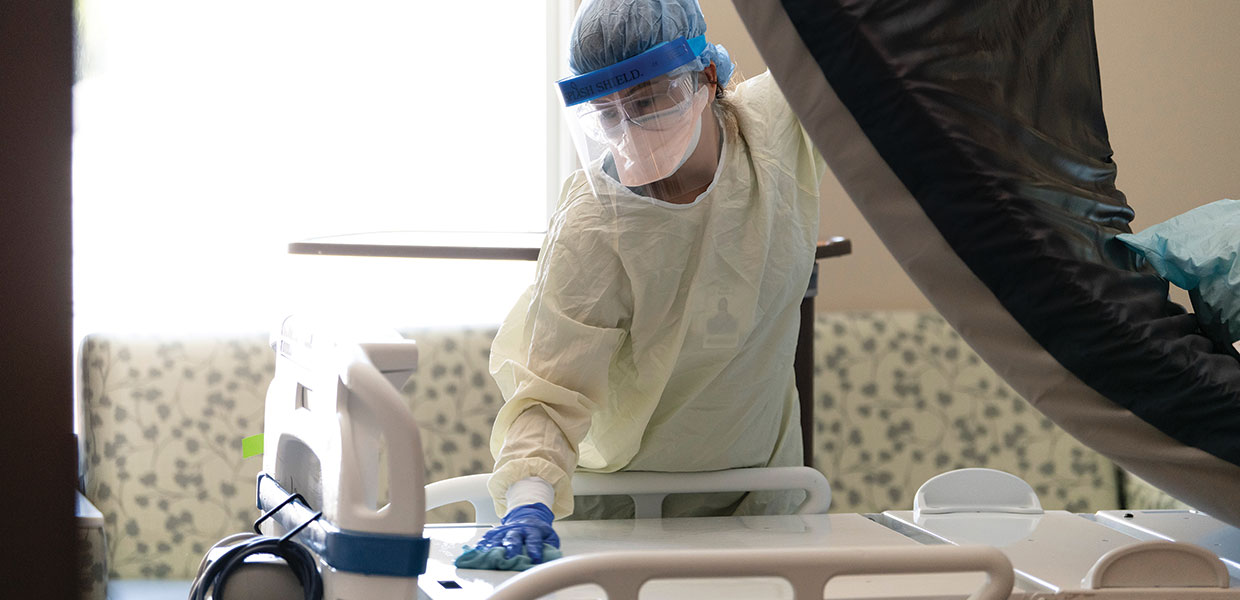 An AdventHealth team member sanitizes a patient room.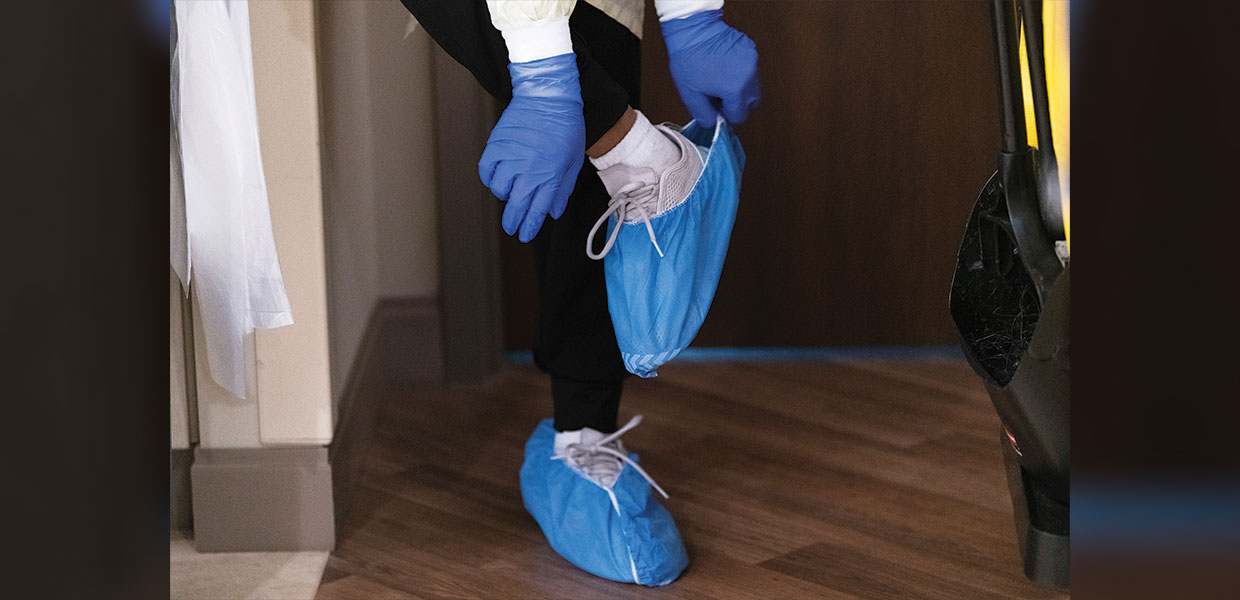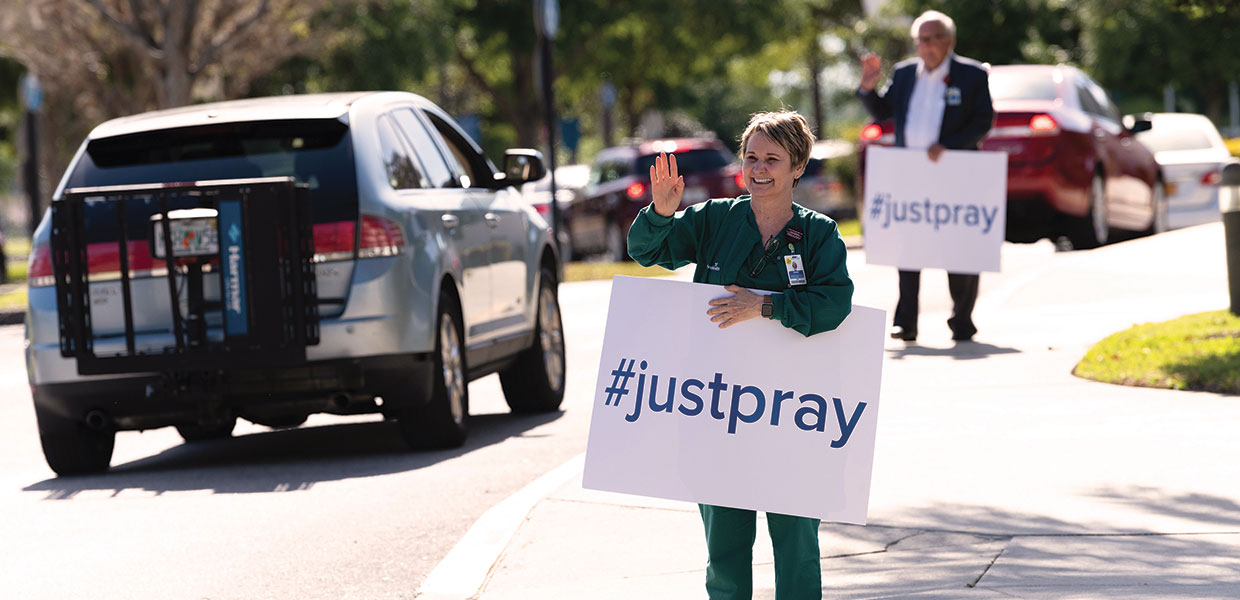 AdventHealth Waterman Team members greet a local church that turned out to surround the hospital with prayer. Signs that read #JustPray were displayed as cars drove around the hospital seven times while the occupants prayed for protection of staff and patients and victory over the virus.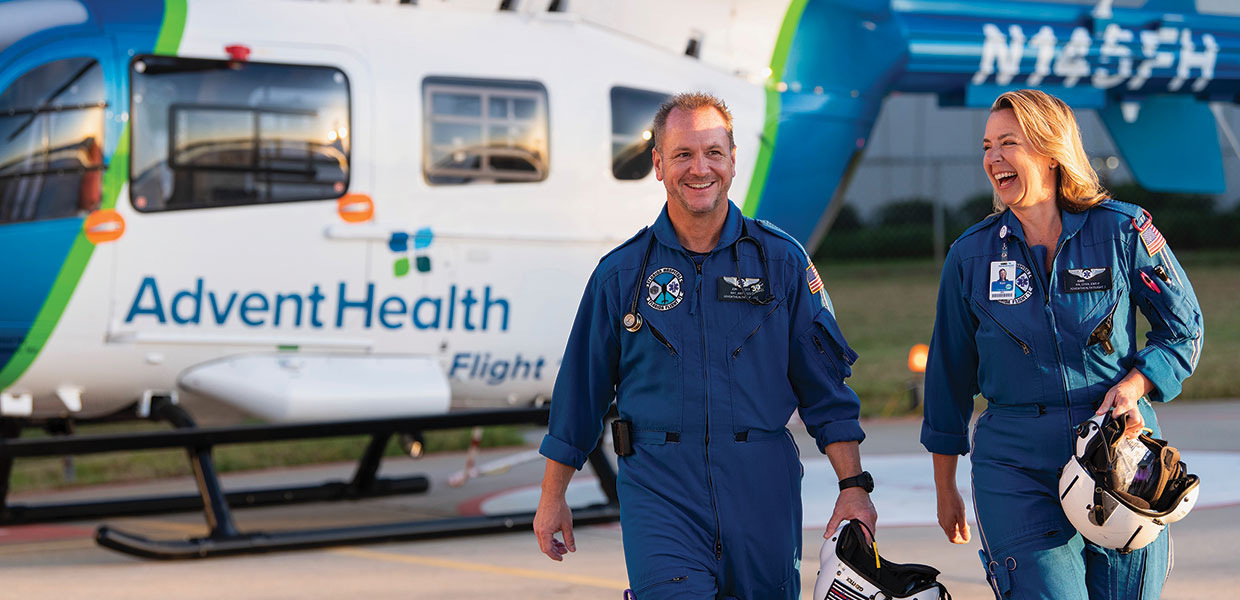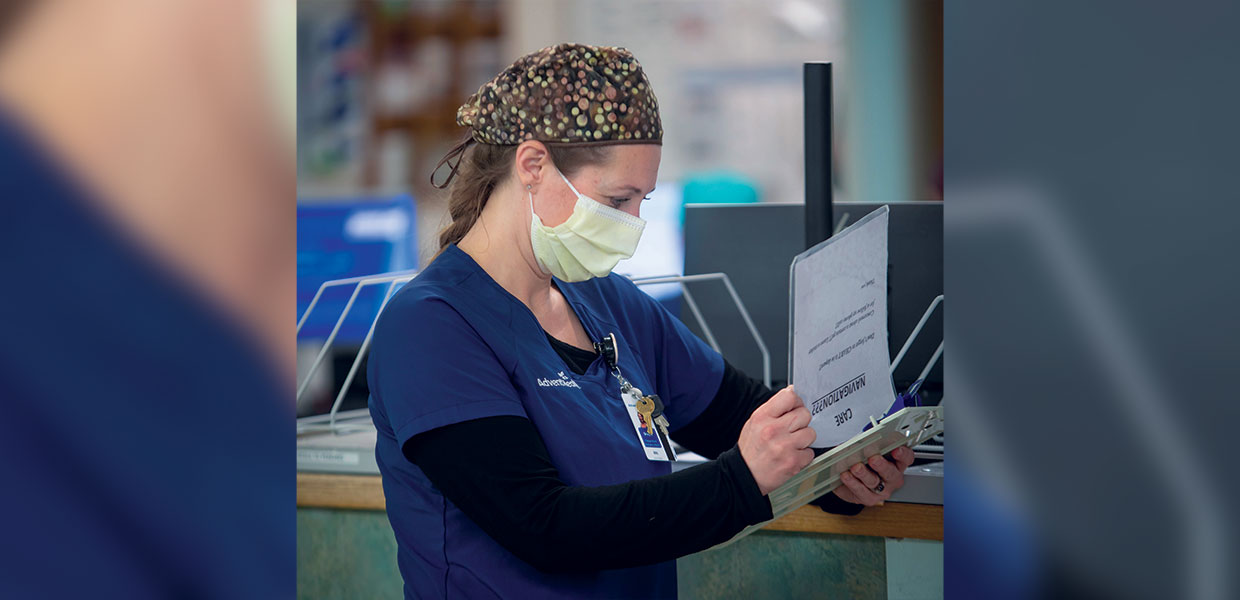 Shayla Bell, R.N. at AdventHealth Hendersonville, Tennessee, cares for patients in the emergency department.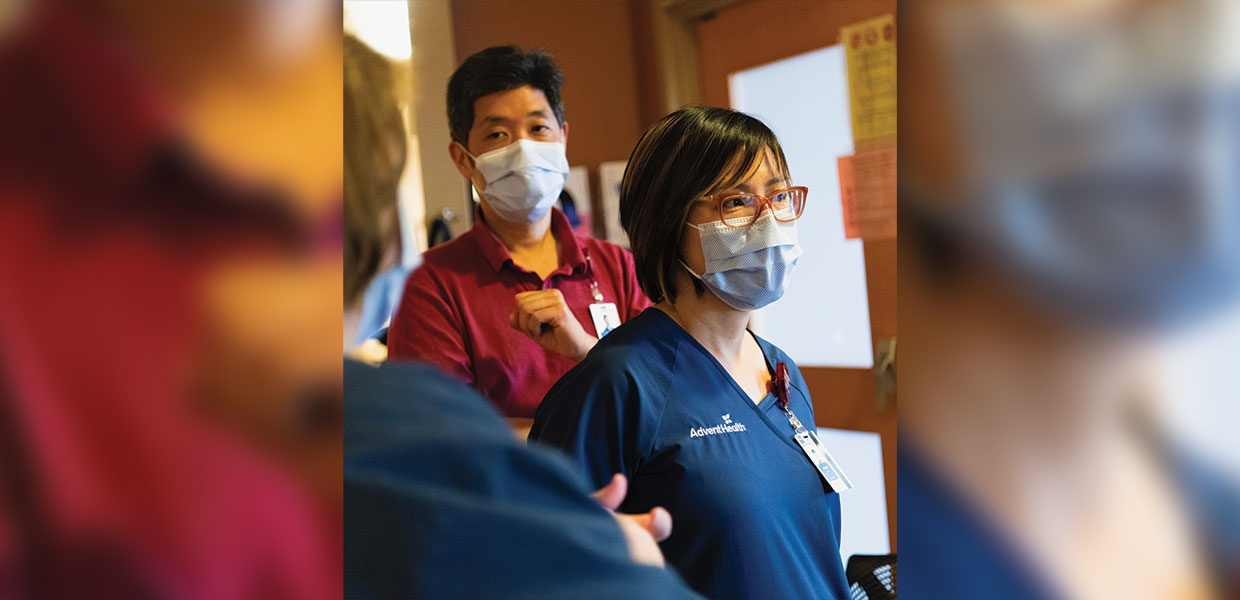 Vincent Hsu, M.D. (middle), executive director of infection prevention for AdventHealth's Central Florida Division, is leveraging his expertise to support the health system's response to the COVID-19 pandemic.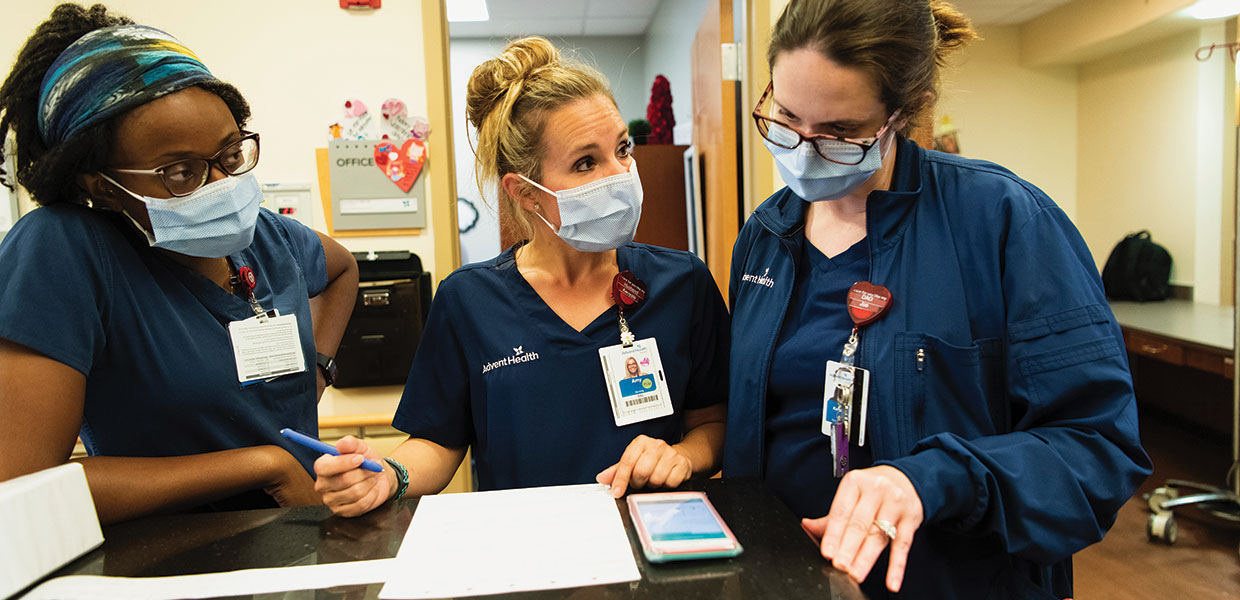 Staff huddles reflect the new normal as the Coronavirus pandemic mitigation efforts encourage the use of protective gear by clinical staff.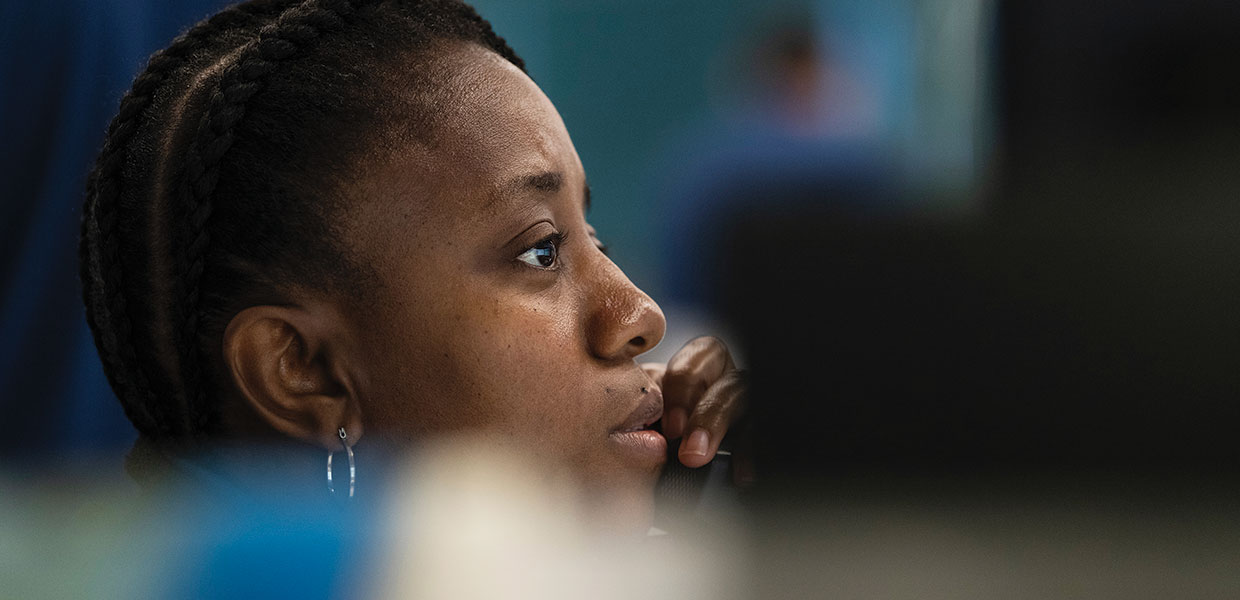 At Mission Control, a team member monitors real-time data and information across AdventHealth's central Florida hospitals.
As the coronavirus and COVID-19 loom over the United States, Americans are adapting to a new normal. Social distancing guidelines, empty shelves at grocery stores, and financial uncertainty have stoked the feelings of apprehension, trepidation, and fear of the known and unknown that have hijacked day-to-day life.
Like the rest of society, health care workers are feeling the effects of COVID-19, but their anxiety is understandably magnified. As hospitals face being overrun by virus-stricken patients, caregivers are doing their best to traverse the landscape with issues like the scarcity of personal protective equipment (PPE) and burnout, putting their desire to save lives at odds with their own personal sense of well-being.
Brandon Bougard, who serves as assistant vice president of nursing services for AdventHealth Tampa, leads a team of more than 400 clinical staff. He remembers working on hospital floors during the Ebola and H1N1 outbreaks, and he is drawing from those experiences to help his team deal with life as a caregiver in the days of COVID-19.
"With Ebola, there were lots of changes with PPE. It is a learning process," said Bougard. "We have to be open-minded and flexible knowing that today things are this way, but tomorrow it's going to be different, and just be prepared for that."
Recognizing that there is some fear among health care workers at large, Bougard has an open-door policy, and is going the extra mile to ease any anxiety and serve as a sounding board for his team.
"This is new for them. A lot of them haven't been through H1N1 and Ebola. I tell them that if they have something on their minds, they can come talk to me, and they do," Bougard said.
Declared a pandemic in March by the World Health Organization, more than one million people across the globe have contracted COVID-19 at the time of this writing, including more than 300,000 in the United States alone. As the number of confirmed infections has grown across the country, health care providers are racing to keep pace.
One of the nation's largest faith-based health systems, AdventHealth is working tirelessly to address the challenges of today and those ahead. The health system serves more than five million patients annually, and has more than 80,000 team members. Its footprint spans nine states and nearly 50 hospitals, including dozens of hospitals that sit in or near population-dense areas where community spread of the virus is a major concern.
"COVID-19 is unlike anything we have seen in modern history," said Terry Shaw, president/CEO for AdventHealth. "This pandemic presents significant challenges to the country's health care infrastructure, but, as providers, we are steadfast in trying to meet the needs of those we care for."
As the pandemic continues to evolve, AdventHealth leaders are charting a course through its System Command Center, created to develop and implement a unified approach to manage the organization's response to the COVID-19 pandemic. With leaders and team members representing clinical, supply chain, human resources, and other functions, the command center is the hub for the creation and deployment of plans and strategies, as well as the agile and responsive decision-making and communications that are enabling the organization to serve and protect its patients, team members, and communities.
Supporting its workforce has been a focal point for the command center, and AdventHealth has leaned heavily into its service standards of "Keep Me Safe," "Love Me," "Make it Easy," and "Own It" to help its team members feel cared for during this difficult time. For instance, the organization has implemented measures to help bring security and peace of mind to team members by addressing things like the continuation of pay, remote work capabilities, workforce redeployment, and even childcare.
Not lost is the personal toll that the pandemic has had on caregivers. Across the country, health care workers have become increasingly more concerned about not only their exposure to COVID-19, but also possibly exposing their loved ones at home. AdventHealth has taken additional steps to provide a safety net from a lodging perspective, covering the cost of hotel stays for team members in the event they contract the virus, or who may not have the virus, but have concerns about being in close proximity to vulnerable family members.
"Everything we have done for team members, whether from a financial or personal well-being perspective, is focused on caring for the whole person," said Olesea Azevedo, chief human resources officer for AdventHealth. "Our mission is Extending the Healing Ministry of Christ, and we have an opportunity to show our mission and service standards to team members, and do for them everything we ask them to do for our patients."
Inside hospital walls, the organization took necessary steps aimed at reducing the risk of exposing patients and team members and maximizing its capacity and resources, including limiting visitations and cancelling elective surgeries. These efforts are among the many measures the organization is taking to protect caregivers and patients. For Shayla Bell, a nurse in AdventHealth Hendersonville's emergency department, the organization's efforts are readily apparent.
"I think we've made a pretty aggressive stance on trying to minimize the amount of contact and spread between patients, team members, and visitors," she said.
At facilities across the AdventHealth footprint, chaplains are also playing a leading role in providing support, encouragement, and inspiration for caregivers, while also continuing to be a resource for patients.
"We have completely retooled how our chaplains are engaging," said Joey Rivera, assistant vice president of mission and ministry for AdventHealth's West Florida Division. "We are focusing a lot of time on supporting our frontline staff that are dealing with the intensity of what's going on."
This retooling of chaplaincy resources has manifested itself in a number of powerful and intuitive ways across the health system. From working to supply nurses with meals and toilet paper, to creating compassion cards, to leading multiple facilities in prayer simultaneously via live video chat, chaplains are leading with love to uplift caregivers.
A sobering byproduct of the pandemic is that many of the patients hospitalized with COVID-19 have to endure the effects of the virus without family or loved ones by their side due to the highly contagious nature of the virus. To help patients stay connected with their loved ones, AdventHealth instituted a plan to facilitate virtual visits via video chats. Chaplains also are being resourceful to help ensure that patients with the virus don't face the experience in solitude.
"We have had individuals to print letters that we take to patients. We've had individuals use their phones to FaceTime with family members. We are making sure that patients aren't going through this alone," Rivera added.
Keeping team members safe on the front lines of patient care with the necessary personal protective equipment continues to be a point of emphasis for the organization. But, a global supply shortage and increased worldwide demand has complicated the issue, forcing the organization to aggressively compete with providers across the world for the same materials. In the midst of this shortfall, AdventHealth moved to solidify its supply chain, vetting more than 100 new suppliers and investing millions outside of its regular supply channels to obtain the supplies needed to protect patients and clinicians.
"Manufacturing out of China was highly impacted over the last couple of months. We had disruptions in the amount of supplies that were able to come out of that country, as well as a massive increase in demand for these exact supplies, so there has been a gap in available supplies across the globe," said Marisa Farabaugh, chief supply chain officer for AdventHealth. "As we receive supplies, we are strategically shifting inventory across the system as needed so each facility is supported."
In addition, the health system has teams monitoring dynamic real-time dashboards for ventilators and other key equipment to keep a pulse on what is available, what is needed, and where resources can be more effectively allocated.
As the nation presses on in the fight against COVID-19, there is still a steep hill to climb. Increasing infections and subsequent fatalities could stretch some hospitals to their limits, with an uncertain road ahead. Hospital and health system leaders across the U.S. continue to wrestle with possible worst-case scenarios, ethical dilemmas, supply shortages, and surge capacity.
At AdventHealth Hendersonville, Shayla Bell, like countless clinicians across the country, is doing her best to filter out the noise.
"We know the worst-case scenario, but it is stressful trying to anticipate the unknown," said Bell. "We've never been in this situation before, so it's scary — the unknown. We try to take it day by day — all the changes — and we just roll with the punches."
**Note: As circumstances around the COVID-19 pandemic are changing rapidly, some information in this article may be out of date at the time of publication.**

Mario Roberts is the senior communications specialist at AdventHealth.
Southern Union | May 2020