by Jamie Harrison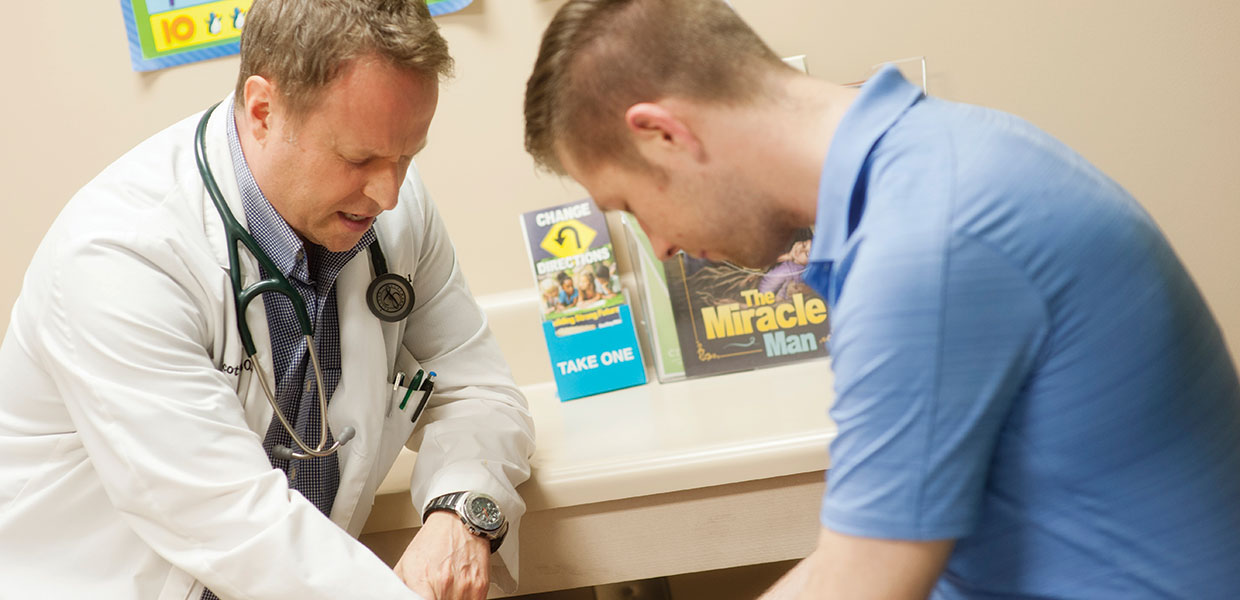 Scott LePor, D.O. (left), has found that praying with patients and teaching them about forgiveness can alleviate stress and improve their healing process.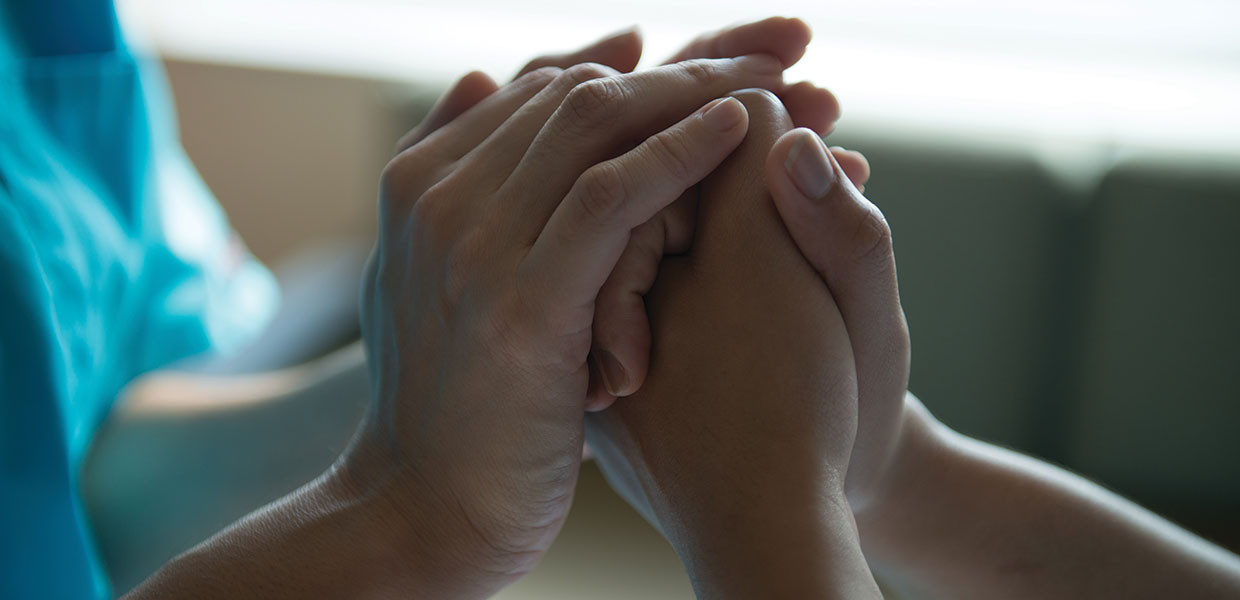 Studies show that patients similarly place a high value on spirituality, especially during a time of illness.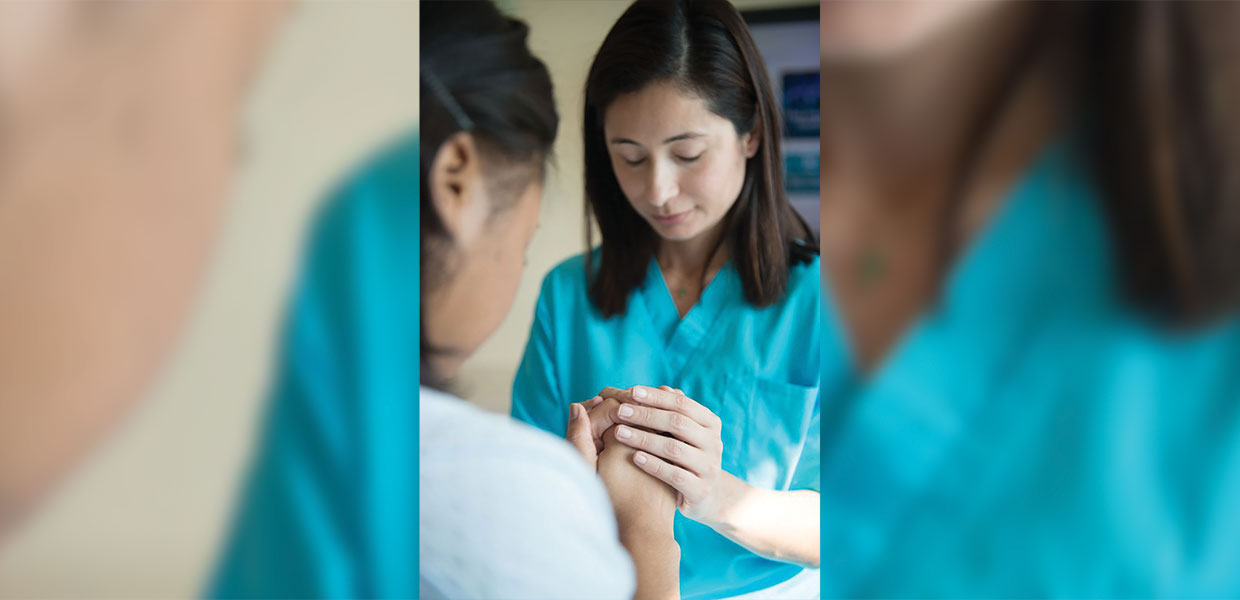 The Faith in Practice study analyzed more than 400 physicians' experiences as they introduced spiritual components into patient care.
His anxiety was debilitating. Feelings of doubt and anger often consumed his thoughts, while suffering from painful ulcers and migraines left 29-year-old Matthew Norris feeling trapped in a continual state of mental and physical anguish. Sleepless nights, sudden weight loss, and various agonizing symptoms caused Norris to visit his doctor's office numerous times.
"I was having all kinds of problems — issues with anxiety and having thoughts in my head that weren't rational," he explained. "I was feeling sick and tired all of the time and in pretty bad shape."
Eventually Scott LePor, D.O., primary care physician at Gordon Hospital Internal and Family Medicine in Calhoun, Georgia, took notice of Norris' repeated visits and did something unexpected.
LePor decided to pray with Norris, and asked if he felt comfortable sharing any mental struggles that may be affecting his health.
"I feel that praying with my patients builds a deeper connection, brings great relief and oftentimes brings an outpouring of stored up grief that frees the patient and leads them on a path of true inner healing," LePor explained. "It is one of the most freeing and powerful aspects I find in medicine when it does occur."
With the help of LePor's spiritual counseling, Norris came to an eye-opening revelation.
"We talked about everything that was wrong, and we narrowed it down to me having anger and hate in my heart," Norris said. "I went through a long time of harboring feelings of bitterness toward certain people in my life, and LePor brought that to my attention. It was a major wakeup call."
After realizing that Norris' suppressed feelings of negativity were causing his health to spiral, LePor shared Bible verses with Norris and gave him invaluable advice about forgiveness.
"Two of the most common principles that I discuss in my practice are bitterness or forgiveness and fear," said LePor, "explaining to patients that Christ's commands, as in the command to forgive, are not a benchmark for us to achieve, but are aligning us to the way we were designed to live in fulfillment."
Once LePor spoke with Norris about forgiveness, acceptance, and letting go of his past, Norris was able to conquer his struggles with anxiety, and move forward with a renewed outlook on life.
"At first I was a little upset and disappointed with myself that I let my issues get this far, but once we figured out the cause of it, I was relieved and happy to know that I could fix it," Norris said. "Since then I haven't any stomach problems, migraine headaches, or anxiety issues."
Studies show that religion, spirituality, and health have been associated with improved health outcomes and better quality of life. Norris' testimony is one example of how incorporating spirituality into patient care can have a substantial impact on whole person care.
However, the spiritual needs of patients, especially in outpatient settings, frequently go unmet. For this reason, the training of health professionals on how to integrate spirituality into patient care has been encouraged across health professions.
Adventist Health System (AHS) recently conducted a study called
Faith in Practice,
in collaboration with Harold G. Koenig, M.D., director of the Center for Spirituality, Theology and Health at the Duke University School of Medicine.
The year-long study examined AHS–affiliated health providers and staff regarding various spiritual practices such as praying with patients, sharing personal religious beliefs with patients, and encouraging patients' religious beliefs for health benefits.
The Faith in Practice study was created to infuse prayer and spiritual support into outpatient care. The purpose of this study aligned with AHS's commitment to deliver a continuum of wholeness that embraces patients' physical, emotional, and spiritual needs. By integrating prayer and spiritual components into physician/patient relationships, AHS supports a patient's journey to wholeness, which further contributes to the organization's mission of Extending the Healing Ministry of Christ.
"Research shows that 85 percent of Americans believe in a transcendent power," said Ted Hamilton, M.D., vice president of medical mission for Adventist Health System. "Almost three-fourths of Americans would welcome a conversation with their physician about spiritual things, but only about 10 to 15 percent of doctors are comfortable having that conversation. If we leave out the spiritual part of health care, we leave out a very important part in a lot of people's lives."
The study was conducted with AHS-affiliated outpatient providers in Florida, Georgia, North Carolina, and Illinois. Nearly 445 physicians and providers completed the 12-month research project that involved a baseline assessment, an intensive and educational orientation, and a follow-up survey.
In order to ensure physicians were providing whole person care in outpatient settings, AHS created a clinical mission integration team for the study. The clinical mission integration team was responsible for recruiting and educating the physicians on how to incorporate spiritual elements into their patient practices. As part of the overall project, providers were also asked to identify professional staff to assist them in integrating spirituality into outpatient care. Staff included nurses, medical assistants, office managers, social workers, and other office staff.
"I didn't meet any providers who declined to participate in the study," said Linda Walker, clinical mission integration specialist. "That in itself was pretty amazing, and I knew that God was going before me, because there was no way that we could do this on our own."
The clinical mission integration team trained the health professionals on how to ask spiritual questions and how to spiritually assess patients.
"When you are able to share spiritual dialog with your patient and provide for their medical needs, you are ultimately demonstrating whole person care," explained Kathy Perno, director of medical mission integration for Adventist Health System. "This helps us to fulfill our promise as a faith-based organization."
The physicians and providers who participated in the study were of various faiths, including some with no religious affiliation at all.
"Even if our physicians don't believe in Christ, they believe in offering whole person care," Walker said. "That way, we were able to bring on Hindu, Muslim, and Jewish providers because they all understand the importance of our whole person care philosophy."
Along with asking patients if they would like to pray during their office visit, the spiritual questions consisted of the following:
Do you have a faith-based support system to help you in times of need?
Do you have any religious beliefs that might influence your medical decisions?
Do you have any other spiritual concerns that you would like someone to address?
"We left it up to the providers when deciding on who they were going to ask. Some of them would ask every patient who came through the door, and some would ask patients who they felt were showing signs of depression," explained Walker. "If a patient shared that they are going through a rough time, the physician would go ahead and ask the spiritual questions."
The clinical mission integration team also encouraged each practice to nominate a staff member as a spiritual care coordinator. A clinical mission integration specialist would then train the spiritual care coordinator on how to connect with patients spiritually. If a physician was unable to pray with their patient due to differences in religious beliefs, the spiritual care coordinator would be available to step in and pray with the patient. This enabled the physician and his team to successfully fulfill the spiritual needs of their patient.
"I feel like we've really made a difference out there," Walker said. "We've seen miracles happen. It's much more than I've ever dreamed."
As a primary care physician affiliated with Florida Hospital, Annabell Torres, M.D., has always held a strong interest in integrating spirituality and whole person care into her practice. If a patient was experiencing a difficult time emotionally, Torres started inquiring about their support system: their family, friends, and community. Within the patient's community, she would ask if the patient belonged to a church.
"If a patient's significant other passed away, we try to focus on what would help them cope with the pain, and what would nourish them," Torres explained. "We would ask the patient if they have someone they could trust, or if they have a spiritual leader that they could speak with. After that, the patient would usually open up."
While Torres was enthusiastic about adding spiritual questions into her patient assessments, there were two main concerns some physicians faced during the beginning of the study.
"One concern was that the spiritual assessments would take too much time and they couldn't afford to get behind in the day," Ted Hamilton, M.D., said. "But, that ended up being a non-concern. Doctors across the board say that it took very little additional time, if any at all."
Hamilton explained that the second issue involved physicians' concerns about having the ability to mend complex spiritual dilemmas.
"We organized this referral program so doctors would have a resource to use in difficult situations," he said. "We filled in the blanks. That made it possible for them to participate in the study without compromising their practice."
Family medicine physician Geoffrey Kuhlman, M.D., from AMITA Health Medical Group Bolingbrook in Bolingbrook, Illinois, found that this study not only provided him a framework to discuss faith with his patients, but also gave him the confidence to do so.
"I've always recognized the favorable impacts faith has on health outcomes," Kuhlman said. "However, I never felt comfortable discussing faith with patients unless they brought it up first. This study challenged me to overcome that fear."
During the course of the study, Kuhlman became more comfortable integrating faith and whole person care into his patient assessments.
"I could see their minds and hearts opening as I asked them about their faith. Some patients admitted that they had fallen out of faith but recognized that they needed to return to it," Kuhlman explained. "Other patients who never really connected with any particular faith realized that working through their health problems would become much easier if they developed faith and trusted God beyond themselves."
Kuhlman hopes to expand the presence of the Faith in Practice principles to physicians through his health system and eventually beyond.
"Incorporating faith into patient care has been a practice-changing element for me. It hasn't taken anything away from how I practiced before, but it certainly enhances it," he said. "I have aspirations and plans to share the Faith in Practice paradigm with other physicians in our medical group and larger health system."
Neurologist Laura Fleck, M.D., from Foundation in Spine Health in Asheville, North Carolina, explained that examining spiritual issues and needs with patients brought a level of intimacy to the relationship that may have not been present before.
"It says to the patient that I am available on a personal as well as professional level," Fleck said. "This helped to inspire trust."
Kuhlman and Fleck expressed how the Holy Spirit brought countless benefits to their practices, and how aligning spirituality with patient care impacted them personally. Kuhlman described working with the Spirit as "humbling, empowering, and joyful."
"Bringing faith into practice has rejuvenated my feelings about my career. It's given much greater meaning to what I do, day in and day out," he said.
"Nowadays, medical practice is complicated. We have a tremendous amount of behind-the-scenes work that is often not gratifying," Kuhlman explained. "But, to have one great spiritual encounter with a patient in a day, more than makes up for all of those difficulties that drag us down and lead to physician burnout. It probably does as much for me as it does for patients."
Fleck revealed how discussing someone else's spiritual needs affected her own spiritual well-being as well. She also echoed feelings of reinvigoration and renewal during the study.
"It humbled me. I felt honored by the sharing of something as cherished as my patients' spiritual beliefs. I also felt closer to the God I believe in, whose very presence I sensed during many encounters," she said. "The study has refreshed me and given me new enthusiasm for practicing medicine. In a time when physicians are faced with increasing demands and challenges, this is a real blessing!"
As the study progressed, she discovered significant advantages of incorporating wholeness and spiritual beliefs into patient care.
"The advantage for the provider is that we can be better at what we do. We can feel good about meeting all of our patients' needs," Fleck said. "We get to experience the joy of reconnecting with the reason why we went into medicine in the first place — to make a difference in the lives of our patients."
The Faith in Practice study proved that spirituality is an important aspect of patients' overall health and quality of life. Incorporating Christ and His healing power into medical practices will not only foster better outcomes for the patient, but will reflect our commitment as Seventh-day Adventist Christians to demonstrate his love.

Jamie Harrison is a brand specialist at Adventist Health System.
Southern Union | September 2017