by Zachary boyd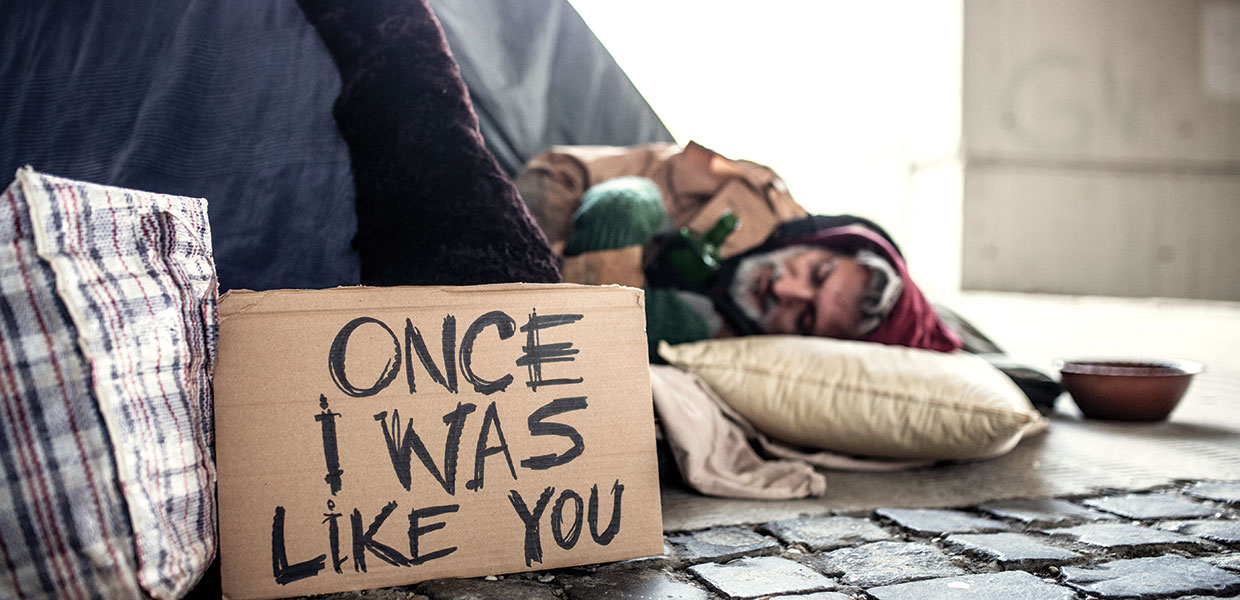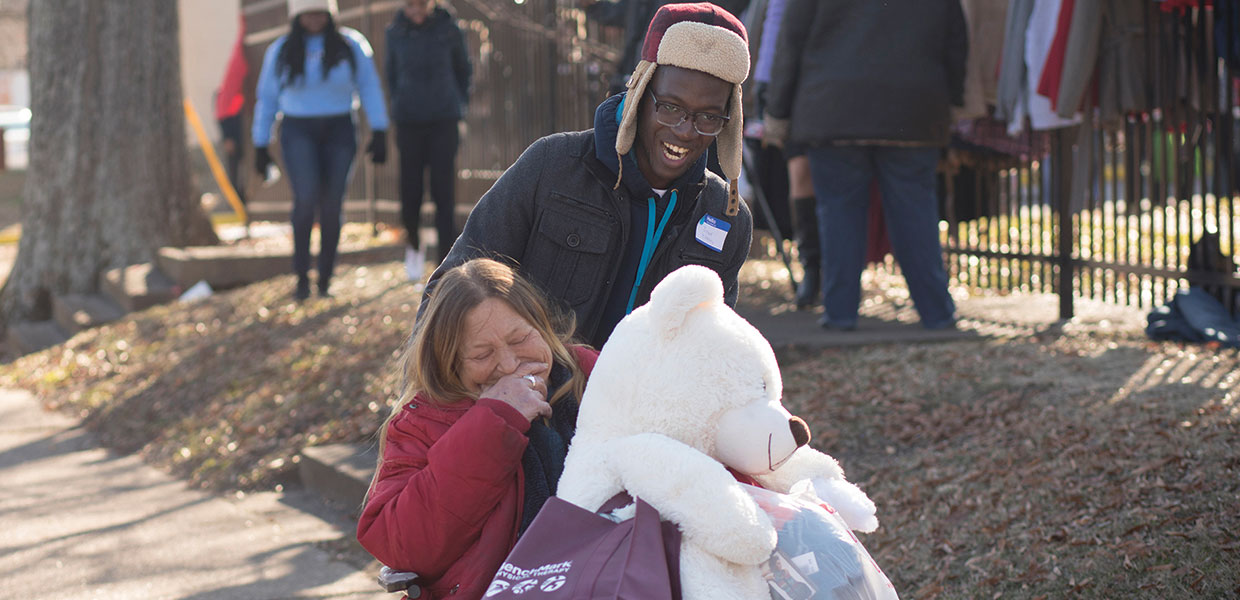 For students like Dylan Gibbons, who is pursuing his master's degree in social work at Southern Adventist University in Collegedale, Tennessee, connecting with those in need is a meaningful experience.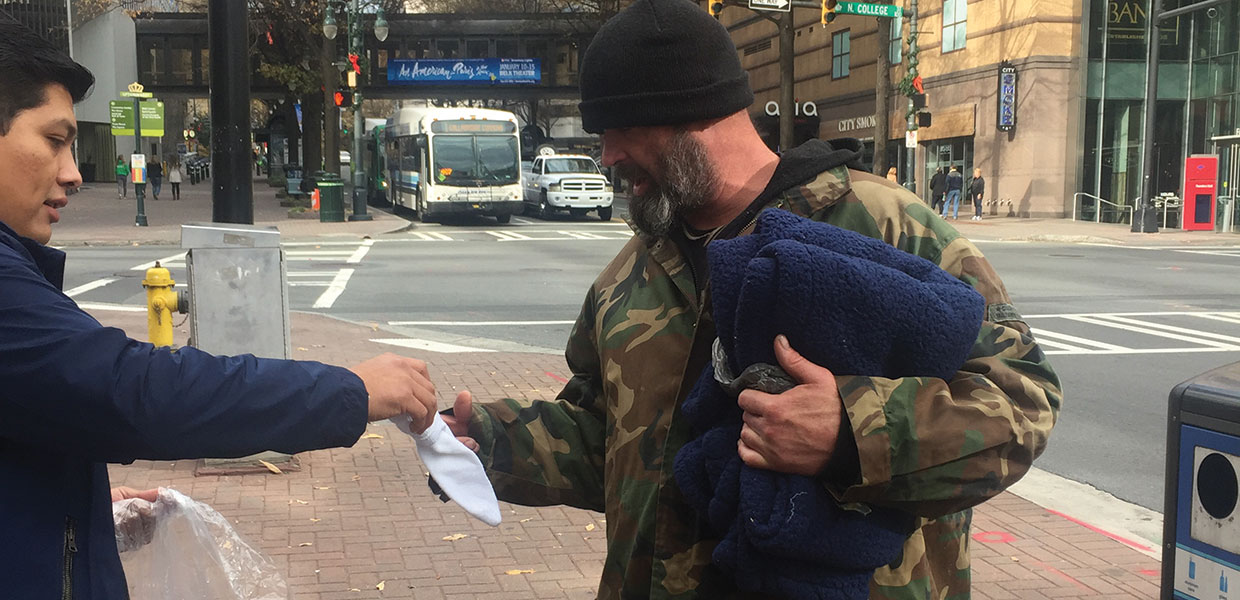 A member of the Charlotte Spanish Church reaches one of the city's homeless by giving him a new pair of socks. Church members seize on opportunities of making an impact in their community by meeting the homeless where they are: at a shelter, on a park bench, or under a bridge.
Ismael Montoya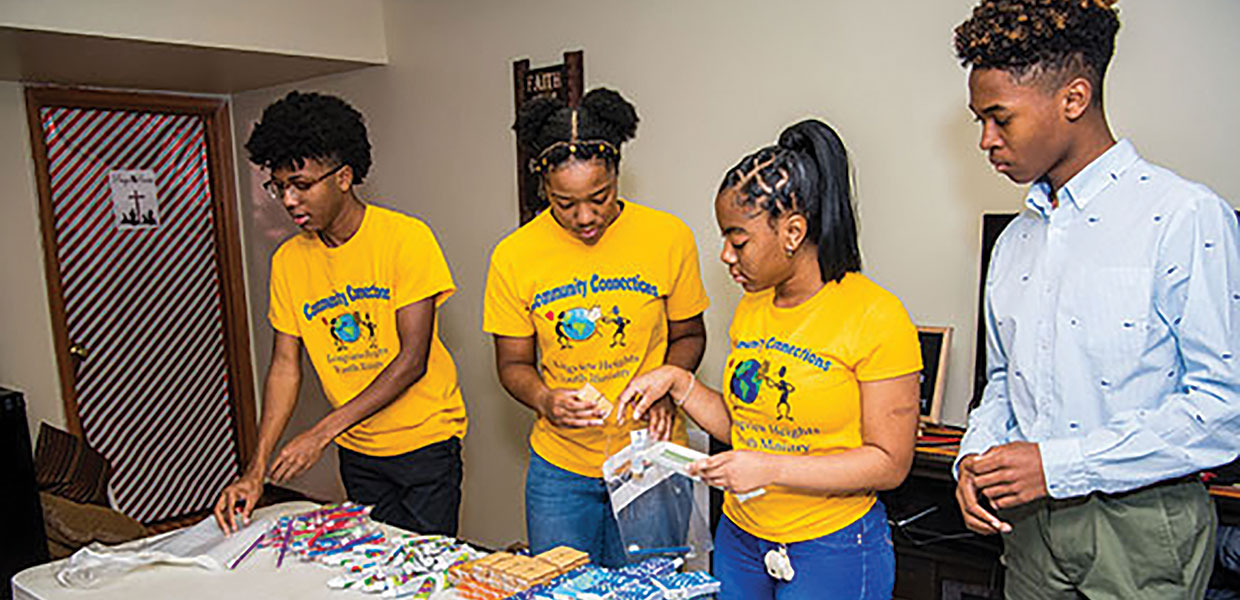 Noah Boyd (left), Rekiyah Owens, Carly Powell, and Alonzo Daniels of the Longview Heights Youth Department pack bags of necessities for the homeless. The youth make 40 to 50 "Blessings Bags" a month for their outreach on the second Sabbath of each month.
R. Steven Norman III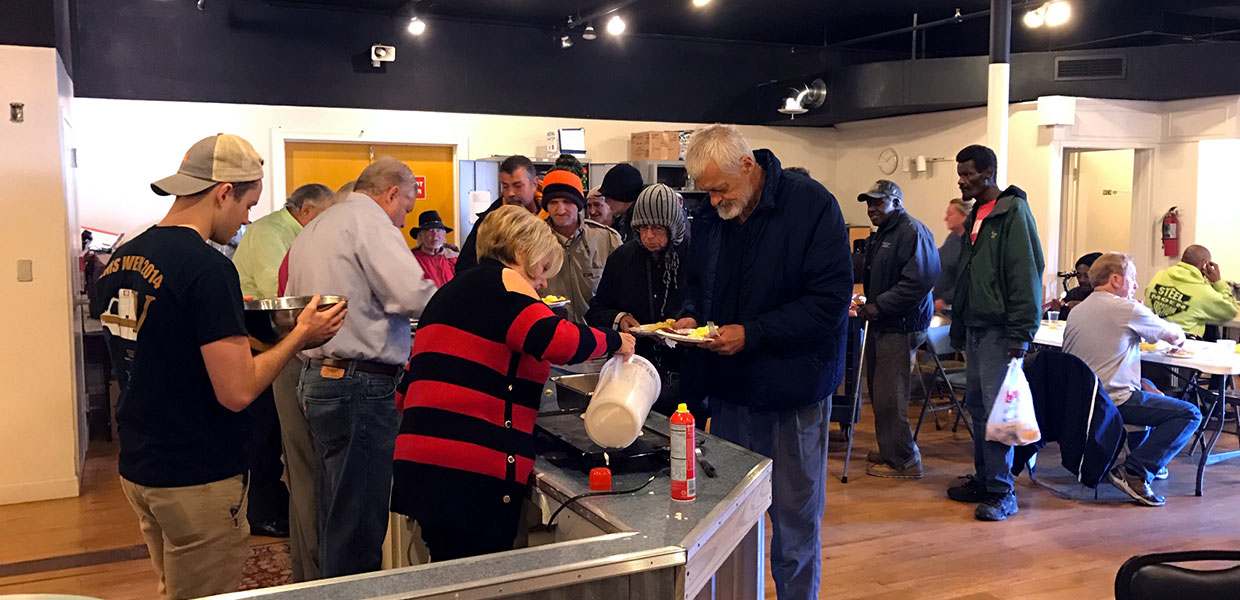 On Sabbath mornings, the homeless are fed breakfast at the 403 Center (ACS) in Madison, Tennessee. The meals are provided each week by a Sabbath School class, from youth to adults, at the Madison Campus Church, or by Madison Academy.
David Conrad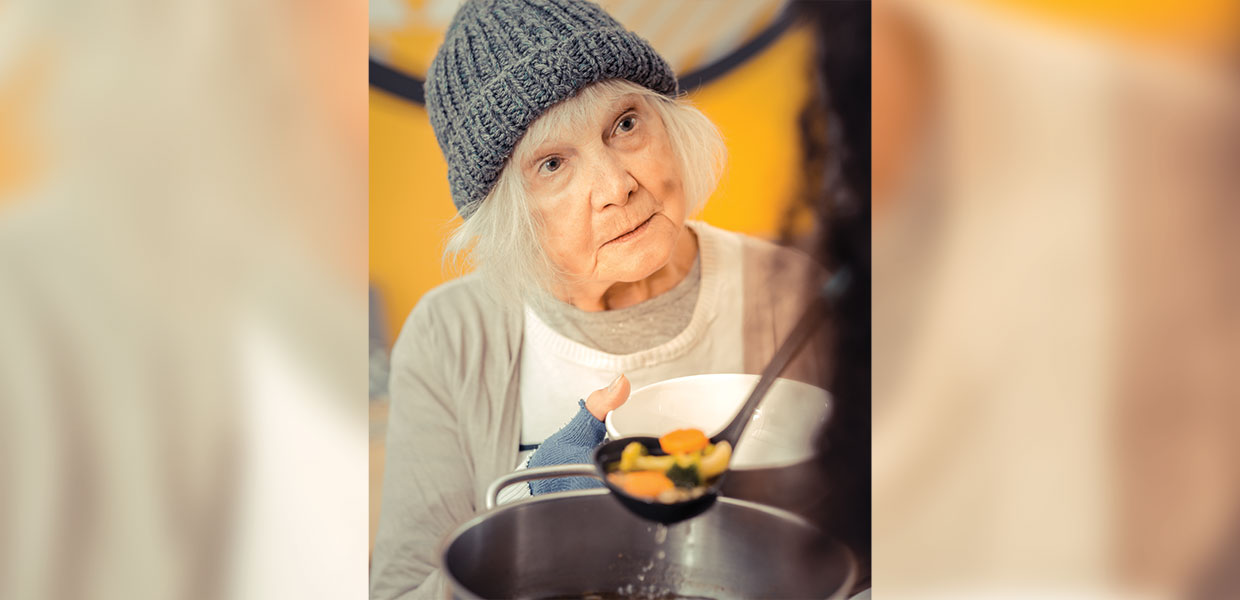 Chronic
96,913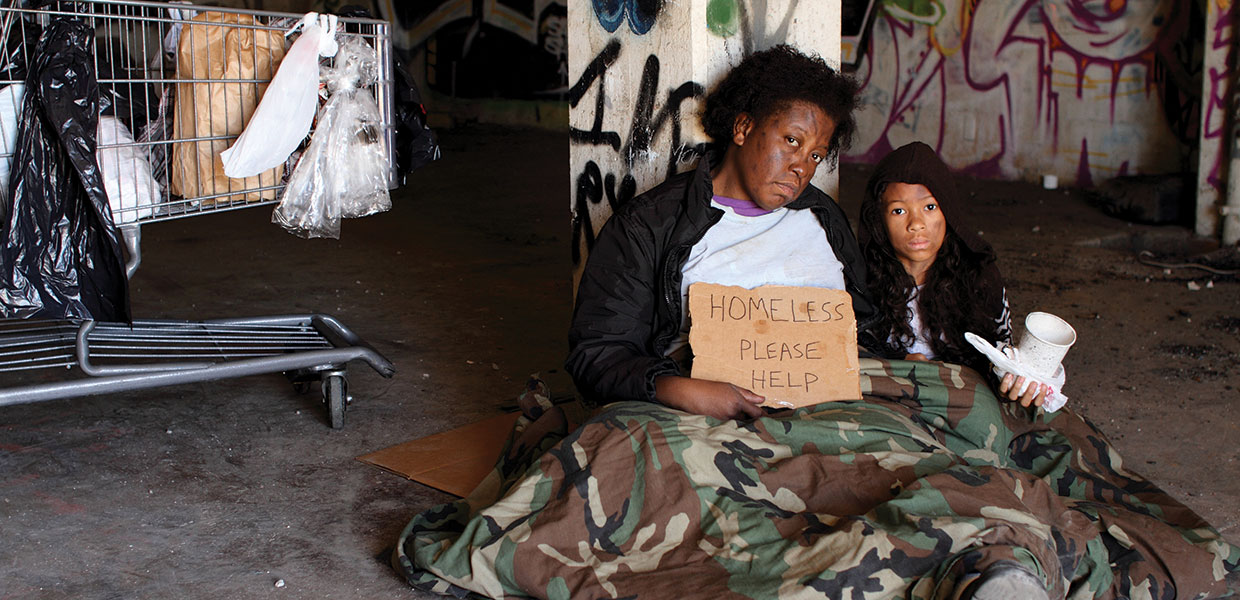 Family
56,342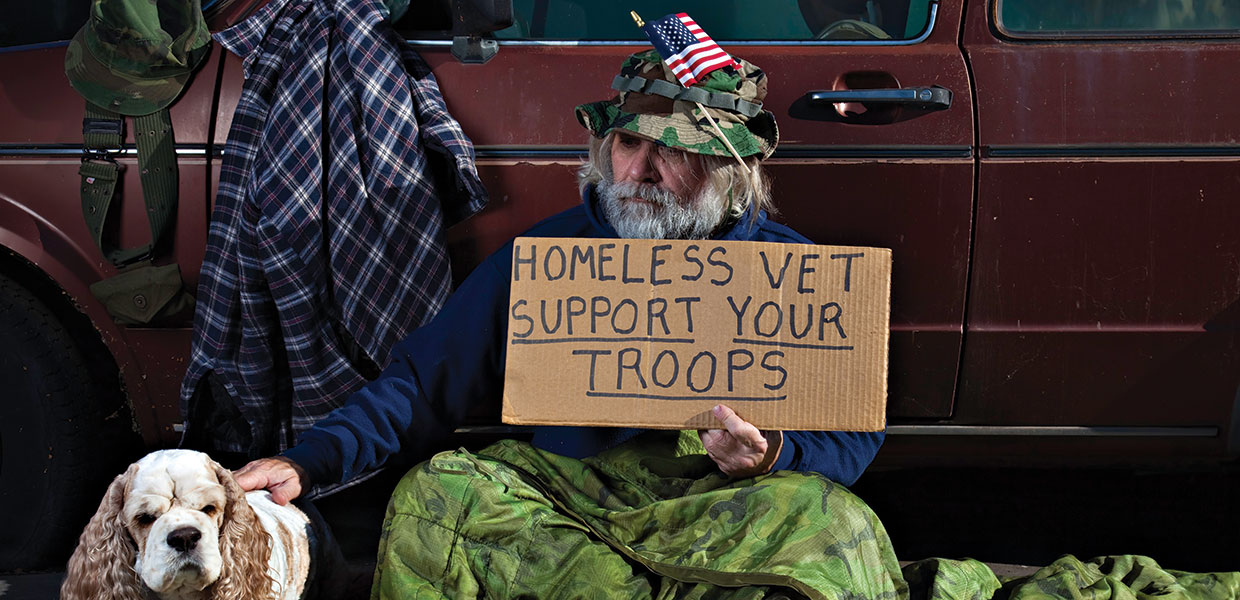 Veterans
37,878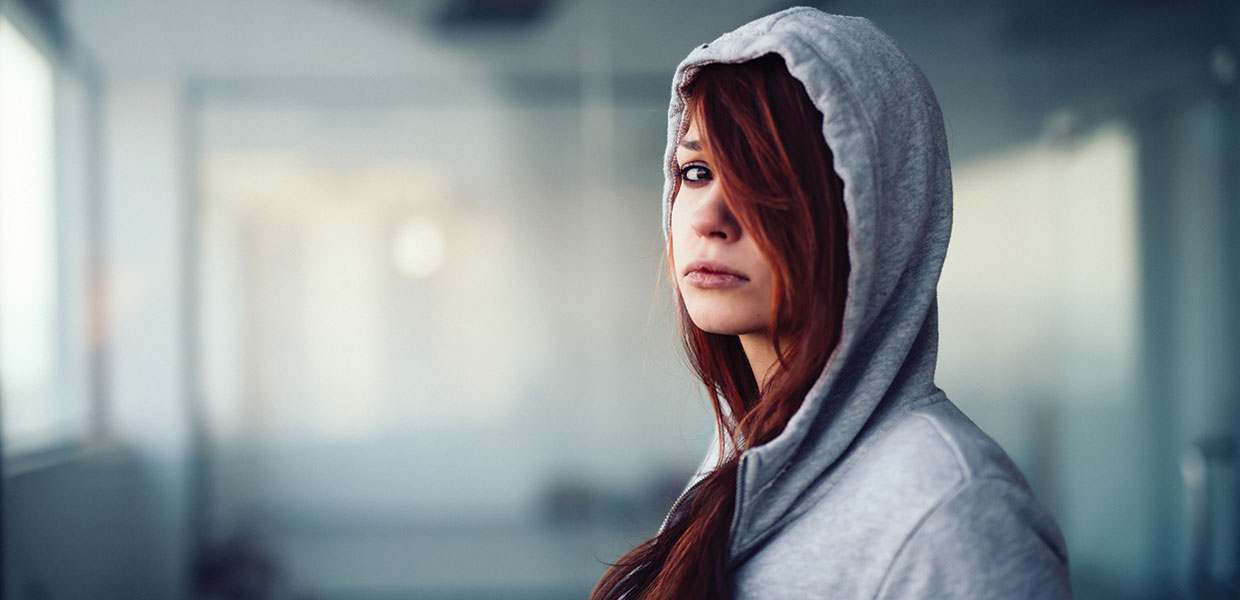 Youth
36,361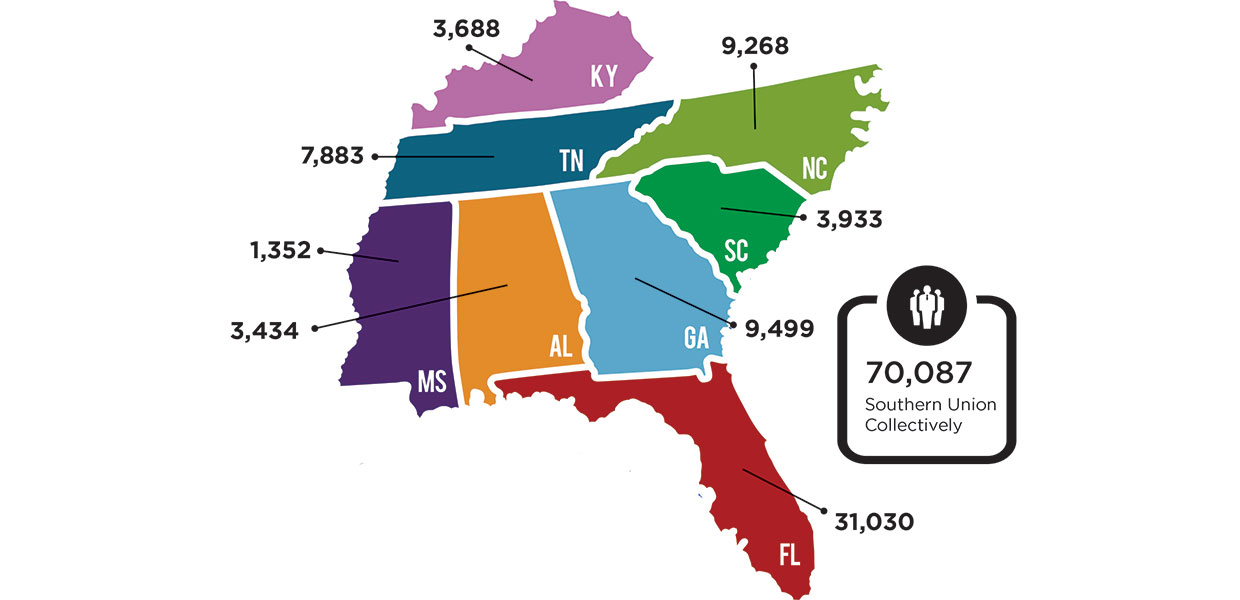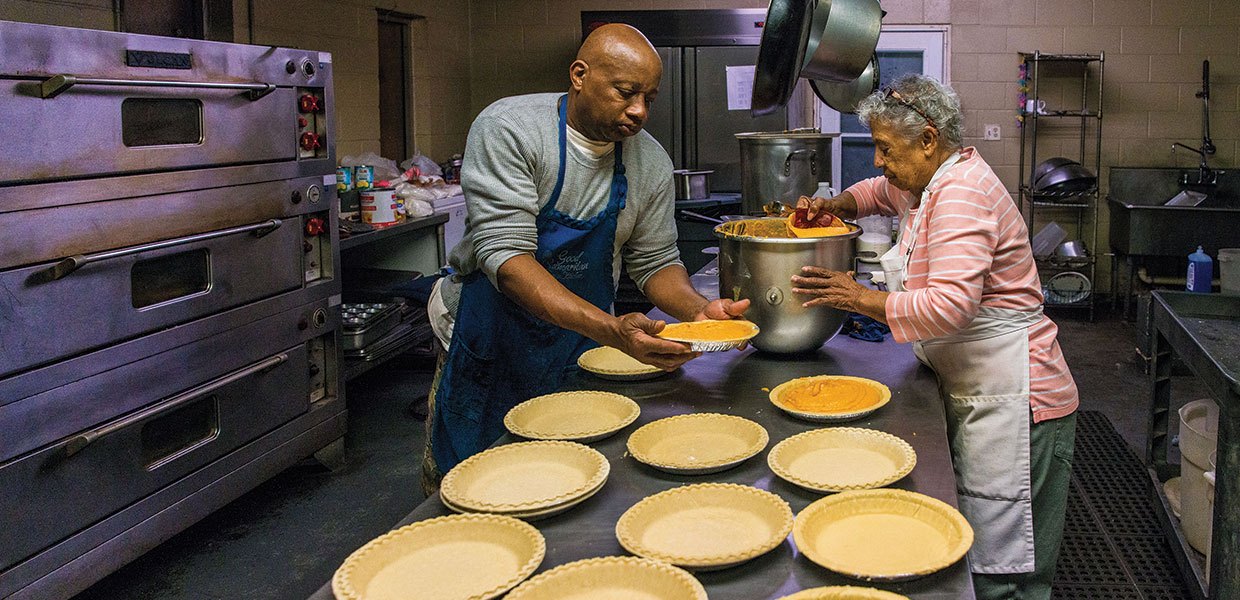 Terrance Crosby, manager of the Good Samaritan Soup Kitchen in Laurel, Mississippi, and Florence Knight Blaylock of the Soso Church in Soso, Mississippi, fondly known as "The Pie Lady," bake 70 to 80 sweet potato pies every year at Thanksgiving and Christmas to feed the homeless. She has volunteered to bake pies for the homeless for the past 20 years.
R. Steven Norman III
In today's hustle and bustle, it is easy to take for granted the things that are most common to us: our cars, our houses, our jobs. But, imagine being laid off unexpectedly, and the rainy day fund rapidly drying up. For those who are not fortunate to get assistance, the result could inevitably mean a radical life change — homelessness.
That's the reality of 552,830 people who experienced homelessness on a single night in 2018, according to the latest figures from the United States Department of Housing and Urban Development (HUD). Many of those individuals are veterans, people with disabilities, and youth under the age of 25.
According to HUD, the states making up the Southern Union collectively had an estimated 70,087 people experiencing homelessness on any given day in 2018: Alabama, 3,434; Florida, 31,030; Georgia, 9,499; Kentucky, 3,688; Mississippi, 1,352; North Carolina, 9,268; South Carolina, 3,933; and Tennessee, 7,883.
Between 2017 and 2018, homelessness nationwide increased slightly by 0.3 percent, according to HUD. While the increase is not drastic, it is not decreasing. That raises a frequently asked question: What is being done to help the homeless? Better yet, what are Seventh-day Adventists doing?
The issue of homelessness, of helping the needy, actually has long been a concern of Seventh-day Adventists, as noted by Ellen White.
"In the great cities, there are multitudes living in poverty and wretchedness, well-nigh destitute of food, shelter, and clothing," says White in Welfare Ministry, page 173.
Many Adventist churches and institutions across the Southern Union work with the homeless in their communities in a variety of ways. Here are some ways members are reaching this part of their communities.
Making an Impact
At Southern Adventist University in Collegedale, Tennessee, students frequently assist Project Rescue, an organization that helps the homeless by providing meals to more than 300 families per week, as well as other services. Student clubs such as Empowering Minds have volunteered there as a group project, handing out meals and canned goods to individuals experiencing homelessness. Additionally, once a year the ministry organizes a block party offering free haircuts, manicures, clothing, and connection, and Southern participates in this annual tradition.
In North Carolina, members of the Charlotte Central Spanish Church take food and other necessities, such as socks and underwear, to wherever the homeless may be — at a shelter, on a park bench, under a bridge. The members are inspired by the words found in Matthew 25, "For I was hungry and you gave me something to eat, I was thirsty and you gave me something to drink, I was a stranger and you invited me in, I needed clothes and you clothed me …" (NIV).
In Memphis, Tennessee, every second Sabbath of the month the Longview Heights Youth Department packages 40 to 50 "Blessing Bags" of small necessities and passes them out in the community. They also recently had a clothing drive, and also provided toys and books.
"We realize that we need to get out in the community to help others," says Ayana Boyd, who coordinated the event. "I think too many times we are sitting in church, listening to what the pastor is saying, and not applying those lessons in our lives. The youth felt that we can use one Sabbath in a month to go out and be difference-makers."
A few hours south in Soso, Mississippi, 88-year-old Florence Knight Blaylock (a.k.a. The Pie Lady) voluntarily bakes between 70 and 80 sweet potato pies for the Good Samaritan Soup Kitchen at Thanksgiving and Christmas. The kitchen serves the homeless people in the Soso area, providing close to 1,000 meals.
Blaylock moved from California back to her hometown in Soso to be with family, and is a member of the Soso Seventh-day Adventist Church. She and her late husband were retired, but she felt compelled to help those in need.
"I just like doing things for people. I find it rewarding," says Blaylock. "I can't sing, play the piano, or preach, but I can feed you."
In Huntsville, Alabama, the First Seventh-day Adventist Church is preparing to mobilize their First Church Homeless Community Mobile Feed Ministry by meeting people where they are.
"I'm passionate about serving, period, but I know this is a community that a lot of people are either afraid to serve, to talk to, or intimidated by these people," says Minnie Anderson, who oversees the ministry. "I am not, because I know when I talk to someone, the Lord will give me the words to say to reach them at their level."
In addition to serving food, small trinkets are passed out as a reminder of God's love, and most importantly, hope for a better tomorrow.
"I'm giving away trinkets that remind them of the Kingdom," adds Anderson.
In Nashville, Tennessee, members of Madison Campus Church have a pancake breakfast for the homeless each Sabbath morning at a local Adventist Community Services center. Other area Adventists also use the center as a place to provide counseling for the homeless, as well as other services to help improve their situation.
"People mingle with those who come to eat, do Bible studies with them, and sometimes they'll bring individuals from the pancake breakfast to church," says Chelsea Inglish, youth pastor at Madison Campus. "I think reaching out to absolutely anybody is exactly what Jesus did. He came alongside people and helped them no matter where they were."
While there are a number of ways to deal with homelessness, the most effective solution is to prevent it, according to the AdventSource website.
"Timely focused assistance to families can often prevent a crisis from becoming a catastrophe, and keep people out of homelessness. Prevention assistance can take several forms. The most common are … rent, mortgage, or utility assistance and budget counseling."
The problem of homelessness should also be viewed in the context of the larger community environment, according to AdventSource.
"Those who advocate for this population must enlist the support of all segments of the community who are affected by the problem. The key word to helping the homeless is networking. By networking with other agencies, your Adventist Community Services program can develop a large range of service alternatives, which can be packaged individually for each client. These unique services are tied together by agencies with a common purpose, to help the homeless."
Indeed, we all can do something to help the homeless, or any of our brothers and sisters who may be in need. In doing so, with humble hearts, we will be able to receive the reply in Matthew 25: "Truly I tell you, whatever you did for one of the least of these brothers and sisters of mine, you did for me," (NIV).

Zachary Boyd is a freelance reporter and a radio personality in Memphis, Tennessee.
Southern Union | February 2020