Join the Thousands Investing Dollars in Mission
by carlos salazar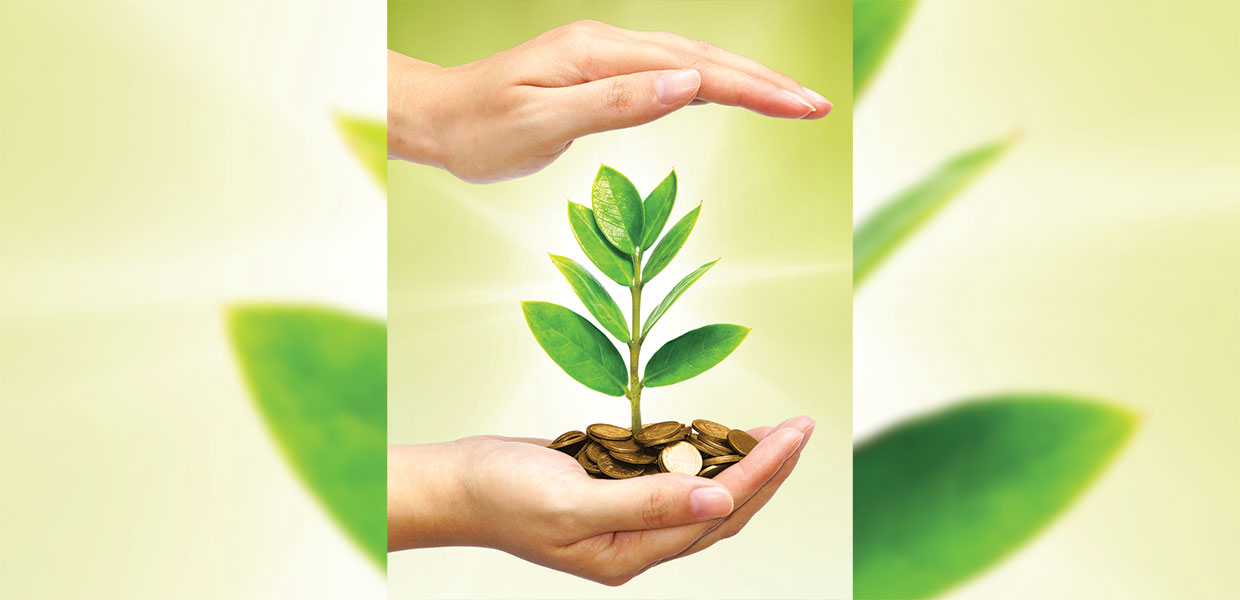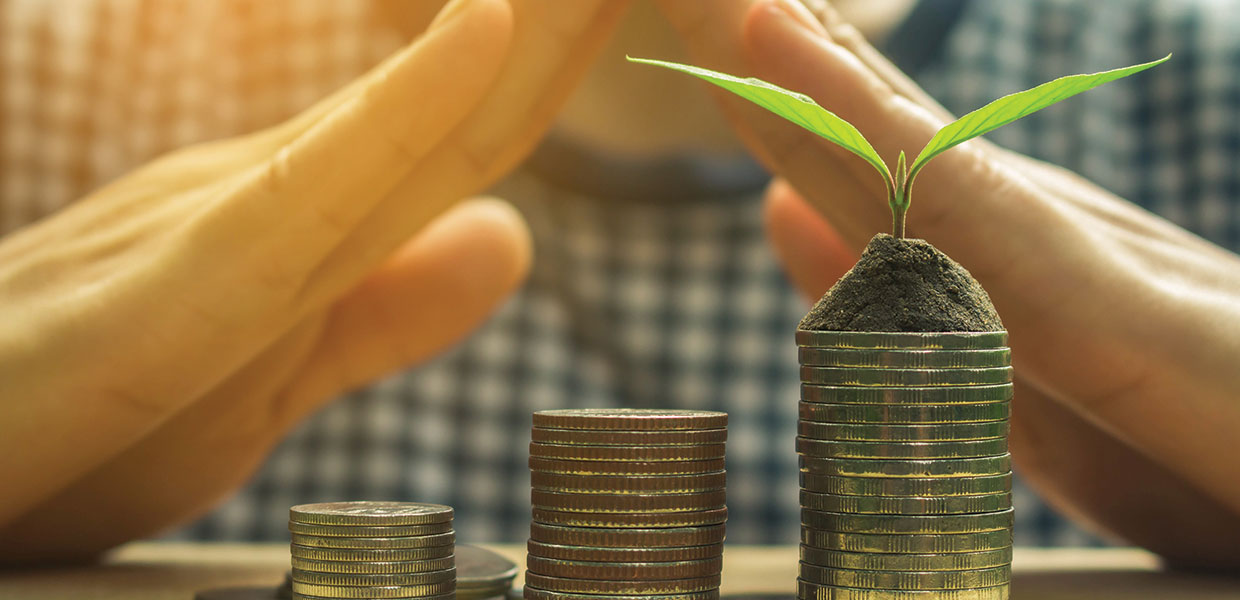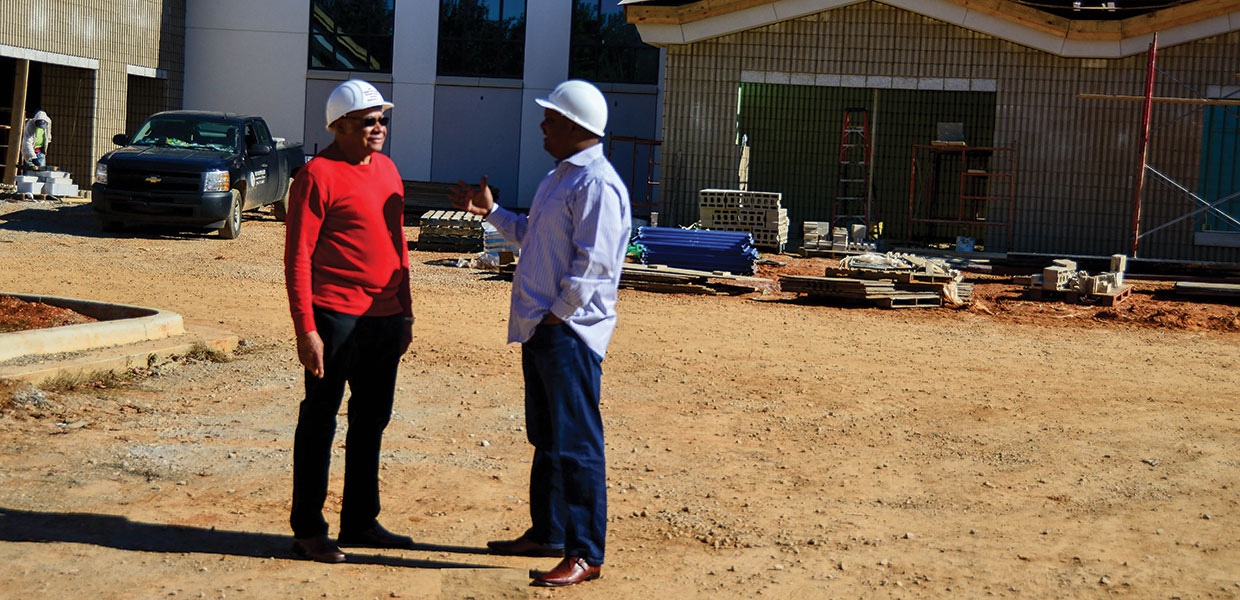 Carlton Byrd (right), D.Min., senior pastor at the Oakwood University Church in Hunstville, Alabama, discusses the progress of the Family Life Center with the church treasurer, Harold Jacobs. This project is one of the 351 projects that the Southern Union Revolving Fund has provided financing for.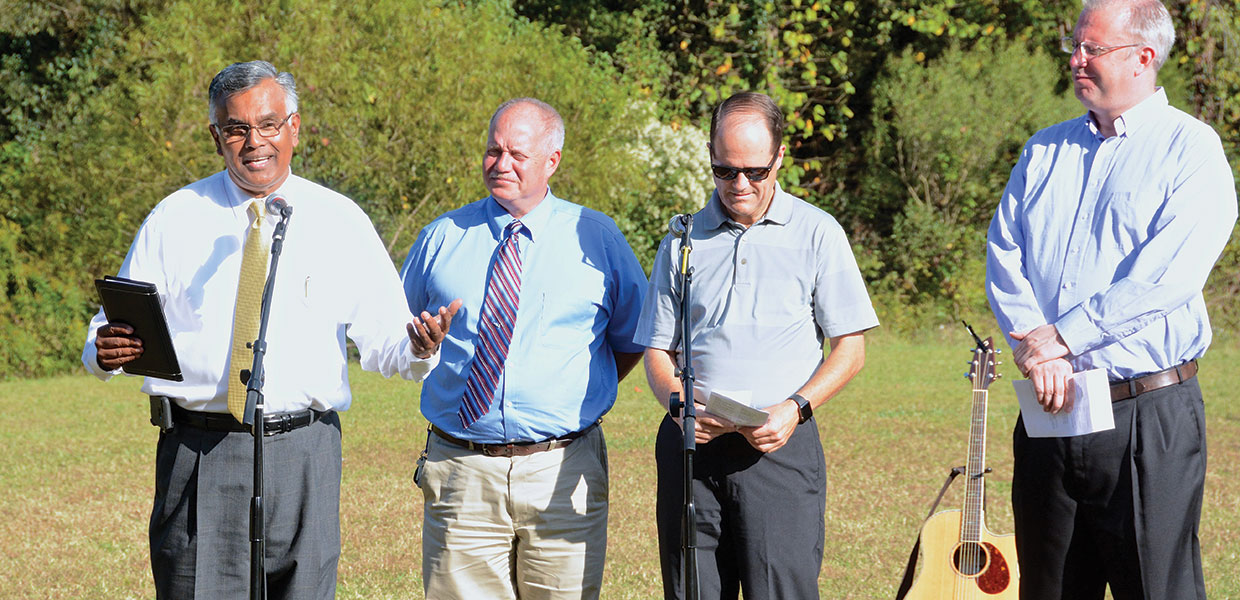 Leslie Louis (left), president of the Carolina Conference, addresses the University City Church, Charlotte, North Carolina, members as they prepare to break ground for their new school and fellowship building. With Louis are Rick Anderson, Carolina associate education superintendent; Rick Russell, Carolina vice president for finance; and Chad Grundy, Carolina undertreasurer.
Ron Quick
You may not be able to travel as a missionary to foreign lands. You may not have the stamina to distribute tracts. You may not have the skills to physically help construct an academy or church. But if you invest in the Southern Union Revolving Fund (SURF), you can help build God's Kingdom.
Currently, nearly 2,000 investors have chosen to invest their funds in SURF. It is an investment where the greatest immediate reward is the knowledge you have partnered with God and fellow Christians in ministry. Additionally, the financial reward is receiving an interest rate higher than any bank is currently paying.
The family of investors in the Southern Union has made SURF the largest Revolving Fund in the North American Division, providing loans in the millions — and without losing any invested funds in its history! It is a ministry reaching out across the Union territory that is open to every member, whether a person or a denominational entity.

SURF Makes Loans for Churches and Schools

SURF provides low interest loans to churches and denominational entities for building projects such as construction, acquisition, and renovation within the Southern Union territory.
Leslie Louis, president of the Carolina Conference, says, "Our University City Seventh-day Adventist Church in Charlotte, North Carolina, stands as a shining example of the mission of Jesus to His remnant followers. It has fostered the establishment of six new church plants, lighthouses to reach the lost, more than any other single church has accomplished in the Carolinas. This was made possible through the support of SURF."
The Oakwood University Church is currently building a Family Life Center that is partially funded through SURF.
"The Southern Union Revolving Fund has been a huge blessing for our church as we pursue relevant ministry to our church and community alike," said Carlton Byrd, D.Min., senior pastor at Oakwood University Church in Huntsville, Alabama. "With our newly constructed Family Life Center, we will have youth and senior adult programs, after school activities, family life initiatives, a barber shop, a vegetarian food market, recreational activities, and much more! Mission is what we're about, and SURF has helped us achieve this."
Currently, SURF is holding loans for 351 projects in the Southern Union with original principal amount of $150,018,340, of which $111,940,014 is outstanding (also known as receivable). During the last quinquennium, SURF released $61.6 million in loans payable in 15 to 20 years.

Why Churches and Schools Benefit from Loans Through SURF

There are advantages to the church entities that choose to borrow money through the Southern Union Revolving Fund as compared to borrowing through a bank and/or savings and loan institution.
No payment of points — When a church makes a loan through SURF, the church does not pay a fee for the privilege of borrowing money. This can save a church tens of thousands of dollars. Typically, property buyers will pay between two and five percent of the purchase price of the property in closing fees. So, if the property costs $1,000,000, the closing cost is between $20,000 and $50,000. That's a lot of savings!
Lower interest — The current rate of interest for loans is 3.25 percent.
Shorter loan processing time — If the loan meets the North American Division policy, the loan may be processed faster than with a bank. This speeds along the building project.
A church may borrow up to a maximum of four times its average annual tithe, and the local conference underwrites the loan. Currently, the borrowing interest rate is 3.25 percent (maximum term of a loan is 20 years). Loans of more than $99,999 require a mortgage, which is held by the Southern Union Revolving Fund, Inc.
"We loan up to a maximum of 80 percent of available funds, keeping the remaining 20 percent in liquid investments," said Randy Robinson, Southern Union treasurer. "In addition, we keep another 25 percent equivalent of loaned funds on hand as a 'just in case of an emergency' fund."

How Can Members Invest?

You can be a part of this unique and exclusive ministry. It is open to anyone, but it is unique and exclusive because it takes a person committed to God's cause to see the blessings of providing funds for properties, equipment, and physical structures that will enhance worship to God, fellowship with others, and educational advantages for children and youth.
Members of the Seventh-day Adventist Church in the eight states of Alabama, Florida, Georgia, Kentucky, Mississippi, North Carolina, South Carolina, and Tennessee, as well as organizations affiliated with the Seventh-day Adventist Church in those eight states, may invest in the Southern Union Revolving Fund.
A SURF investment can be Adventist individuals living in the Southern Union. Revocable trusts can be invested in SURF, and other Adventist entities, such as churches and organizations, may also invest. Interest is compounded monthly and paid quarterly. You can open a regular investment account with SURF through your local conference. A minimum of $1,000 is all that is needed.

Are My Investments Safe?

Investors in SURF have continually appreciated the safety of their funds. Debt obligations of SURF, as evidenced by the notes offered, are unsecured obligations of the Southern Union Revolving Fund, Inc., and are not secured by a pledge or mortgage of specific assets.
Nevertheless, local conferences guarantee all loans, and various other criteria designed to reduce default risk are in place. Eighty percent of notes' proceeds are invested in loans to institutions. Unloaned SURF funds (a maximum of 20 percent of available funds) are invested in fixed income instruments, the majority of which are government, corporate, and foreign issued.
Financial managers have marveled at SURF's investor safety since its inception. During the country's economic slump, SURF investors showed economic gain. The financial advisors and fund managers used by SURF exercise extreme prudence. The safety of the fund is in the secured loans guaranteed by the conferences.
"Where else can you get this kind of safety with a 1 percent interest rate?" Robinson said. "This kind of security on the market would yield at most a quarter percent. SURF is currently paying 1 percent." The mechanism is built with redundant safety nets: safe investments, "just in case funds," and conference backing. Despite these incredible precautions, the returns are way more than market rate, and the greatest reward of all is knowing these funds are being invested in ministry, and ministry is happening.
However, even with the safety of SURF investments, investors are reminded that any investment comes with a certain amount of risk. The investment is unsecured, non-negotiable, and non-transferable. A SURF investment is a 90-day demand note, but withdrawal requests are usually fulfilled in less than a week.

Conference Presidents are Grateful for SURF

Speaking about SURF, Leslie D. Louis, president of the Carolina Conference in Charlotte, North Carolina, says, "I am truly grateful for how our gracious Lord has blessed His work in the Southern Union with a Revolving Fund that is second to none in North America! Our members of the Carolina Conference place a high degree of trust and value in this wonderful investment of God's resources. It has especially been of inestimable advantage to our church-planting and growth initiatives. I praise God for their vision and passion! I praise God for the amazing blessing of SURF in partnering with us to advance this work in His name!"
William Winston, president of the South Atlantic Conference, says, "The Southern Union Revolving Fund has been a steady and reliable partner in the growth of the South Atlantic Conference. Much of our expansion — churches, schools, campground — has been financed through SURF. We are thankful to all who have deposited/invested in SURF and in us. Your continued deposits will help provide for the work of the Gospel, and the hastening of our Lord's return."
As you consider ways you can help advance God's Kingdom, we encourage you to consider joining the more than 1,800 members and denominational entities that have chosen to invest in mission by investing with SURF.

Carlos Salazar is the director of the Southern Union Revolving Fund.
Southern Union | December 2017