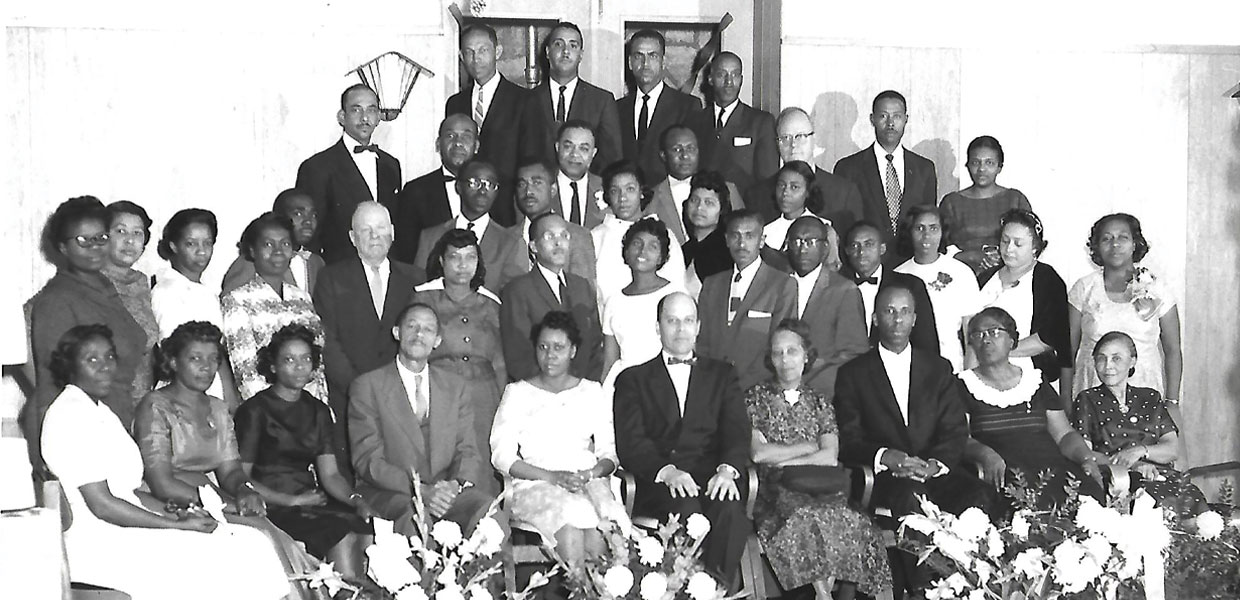 The administrators and accreditation committee members celebrated the news of Oakwood's initial accreditation in 1958 by the Southern Association of Colleges and Schools.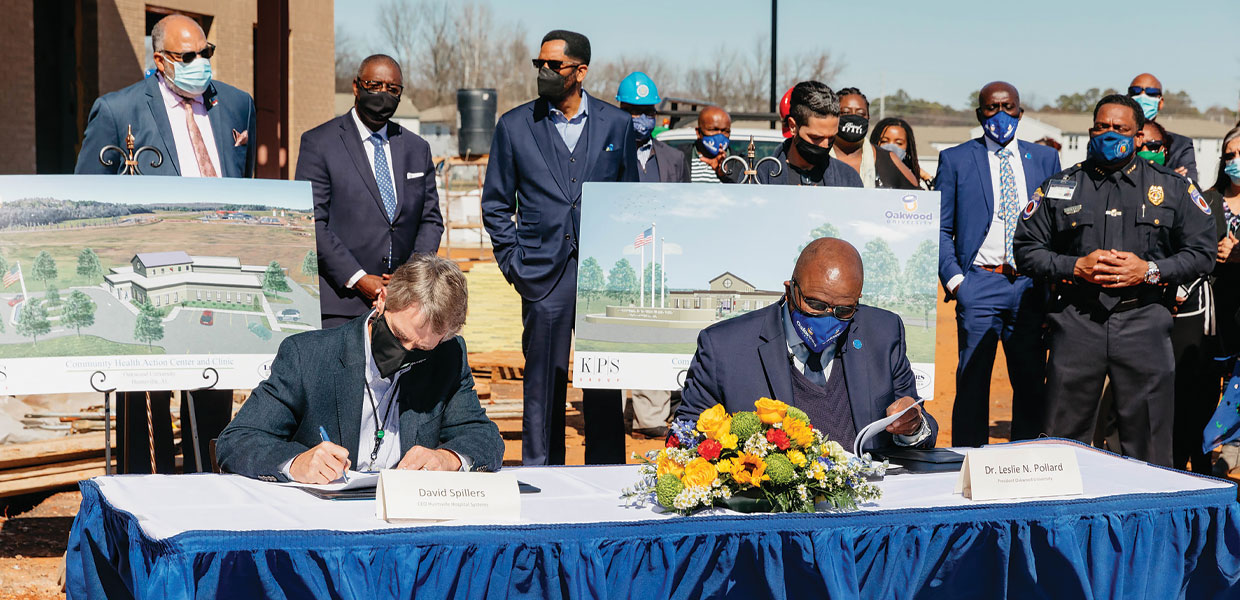 David Spillers (left), Huntsville Hospital CEO, and Leslie Pollard, Ph.D., D.Min., M.B.A., Oakwood University president, sign lease agreements and bump fists in agreement.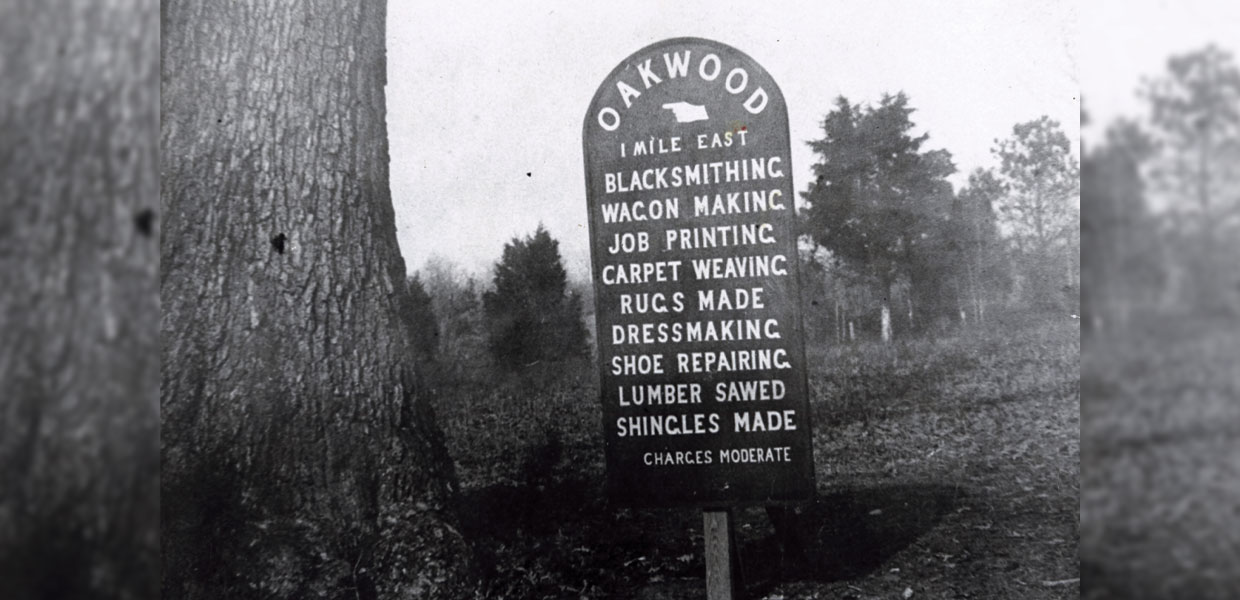 In its earliest days, Oakwood Industrial School lived up to its name with a flourishing set of industries.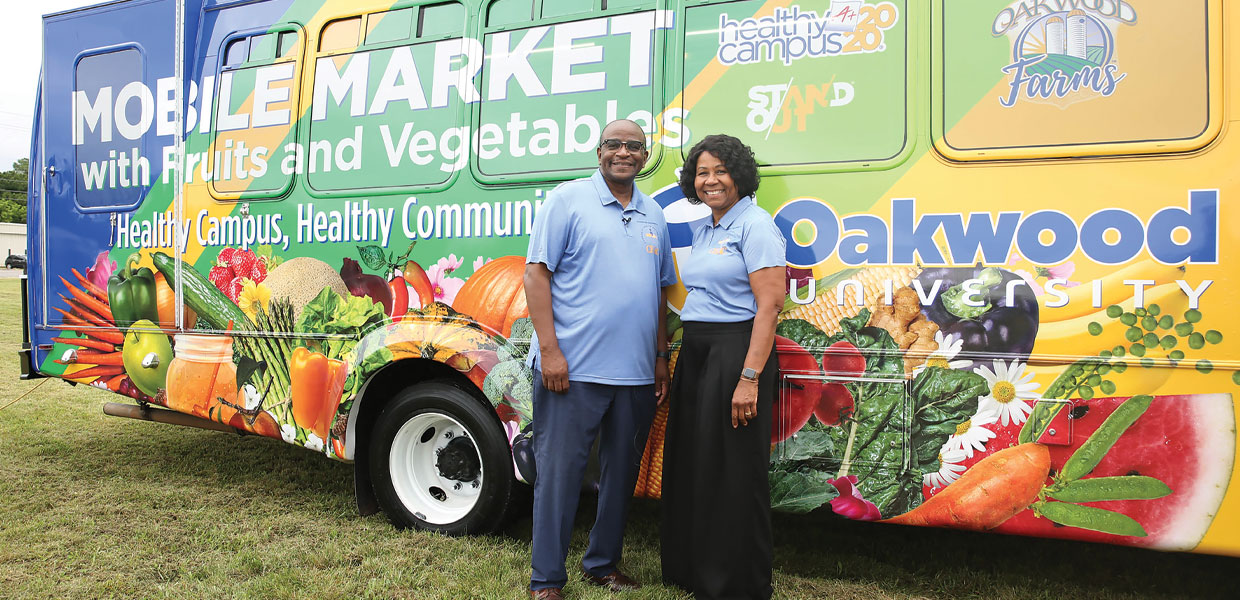 Leslie Pollard, Ph.D., D.Min., M.B.A., president of Oakwood University, and his wife, Prudence Pollard, Ph.D., stand near the Oakwood University Mobile Market, which helps to address food insecurities in Huntsville, Alabama.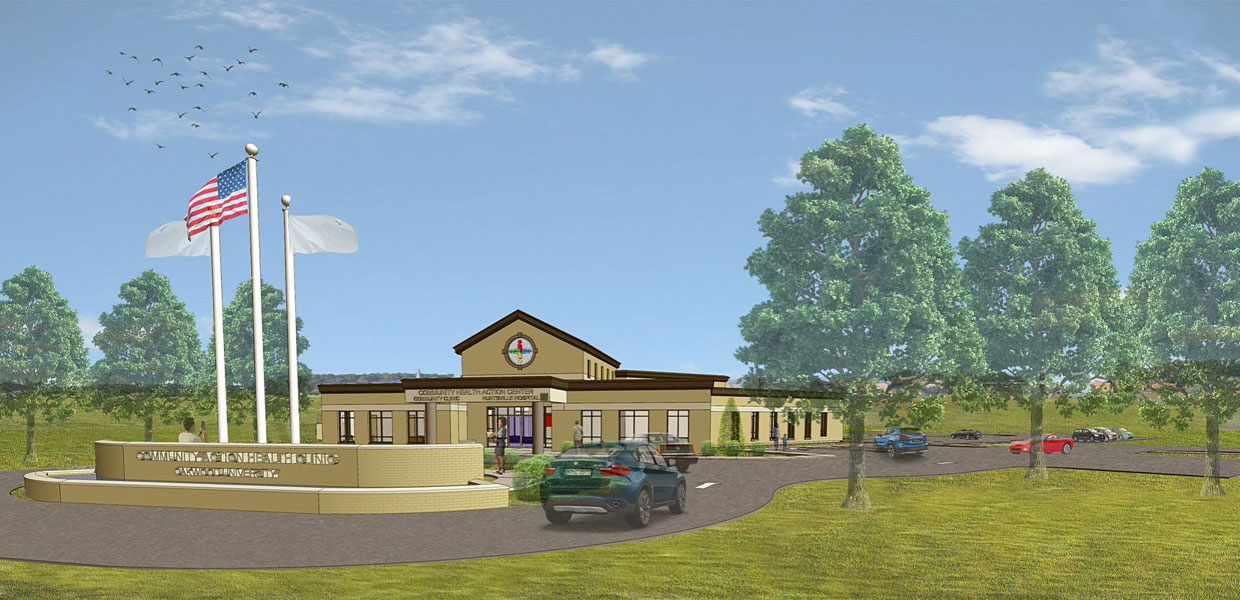 The Oakwood University/Huntsville Hospital Community Health Action Center opened June 2021.
November 16, 1896, is a date that will forever live in the sacred history of Seventh-day Adventist mission. On this date, the Oakwood Industrial School in Huntsville, Alabama, opened its doors to 16 students. On November 16, 2021, Oakwood University will celebrate its 125th birthday. For more than a century, Oakwood University has launched thousands of graduates into orbits of service, around the corner, and around the world.
Today, Oakwood University, a historically Black Seventh-day Adventist institution of higher learning, offers quality Christian education that emphasizes academic excellence; promotes harmonious development of mind, body, and spirit; and prepares leaders in service for God and humanity. The school's motto, shared by faculty and students, is Enter to Learn, Depart to Serve. In everything it does, it believes and practices God First, its current slogan. Consistent with its mission statement, Oakwood University is in the business of transforming lives — both for now and, more importantly, for eternity.
While the many accomplishments of Oakwood University are legendary, at its very beginning, prospects were less than promising. In 1895, G. A. Irwin, O. A. Olsen, and N. Lindsey traveled to Huntsville, Alabama, looking for land for an industrial school authorized by the General Conference. From the start, Ellen G. White championed Oakwood's cause, and is unquestionably worthy of the title "co-founder of Oakwood."
In her letter 313, written in 1904, White said, "It was in the providence of God that the Huntsville School Farm was purchased." As it grew from its meager beginnings, she continuously spoke out for the school, doing all in her power to make sure it prospered. She wrote, visited, prodded, sacrificed, prayed, donated, advocated, and cried for the fledgling institution to ever fulfill its God-given destiny.
The more than 350 acres purchased in 1896 was property that had been owned by plantation farmer Peter Blow. Among the slaves owned by Blow was one named Dred who would become famous for his role in the Dred Scott case. (Blow's son, Taylor, gave Dred Scott his freedom in 1857.)
On the former slave plantation, the Alabama landscape was sloping and uneven; the red clay was hard as granite; the soil was barren from having been overworked; dense brush encircled the property; tree limbs sagged. It took vision and faith to see a future in this unpromising plot in the heart of the South, 30 years after the Civil War.
The 65 towering oak trees on the original property inspired the name of this new institution. The Oakwood Industrial School opened its doors on November 16, 1896, with a principal, three teachers, and an enrollment of 16 students. As academic offerings expanded over the years, and the number of students and staff increased, so did Oakwood undergo changes in its names. The school was first named the Oakwood Industrial School, from 1896 to 1904, and then it became known as the Oakwood Manual Training School, from 1904 to 1917. Then the school was called the Oakwood Junior College from 1917 to 1945, and became Oakwood College from 1945 to 2008. In 1943, Oakwood received its first accreditation as a junior college, having already begun the process of achieving senior college status. Fifteen years later, in 1958, it was accredited by the Southern Association of Colleges and Schools to award associate and baccalaureate degrees.
The institution was named Oakwood University on January 1, 2008, when the school achieved university status after adding its first graduate program, the master of arts degree in pastoral studies.
As the United Negro College Fund (UNCF) member institution in northern Alabama, Oakwood participates in and benefits from UNCF's fund-raising campaigns, including scholarships, as well as access to international educational opportunities.
Today, Oakwood is considered a historical landmark of Huntsville, and is very much a part of the Huntsville community, with students carrying out their mission of service by participating in local tutoring, disaster relief, community improvement, and child development programs.
U.S. News & World Report has consistently ranked Oakwood University among top-tier, private liberal arts colleges and universities in the South, in both "Historically Black Colleges and Universities" (HBCUs) and "Regional Colleges/South" categories. The University offers approximately 60 degrees in more than 16 academic disciplines, and Oakwood has an outstanding record of preparing successful applicants to graduate and go on to professional schools. Close to 60% of the culturally diverse faculty hold doctorate degrees from a wide range of national and international colleges and universities.
Oakwood University continues to view education as indispensable in preparation for wider service to God and to the human family. Leslie Pollard, Ph.D., D.Min., M.B.A., president of Oakwood University, said, "For 125 years, Oakwood has advanced the mission of Seventh-day Adventist education, creating competent Christian professionals for servant leadership. Since 1896 we have been in the blessed business of transforming lives."
Principal administrators from Oakwood's early pre-college years are Solon Jacobs (1896), H. S. Shaw (1897-1899), B. E. Nicola (1899-1904), F. R. Rogers (1904-1905), G. H. Baber (1905-1906), W. J. Blake (1906-1911), and Clarence J. Boyd (1911-1917).
Presidential administrators of Oakwood's college and university years are J. I. Beardsley (1917-1923), James L. Moran (1932-1945), Frank L. Peterson (1945-1954), Garland J. Millet (1954-1963), Addison V. Pinkney (1963-1966), Frank W. Hale (1966-1971), Calvin B. Rock (1971-1985), Emerson A. Cooper (Fall 1985), Benjamin F. Reaves (1985- 1996), Delbert W. Baker (1996-2010), Mervyn A. Warren (Fall 2010), and Leslie N. Pollard (2011 to present).
The University has tremendous local impact on the community, hosting, since 1946, the annual Camp Meeting for the South Central Conference of Seventh-day Adventists, a 10-day spiritual/educational/recreational retreat, accommodating 8,000 to 10,000 attendees in pre-pandemic years.
From its inception through the late 1960s, Oakwood operated a variety of businesses, including a laundry that supported both Huntsville and the Redstone Arsenal. "As part of the school's industry recovery initiative, Oakwood operates two Edible Arrangements franchise stores, the Oakwood Farms Market, and the Oakwood University Memorial Gardens Cemetery. This initiative helps the University to keep its tuition low by turning funds back to the campus, employing students, and teaching them the value of entrepreneurship," observed Pollard. "One of the University's goals is to reduce reliance on student tuition as the sole source of revenue. Profits from these industries support student scholarships and overall educational needs."
Returning to its agricultural roots in 2017, Oakwood opened an organic urban farm, set to become the largest of its kind in northern Alabama. Oakwood's intention is to contribute to the natural food options in the surrounding community, which has been labeled a "food desert." The University also opened the Oakwood Farms Market in 2020, which offers fresh produce and a variety of plant-based products. The Market is a practical way of promoting a healthy lifestyle based on biblical principles.
Oakwood University's initiative is part of a larger contemporary trend that highlights the importance of organic vegetable farming for human health and general well-being. Following advice by church co-founder Ellen G. White, Seventh-day Adventists have long advocated for a plant-based diet and useful outdoor work as ways of keeping body and mind healthy.
Healthy Campus 2020 (HC2020) is Oakwood University's organized initiative to empower students to make healthy choices. This program was established as a response to the problem of preventable diseases, which affect the students. Healthy Campus 2020 has helped to educate the campus regarding healthy lifestyle decisions, utilizing the eight laws of health in order to foster a holistic approach to a healthy mind, body, and soul. The goal of Healthy Campus 2020 is to make Oakwood University the healthiest campus in America.
The University has expanded the initiative to Healthy Campus, Healthy Community, by partnering with the Huntsville Hospital System to build and operate the Oakwood University Community Health Action Center adjacent to the campus at the corner of Sparkman Drive and Bronco Circle.
The Center will encompass an ambulatory care clinic operated by the Huntsville Hospital within the Health Action Center. Oakwood students, employees, and community residents will have access to quality care at the walk-in clinic. Establishing this facility will also allow for continuity of care from the walk-in clinic to in-patient care at Huntsville Hospital.
"Huntsville Hospital Health System is very pleased to work with Oakwood University in bringing this dream to fruition. The clinic will provide important health services to people throughout this community," said David Spillers, CEO of Huntsville Hospital Health System, at a lease-signing event in February 2021.
"The Community Health Action Center launches Oakwood's community- facing phase of our nationally-recognized Healthy Campus 2020 campus wellness initiative. Our event today underscores our Healthy Campus, Healthy Community commitment to our community. This vision began with a request from yours truly to the CEO of Huntsville Hospital to consider a partnership with Oakwood in order to transform the health outcomes of Northwest Huntsville.
"Oakwood University has been in the Huntsville community for 125 years and so has Huntsville Hospital. Together, we plan to bring health and healing to the morbidities affecting the citizens of northwest Huntsville. The partnership today between Huntsville Hospital and Oakwood University is designed to improve the health status of underserved citizens of the city of Huntsville," said Pollard.
"The completion of Oakwood's 10,000-square-foot Community Health Action Center will not only deliver health care on one side of our facility, the other side of our facility will house real-life service-learning activities for our students and faculty as they deliver health education, nutrition education, job skills training, and the services of our Mobile Food Market. Faculty are already planning life-skills classes and after-school learning supports to children. We look forward to our grand opening during the first week of June 2021," Pollard added.
Several activities are being planned to celebrate God's leading Oakwood through the past 125 years, from a small industrial school to the top-rated University that it is today.
Leslie Pollard, Ph.D., D.Min., M.B.A., serves as the 11th president of Oakwood University.
Debbe Millet is the communication services coordinator in the Office of Integrated Marketing & Public Relations at Oakwood University.
Southern Union | July 2021