by lucas L. Johnson II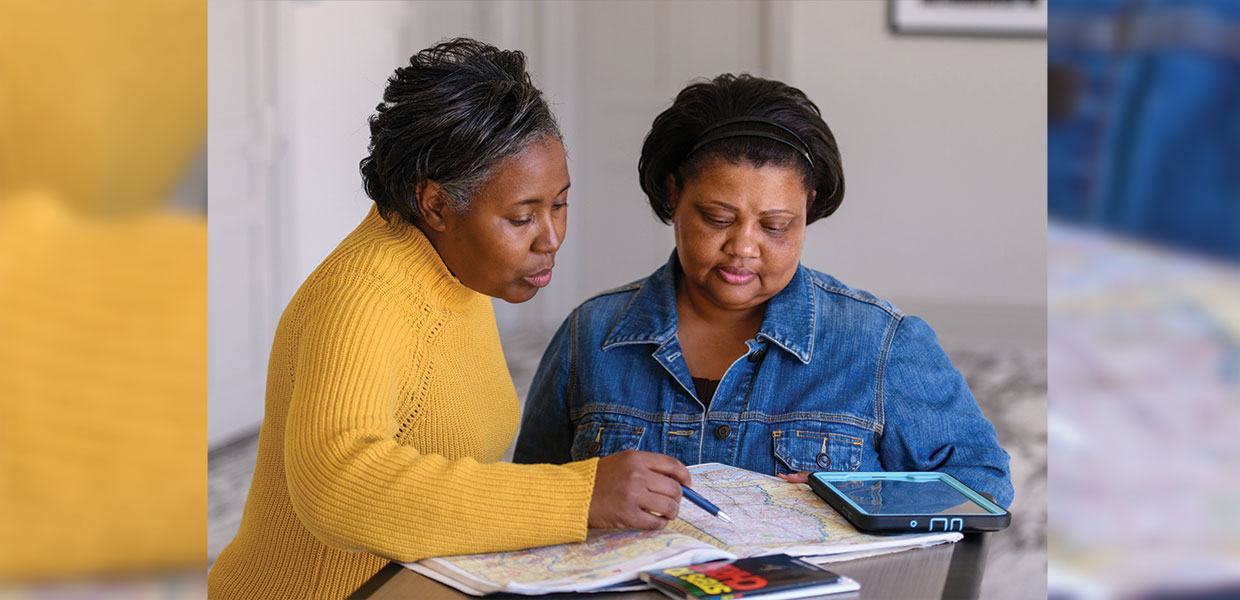 Bessie Chambers (left) and Essie Hutton of Gulfport, Mississippi, look at a section of the Gulf Coast they have claimed for Jesus. Chambers sent Steps to Christ to each home, and now she and Hutton go door-to-door to pray with and "encourage people to pray."
R. Steven Norman III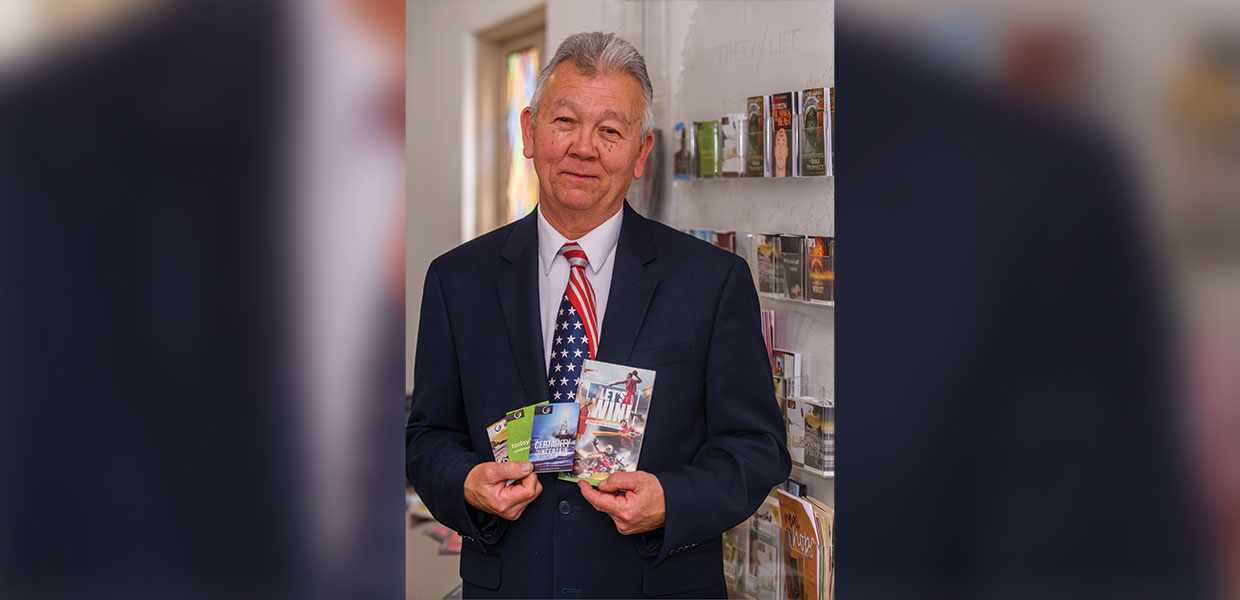 Billy Pickett of Pell City, Alabama, is very aware of the impact Steps to Christ and other Christian literature can have in teaching people about God's love, so he keeps a supply of literature to distribute anywhere he can.
R. Steven Norman III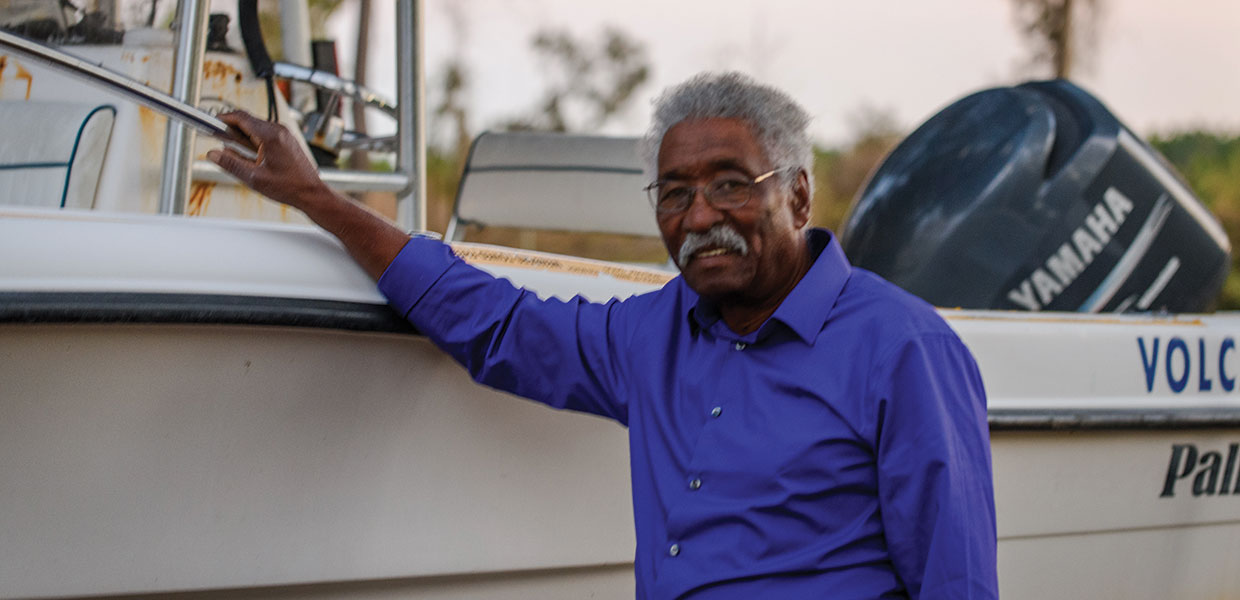 Jasper Musgray of Tallahassee, Florida, is a fisherman who maintains an open invitation to his neighbors to fish with him on his 21-foot boat. Through these relationships, he fishes for men while fishing.
C.C. Thompson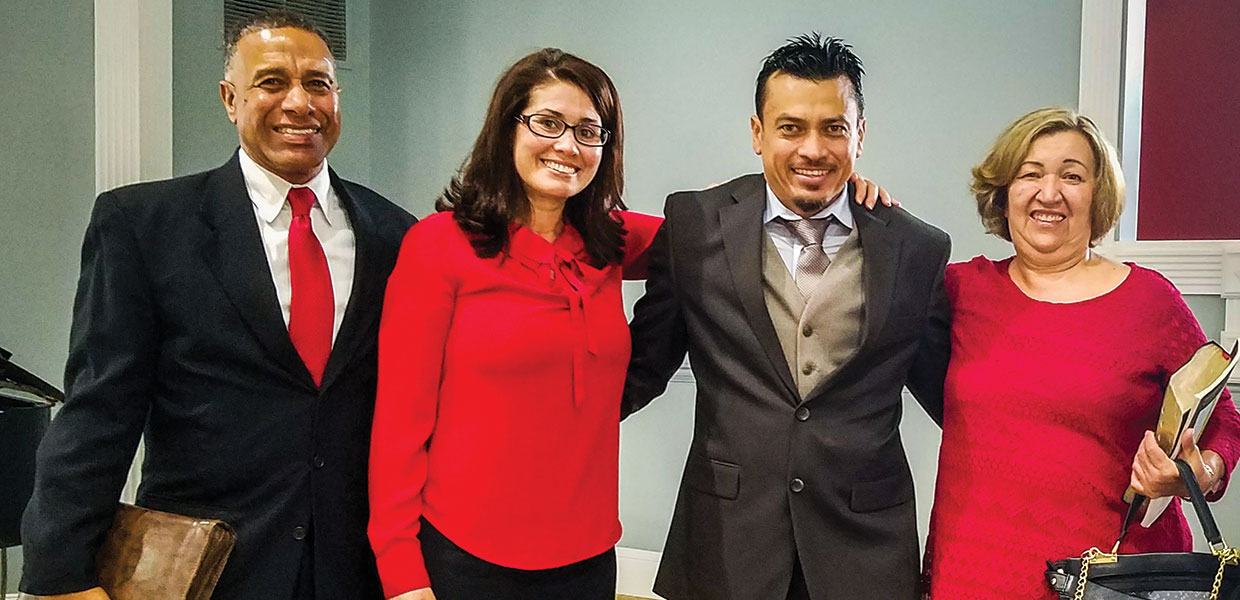 Yaime Cordova (second from left), a former Cuban lawyer, now represents Christ every chance she gets. Standing with her are Robert Williams (left), elder; Fidel Hernandez; and Nohora Bryan, elder.
R. Steven Norman III
"Personal ministry is not about always knowing what to say. It is not about fixing everything in sight that is broken. Personal ministry is about connecting people with Christ so that they are able to think as He would have them think, desire what He says is best, and do what He calls them to do even if their circumstances never get 'fixed.' It involves exposing hurt, lost, and confused people to God's glory, so that they give up their pursuit of their own glory and live for His."
―Paul David Tripp, pastor and best-selling author
The Holy Spirit never ceases to amaze me. One Sabbath not too long ago, the pastor at the church I was attending told his members — in the most respectful yet direct way possible — that they needed to be more than just pew warmers. He wasn't mean or flippant, didn't have a tone. He just wanted them to step outside their comfort zone and look for ways to attract people, not necessarily to the Church, but to Christ. He wanted them to consider some type of personal ministry. Well, I have to admit, he reached me. For a while, I'd been thinking of things I could do to reach people outside the Church, to win souls. Indeed, the pastor's sermon moved me. But, after recent conversations with four personal ministry leaders, I was convicted even more to do something.
What Bessie Chambers did in 2013 might seem out of the ordinary to some, but she didn't really care what anybody thought, because she said she was working under the auspices of the Holy Spirit. Chambers took more than $5,000 from her savings, and, through the program PROJECT: Steps to Christ, had Christian literature mailed to everyone living in her zip code. She could have chosen a mailing route, but Chambers said she wanted to reach as many people as possible in Pass Christian, located in the Mississippi Gulf Coast region. Now, according to the 2010 census, Pass Christian had a population of a little more than 4,600, which meant Chambers essentially mailed literature to everyone in the city. She said part of her motivation for the mailings came from reading Ellen G. White's Testimonies for the Church, volumes 1-9.
"In almost every volume, she encourages evangelism or witnessing, or some sort of mission work," Chambers, who attends Maranatha Church in Gulfport, Mississippi, said in a recent interview. "And so, it really convicted me to do that."
Chambers continues to do mass mailings, but now has the help of her church to pay for them. She has also started what she calls a community prayer ministry. Chambers said her objective is to "encourage people to pray" because of the perilous times in which we live.
"There are so many things going on in the world, so much corruption and school shootings. I told them if they would like, they could give me any concerns they have, and we can pray for them right now; or, if they didn't mind, I could come back every two weeks."
Chambers said her ministry has been well received, with numerous follow-up visits to people in her community. She recalled one woman to whom she gave a Steps to Christ book.
"She took it on a flight," Chambers said. "She came back, and I ended up having to give her an entire case of them. She wanted to give them to everybody."
In Alabama, Billy Pickett is very aware of the impact Steps to Christ and other Christian literature can have in teaching people about God's love and the difference He can make in their lives. That's why he keeps literature in his truck and passes them out or places them anywhere he can.
"I'm all over the state of Alabama," said Pickett, a member of Pell City Church. "When I stop to get fuel, I leave them at the gas pump."
He said one place he and several church members enjoy passing out literature is at the Talladega Superspeedway, NASCAR's biggest track, with a capacity seating of 78,000. He said twice a year, they work the campgrounds near the track, or set up near the track entrances. Despite some rejections, Pickett said many people receive the literature. He said the first step is putting it in their hands, and the Holy Spirit will do the rest.
"We're called to spread the Gospel, spread the Word," said Pickett. "His Word doesn't come back void."
Jasper Musgray of Tallahassee, Florida, knows firsthand what it's like to tangibly receive God's Word.
After serving a tour in Vietnam in 1966, Musgray said he ended up on the streets, and turned to drugs and alcohol as a way of escaping the horrors of war and a nation that couldn't care less about his well-being. But, Harold Anderson, an elder at a local Seventh-day Adventist Church, did care, and he let Musgray know each time he saw him.
"When he saw me, he'd give me a hug, and say, 'Jasper, we miss you,'" recalled Musgray, his voice cracking with emotion. "'Hope to see you soon.' He would never condemn me; I don't care how drunk I was. It meant so much."
Musgray said it was the nonjudgmental concern of Anderson, and his praying mother, that eventually drew him back to the Church, and to a relationship with Christ.
Today, at 74, Musgray said he and his wife, Willie Mae, have their own unique personal ministry that they use to win souls. They give vegetables from their garden to people in their community, and Musgray, who is a fisherman, maintains an open invitation on his 21-foot boat. Whether passing out vegetables or enjoying a fresh breeze out in the gulf, they both find a way to embrace those around them, and to witness.
"One of the best things I can think of is just the pure fellowship," said Musgray, who attends Maranatha Church in Tallahassee. "God blessed me to be able to bless others."
Yaime Cordova of Atlanta found her ministry through a blessing God gave her. A native of Cuba, Cordova practiced law there before coming to the United States. Because she'd have to start over with a law degree here, she became a paralegal, a job she eventually left because her schedule conflicted with the Sabbath. However, God blessed her with another job. And last year, she became an elder at Atlanta First Hispanic Church.
"They challenged us to bring one person to Jesus in that year, and I accepted that challenge," recalled Cordova.
She decided Bible study would be a good way to win a soul, and prayed to God to send her someone. Cordova said she prayed for months, but didn't encounter anyone.
Then one day Fidel Hernandez, who had been attending her church, approached her and said someone told him she could probably help him. He needed advice that she could likely provide because of her experience as an attorney. What happened was nothing but the work of God.
In the midst of the legalese, Cordova said she and Hernandez somehow started talking about Jesus, which eventually led to her giving him Bible study. She said there were 14 lessons, but by lesson seven, Hernandez surprised her.
"You know what ,Yaime? I want to get baptized," she recalled him saying. "I know we haven't finished the Bible study, but I want to get baptized."
And, he did. Today, Hernandez is a deacon, and works diligently to try to bring people into the Church.
"He's serving," Cordova said. "He's not just sitting on a pew. That's a wonderful thing."
Since Hernandez has been active witnessing and serving, he has been impressed by the Lord to become a pastor. Antonio Quinones, first elder at Atlanta First Hispanic Church, gave him the contact information for Enrique De la Rosa, pastor at the South Jonesboro Hispanic Church in the Georgia-Cumberland Conference, who shared with him the steps to make his dreams come true.

Lucas L. Johnson II is a former reporter for The Associated Press. He is also author of a book, Finding the Good, which was featured on National Public Radio.
Southern Union | April 2018