By Christina Coston
Carlos Salazar, SURF treasurer, addresses Patmos Chapel grand opening attendees.
Bryant Taylor, D.Min.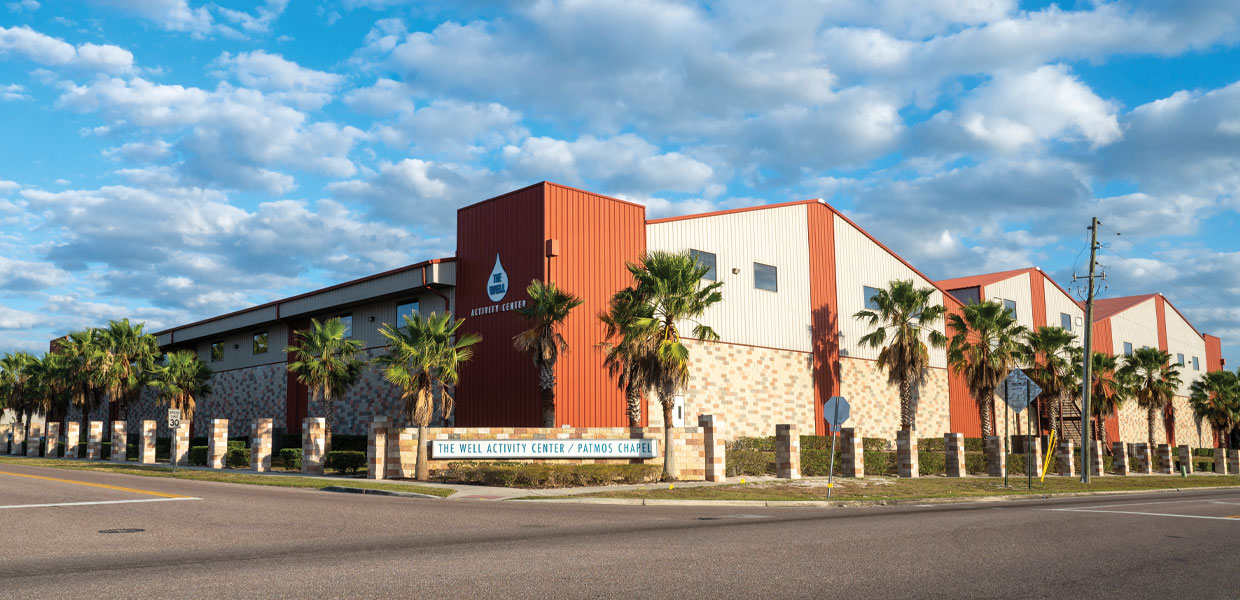 The Well Activity Center and Patmos Chapel is open to the community for sports and religious services.
Bryant Taylor, D.Min.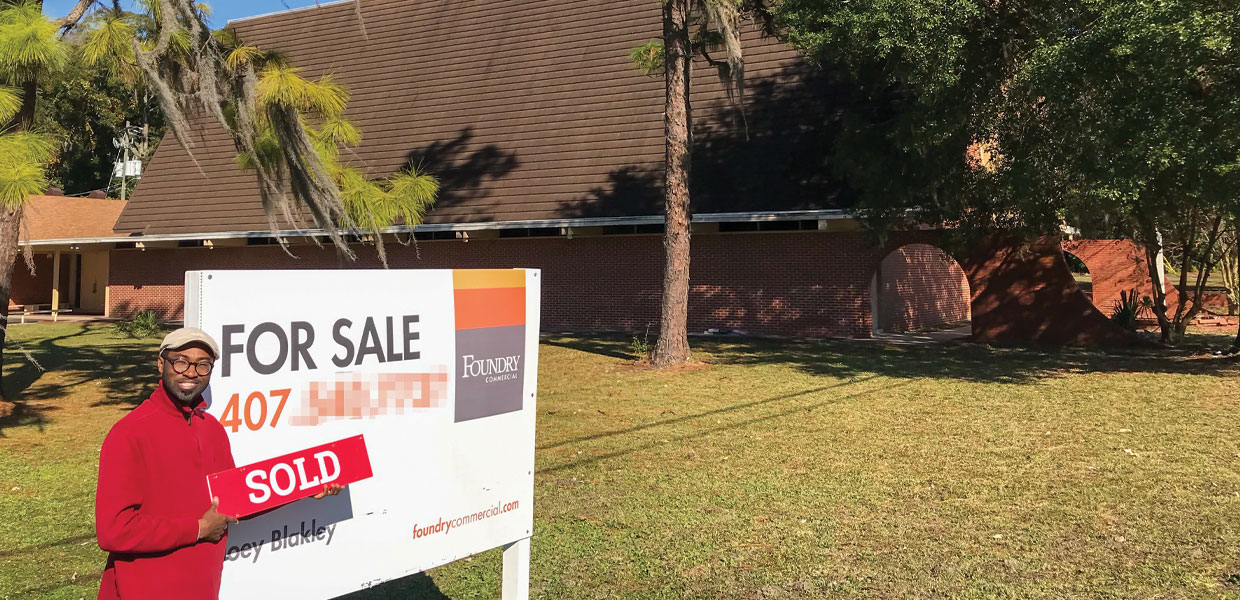 Nathaniel Lyles holds the sold sign for the New Life International Church shortly after purchase.
Nathaniel Lyles
The Southern Union Revolving Fund (SURF) is a financial incorporation that was established to provide low-cost loans to support Adventist projects in the Southern Union territory. SURF was organized in 1999 and has since provided loans to churches, schools, and other entities within the Southern Union, helping them all achieve their goals. As of March 2023, SURF currently has 324 approved loans equaling more than $154 million.
How SURF Works
Loans: SURF provides loans to eligible borrowers, such as churches and schools. The loans are typically used to finance projects for new buildings, building purchases, or building expansions. The interest rates on loans are typically below market rates, which makes the loans more affordable for borrowers. The rates are also the same regardless of how big or long the term is.
Investing: Money invested with SURF has a reasonable rate of return to investors. The money invested is used to pay for the loans which fund various projects. Any member of the Southern Union can open a SURF account through their local representative.
Loan Repayment: Borrowers repay their loans to SURF, and the repaid funds are then made available to other borrowers in the future. This creates a revolving fund, where the same pool of funds can be used again to support multiple projects over time.
Partnering With SURF for Renovation and Evangelization
Patmos Chapel was previously located on Swoope Avenue in Winter Park, Florida. The building the church met in needed repair, and the cost of repair was "exorbitant," according to Marvin D. Mclean Jr., Patmos Chapel executive pastor.
While looking for possible new locations, the congregation discovered a sports complex for sale. The site included a dedicated space for volleyball and gymnastics, and had three full-size basketball courts that were regularly rented out to various vendors.
With a goal of evangelizing south Apopka, the church viewed potential in the building. After much discussion, the congregation decided to move forward with the purchase. Patmos Chapel used SURF to help secure the property.
"SURF had the resources and funds. And, having a partnership with the revolving fund allowed [Patmos Chapel] to be competitive, as well as allowing us to be a favorite to purchase this building," said Mclean.
After acquiring the building, the congregation started the $1.6 million renovation project for the 9,200-square-feet space designated for worship. Originally, the renovation was to be a cash project that members would contribute funds toward. However, as costs of materials and labor increased, the church was unable to cover the cost completely, putting the project on hold for a few weeks. The congregation didn't want to delay the project any longer and turned to SURF for additional funds.
"I think $293,000 of the $1.6 million was what we received from SURF, which came to us at a very crucial time," stated Mclean. "… The revolving fund and the [Southern] Union have always been a great partner with us."
The congregation met for the first time in the renovated worship space for a grand opening on Friday, March 17, 2023. Among the Southern Union representatives who attended the opening ceremony was Carlos Salazar, SURF treasurer.
Salazar said he is happy to see projects completed. He also stated he feels blessed to be involved in projects like this, and to know he was a part of making borrowers' dreams come true.
"It's a joy to see them worshipping — it's a feeling of satisfaction," said Salazar.
Mclean said worshipping in the space for the first time was amazing, and members were excited to be in a dedicated worship space.
The church continues to rent out its sporting facilities to various venders. Patmos Chapel pastors and members often appear at events to converse with attendees and develop friendships. Some of the athletes have attended church, and a few have even become involved in helping with church. There has also been an increase in young adult and young family attendees.
"Had it not been for those funds [from SURF], we would not have the opportunity to do this … to help us achieve our goal of evangelizing south Apopka," said Mclean.
SURF's Role in Enabling Property Purchase
In 2018, the Breath of Life and First Coast International churches, both located in Jacksonville, Florida, decided to merge and became the New Life International Church. Nathaniel Lyles, former New Life International Church pastor, said a stipulation of the merger was searching for a new worship location.
The church began looking and soon found a nearby property with a bigger sanctuary space, handicap accessibility, and increased safety — a perfect fit for the church's needs. They began working with a realtor to negotiate prices. After negotiations, and selling some of the church's properties, the church was a little short of the amount needed to purchase the property.
The church looked at several different lenders, but ultimately decided SURF was the best option, taking out a loan of $650,000.
"After looking at other options, we knew that we weren't going to get a great rate like our Southern Union Revolving Fund," said Lyles.
The church, with a loan from SURF, purchased the new, larger property. The additional space allowed the congregation more space for fellowship and events. Located on Atlantic Boulevard, 30,000 people drive by the clearly visible church every day. According to Lyles, the new space has fostered a sense of pride among the congregation, and many have invited family and friends to attend. All these factors have impacted the church's growth.
"The new building increased our membership attendance," stated Lyles.
Now the pastor of the Maranatha Church in Tallahassee, Florida, Lyles's congregation will be turning to SURF to help with a building renovation project.
Lyles encourages any churches, schools, or other entities within the Southern Union that need a loan to consider SURF.
"Take advantage of [SURF] and then watch what God does with paying off your mortgage," said Lyles. "See the growth that takes place."
SURF Helps Fund New Church Building
The Apopka Church in Apopka, Florida, recently finished phase two of a building project which began more than 15 years ago. With the assistance of SURF, the church was able to get a low-interest loan, which enabled them to finish construction on their new building.
The new building, which is connected to the old building where the congregation was meeting, includes a sanctuary, gym, and rooms for young adults and teenagers. According to Freddy Rodriguez, Apopka associate and youth pastor, the new building has been a blessing, especially the gym.
"Some of the deepest conversations I've had with young adults and children have happened while playing sports," reflected Rodriguez. "I think the gym is a neutral space where people let their guard down."
Rodriguez said the church's gym has a basketball court that can also be used for volleyball and pickleball. The church hopes to open the gym to the community for certain activities in the future.
In addition to being excited for the gym, Rodriguez said a highlight of the new building is the permanent baptismal tank instead of the portable tank that was previously used. Rodriguez had four baptisms in the new tank on April 29, 2023.
Working with SURF has been helpful to the church, according to Rodriguez. He stated that SURF not only provided funds, but also guidance which helped the church through the process.
"SURF is like a GPS, because it shows you where you are, it shows you where you want to be, it gives you the way to do it, the resources, and the finances," said Rodriguez.
The Future of SURF
Recently SURF approved the request for a loan to build the new School of Business at Southern Adventist University. The loan, in the amount of $20 million, is the largest loan SURF has ever given.
"SURF feels privileged because we can extend our financial assistance to them," said Salazar.
SURF wants to help as many entities as possible within the Southern Union take advantage of its valuable resources and benefits to borrowers.
"We encourage [entities within the Southern Union territory] to avail of this, because the loan is basically free, no closing costs, no penalty if you're late up to 120 days," explained Salazar. "… We believe SURF is an advantage to them."
SURF offers low-interest rates, flexible repayment terms, no collateral (except a first mortgage to be recorded if the loan amount exceeds $99,999), and quick access to funds. Most importantly, SURF remains mission and community focused, aiming to support and strengthen the Seventh-day Adventist Church in the Southern Union.
"Joining SURF is partnering in ministry …. I view the investors or depositors in SURF as missionaries," reflected Salazar.
Beginning in 2023 Salazar said SURF has seen an increase in demand for loans for the first time since COVID-19. Due to policies, SURF is only able to loan a certain percent of its funds. Since there is currently more demand for loans, and fewer investors, SURF must limit loan amounts in compliance with policy. Salazar said SURF hopes there will be more investors so they can loan more money to borrowers.
"We don't want to turn any church away," said Salazar.
How to Become a SURF Investor
Any member or organization affiliated with the Seventh-day Adventist Church in the Southern Union can invest in SURF. Investing in SURF is a unique opportunity that allows investors to see the blessings of provided funds for properties, equipment, and physical structures that will enhance worship to God, fellowship with others, and educational advantages for children and youth.
A SURF investment can be Adventist individuals living in the Southern Union. Revocable trusts can be invested in SURF, and other Adventist entities such as churches and organizations may also invest. Interest is calculated monthly and paid quarterly. You can open a regular investment account with SURF through your local conference. A minimum of $1,000 is all that is needed.

Christina Coston is Southern Union associate communication director.
Southern Union | June 2023