by Lucas L. Johnson II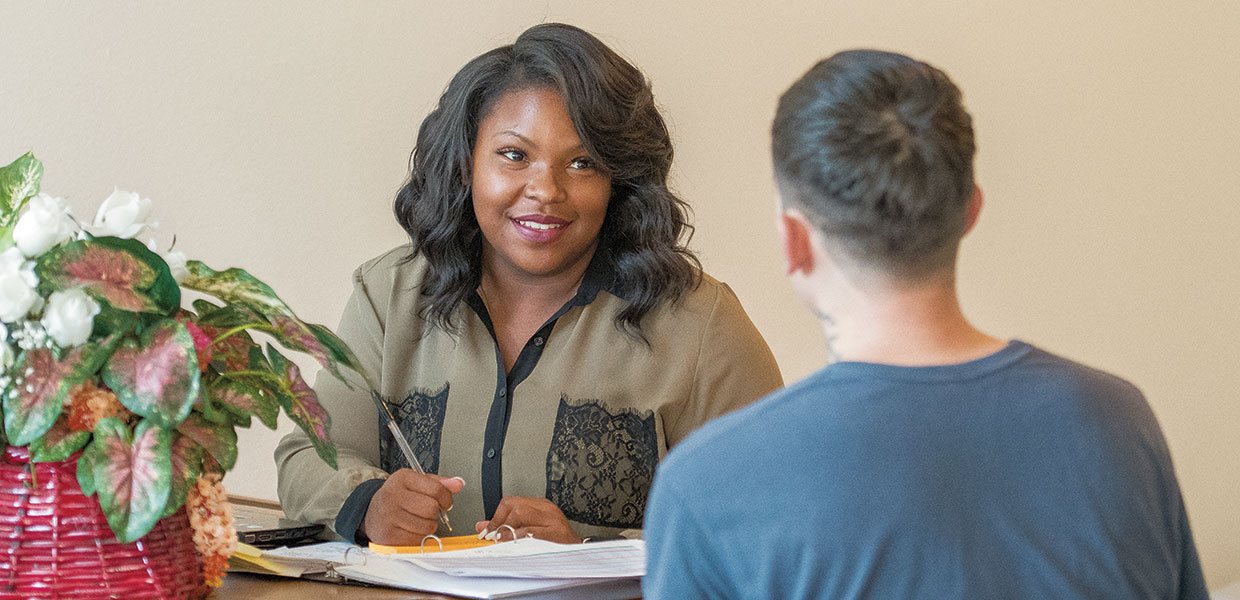 Michelle Jones, director of the Lia Transitional House, Inc., in Memphis, Tennessee, talks to William Garrett, a client, during his weekly mentoring. The Lia Transitional House currently has eight residents, and has been in operation since 2007.
R. Steven Norman III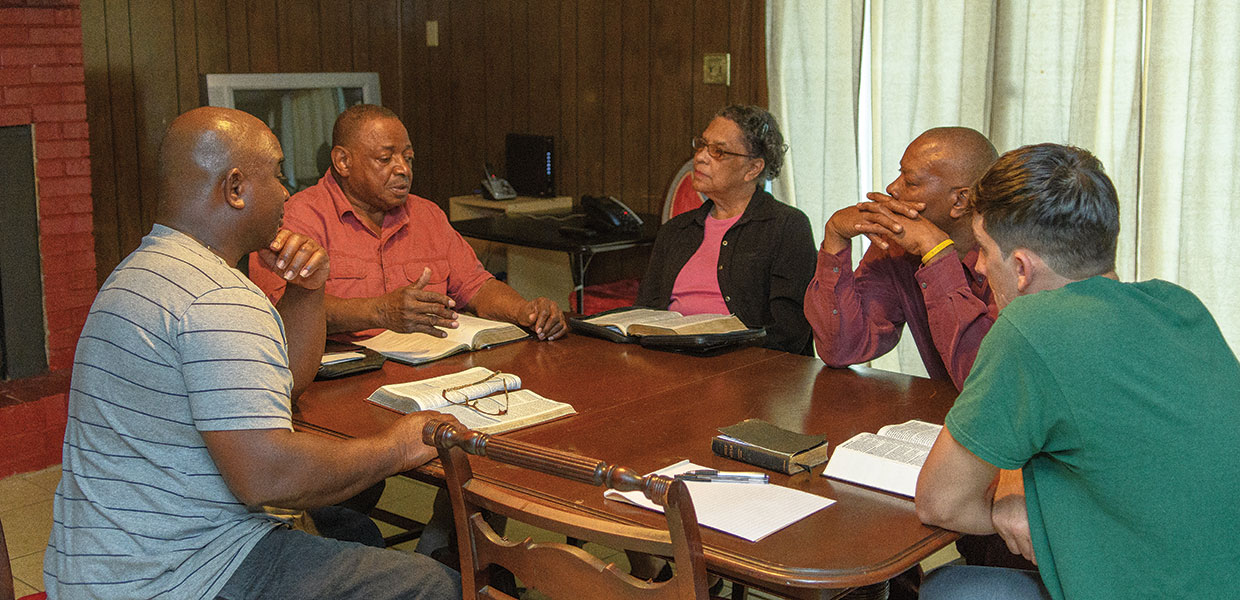 Leo Tate, founder of the Lia Transitional House, Inc., leads a Friday evening Bible study for clients: guest Jeffery Cobb (left), director of Shelter from the Storm; Leo and Margaret Tate, founders; Roderick Seay; and William Garrett.
R. Steven Norman III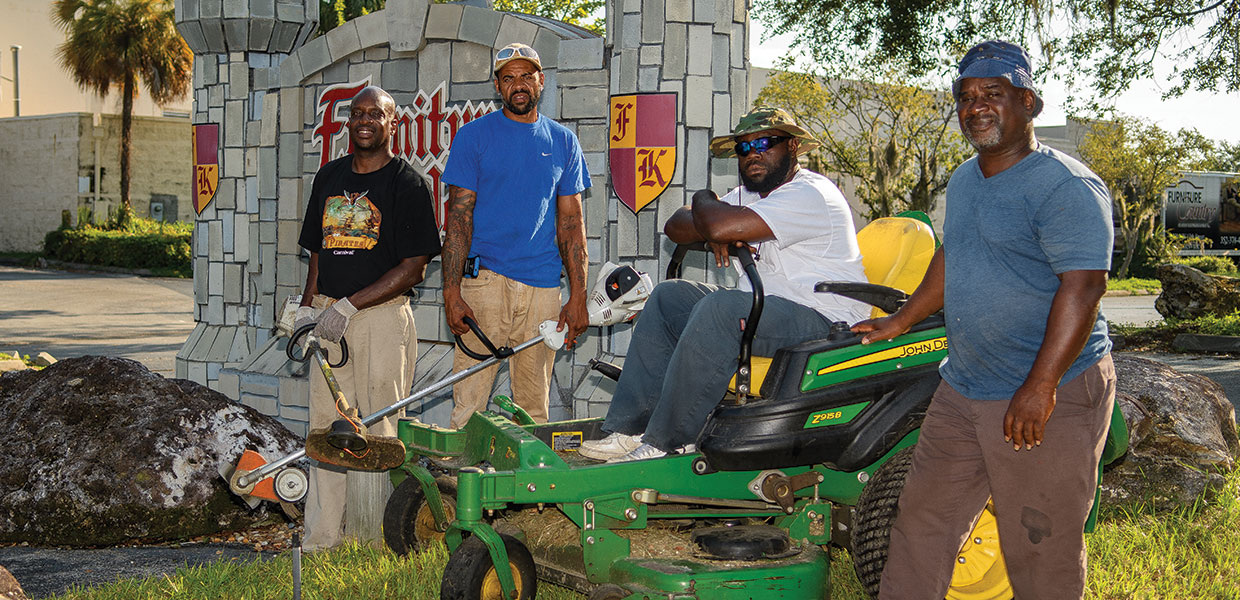 Jeffery Cobb (right), founder and director of the Gainesville, Florida-based, Shelter from the Storm transitional ministry, provides landscaping and lawn care jobs for clients. Here he is shown with Derrick Williams, Edwin Sanchez, and Shane Echols at one of their job sites.
R. Steven Norman III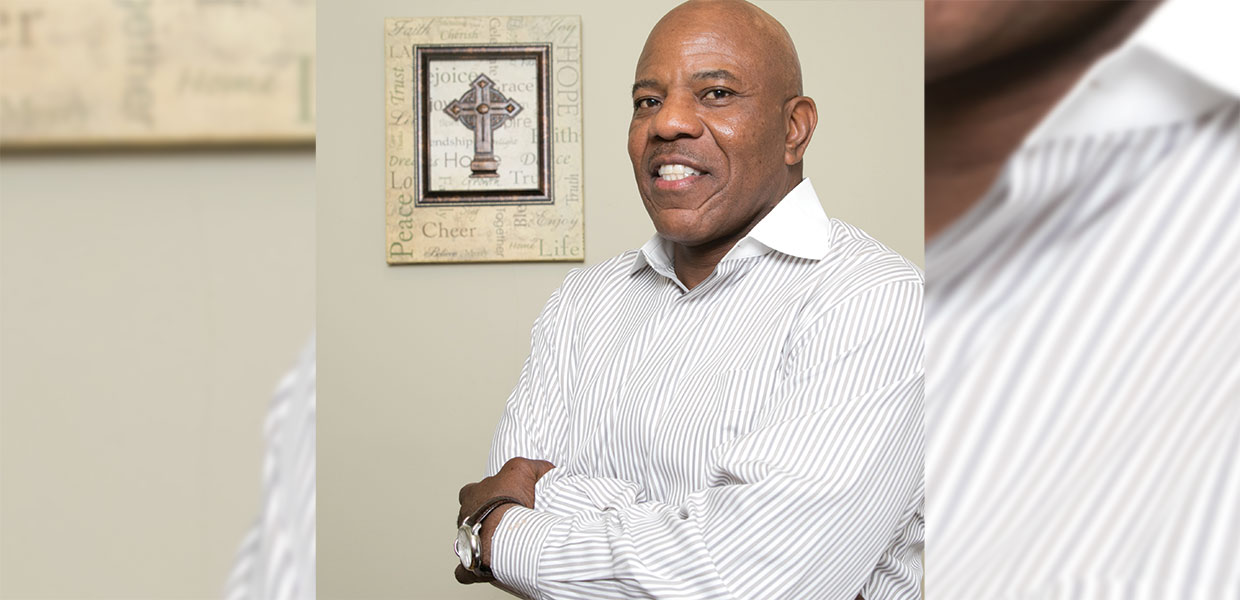 Aphesis' founder, James Settles, turned his life around in prison, and vowed to start a transitional living program when he was released. Settles was released in 1994, and started Aphesis House in 2003 when a family heard about his effort and donated a home, allowing him to open his first halfway house.
John Cross
After serving three years in prison for aggravated burglary, Shane Echols had paid his debt to society, and hoped to start a new life. But, he was worried.
He had been in a similar position before. When he was released, the prison had given him $100 and a bus ticket, but he hadn't really known where to go. Even worse, because of his felony record, he hadn't been able to get a job. Echols had ended up going back to what he knew — a life of crime that landed him back in prison.
This time, however, the 44-year-old's fears were laid to rest when he contacted Jeffrey Cobb, founder of Shelter From the Storm, a transitional living home for ex-offenders in Gainesville, Florida. Cobb not only provided Echols with a place to stay, he also gave him a job working for the lawn service he owns. But probably most important, he gave Echols a fighting chance.
"I thank God for Mr. Cobb," said Echols, who met Cobb when the older ex-offender visited his prison and testified about changing his life. "I've been out of prison just two days, and I'm already working. I'm not going back."
With prisons lacking adequate rehabilitation initiatives, transitional programs (or halfway houses) like Cobb's are filling in the gap by helping ex-offenders get re-acclimated to society when they're released from prison.
Political consultant David Keene alluded to the difficulty ex-offenders have re-acclimating in an interview for the Academy Award nominated documentary "13th," which explores mass incarceration in the U.S. prison system.
"In many ways, the prison system is sort of in the dark," Keene said. "If you look at the whole problem … we have too many laws, locking too many people up, for too many things, and while they're in prison, doing very little if anything to rehabilitate them so that they can re-enter civil society when they get out. And then when they get out, we shun them."
The Seventh-day Adventist Church has several transitional living programs for ex-offenders.
Cobb, 55, started Shelter From the Storm in 2001 after experiencing firsthand the difficulty of finding a place to stay and employment after being released. During his 20 years of criminal activity in Miami, Cobb said he was incarcerated 10 times. His life began to change, however, when he said he began taking Bible studies from an Adventist who visited his last place of incarceration.
Cobb said he felt the Holy Spirit move in his life, and he decided that he "didn't want to go back to that lifestyle." Cobb also decided that when he got out, he was going to start his own business, and set up some type of place to help other offenders when they're released.
He did both. His transitional program houses up to four men at a time, and his lawn service provides work for those who need a job.
"Employment is very important," Cobb said. "A man that walks around with no money in his pocket, he feels degraded. And when they come out, if they don't have anything different, they go back to what they know."
Leo Tate agreed. He is the founder (2007) of Lia Transitional House, Inc. in Memphis, Tennessee, and has been in prison ministry for more than 40 years. His four-bedroom transitional home gives ex-offenders a place to stay, helps them find employment, and also assists with drug recovery, literacy, and even money management. Tate said he's hoping to purchase and renovate a local school so he can help even more people.
"The Lord has given me a vision," said Tate, who believes there would be more transitional homes and other programs to help ex-offenders if all churches heeded the words in Matthew 25:36 about remembering those in prison.
"If we get back and start doing what God wants us to do, I don't think it would be as much crime," Tate said. "I know we can't stop all of it, but I certainly believe we can put a dent in it."
Supporters of transitional living programs say they play a vital role in reducing recidivism.
One study by the U.S. Department of Justice tracked 404,638 prisoners in 30 states after their release from prison in 2005. The researchers found that within three years of release, about two-thirds, or 68 percent, of released prisoners were rearrested. Within five years, 77 percent were rearrested, the study found.
Earl Gator can attest to those statistics. The 46-year-old said during the 11 years he was incarcerated, he saw some men return to the prison where he was two and three times before he was released. Gator blames the revolving door on the lack of prison programs to help individuals succeed once they're released.
"If they would implement more programs inside that teach people a trade, something they can fall back on and do once they get released, a lot of them wouldn't come back to prison," Gator said.
He credits family support and a man who attends his Seventh-day Adventist church in Nashville, Tennessee, with helping him stay out of prison. He said the gentleman, in particular, took him under his wing and taught him how to paint. As a result, Gator is now a painting contractor who is working with the founder of a Nashville-based transitional living program called Aphesis — which in Greek means "to let go, or forgive" — to implement a program that will teach ex-offenders a painting trade.
Like Cobb, Aphesis' founder, James Settles, turned his life around in prison, and vowed to start a transitional living program when he was released. Settles was released in 1994, and started Aphesis House in 2003 when a family heard about his effort and donated a home, allowing him to open his first halfway house.
Since then, Aphesis has grown from a single home providing space for four men, to operating four facilities across Nashville, serving up to 28 men at once.
Currently, Aphesis is a leader in transitional housing services in middle Tennessee, and has published materials on how to start effective recovery programs, including a book by Settles on starting and managing a transitional house. Settles is not Adventist, but is grateful for all the support he's received from Adventist churches and other denominations.
"God is using Aphesis House to provide the kind of facility where men can get the life skills they need to live a better life," Settles said.
One of those men is Tim Holt, who has been living a successful life since leaving Aphesis 10 years ago. Holt said Aphesis' relapse prevention program and its behavior modification classes were particularly helpful in changing his lifestyle.
"Aphesis House helped me to grow into the man I am today," said Holt, who is married and owns a house. "I'm blessed."

Lucas L. Johnson II is a former reporter for The Associated Press. He is also author of the book, Finding the Good, which was featured on National Public Radio.
Southern Union | February 2018