by lucas l. johnson ii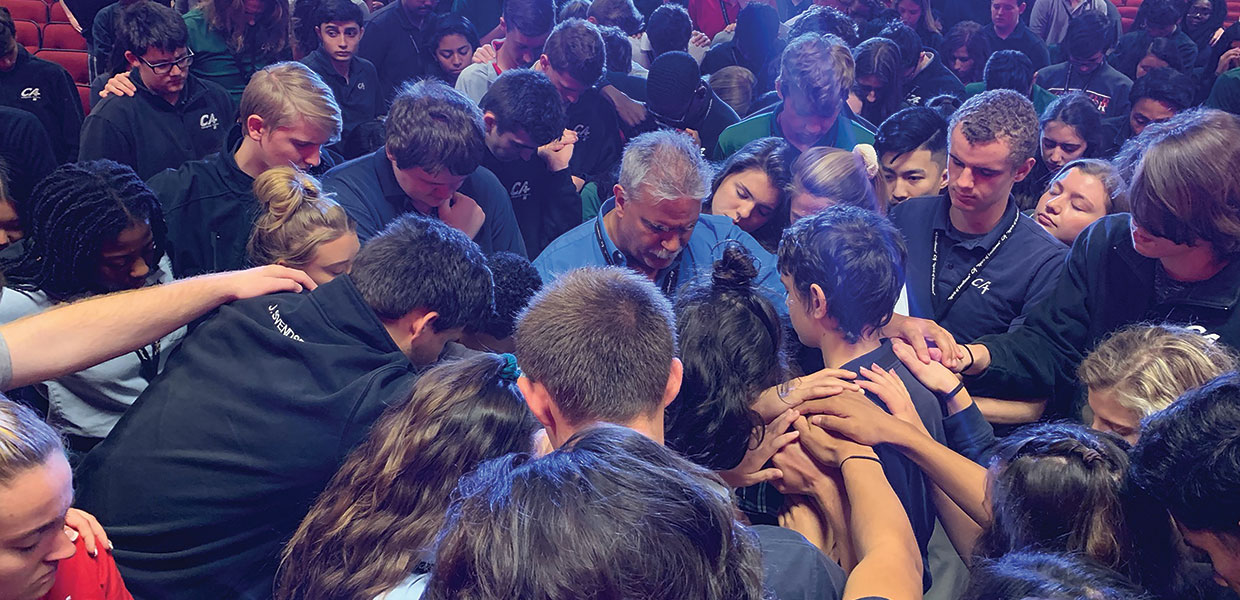 Travis Crawford, Collegedale Academy vice principal, leads out in an all-school prayer for a student who just lost his brother, and for a student who is hurting from a family tragedy.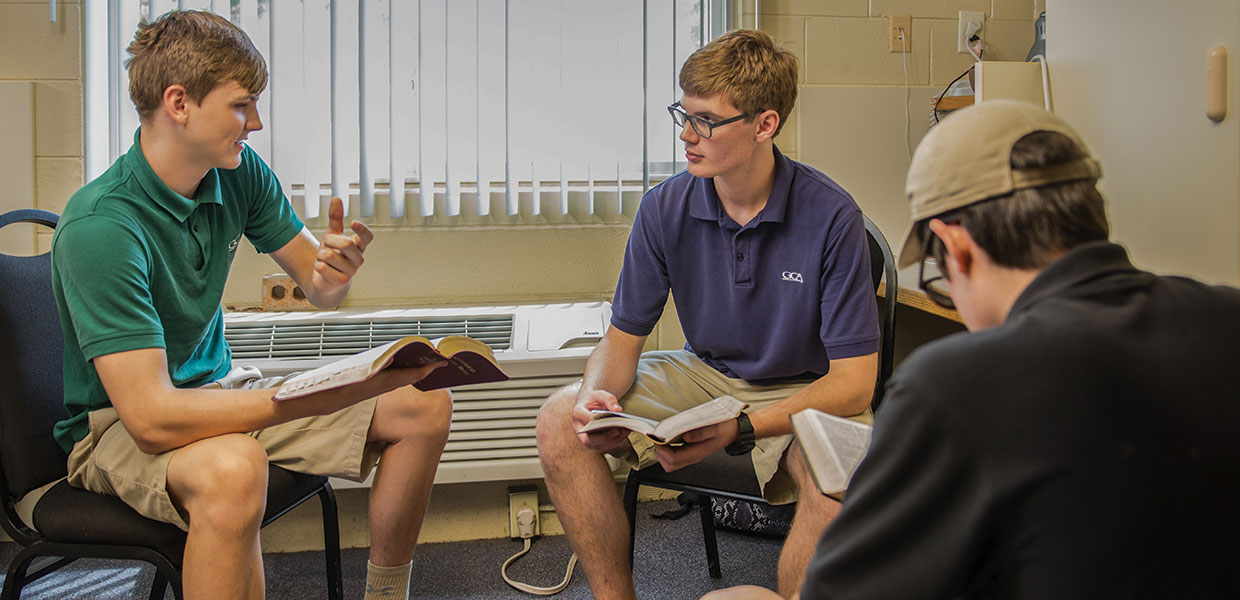 Koby Fielbelkorn (left) is a senior at Georgia-Cumberland Academy who studies the Bible with two of his schoolmates, "Sam" and "Martin."
Brian Young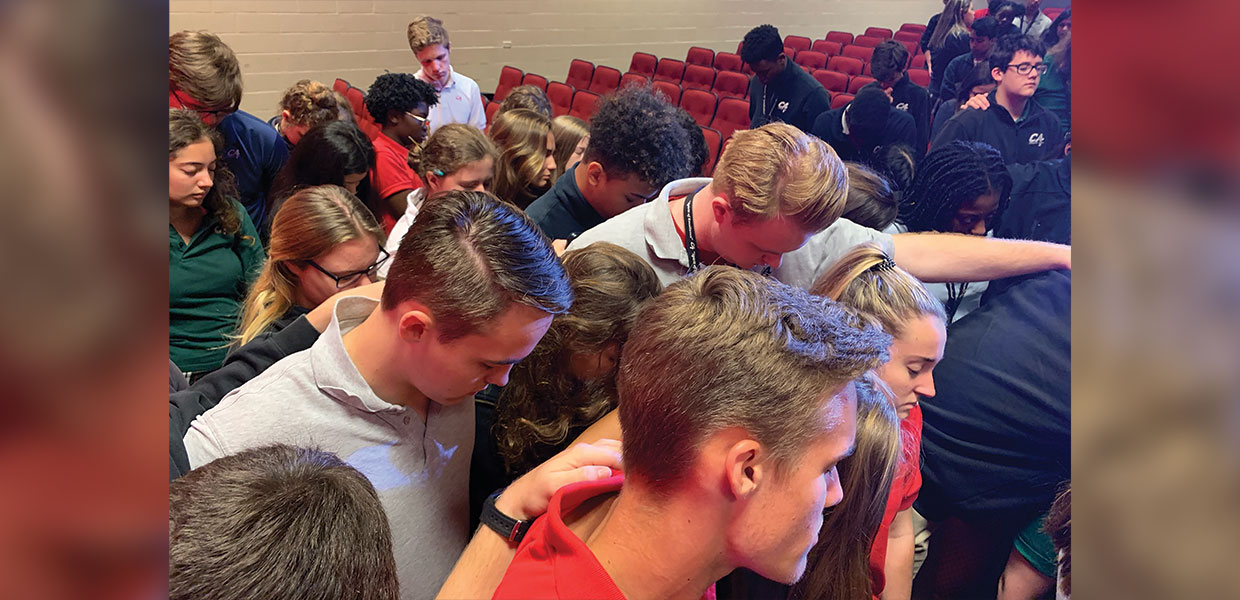 Collegedale Academy students pray together.
In the same way, faith by itself, if it is not accompanied by action, is dead," James 2:17 NIV.
Koby Fiebelkorn felt he was not doing enough. So, instead of just reading his favorite passage in the book of James, the 17-year-old started living it.
"I really like the verse about how faith without works is dead," says Fiebelkorn, a senior at Georgia-Cumberland Academy (GCA), in Calhoun, Georgia. "You can say you believe, but if you're not actively living it, then it's really not going to be worth anything."
During winter break, Fiebelkorn and a couple of his friends started giving weekly Bible studies in their dorm. They have helped bring many of their peers to Christ, or closer to Him.
"He (Fiebelkorn) has been a huge accountability support for guys in the dorm to remain committed to Jesus," says Joshua Woods, GCA chaplain. "I can't wait to see what God has in store for him."
Fiebelkorn is among a number of young evangelists who are letting their light shine and winning souls for Christ through activities at their schools and in Christian groups.
For instance, at Georgia-Cumberland Academy there's the Soul Café and GCA Talks.
The Soul Café is a musical program led by the students. With each song they create a discussion guide that includes Bible verses and discussion questions, says Woods. After each song, students discuss the meaning of the song, or the Bible text associated with that particular song.
GCA Talks is a spin-off of TED Talks. Students get up and give short talks on life and spirituality. They're allowed to talk about whatever they like, says Woods, as long as there is a connection to scripture. After the talk, there are discussion questions prepared for the audience.
Both programs are part of GCA's midweek service, or Prayer Meeting time, and students are not required to attend. However, since the programs started, Woods says attendance at the midweek service has been much higher.
"We've always had a decent group, 40 or 50 for midweeks," says Woods, "but to see it more than double has been awesome."
At Collegedale Academy, in Collegedale, Tennessee, a group of students go to downtown Chattanooga, Tennessee, just about every Sabbath and randomly pray for people. Sometimes as many as 50 students (mostly juniors and seniors) participate, says Brent Baldwin, Collegedale Academy principal.
"We want to give kids as many opportunities as they can to be active in their faith," says Baldwin. "We do worship every day at our school. I can't even get up front anymore, because the kids do the worships now. And, quite frankly, for me spiritually, it's phenomenal, because it feeds me when I hear them share their stories."
Some students use mission trips to spread God's Word and testify about His goodness.
During spring break about 20 students from Bass Memorial Academy, Lumberton, Mississippi, traveled to Guayabo, Costa Rica, to help lay the foundation, brickwork, and other support for a Maranatha group that was to follow. The students had asked to do an evangelistic series in the evenings, completely student led, according to Steven Ferguson, pastor.
"We had one student who translated, and several took turns with special music and preaching," says Ferguson. "Through the evangelistic series, we had baptisms the Sabbath before we left. The students also wanted to help with the school, so they and the sponsors pooled all their spare money, and I mean all, and were able to come up with enough to sponsor a couple of kids to go to school there."
Atlanta Adventist Academy, in greater Atlanta, Georgia, has had two mission trips within the last 10 months: one responding to the hurricane in New Bern, North Carolina, and the other following up in Vieques, Puerto Rico, for the second year in a row. About 30 students attended at least one of the two mission trips, says James Mello, chaplain. As a follow-up to the spring mission trip, Mello says a small Bible study group was started.
"This was a result of multiple students discussing a desire to become serious about their spiritual life, and be 'all in' for Jesus," he says.
As a result of their activities, some of the schools are seeing an increase in baptisms. Forest Lake Academy, outside Orlando, Florida, had seven baptisms in April, and was expecting at least 10 in May.
More than 60 students "have shown interests in either baptism or have accepted the call to make their relationship with Christ a priority," says Andrew Moreno, pastor.
Church officials believe the school activities and missions are not just beneficial to students and their peers, but the Adventist Church as a whole.
Keith Hallam is associate director for secondary education at the Southern Union Conference, in Peachtree Corners, Georgia. He says the youth mission trips in particular "spread and expand our field of evangelism throughout the world."
"So, if you're building a school or a church, you're putting the Adventist presence in another location of the world field," says Hallam. "That's expanding and allowing the message to go on and influence and grow the congregation."
Michael Polite, associate chaplain at Andrews University, Berrien Springs, Michigan, agrees.
"Research suggests that the more engaged a student is in high school, as well as undergrad, the more likely they are to leave their undergrad experience and become active members of a local church," says Polite, who has worked closely with youth for more than 10 years.
"So, the more we can use these adolescent moments to invite people to participate in ministry, as well as be impacted and transformed by the ministry, [the more] we are increasing the likelihood of them returning to a local church to do the same thing in their older years, or in their professional years."
GCA senior Calvin Scott says he, and others, will continue winning souls for Christ — wherever life takes them.
"That's my mission, to service and discipleship," says Scott. "It's just representing Christ, through what I say, how I act."

Lucas L. Johmson II is a former reporter for The Associated Press. He is also author of the book, Finding the Good, which was featured on National Public Radio.
Southern Union | June 2019