Khandi Cooper and Mel Wade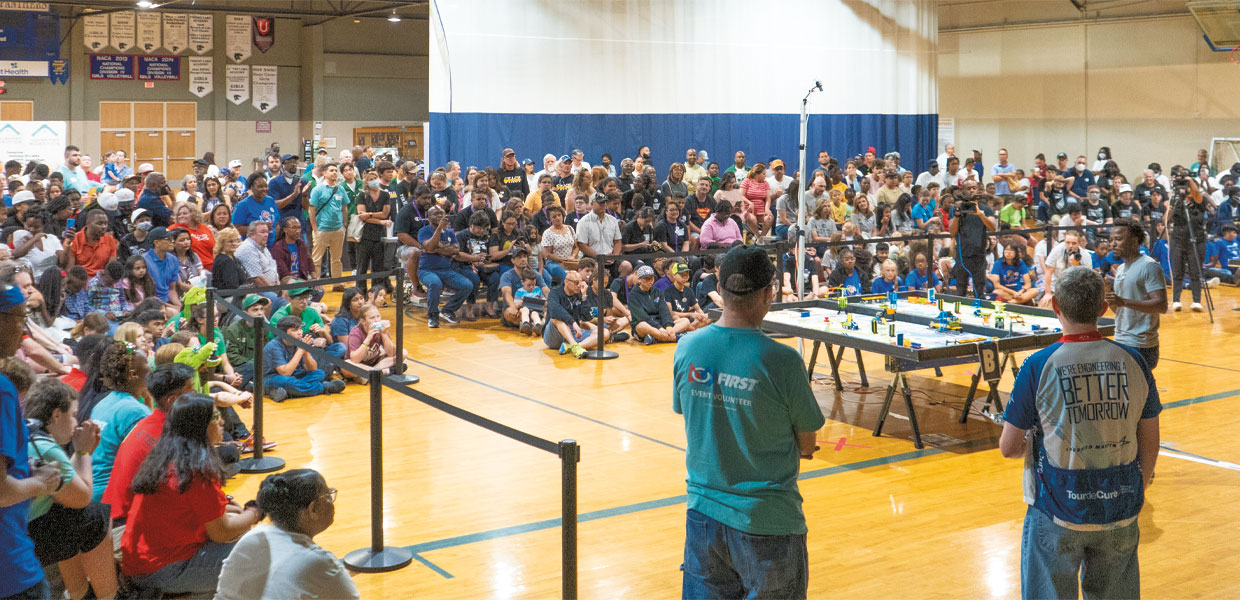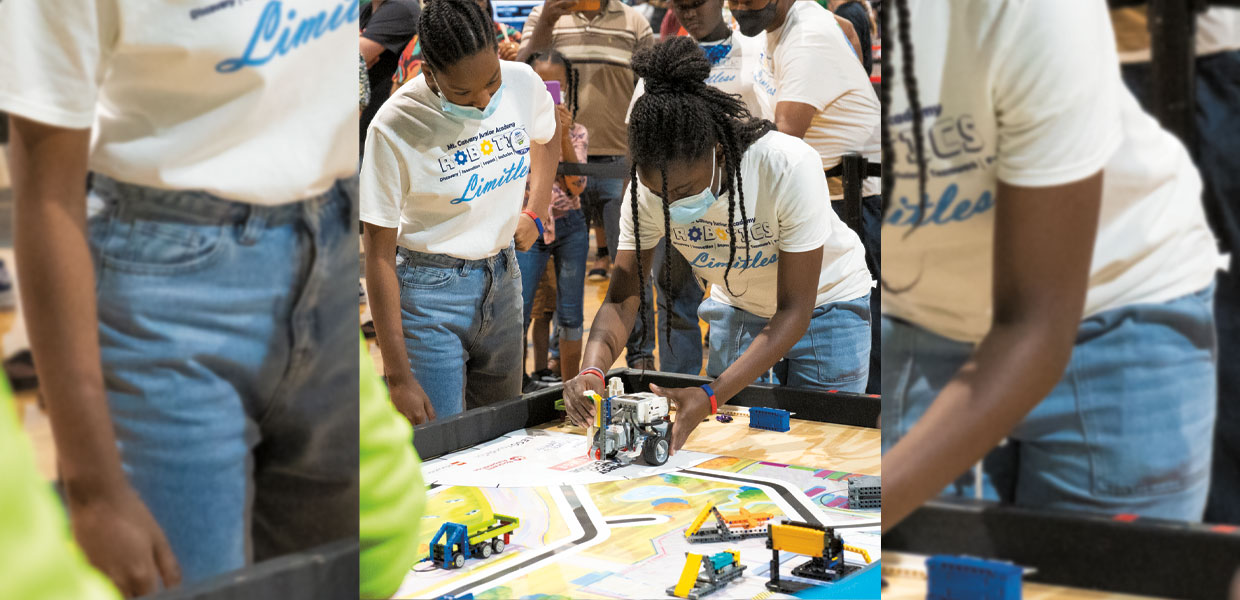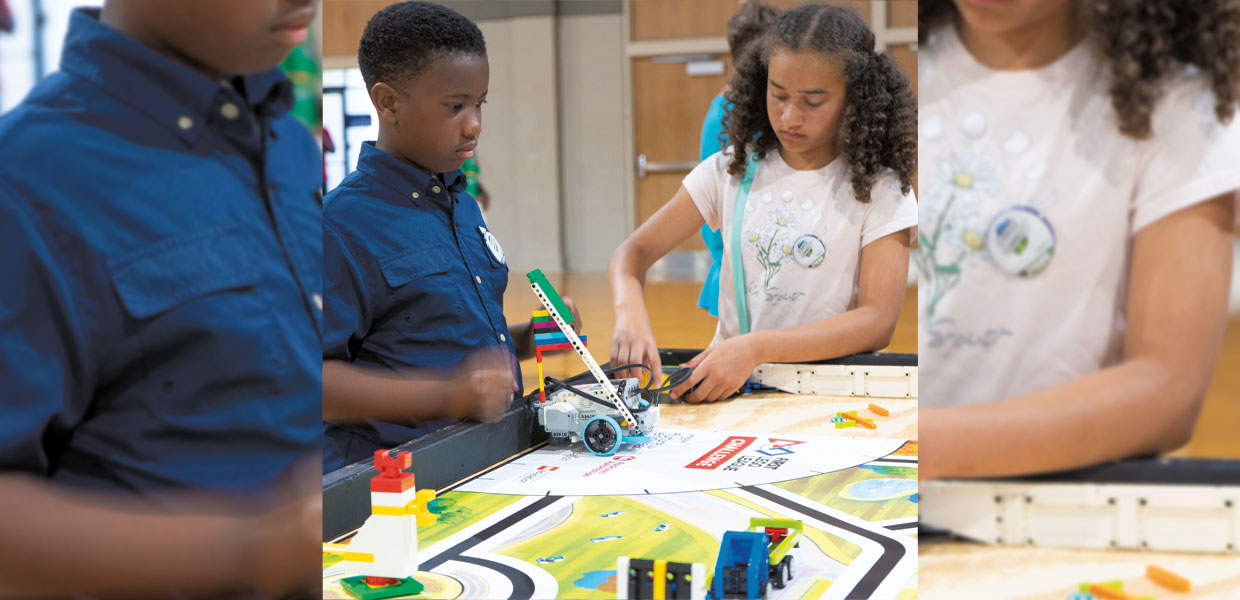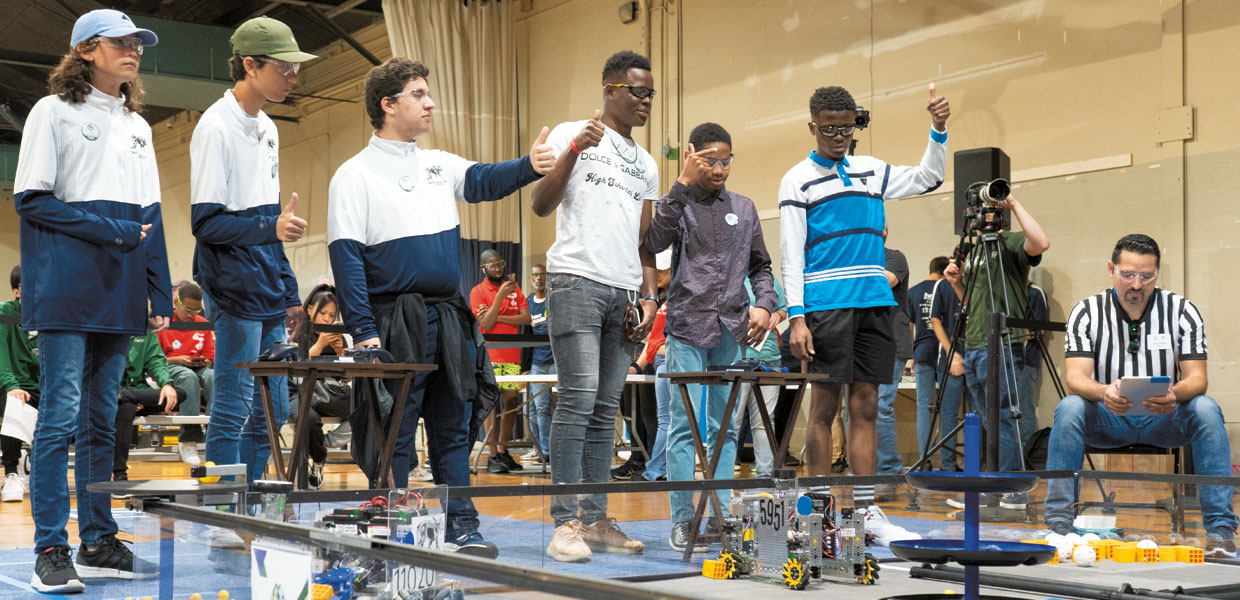 2022 Adventist Robotics Championship
Extreme excitement was in the air as rookie and veteran robotics teams filled Forest Lake Academy (FLA) gymnasium in Apopka, Florida, on May 1, 2022, for the Adventist Robotics Championship sponsored by the North American Division Office of Education and Florida Conference. Thirty-three teams attended from across the United States. Since COVID shut everything down in March of 2020, students and their coaches/mentors have had to either compete virtually or not at all, so it was great to see the number of teams that traveled to Florida to compete in the tournament. The Drum Corps from Winter Park Florida Spanish Pathfinder Club set the excitement level for the competition by starting the opening ceremonies and presenting the colors for the National Anthem.
Teams competed in one of two tournaments, the FIRST LEGO League Challenge (FLL) for grades 4-8, and the FIRST Tech Challenge (FTC) for grades 7-12. Both tournaments occurred simultaneously in the FLA gymnasium, and were live-streamed over the Adventist Robotics YouTube channel with the help of the Allegheny East Conference Media Ministry.
The robot game consists of action-paced, 2 1/2-minute matches. FLL Challenge teams built and programmed their LEGO EV3 or Spike Prime robots to earn points autonomously by building and programming a robot to manipulate mission models on a 4×8-foot field. FIRST Tech Challenge teams competed in two-team alliances to earn points on a 12×12-foot field. With four custom, team-built robots on the field at a time, the game consists of a 30-second autonomous period followed by a two-minute driver-controlled period with some tasks only allowed during the last 30 seconds of the game.
"It's way more than robots," says Mel Wade, director of Adventist Robotics. For the last 18 years, Adventist youth have had the opportunity to learn real- world skills in a project-based learning environment through Adventist Robotics' partnership with FIRST. These skills go well beyond building a robot. They include time management, teamwork, self-motivated learning, effective communication, and gracious professionalism. Students can have an amazing robot and teamwork, but they must also communicate effectively what they have accomplished to the judges to be able to do well in the competition.
In addition to the robot game, teams were judged in areas including their engineering, programming, innovation, outreach, and core values. Team members were able to meet and greet with other teams from across the nation and share experiences. "Robotics provides an angle to learning that traditional education simply cannot. Students are taught problem-solving, teamwork, engineering principles, and the drive to work hard, all without it feeling like a class," says FTC Dean's List finalist Joseph Pennock from the Gator Bytes. He adds that "robotics prepares the next generation of engineers for the future in ways that we could never do without FIRST. Robotics has truly impacted my life in a positive and inspiring way."
At the closing ceremony, the FLL Challenge and FTC teams along with their coaches, mentors, and supporters assembled to hear the announcement of the various awards. Teams received many awards, including Core Values, Robot Design, Robot Performance, Innovation Project/Innovate, Connect, and Judge's awards. The Electrobots, from Gateway Christian School in Mt. Dora, Florida, received the prestigious FLL Challenge Champion's Award for their outstanding achievement in the tournament.
"My team and I were able to gain experience from this FTC tournament. We learned how to work as a team through the various challenges," says Nicholas Cooper II, president of the Phoenix Stars from Greater Fayetteville Adventist Academy in Fayetteville, North Carolina, whose team won the Motivate Award.
Awards were also won by other Southern Union schools, including Forest Lake Academy, Apopka, Florida; Gethsemane Church School, Raleigh, North Carolina; Walker Memorial Academy, Avon Park, Florida; Adventist Christian Academy, Raleigh, North Carolina; Tri-City Christian Academy, High Point, North Carolina; and Pensacola Junior Academy, Pensacola, Florida.
As the 2021-2022 Adventist Robotics season makes its mark in history, we thank God for the safe travels of all the teams. Our prayer is for Adventist Robotics to continue to grow; but, until then, "Drivers, pick up your controllers …. 3, 2, 1."
For more information about Adventist Robotics, visit adventistrobotics.net.
Florida | July 2022