BY TRISNEY BOCALA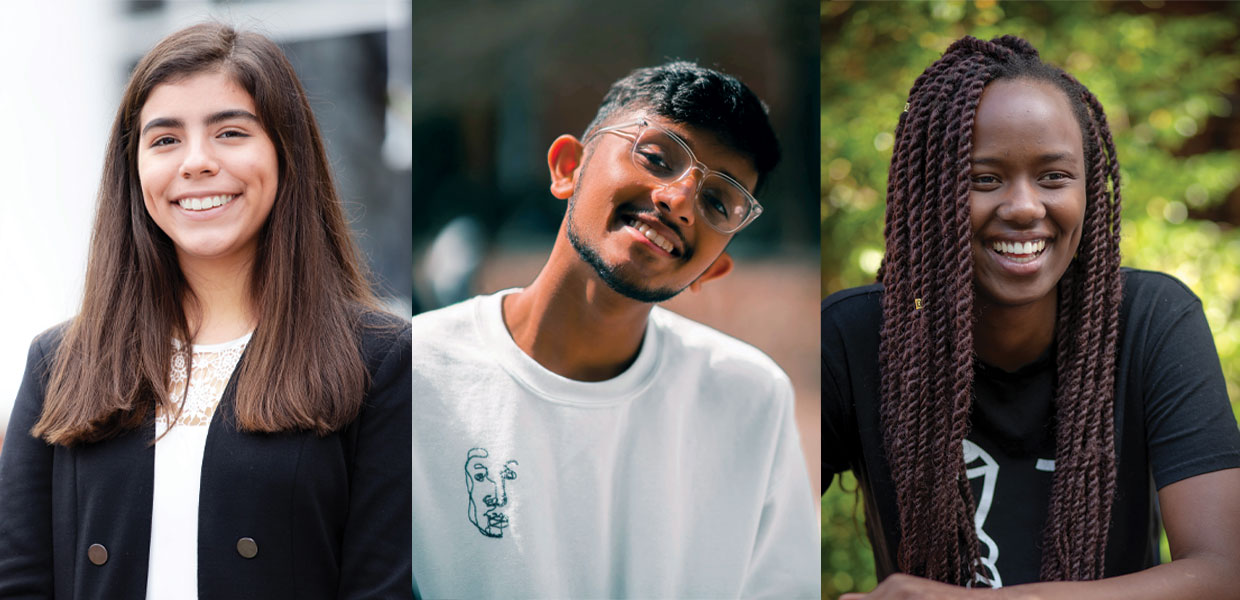 Sheryl Kambuni's international perspective helps her lead as Southern's Student Association president.
Until she headed to Collegedale, Tennessee, to attend Southern Adventist University, Sheryl Kambuni had never left her home continent of Africa. In fact, aside from a Pathfinder trip to the neighboring country of Tanzania, she had never traveled internationally at all. A descendent of the Kisii tribe, Kambuni was born and raised in Nairobi, Kenya, and has lived in the same house for most of her life. During her senior year at Maxwell Adventist Academy, recruiters from Southern visited, and she applied.
"My parents and I felt like Southern was the right place for me," she said, "and I became the first in my family to attend this University."
Now a junior psychology major, Kambuni is the current Student Association (SA) president. She describes her cultural heritage as her "context for the world," and it has helped her to connect with Southern's diverse student body and to address issues and concerns, particularly in relation to international students. For example, like many of her peers, she has been unable to go home since the start of the COVID-19 pandemic.
"As a campus leader, I can't risk leaving the U.S. for fear of not being able to get back in if countries close their borders," Kambuni said.
"My African background and experiences shape how I view people, how I make decisions, and every aspect of my life," she explained. "I know what it's like to be in a different place, to have traveled far to go to school, to not be able to go home easily; being an international student gives me a better understanding of my peers."
Kambuni is one of several international students holding leadership positions on campus this year. Another is Isaac Abraham, junior nursing/pre-med major and president of Southern's Asian Club, one of the largest student organizations on campus.
Abraham identifies himself culturally as Indian, since both of his parents are from India, even though he was born in Oman and grew up there and in Dubai, United Arab Emirates. Having been immersed in a mix of Indian and Middle Eastern cultures, he speaks three languages fluently and can read and write Arabic as well.
While in high school, Abraham traveled to the U.S. to visit family and realized that, if he could afford it, he wanted to study there. He researched Adventist universities in North America and decided to pursue an education at Southern.
As a campus leader, Abraham has learned the importance of preserving one's cultural identity.
"Asian Club is like a home away from home," he said. "In Oman, I didn't notice the differences. Then I came to the States and realized that cultural diversity is huge! It's great because people are curious about other cultures, and I actually understand the value of my heritage here more than I did there."
María José Morán, senior mass communication major, leads another of Southern's large student organizations, the Latin American Club (LAC). Born in Honduras, Morán and her family also lived in El Salvador and Guatemala before moving back to Honduras in 2010. Growing up, Morán visited the U.S. occasionally for vacation, and during one of the trips toured Southern's campus.
As club president, Morán has been able to connect with students from a variety of cultural backgrounds.
"LAC has broadened my understanding of the meaning of Latino and/or Hispanic, and it has put into perspective the true beauty of diversity," she said. "Lots of different people know me as the LAC president, and it makes me proud when those who have no ties to Latin America are interested in learning about my culture."
Despite the challenges imposed by the current pandemic, Southern continues to have a large international student population, representing more than 35 countries.
"We are blessed to have a diverse student body on our campus, which provides a rich cross-cultural experience," said Lisa Hall, dean of students. "Interacting with students, faculty, and staff who have different backgrounds broadens our perspectives and gives each of us valuable experience for the future."
Southern Adventist University | December 2020