Anaya Miller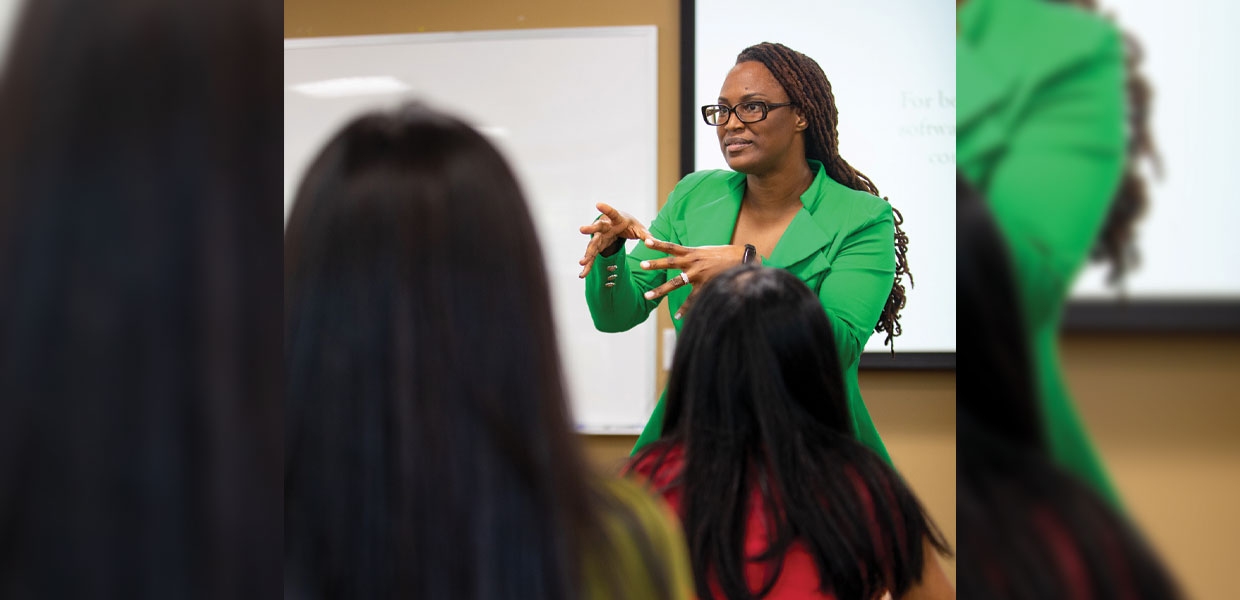 Jasmine Johnson, Ed.D., brings a passion for education to her role as director and professor in Southern Adventist University's new Master of Arts in Teaching program.
Calvin Serban
Volunteering at a Seventh-day Adventist school changed the course of Jasmine Johnson's career. Johnson, Ed.D., had earned an undergraduate degree in history and pre-law, as well as an M.B.A. While working in the corporate world, she felt drawn to teaching and took the opportunity to volunteer in a local classroom. She loved it so much that she decided to pursue a degree in education, earning her master of arts in teaching (MAT).
"The MAT program literally changed my life," Johnson said. "It gave me the skills and the tools that I needed to be a teacher. When I started teaching, it was so amazing; the students were awesome, and teaching was awesome."
Johnson continued her education, eventually earning her doctorate in education with an emphasis in educational leadership. She also continued teaching, and when Southern Adventist University launched its new online MAT program, she was thrilled to join the team as program director and associate professor.
"We are so excited about this degree program and about having Jasmine here on campus," said Tammy Overstreet, Ph.D., dean of Southern's School of Education and Psychology. "Her passion for education is contagious."
Because the MAT program allows students to pursue a degree in teaching without having previously studied education, Johnson looks forward to helping people make the kind of fulfilling career change that she did. She also anticipates the program helping to address the nationwide teacher shortage.
"For example, teacher aides, substitutes, and local hires are already in schools, but are not certified and aren't working full time," Johnson said. "They don't have the certification or prior education courses that they need, but through the MAT degree, they can take on that full-time goal."
Arne Nielsen, Ph.D., vice president for education in the North American Division, is also excited for the effect this new degree may have.
"The teacher shortage is real, large, and growing in both public and private sectors," Nielsen said. "NAD Education is thankful for the collaboration that is happening across our territory as solutions are emerging. The MAT program at Southern appears to be one solution to the teacher shortage conundrum."
Taught completely online, Southern's new MAT program can be completed anywhere in the United States; the University will help participants arrange field training in person at a school near them. Additionally, options are available for students to begin working as teachers while completing their clinical hours.
"We believe that there are individuals in our churches and spheres of influence who feel called to impact the future by working with young people," Overstreet said. "This degree program can help such individuals become effective educators through the convenience of online learning. They can then answer their callings and simultaneously meet the needs of schools that are desperately seeking quality educators."
To learn more about Southern's MAT program, visit www.southern.edu/graduatestudies.
Southern Adventist University | October 2022