Pathfinders trade pins with Terry Shaw, AdventHealth president/CEO, at the International Camporee.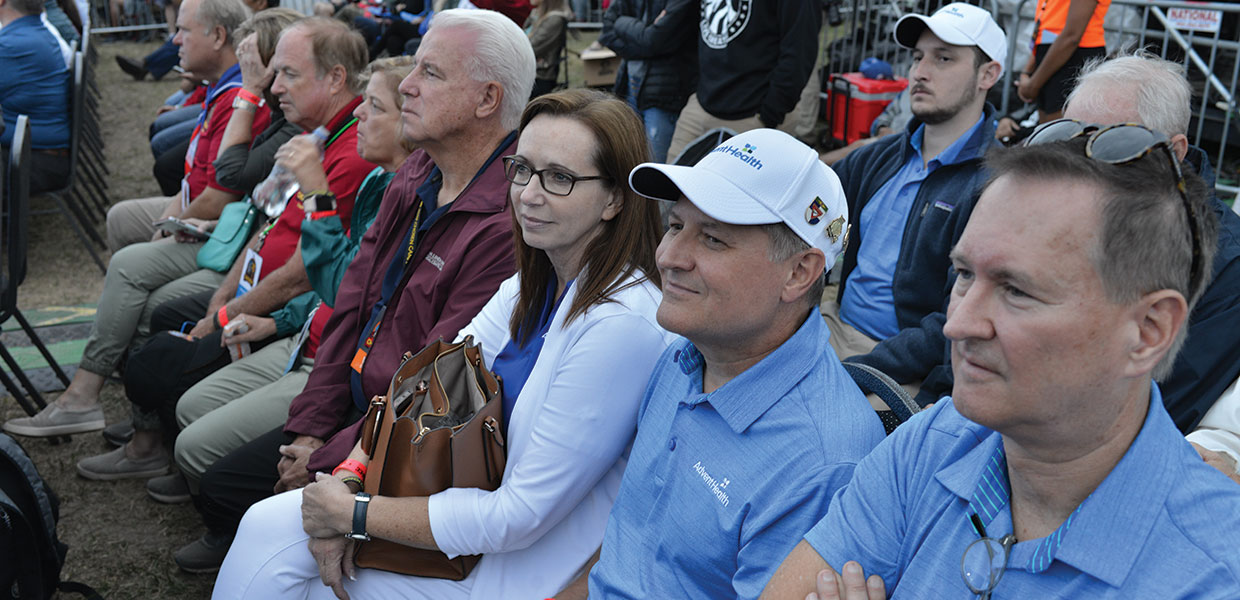 The AdventHealth president/CEO, Terry Shaw, and his wife, Paula, enjoy the opening night program.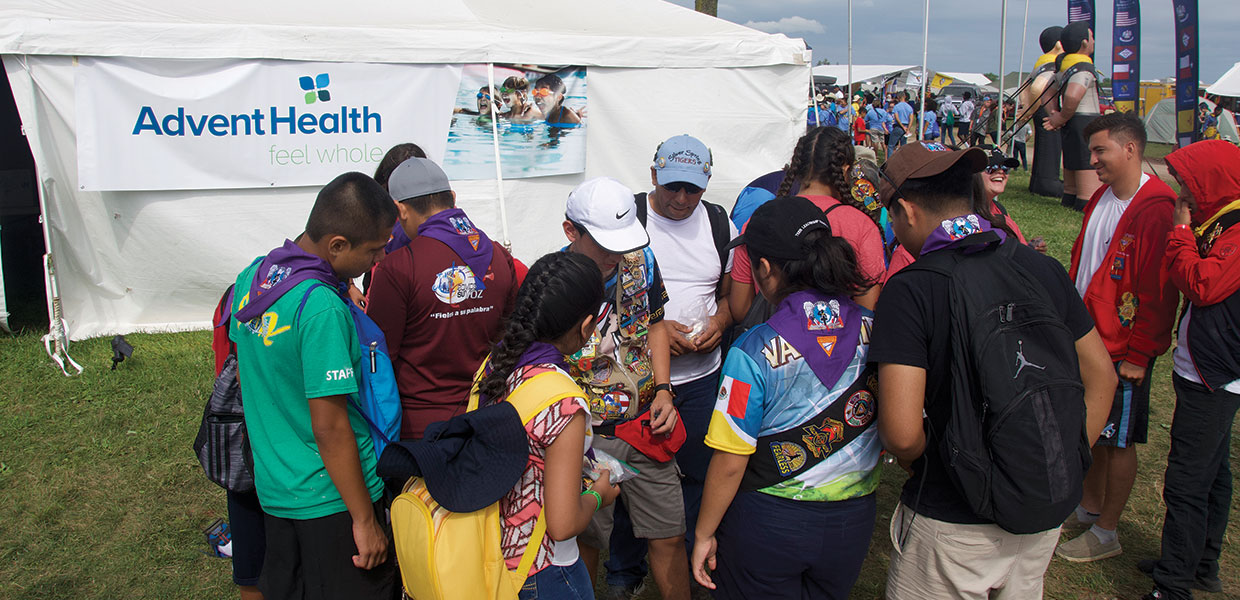 A group of Pathfinders gather to trade pins near the AdventHealth tent.
AdventHealth board members, leaders, and employees were among the 56,000 attendees gathered at the Chosen International Pathfinder Camporee, an event for which the national, faith-based health system was a major sponsor.
"I had a great time visiting the camporee myself, and interacting with the kids," said Terry Shaw, AdventHealth president/CEO. "AdventHealth is committed to investing in the next generation, and that's why we participate in sponsorship opportunities like this that encourage whole, healthy living."
During the camporee, Shaw and other AdventHealth attendees were able to sample international foods, attend the nightly worship programs, and trade their AdventHealth pins. AdventHealth created four designs specifically for the event: an "I care for you like my Friend" heart, a female doctor with an AdventHealth logo, an AdventHealth helicopter, and an AdventHealth #40 NASCAR racecar.
For the health system, the event served as an opportunity to help youth begin to see them as a potential employer and a partner on their health journey.
"It's a great blessing to have AdventHealth support an event like this," said Cory Reeves, chief financial officer for the southeast region of AdventHealth. "It shares with the kids our mission, and encourages them to be a part of our organization and to extend our mission further in the future."
As the largest Pathfinder-related event, the International Pathfinders Camporee's goals are to inspire the children to develop a closer relationship with God; form new friendships and strengthen old ones; and adopt the values of Christian service, leadership, and discipline. These goals aspire to move them closer to the kind of wholistic life that AdventHealth promotes.
"AdventHealth is a special and unique organization that understands and values young people," said Ron Whitehead, camporee executive director and youth ministries director for the Lake Union Conference in Berrien Springs, Michigan. "They want young people to make major contributions to their communities, and to make better choices about what they put in their bodies, minds, and spirits. Our partnership is such a beautiful match, and we were just honored to have AdventHealth as the primary sponsor of this year's International Pathfinder Camporee."
AdventHealth | October 2019