by Mario Roberts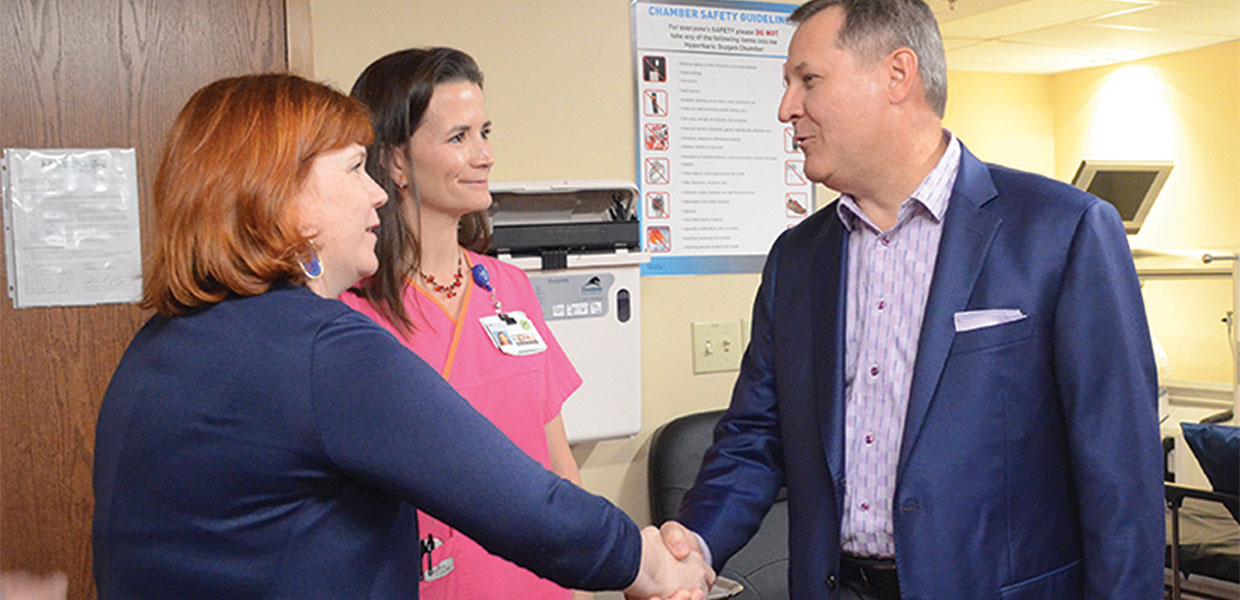 Terry Shaw, AHS President/CEO, shakes hands with hospital staff who work to deliver the organization's mission every day.
When Terry Shaw, Adventist Health System (AHS) president/CEO, assumed leadership of the organization, he had a clear vision to ensure that "Adventist Health System is widely respected as a consumer-focused organization that engages individuals in their health by delivering Christ-centered, wholistic, best practice care across a connected, comprehensive continuum of services. With Christ as our example, Adventist Health System cares for and nurtures people: our employees, our communities, our healthcare professionals, and those who trust us for care and healing."
To accomplish this, a new AHS Cabinet was appointed, and work immediately began on a new strategic framework and working plan. Shaw then joined other members of the Cabinet and visited Adventist Health System hospital campuses across nine states, where they listened to and learned from those who are carrying out the mission in their local communities.
"I felt that it was important to get out to our hospitals first and meet with those who deliver on our mission promise every day," said Shaw. "It is so reassuring to be out in our local markets, interacting with employees across the organization who take so much pride in our mission. From surgeons to nurses, administrative staff to volunteers, all of our employees play such an important role in 'Extending the Healing Ministry of Christ.'"
The visits have enabled Shaw to spend some one-on-one time with hospital leadership teams and discuss the future of AHS, the fulfillment of the organization's mission, and ways to work better together to serve patients and communities.
Shaw and his executive team used the visits to roll out a recast version of Vision 2020 with a new, simple, five-word expression: wholistic, exceptional, connected, affordable, and viable. "I want to be sure that our leaders can easily share the story of our vision on a five-floor elevator ride with one of our employees," outlined Shaw in explaining the new Vision 2020 construct.
The visits provided Shaw and the leadership team an opportunity to begin sharing a new set of strategic imperatives that will drive planning throughout the system. They have also taken the feedback from the local meetings and integrated it into areas that will improve processes and strengthen the organization.
"This has been a wonderful learning experience. We are greater as a whole, and that starts with the people serving our patients," Shaw added. "I am so excited about the future of Adventist Health System, and together, we continue to deliver compassionate, connected, whole-person care, which will increasingly differentiate us from other care providers, and make an even greater impact in the lives of patients and the communities we serve."

Mario Roberts is the senior communications specialist at Adventist Health System.
Adventist Health System | June 2017