by Gladys M. Neigel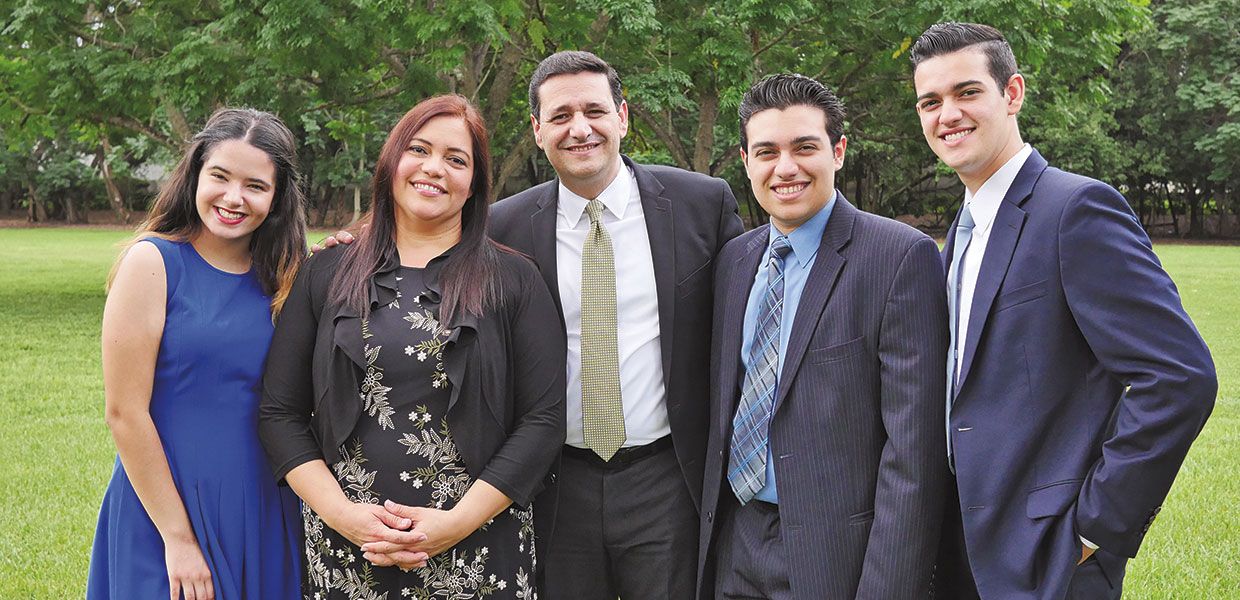 The new Florida Conference presidential family: Tatiana (left), Elsa, Allan, Erich, and Alan Machado.
Eric Bernhardt
Allan Machado, D.Min., was elected by the combined election committee on June 24, 2018, to become the 24th president of the 63,994-member Florida Conference. The following morning he received a standing ovation from Conference staff at the morning worship and staff meeting.
"I am humbled by the opportunity to serve the Lord in this new chapter of my life," says Machado. "I am blessed to be working with a team whose main priority is to serve the Lord."
Machado's main purpose in life is to serve the Lord and His Church. His heart has always been about serving the Lord. His desire is to be a good steward, and a tool in the hand of God as he endeavors to turn complex problems into healthy solutions.
"Dr. Machado has already evidenced extraordinary abilities as an organizer and capable administrator," says Ron Smith, D.Min., Ph.D., president of the Southern Union and chair of the combined election committee. "His love for God and passion for Church growth will be a welcomed focus in our vast territory. We certainly embrace him, and will pray for his success as president of Florida Conference."
The Lord has blessed Machado's ministry from the days of holding offices in his local church, to pastoral service, and then leading to administration positions on the conference level of lay ministry coordinator, ministerial field secretary, vice president of Spanish-language ministries, assistant to the president, and executive secretary. He has admirably served as interim president since April 22, 2018, when Mike Cauley resigned this post because of health issues.
The Machado family includes Allan's wife, Elsa; two sons, Alan and Erich; and one daughter, Tatiana. As this family takes over the leadership role in Florida Conference, members are asked to show support in prayers and encouragement.

Gladys Neigel is Southern Tidings contributing editor for Florida Conference content.
Florida | August 2018