by mAriel lombardi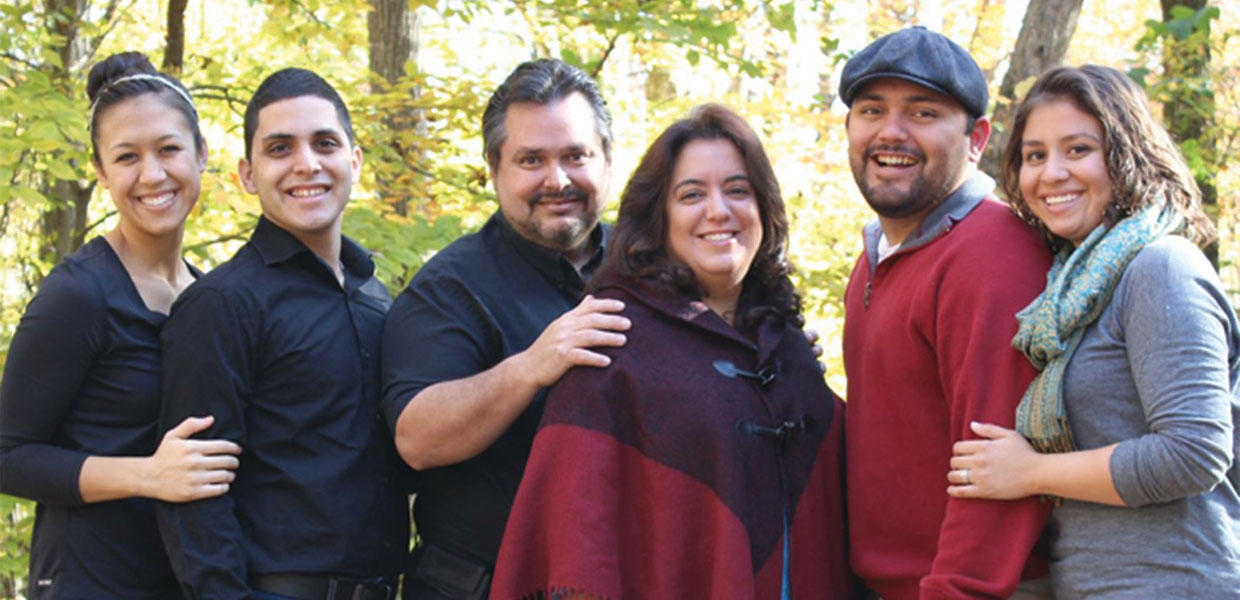 The Tirado family includes daughter-in-law Carly (left), son Eric, Miguel, Mayra, son Miguel Jr., and daughter-in-law Jessica.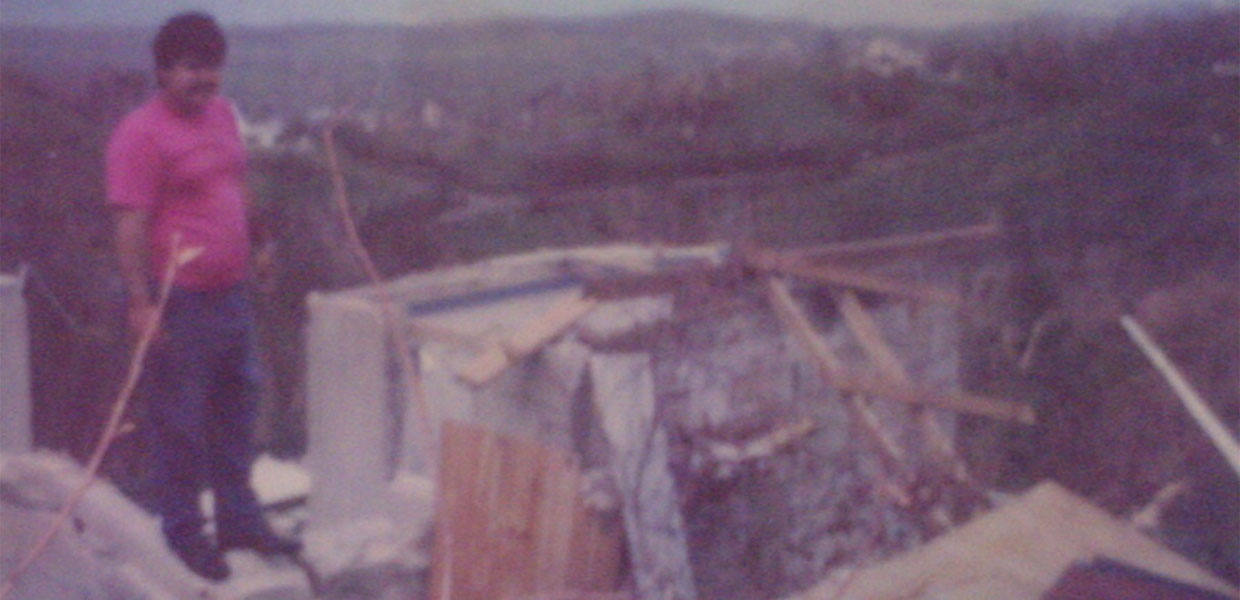 Miguel Tirado is shown in Luquillo, Puerto Rico, in September 1989, after Hurricane Hugo destroyed his home.
Miguel Tirado lived in Luquillo, Puerto Rico, a very picturesque village surrounded by hills and abundant vegetation. He attended the local Adventist church, had a house, a very nice family, and a stable job. He never imagined any changes in his location or lifestyle. However, man proposes and God disposes.
In September 1989, Hurricane Hugo passed through the island wreaking havoc. Returning to his home, Miguel found the sad reality that it no longer existed. His home had been totally destroyed. As if this was not enough, since the storm had generated a critical situation everywhere, many companies had also suffered damage, and he lost his job. It was a desperate situation. A sense of helplessness seized him.
Sabbath came and the family went to church. Most of the men testified how God had protected their homes. Prayers of gratitude were shared about the Lord's care for His own. Miguel left church that Sabbath feeling even more depressed. Somehow he must have not been among God's children, he thought. The Lord had protected everybody but him. He had to rethink his whole life, and decide what he was going to do. Together with his wife, Mayra, he decided to become more actively involved in the activities of the church, and to seek God's will for their future.
Soon the pastor noticed that Miguel had the gift of teaching and communicating ideas clearly, and that his desire to collaborate had grown considerably. Seeing that he was now in the process of finding a course for his life, he thought it appropriate to make him aware of this gift, and invited him to think about going to the seminary to study theology. Miguel was surprised since this thought had never crossed his mind. At first he resisted the idea. But, he and Mayra prayed about it. After a few days, they decided to go to Andrews University Theological Seminary in Berrien Springs, Michigan.
Miguel began to study with great enthusiasm. The road was not easy, considering that he had a family to take care of. However, the couple was determined to follow the plan that they were sure God had laid out for their lives. The financial situation was not comfortable, but they managed to survive. With a little time still left to graduate, the coffers began to hit rock bottom. They did not know how they were going to survive. They fell behind in tuition payments. One day a letter arrived from the University informing him that he had a few days to make his tuition payments current, or he would not be able to continue his studies. As always, they joined in family prayer. They fervently asked God to help them pay the debt. The next day they started their regular activities, and when the mail came, they found an envelope with a check. They were curious to find out who had sent it and why. No one owed them money. As they opened the envelope, to their surprise they found that the check had been written for the exact amount they needed to pay Miguel's past-due tuition debt. When they looked at the date the check had been dispatched, they noticed that it had been sent days before they had received the letter from the University's Finance Department, and days before they prayed for this money. With an indescribable joy in their hearts, they clearly saw that God is willing to answer prayers before they are lifted.
The Tirado family had put their lives in God's hands, and they were willing to use their talents for His service. God kept His promise.
"And before they cry, I will answer; While they still speak, I will have heard," Isaiah 65: 24, 25 NKJV.
Miguel finished his studies and graduated with a master of divinity degree. He and Mayra are developing a powerful ministry at the Georgia-Cumberland Conference, where he serves as director of the Hispanic Ministries Department.

Mariel Lombardi is the SURF customer service and accounts manager at the Southern Union in Norcross, Georgia.
Southern Union | August 2017