by Tierra Hayes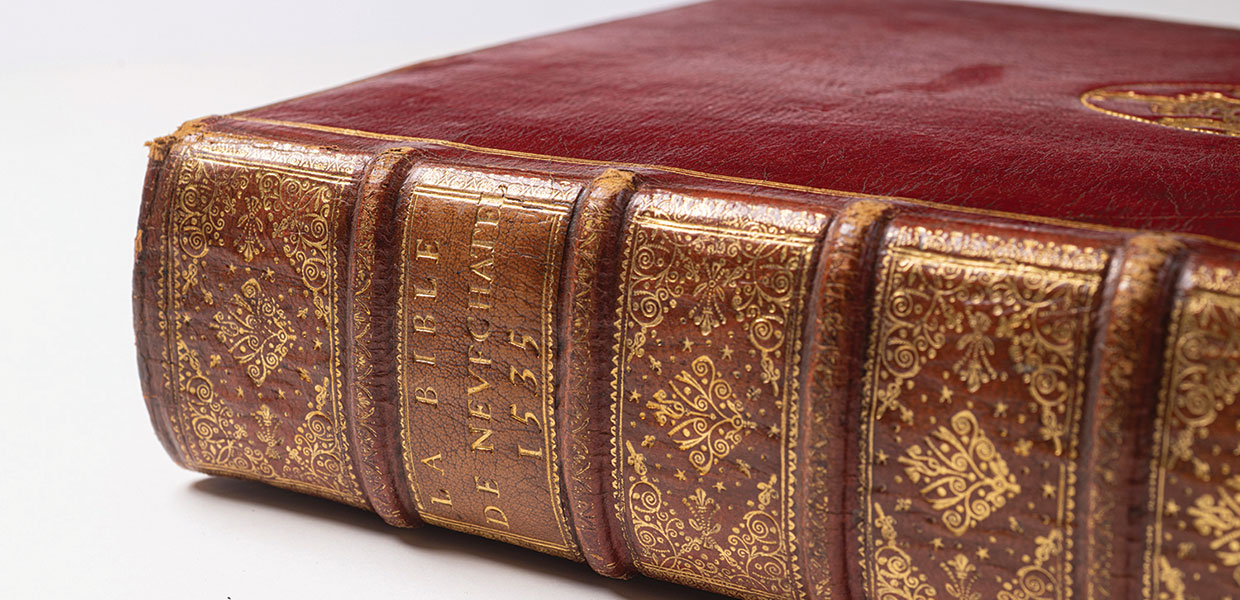 On display in the "From Script to Scripture" exhibit at Southern, the Olivitán is a pre-reformation French Bible from 1535.
Terry Henson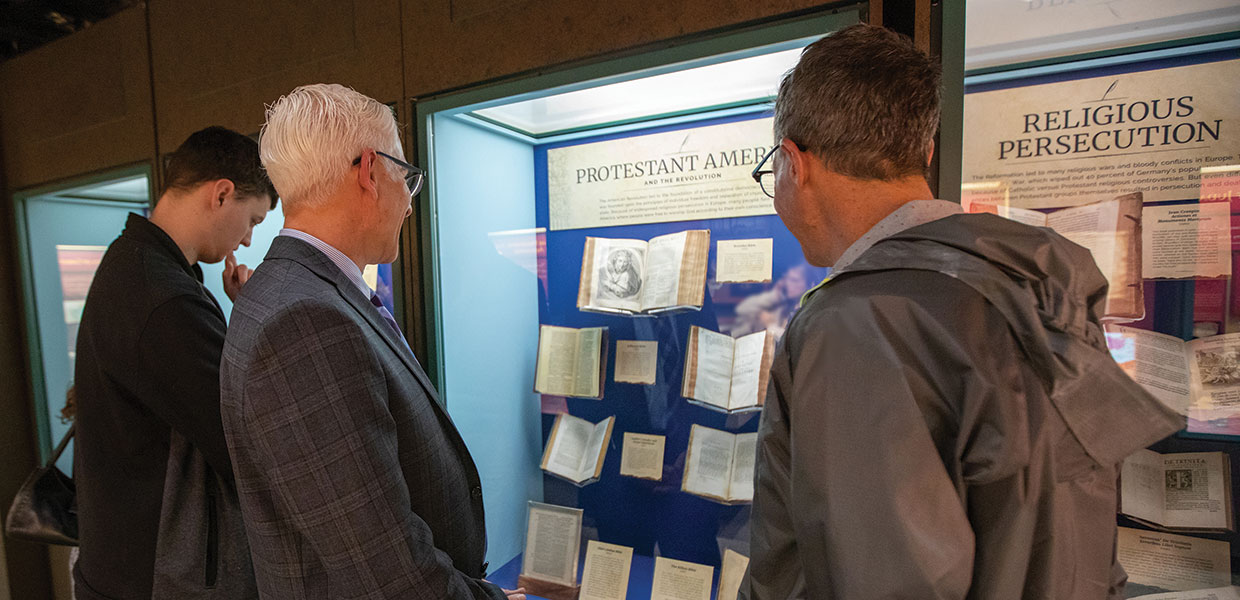 Michael G. Hasel, Ph.D. (center), curator of the museum, answers visitors' questions.
Ryan Pierce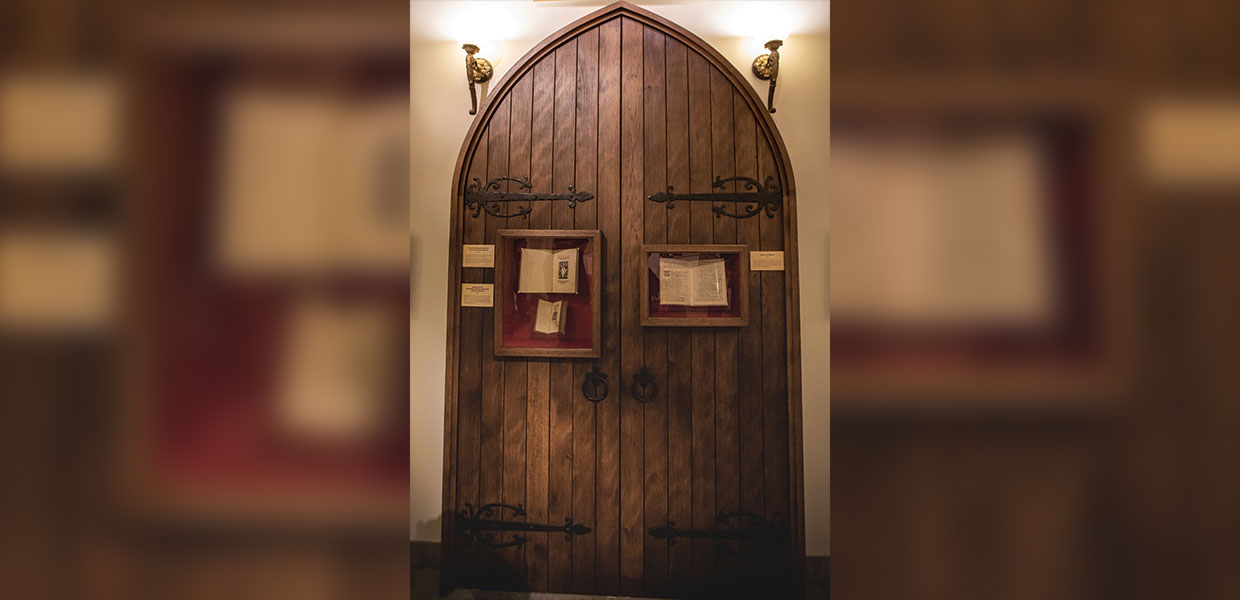 On a replica of the Wittenberg doors hangs an original printing of Martin Luther's 95 Theses.
Ryan Pierce
To access the Bible today, you might download a free app to your smartphone, visit a free website, or purchase a printed Bible on Amazon for as little as $1.99. Yet just a few hundred years ago, only Catholic priests could access the printed Word of God, and millions of individuals sacrificed their lives to make the Bible available to the common people. Inspired by this sacrifice, Southern Adventist University opened a new temporary exhibit titled "From Script to Scripture," bringing this history to life through original rare Bibles, manuscripts, art, and more.
"I'm very excited about this particular exhibit because to me it highlights the reason why we are here as an institution, as a church," said Michael G. Hasel, Ph.D., director of Southern's Institute of Archaeology and curator of the Lynn H. Wood Archaeological Museum, where the exhibit is located. "It shares the legacy of the millions of people who gave up so much of their freedom, and even their lives, to preserve the Bible so that we could have it today."
With approximately 80 items on display, visitors take a journey through the history of printing the Bible, and explore the innovations of the alphabet, the printing press, and modern technology that have made the Bible the best-selling book of all time. They can view a 1535 pre-reformation French Bible called the Olivitán, a complete 1611 King James Version Bible, and leaves from a Guttenberg Bible and from the first Bible ever printed in North America. Also featured are many works significant to the Protestant Reformation, including an original printing of Martin Luther's 95 Theses on a replica of the Wittenberg doors.
The exhibit opened to the public on January 15, 2020, and will remain on display until April 2021. Individuals and school groups alike are welcome to visit for free; more information, including museum hours, is available at southern.edu/archaeology.
Emely Mejia, a senior art therapy major who works at the museum, feels that the display can expand any visitor's walk with God.
"If the Bible is something that we as Christians say we believe," she said, "then we should know its history."
For Hasel, the exhibit directly aligns with the mission of Southern as it highlights the lives of reformers and agents of change, such as John Calvin and Martin Luther, who were not much older than the average Southern student when they impacted the course of history.
"I hope the exhibit will inspire young people," Hasel said. "Sometimes we think that in order to do something great for God we have to be older or we have to have more experience, but it's very exciting to see that many of these thinkers, many of these revolutionaries or reformers, were young people who were very convicted by the Word of God to create change that would bring about hope and light."

Tierra Hayes, originally from Athens, Georgia, is a senior mass communication major at Southern Adventist University in Collegedale, Tennessee.
Southern Adventist University | March 2020