by joel honoré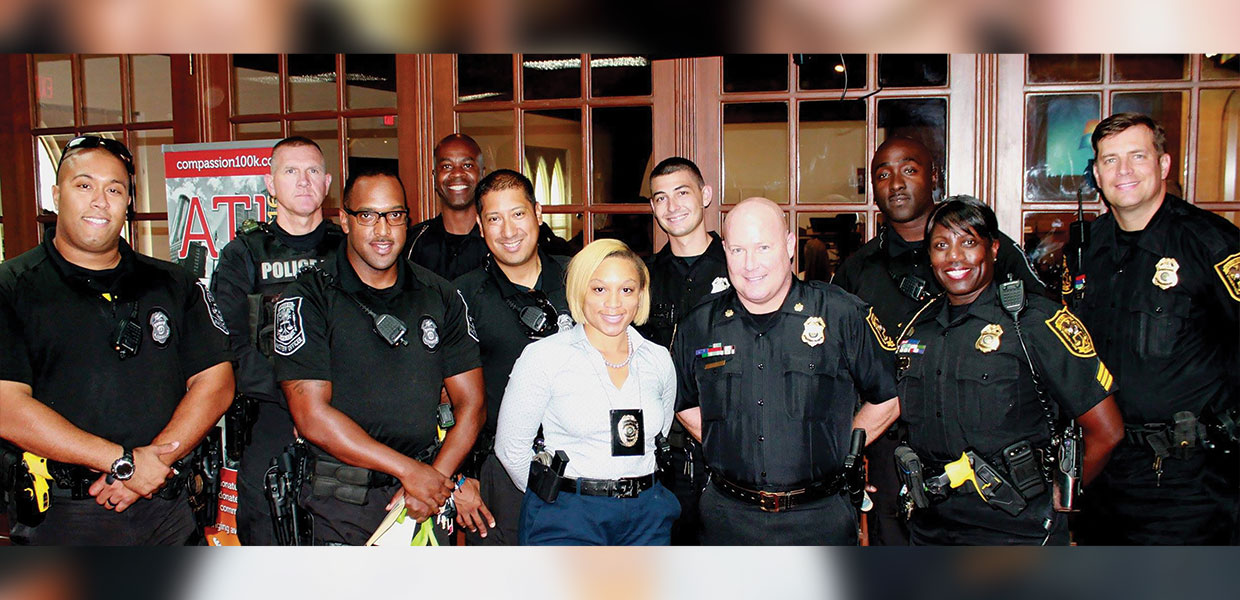 Stone Mountain, Georgia, Church members hosted the Community-Cop Talk with the DeKalb County Tucker Precinct police during the annual event.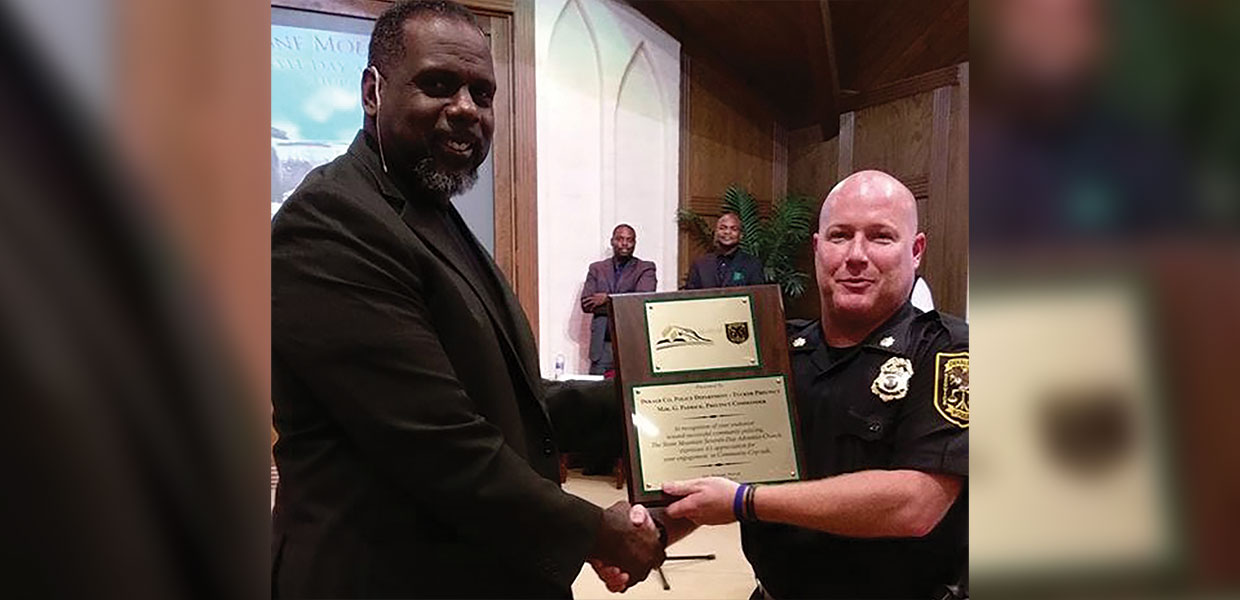 Joel Honoré (left), senior pastor, presents a plaque to Major Gregory Padrick, a police officer in DeKalb County.
If you had visited the Stone Mountain, Georgia, Church on Sabbath, October 20, 2018, you would have seen uniformed police and worshipers singing, praying, and eating fellowship dinner together. What was going on, and why? It was the third annual Community-Cop Talk Day.
The annual event began in the aftermath of the 2016 police shootings of Alton Sterling and Philando Castille. Cop Talk was a community dialogue initiated at a time of heightened tensions between black communities and law enforcement departments across the country.
The names of Eric Garner (Staten Island, New York, 2014), Michael Brown (Ferguson, Missouri, 2014), Laquan McDonald (Chicago, Illinois, 2014), Tamir Rice (Cleveland, Ohio, 2014), Walter Scott (North Charleston, South Carolina, 2015), Freddie Gray (Baltimore, Maryland, 2015), and Sandra Bland (Prairie View, Texas, 2015), cases of excessive use of force by law enforcement, were much too common in the media.
At that time, the Stone Mountain Church sought to address the issue of oppressive policing. Simultaneously, Major Gregory Padrick, commander for the Tucker Precinct of DeKalb County Police, was seeking to ameliorate community relations within his precinct. Consequently, an open conversation was started at Stone Mountain Church with the police department and the public. The result has been an ongoing relationship between the church, the community, and the police.
Community-Cop Talk serves to humanize, rather than objectify, both residents and law enforcement officers. The meetings allow residents and police to engage each other under non- threatening circumstances. Organizers have sought to familiarize the police with the community in order to minimize unnecessary incidents of violence. By worshipping and eating together on Community Cop-Talk Sabbaths, the Stone Mountain community is given the opportunity to have positive interaction with its police force.
"You have heard that it was said, 'You shall love your neighbor and hate your enemy.' But I say to you, love your enemies, bless those who curse you, do good to those who hate you, and pray for those who spitefully use you and persecute you, that you may be sons of your Father in Heaven; for He makes His sun rise on the evil and on the good, and sends rain on the just and on the unjust," Matthew 5:43-45.
With those words, Jesus taught His followers how to neutralize the oppressive powers who governed them. In the same spirit, Community-Cop Talk has given Stone Mountain Church the opportunity to demonstrate love to those who have been painted as the enemy. At Stone Mountain Church love is defined as, "Acting in the best interest of the other party." That is a formidable challenge when the other party is seen as a threat.
By providing non-threatening contexts for enabling familiarity, Community-Cop Talk serves to reduce violence by and to police officers. The reckless and criminal acts of some police officers throughout the country have created distrust and resentment throughout many minority populations. Such distrust has incited fears and increased the likelihood of further violence. Love and civility serve to calm anxieties, expose evil, and foster understanding.
It is the desire of both the Stone Mountain Church and DeKalb County Police Tucker Precinct to have zero incidences of unwarranted shootings within its sphere of influence. Each entity is committed to using its influence to better its environment. By continually bringing people together for safe and cordial interactions, both parties see themselves improving their communities.

Joel Honoré is the senior pastor of the Stone Mountain, Georgia, Church.
Southern Union | March 2019