by roger alvarez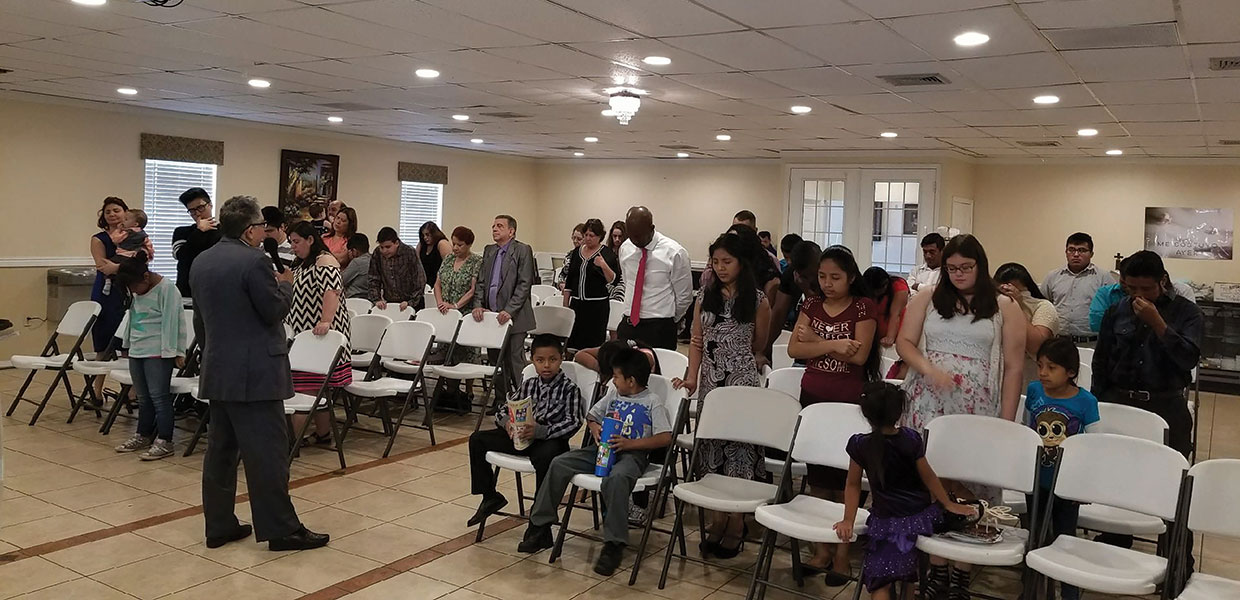 Members of the new Maranatha Hispanic Church in Fort Meyers, Florida, gather for worship. Maranatha has also secured a permanent place for worship.
Roger Alvarez
Es muy grato para nosotros la comunidad Hispana de la Conferencia del Sureste, plantar tres nuevas congregaciones durante el año 2017. En nuestro objetivo no estamos solos, pues la Unión del Sur y la administración de la Asociación del Sureste nos han apoyado financieramente, proveyendo las herramientas que necesitamos para lograr este gran sueño.
Nuestra primera iglesia fue plantada en la ciudad de Pompano Beach, Florida bajo el liderazgo del Pastor Milkos Hidalgo. Pompano Beach es una de las ciudades del condado de Broward. Según el más reciente censo, el total de la población es alrededor de 99,845 habitantes de los cuales el 15.54% son Hispanos. El Todopoderoso nos ha bendecido con un hermoso grupo de 40 personas listas para ser promovidos al nivel de compañía.
La segunda iglesia fue plantada en la parte Sur de la ciudad de Tampa, bajo el liderazgo del Pastor Abel Morrobel y Plinio Cruz. Tampa es una ciudad situada en la costa Oeste del estado de La Florida. Hoy contamos con una iglesia naciente con 30 personas, y esperamos que también esta segunda compañía sea inaugurada en el mes de diciembre.
La tercera iglesia fue plantada en la ciudad de Fort Myers, con 77,146 habitantes de los cuales el 32 % son Hispanos. En estos momentos está naciendo nuestra nueva iglesia Hispana con 28 personas bajo el liderazgo del Pastor Daniel Olaciregui. Por la gracia de Dios estaremos celebrando nuestra ceremonia de inauguración como compañía el próximo mes de enero del próximo año, 2018.
Apreciamos sus oraciones. ¡Maranata Cristo viene pronto!

Roger Alvarez is the Hispanic ministries coordinator for Southeastern Conference.
Southeastern | December 2017