by Jordan Soliday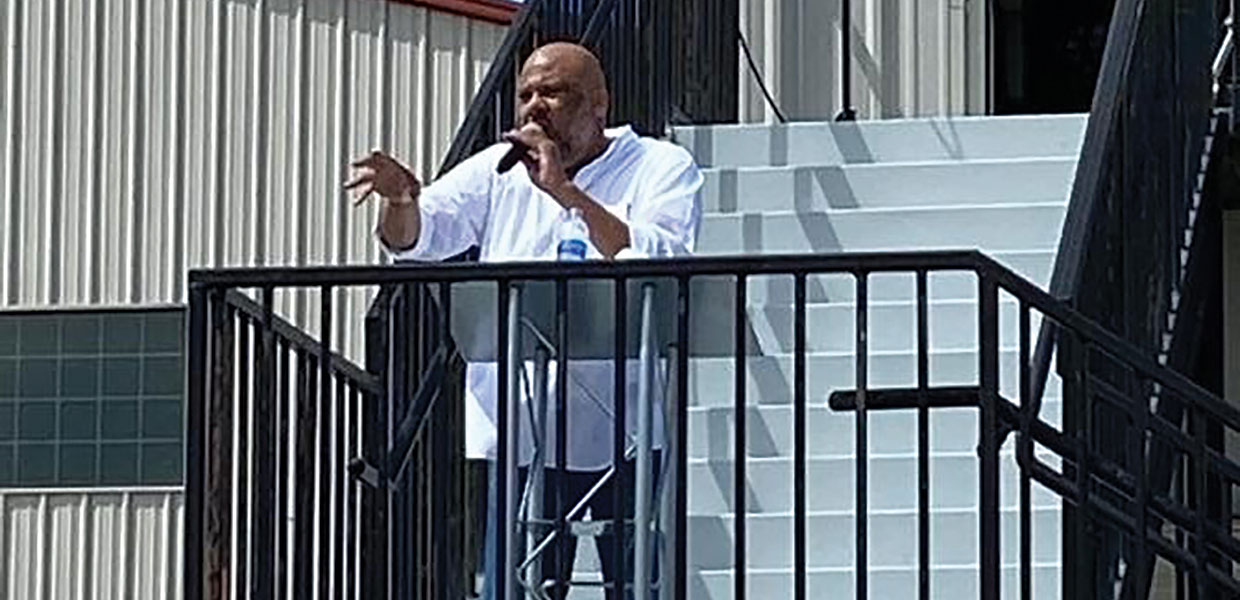 James Doggette Sr., senior pastor at Patmos Chapel in Orlando, Florida, and his ministry team share God's Word.
Jordan Soliday
Patmos Chapel members respond to COVID-19 with their drive-in church. Every Sabbath, Patmos has hosted several hundred cars and fed hundreds through the in-car food bank.
Jordan Soliday
Just hours before launch, the inaugural worship service in Patmos Chapel's newly purchased building was cancelled. No one could have planned on coronavirus spreading across the globe in a matter of weeks, disrupting organizations, institutions, and churches.
"God, what are you doing?" James Doggette Sr., senior pastor of Patmos Chapel Church, asked. It just didn't make sense. Then Doggette received a strange text from his son, James Doggette Jr., who is also a pastor. "There's this church in Daytona, Florida, that doesn't worship in a building. They're outside. They worship in cars. It's like a drive-in theater," James Jr. said.
Doggette wasted no time as he and his son rose early the next morning to road trip to the drive-in church service in Daytona. A few days later, on Sabbath, March 21, 2020, Doggette and his co-pastor, Rupert Bushner, launched Patmos Chapel's first ever drive-in worship service.
People in comfy clothes parked their cars and tuned to 88.7 FM to listen to the pastoral and worship teams lead out. They honked their horns in applause, creatively inviting the presence of the Holy Spirit. It was raw, emotional, and powerful. Since that Sabbath, not only has Patmos Chapel hosted several hundred cars at their drive-in worship, but also fed more than a thousand families in the area through their in-car food bank.
The coronavirus is a pandemic, a terror that will change the world forever, but something unforeseen is emerging. The Church is changing too; and, it may never be the same.
"I heard as it were the voice of a great multitude, the voice of many waters, and the voice of much thunder, saying … 'The Lord God Almighty reigns. Let us be glad and give honor to Him. For the marriage of the Lamb is come. His wife — the Church — has made herself ready'" [emphasis added], Revelation 19:6, 7.

Jordan Soliday is a church member at Patmos Chapel.
Southeastern | August 2020