by james lamb, ph.d.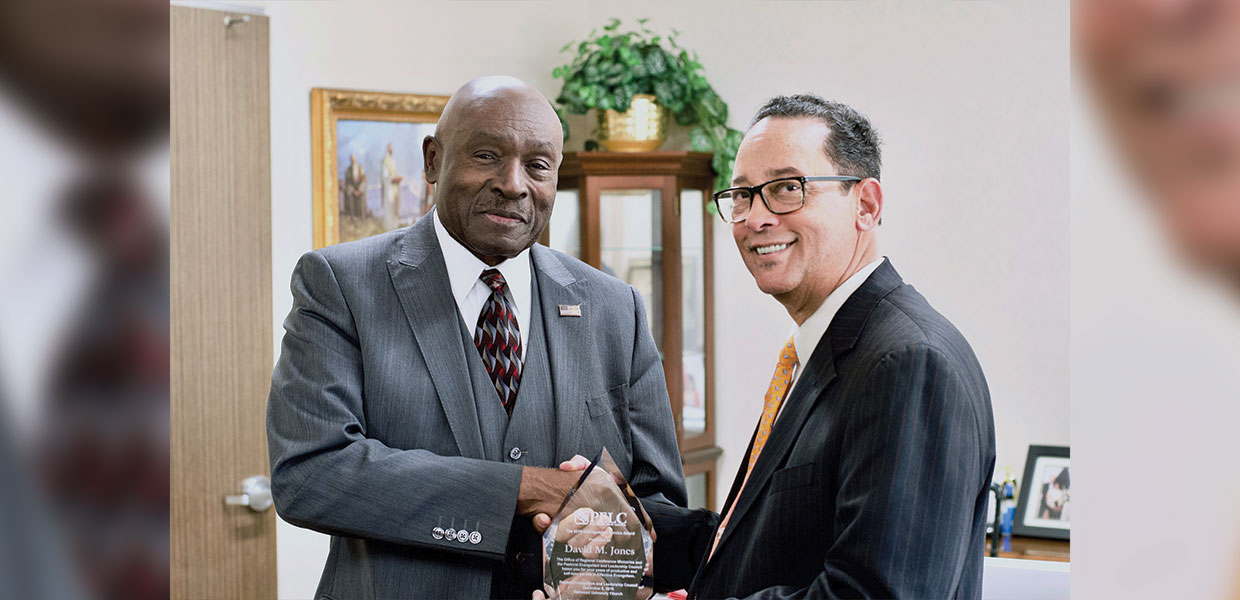 William Winston (right), president of the South Atlantic Conference, presents David M. Jones, Conference director of health ministries and archivist/historian, with a plaque from the Pastors' Evangelism and Leadership Conference, held annually on Oakwood University's campus in Huntsville, Alabama.
David M. Jones, pastor, affectionately known as "D.M.," was recently the South Atlantic Conference's honoree at the Pastors' Evangelism and Leadership Conference (PELC), held annually on the campus of Oakwood University, Huntsville, Alabama, for his many years of full-time active ministry. And, there are no signs of him slowing down.
Jones was born in Jacksonville, Florida. His parents believed in Adventist Christian education, and he attended Ephesus Junior Academy in Jacksonville, for elementary and junior academy. Afterward, he attended Pine Forge Academy for high school, and then Oakwood College (now Oakwood University) where he received a bachelor of arts degree in theology. He continued his studies at Andrews University in Berrien Springs, Michigan; the Institute of America in Bible Philosophy, Kansas City, Missouri; and the Georgia Baptist College & Theological Seminary in Atlanta, Georgia, where he received an honorary doctor of divinity.
During his ministry, he has served the Seventh-day Adventist Church as a literature evangelist, Bible worker, pastor, teacher, and evangelist. His service also includes director of security and medical for the Southern Union Conference, North American Division (NAD), and the International Pathfinders Camporee. He served in the South Atlantic Conference as director of Sabbath School and children's ministries, safety officer, and vice president for administration (the first to serve in this capacity in the Conference). Currently, he serves as director of health ministries and archivist/historian for South Atlantic.
During his ministry, he organized and built several churches, as well as a new school building. He has served on numerous committees and boards. His professional emphasis has not only been in pastoral ministry, but health and safety as well. He is an NAD certified lifestyle consultant, served as the chairperson of the Offender Aid and Restoration-Eastern Division of North Carolina, and has been a member of the Mayor's Minority Affairs Committee in several cities where he's pastored. He has served the community as a chaplain for the police or sheriff's office in each of his districts, and presently serves the Newton County, Georgia, sheriff's office.
The highlight of his ministry was baptizing his mother, father, and aunt during one of his evangelism crusades. He has also baptized individuals who later became Adventist pastors.
Jones is married to the former G. Delores Monroe of Pittsburgh, Pennsylvania. They have three adult children, Denise, Darlene, and David II; and three grandchildren, Desiree, Darkari, and Daylin.
Jones loves people and enjoys being called "pastor." He believes when you are called to be a minister of the Gospel, you do it to make history, not to make money. Jones appreciates his calling and has baptized more than 2,500 individuals for the Kingdom of God.

James Lamb, Ph.D., is the human resources director and communication director at the South Atlantic Conference in Decatur, Georgia.
South Atlantic | March 2020