by Alva James-Johnson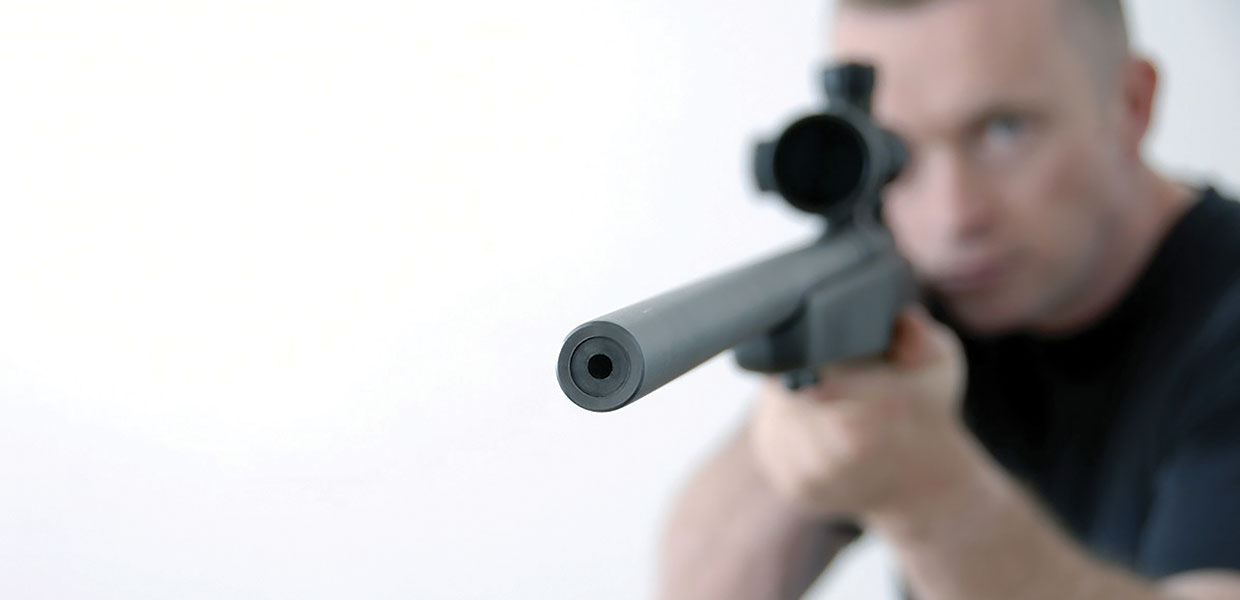 Church Shootings in America
It's a scenario that seemed unimaginable just a few years ago — a gunman walking into a house of worship to slaughter the faithful.
But, in the wake of horrific church shootings in Charleston, South Carolina; Antioch, Tennessee; and most recently in Sutherland Springs, Texas, where 26 people were massacred, churches face a new reality. Once considered places of refuge, sacred buildings are not off limits when it comes to violent crime. In fact, churches can be among the most vulnerable of places if proper precautions aren't taken.
Vilma Reynolds, Adventist Risk Management account executive for the Southern Union, said Seventh-day Adventist congregations aren't immune from such tragedy, and many church leaders are concerned. She receives emails from pastors daily asking what they should do to better protect worshippers.
"Times are changing; it's not business as usual anymore," Reynolds said. "We can't just sit there and not be aware of the risks in the world."
In the aftermath of the November 5, 2017, shooting at the First Baptist Church in Texas — the worst in American history — Reynolds sent an email to conferences within the Union, warning them that safety must become a priority.
"Violence in our churches continues to be a pressing matter, as the recent shooting at a Texas church reminds us," she wrote. "This is why Adventist Risk Management, Inc. (ARM) encourages local churches to practice regular safety drills and implement risk management procedures."
The email included a compilation of resources to help churches improve safety preparedness for a potential emergency, disaster, or attack. Reynolds also encouraged conference officials to disseminate information about a Safety Sabbath scheduled for March 2018 throughout the North American Division, and she encouraged congregations to register at SafetySabbath.com.
"ARM is providing resources for: Active Shooter, Earthquake, and Fire Drills," she wrote in the email. "… This is a practical way to implement a tone of risk management into the daily life of the local congregation."
Reynolds said there are a couple of conferences in the Southern Union that are already seeking to have security guard coverage through risk management, which can be an expensive proposition. Some conferences may require churches that choose the coverage to absorb the additional expense.
While that might not be an affordable option for all churches, she recommends that each church appoint a safety officer to lead the congregation in safety preparedness efforts, and to establish relationships with local first responders such as police, fire, and EMS workers. She said some churches have tapped Pathfinder leaders for that role since they're already involved in such training.
"We do not have liability coverage for any weapons in the Church," she said, "so we suggest that weapons not be in the churches unless, of course, they are carried by police or retired police officers."
Bill Wells is the security director for AE Global Media in Charlotte, North Carolina. The company designs, installs, and maintains technology in worship spaces at more than 2,700 churches worldwide. He conducts worship facility safety seminars and training for congregations. Some Adventist leaders have participated.
Wells said the frequency of recent church shootings has heightened everyone's awareness about the potential danger that congregations face in today's world. He said sexual abuse of a minor, personal injuries, financial issues, and other church liabilities are much more rampant than shootings, but the recent spate of violence has convinced leaders to re-evaluate their safety measures.
"The things you see on the news are probably the things you don't have to worry about; they're on the news because they're out of the norm," Wells said. "But, the reality is there are people that want to hurt the body of Christ, and we're just seeing more shootings on the rise. Anytime that happens, we have more and more churches calling us up and saying, 'Help us out. What do we do?'"
People believe churches always should be open to the community, Wells said, and that makes them very vulnerable.
"I think it just makes us a soft target, and that's the big thing that I talk about in the classes — hardening the target," he said. "There's a 45-second rule that I learned years ago, and it's if you can deter someone from committing a crime or coming onto your property to do harm for 45 seconds, there's a 95 percent chance they will go somewhere else. Our big thing is: What's your plan?"
So, what can congregations do to build a safety barrier around their churches?
Wells recommends adopting a "centric circle philosophy," dividing church grounds into perimeters. The outer perimeter secures large zones such as church parking lots and sidewalks. The middle perimeter secures areas between the inner and outer rings, to include church foyers, halls, and secondary rooms, for example. The inner perimeter secures immediate areas used mainly by pastors and other leaders, such as the sanctuary and offices.
Wells said it's also important to develop a security ministry team. The group should include parking attendants, greeters, ushers, and others who have first contact with people entering the worship space.
"One of the most disarming thing is a smile, and to shake someone's hands and say, 'Hello,'" he said. "If they're stressed out, you can just bring them some peace."
With greeters and parking attendants involved, it's easier to notice when something is amiss. Wells said those furthest from the building should have radios or some device to communicate with others on the outside. The goal is to prevent a problem from entering the building.
"If they see a dispute in the parking lot, they should have someone competent enough around to help resolve the dispute; you don't want to bring it inside," he said. "So, you're working from the outside in, being aware of people's situations and how they're feeling. If the problem is in the lobby, don't let it come in the sanctuary.
"You may just be a parker and a greeter with a smile, but your job also may include being aware if you see something that just may not seem right," he added. "If you see a guy putting a mask on, for example, communicate that to the next level of the circle, so they can be aware of what to look for and determine how to deal with it."
Wells said churches should identify weak spots and areas of concern, paying close attention to areas where children, youth, money, and parking lots are located. And, he suggests taking the following steps:
Create a church security plan.
Install church video surveillance inside and outside of the property.
Never allow an adult in children's areas without proper identification.
Make sure to have a plan for Sabbath services in the event of a shooter, fire, or other incident.
Ask a local police officer to do a walk-through of your facilities and offer feedback.
Train all leaders on how to respond to emergency situations.
Define an official spokesperson for the church.
Ensure emergency lights are installed and tested around the entire campus.
Create public and private wireless networks that use different routes.
Designate someone "official" to patrol the parking lot regularly.
Don't allow volunteer leaders to work alone in the church building.
Test your security systems and routines at least annually.
Create a clear protocol for handling money.
Make sure people handle money in groups rather than alone.
Never assume everything is fine and doing well.
Church Safety – Active Shooter Safety in English or Spanish

Alva James-Johnson is a reporter and columnist at the Ledger-Enquirer in Columbus, Georgia. For more of her writing, visit \www.facebook.com/AlvaJames-JohnsonLedger.
Southern Union | January 2018