By Lucas L. Johnson II is a former reporter for The Associated Press. He is also author of the book, Finding the Good. Freelance writer and editor Alicia Jenkins Johnson contributed to this article.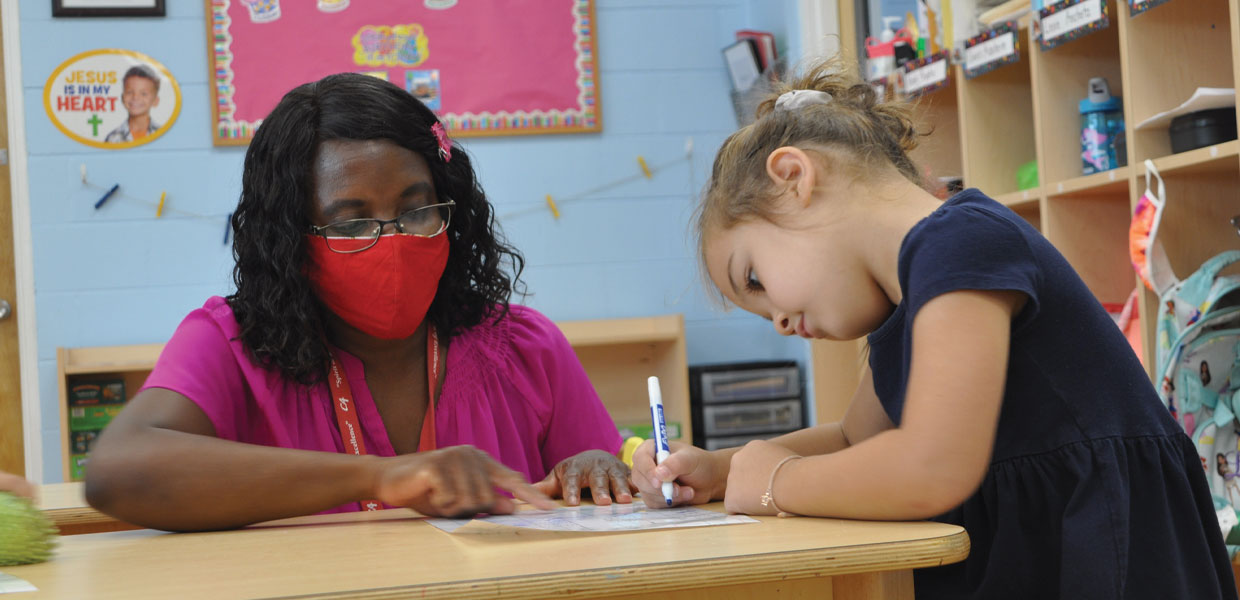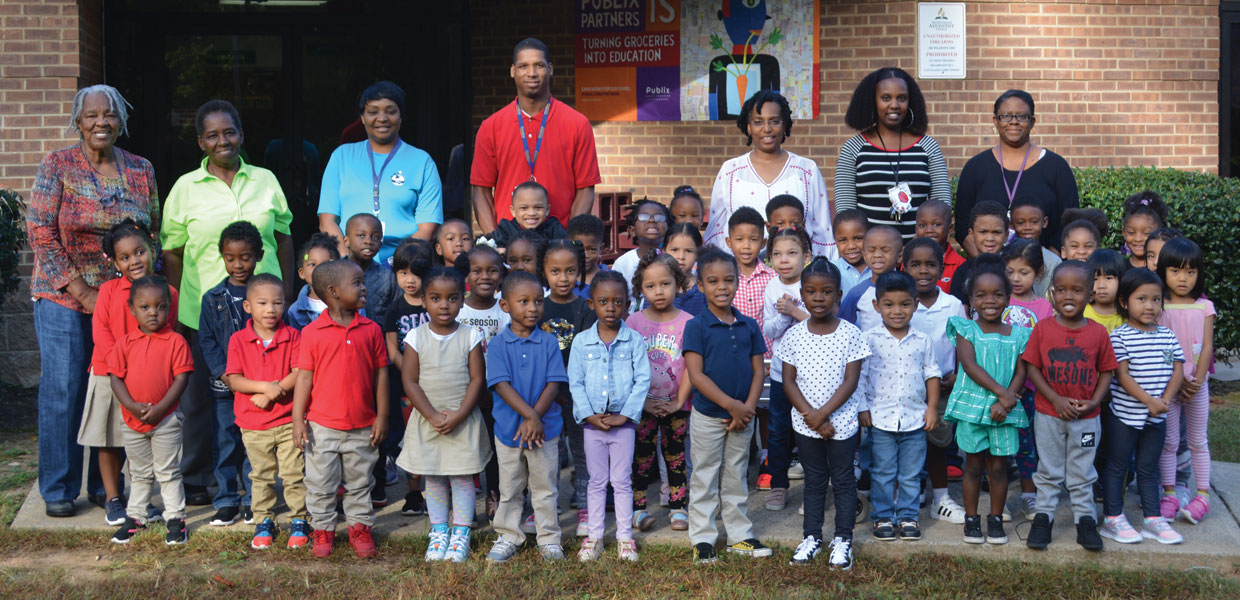 Fressia Medina Greenbaum's round-trip commute is 80 miles, five days a week. She's under-paid, and her days are often long. But, she's not concerned about that, or the amount of money she makes, because the precious jewels in her care are priceless.
"It's all about the children," says Greenbaum, an early childhood director at Ephesus Christian Child Center in West Palm Beach, Florida. "I love working with them. I love teaching them."
Greenbaum serves with a special group of people. She is one of about 400 early childhood educators in the Southern Union Conference, which has 41 Seventh-day Adventist child care centers. More than 1,500 children, birth to age 5, are enrolled at the centers. Most of them are children from other faith communities.
Carolyn Preston is director of Northeast Christian Preschool Academy in Charlotte, North Carolina. The program had to close recently because the coronavirus pandemic drastically reduced the number of students attending. However, when there was full attendance, Preston says about 95 percent of the children were from other faith communities. She and her co-workers saw that as an opportunity for evangelism.
"We teach our children Bible Scrip- tures; we teach them to obey their parents and the Lord," says Preston. "And, seeing them carry the Gospel back to
their parents is just amazing."
She recalls one parent actually being converted. The woman became interested in the preschool and Seventh-day Adventist Church, says Preston, because she was impressed with her child's knowledge of the Bible, and the songs she would sing when she came home.
One day, the woman's mother passed. Preston told her pastor about the loss, and he, along with other church members, reached out to the woman and treated her with compassion.
"She said we did more for her than her own church," recalls Preston. "She said, 'It's time to make a change. This should be my church family,' and she joined our church (Northeast Church)."
Karen Pires, director of Jellico Christian Academy in Jellico, Tennessee, says sharing the love of Christ with children is a great joy, but reaching their parents is an added blessing.
"It's a mission outreach," says Pires. "Some of them (parents) ask what do you believe about the Bible, about Sabbath, about death? Some of it the children are taking home. But, some of it is because we have spent time nurturing friendships with these people."
Tamara Libonati is director of early childhood education for the Southern Union Conference. She says early childhood educators in the conference often do more than what they are asked.
"In addition to loving the children in their care, I've witnessed a director sending a low-income person to their center's kitchen to get a loaf of bread, food to take home," says Libonati. "Directors give Bible studies to their employees from other faith communities. The list goes on. They practice what Jesus taught: love, reach out, serve, minister to."
Even though it's a ministry for most of them, advocates for early childhood educators say they do not receive the compensation and common benefits given to their counterparts who have similar higher education degrees, and work at elementary schools and universities.
"So much research exists that states how the earliest years of a child are the most formidable, that children who start out in a healthy, positive, and caring educational situation will stay healthy, positive, and be successful in life, socially and spiritually," says Libonati. "It perplexes me why early childhood education and care isn't revered, or, at the very least, supported and treated equally in the educational system."
Greenbaum, who is working on a doctorate in organizational leadership, is an example.
"She's so committed," says Maxine Bowers, who chairs the school board at Ephesus Christian Academy, and volunteers at the center to assist Greenbaum. "She comes in early, works late. The children benefit from that kind of commitment."
Kimberly Smith is an expert in early childhood education and director of the Center of Excellence for Learning Sciences at Tennessee State University, which serves as the professional development hub for the state of Tennessee in child development and early childhood training.
She agrees that early child care workers set the "foundations of learning that last a lifetime," and that the salary range for degreed child care workers is "not comparable to their counterparts with the same levels of education who work with older children. That being said," adds Smith, "I think it takes an exceptional individual to choose to become an early childhood professional or child care worker. More importantly, it speaks to the passion of these dedicated teachers who commit to work with our youngest population of learners."
Libonati says that dedication is evident more than ever during the current pandemic. Child care workers are "essential service workers, right along with the medical, public health, and safety workers," she says.
"I had center directors in tears, not wanting to shutdown back in March and April, and opening back up just as soon as they were allowed with new protocols and safety measures in place," says Libonati. "These workers are also on the front lines. Because of them, many parents are able to continue working, with the peace of mind that their child is in good hands."
National Change May Be on the Horizon Earlier this year, for the first time ever, early childhood educators collectively de- fined the standards, qualifications, roles, supports, and compensation for members of their profession working with children birth through 8, according to a news re- lease of the action. They simultaneously call for significant increases in federal and state investments to ensure young children, families, businesses, and the economy are well-served by an effective, equitable, diverse, well-prepared, and well-compensated profession.
The Unifying Framework for the Early Childhood Education Profession (Power- ToTheProfession.org) was developed over the last three years by a task force of 15 leading national organizations, including the National Association for the Educa- tion of Young Children, which facilitated the collective effort. Together, these or- ganizations, which represent members of the early childhood field working across states, settings, and age bands, partnered with a diverse range of stakeholders, and more than 11,000 individuals to produce the Unifying Framework.
The framework is clear that, as policy- makers respond to the complex science of early learning by raising expectations and educational requirements for early childhood educators, the United States must simultaneously fund necessary supports, establish realistic timelines, and provide increased compensation that reflects the value, importance, and return on investment generated by early childhood educators' highly skilled work.
"Power to the Profession shows a commitment to elevating educators' voices toward a system that recognizes the cost of quality, invests in the education and compensation of the profession, and finances early childhood education as the public good that it is," said Karen Ponder, early childhood expert and chair of the National Task Force.
For the Love of the Children Jacqueline Maddox is a teacher at Emma L. Minnis Junior Academy in Louisville, Kentucky. She appreciates the national collaborative support for early childhood educators. But, regardless of whether she gets a raise or certain benefits, she's going to continue doing her job, and that's to give the children in her care the best start in life possible.
"It's not about the money," says Maddox, who's worked in public/private schools, and at one time owned and operated an in-home day care. "I tell people all the time that … if you're not prepared to be all things to these students, then you shouldn't get into teaching. You're not just their teacher, you're their parent, their social worker, their counselor, you're like everything to them. So, if you're not prepared to do that, then teaching is not for you. You should do it for the love of the children."
The care, and love, paid off for 30-year-old Shaunte Stewart. As a toddler, she attended then-Maranatha Day Care in Miami, Florida, where her par- ents moved from New York. Stewart says what she learned there was long-lasting.
"They incorporated in their lessons the respect and reverence of God, devotion, and praying," says Stewart, now a nurse. "Those things I still keep with me today."
One person in particular who had an impact on Stewart was Theslyn Brown, a worker at the day care. Stewart says Brown is the reason she and her family are Adventists.
"She would invite my parents to church," recalls Stewart. "She would say, it doesn't have to end Monday through Friday; you can also come and worship with us on Sabbath. And we did."
Decades later, Brown is still at it. She is director of the Maranatha Child Development Center in Miami Gardens, Florida, where she has worked nearly 40 years, and she's not stopping anytime soon.
"It's a mission field," says Brown. "I'm responsible for their development, and I enjoy doing it."
| November 2020