Florida Conference Partners With Loma Linda University to Create the Future of Adventist Education
by Robert Henley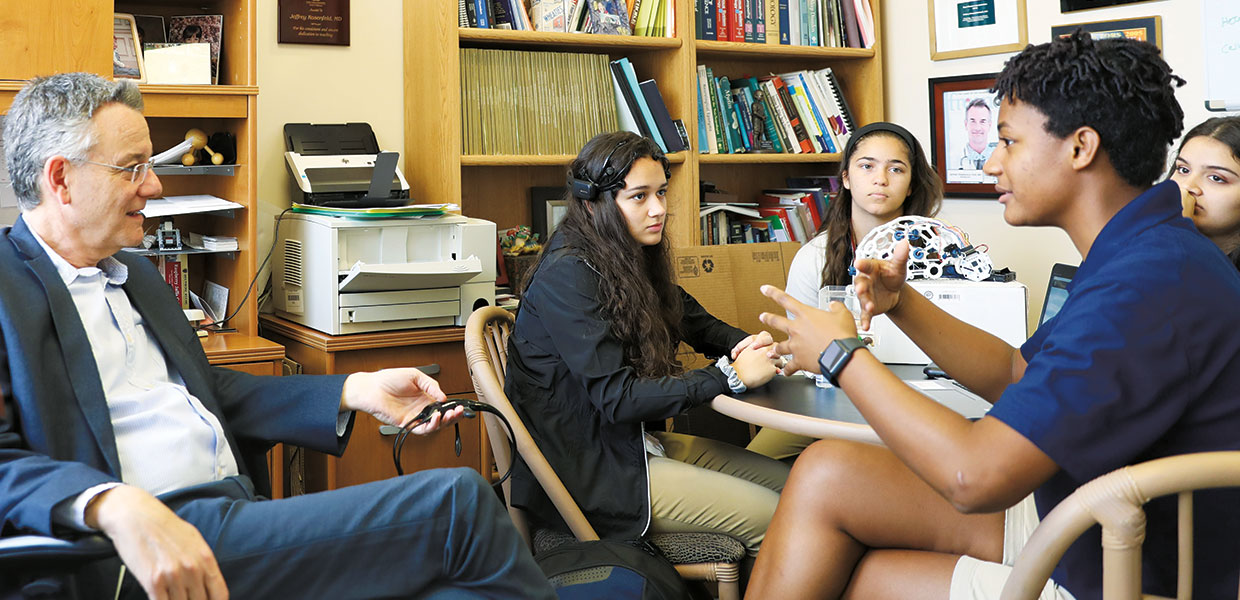 Taimane Henley (right foreground) and members of the Brain-Computer Interface Group discuss their research project. Also pictured from left: Jeffrey Rosenfeld, M.D., Loma Linda neuroscientist; Ally Hubbard; Adonna Andino; and Nicole Hubbard.
Robert Henley
Fifteen students from the Florida Conference Innovation Lab (FCIL) at Forest Lake Academy traveled to Loma Linda, California, to participate in the inaugural Loma Linda University (LLU) Biomechatronics Collaboratorium during the week of June 24-28, 2019. Organized into three research groups — Brain-Computer Interface, Virtual Reality, and Biomechatronics — they were paired with mentors specializing in each research area.
Brain-Computer Interface (BCI) Group
Two neurologists and two neuroscientists provided this group with insight on using a BCI device to harness brain waves to control assistive devices such as a robotic arm. At the completion of the event, students demonstrated the ability to use brain waves to move a virtual cube.
Virtual Reality Group
LLU Health Interactives worked with students to develop a solution for individuals suffering from phantom limb syndrome (PLS). The group produced a virtual reality system that reads signals from an electromyogram (EMG) device to enable lower-limb amputees to move a virtual limb in that environment, thereby decreasing the pain associated with PLS.
Biomechatronics Group
The Biomechatronics Group was divided into two teams:
One team worked with LLU Health Orthotics & Prosthetics Department and LLU Health Interactives to develop a game to read signals from an EMG device used to train upper-limb amputees to use their forearm muscles to control a robotic hand. The group developed a working prototype and the first iteration of the system.
The second group was tasked by LLU Health Orthotics & Prosthetics Department with developing a mechatronic device used to improve the rehabilitation robot that is currently being used at the Rehabilitation Institute.
Each group showcased their prototypes at the conclusion of the event during an Innovators Showcase. "We met with four different neuroscience professionals who each added a different perspective," stated Nicole Hubbard, BCI group member. "I had an educational experience that most other high school students would never have the opportunity to do."
"We are excited about LLU's commitment to K-12 Adventist education," stated Frank Runnels, Florida Conference vice president for education. "The partnership will help us take education in the Florida Conference to the next level."

Robert Henley is the innovation coordinator for the Florida Conference Office of Education.
Florida | September 2019