BY ADVENTHEALTH STAFF WRITERS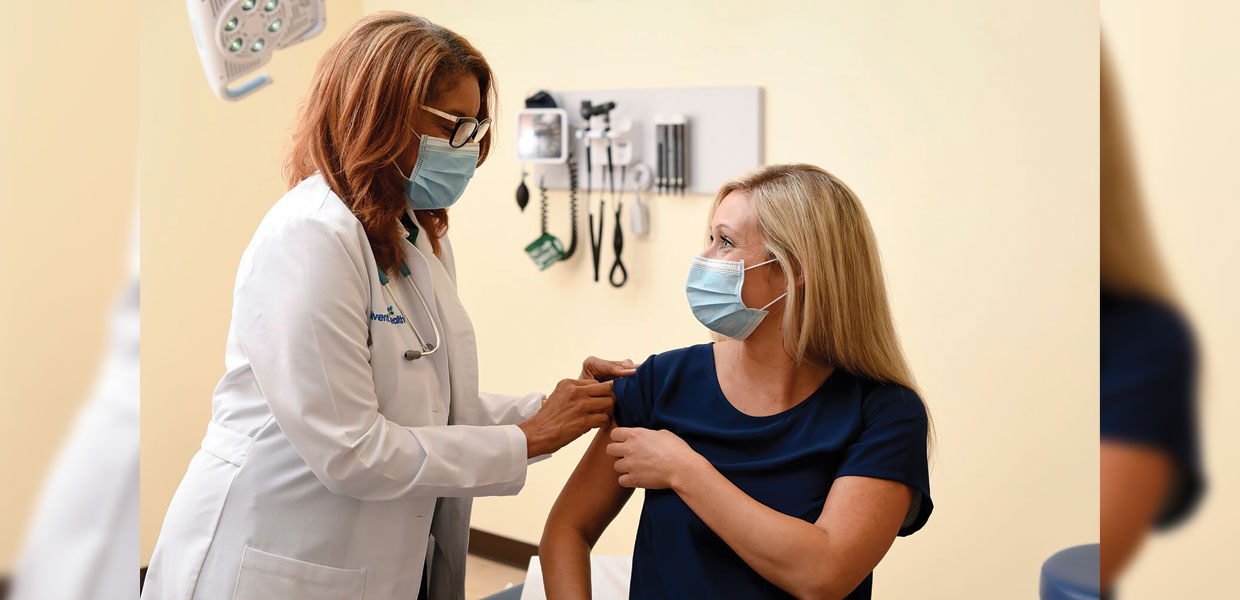 With a COVID-19 vaccine beginning to become available, many are deciding if and when they will be interested in taking it themselves. As the world watched an extraordinarily rapid development process paired with political dialogue on the topic, some Americans have drawn their own conclusions that contribute to hesitancy or even rejection of the vaccine. However, experts in vaccine safety who have studied the new COVID-19 vaccines are finding that they are safe and effective, meaning we may finally have a crucial tool to mitigate this pandemic — unless people don't use it.
Adding to the danger of vaccine hesitancy is the speed at which misinformation and non-evidence-based data can spread, due to its ability to stoke fear and shape opinions that are not based in fact or science. As part of the research and approval process, the Centers for Disease Control and Prevention (CDC) and U.S. Food and Drug Administration (FDA) must adhere to multiple levels of regulations and safety measures while providing transparent and publicly available evidence outlining the findings of research studies that illustrate the vaccine's safety and effectiveness.
"We trust the FDA and CDC to guide us on the authorization or approval and recommendations for the vaccines, such as how to administer them, who is the right target, and other details," said
Jeffrey Kuhlman, M.D., M.P.H., chief quality and safety officer for AdventHealth. "The information available suggests the first set of vaccines available are the safest and most effective in vaccine development history. Unlike measles or historic polio, which were live viruses, the modern vaccines stimulate the body's natural immune system with inactive RNA [ribonucleic acid] mimicking the virus."
After a vaccine has been rigorously approved as safe and effective, a phased rollout commences that helps ensure an equitable prioritization based on the exposure risk and vulnerability of various populations. In the first phase, high-risk health care workers and first responders will have access to the vaccine, helping protect those who have so courageously served on the front lines to care for our communities. From there, the vaccine will become available to those with comorbid and underlying conditions that put them at significantly higher risk, along with older adults living in congregate or overcrowded settings. Phase 2 and subsequent phases prioritize populations based on certain high-risk job functions and living arrangements, along with the remainder of older adults not included in phase 1.
Through unparalleled collaboration between health care, governmental agencies, the business community, and many thousands of Americans who volunteered as study participants, the advent of a COVID-19 vaccine marks a major milestone in humanity's ability to ward off this virus and begin a path to recovery and healing. Where the pandemic goes from here is up to the responsibility of each individual.
Angeline Brauer, health ministries director for the North American Division of Seventh-day Adventists, has shared the Church's view on vaccination. "The Seventh-day Adventist Church strongly encourages that we care for the well-being of individuals in our families, churches, and communities. We have scientific evidence that vaccines have protected the health and safety of individuals and populations, so as a Church we support responsible vaccination. As stated in the guidance regarding immunizations, the worldwide Adventist Church body also supports freedom of conscience and respect for individual choices regarding vaccinations," she said.
The Bible tells us that our bodies are the Lord's temple, and we are tasked at protecting it. It also tells us to love our neighbors as ourselves. During the coronavirus pandemic, both of these responsibilities mean doing all that we can to protect ourselves and others from COVID-19.
AdventHealth | January 2021