by ralph L. ringer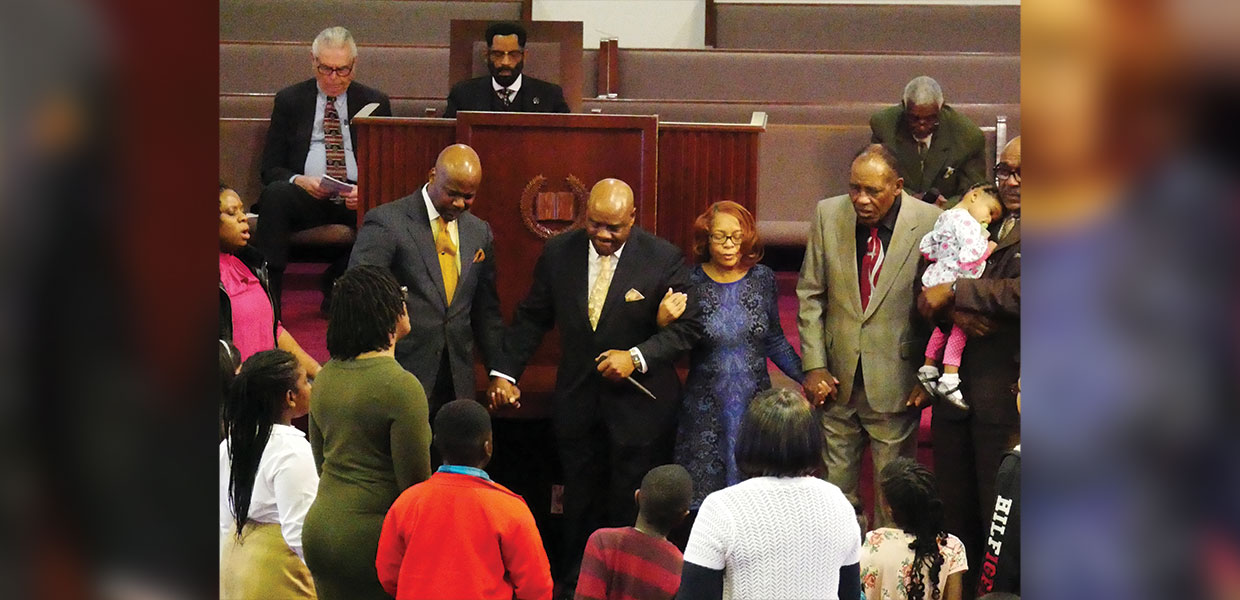 Clifton McMillan Sr. (center), pastor of Maranatha Church in Montgomery, Alabama, prays for the revival for his church and the ReGenerate Conference.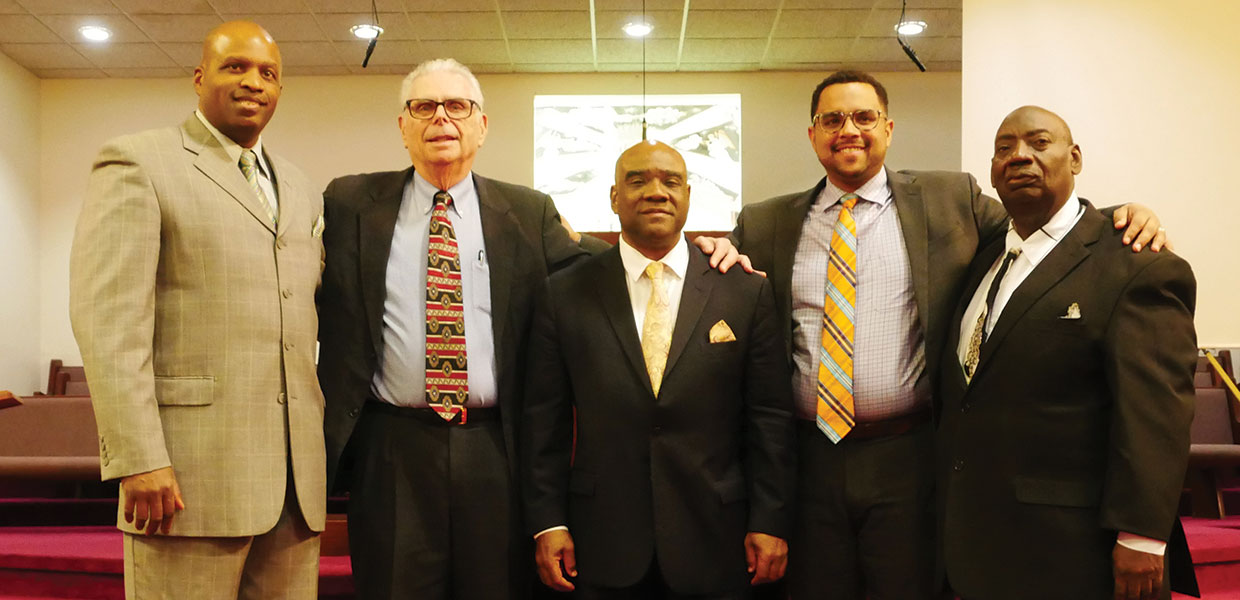 The ReGenerate team includes Olin McGraw (left), Ralph Ringer, Clifton McMillan, John Boston II, and David Fulford, lay pastor at the Camden, Alabama, Church.
Ron Smith, D.Min., Ph.D., president of the Southern Union, was the keynote speaker on Friday, January 24, and presented the Sabbath sermon on the 25th. His message, "From Broken Spirits to Burning Hearts," set the tone for the Maranatha Church in Montgomery, Alabama.
Joe Grider, D.Min., ministerial director for the South Central Conference, was the speaker during Sabbath School. He dealt with relationships in families, churches, and community.
On Sabbath afternoon, John Boston II, evangelist and associate director for evangelism for the North American Division Evangelism Institute at Andrews University, presented "Strengthen What Remains." He led two workshops: "Core Values of the Connected Church" and "The Pastoral Care Plan for Church Revitalization."
Two other presenters offered workshops in the afternoon: Olin McGraw, pastoral associate in ministry at West End Church in Atlanta, Georgia, with "Revitalizing Churches Using Vacation Bible School;" and Clifton McMillan, pastor of the Maranatha Church in Montgomery, and Christ is the Answer Church in Hurtsboro, Alabama, with "Church Healing and Discipleship."
Ralph Ringer closed with "Challenges and Opportunities."
McMillan said, "This Conference is a powerful tool to refocus the Church on its reason for existence. It helped Maranatha and the other churches in the area to receive motivation, encouragement, and concrete tools for the revitalization of a mission-driven focus.
"The presenters brought both strategies and practical experience in evangelism and church growth. The emphasis on prayer and the outpouring of the Holy Spirit in conjunction with a willingness to plan and execute effectively, challenged us all to go.
"This Conference was an explosive testimony of what can be done when the Union, conferences, and churches partner together for a revitalized work. I would recommend this Conference for every region of the Division looking for revitalization and a clear focus to reach a 21st Century world with the timeless Gospel of Jesus Christ."
There are several more ReGenerate Conferences in the Southern Union this year. The next four scheduled:
March 6-7, Macon, Georgia
March 20-21, Hendersonville, North Carolina
April 2-4, Memphis, Tennessee
April 10-12, Ringgold, Georgia
For more details, visit www.regenerateconference.org.

Ralph L. Ringer is the director of church growth, evangelism training, and Jewish ministries at the Southern Union Conference in Peachtree Corners, Georgia, and the director of Jewish ministries for the North American Division in Columbia, Maryland.
Southern Union | March 2020