Amanda blake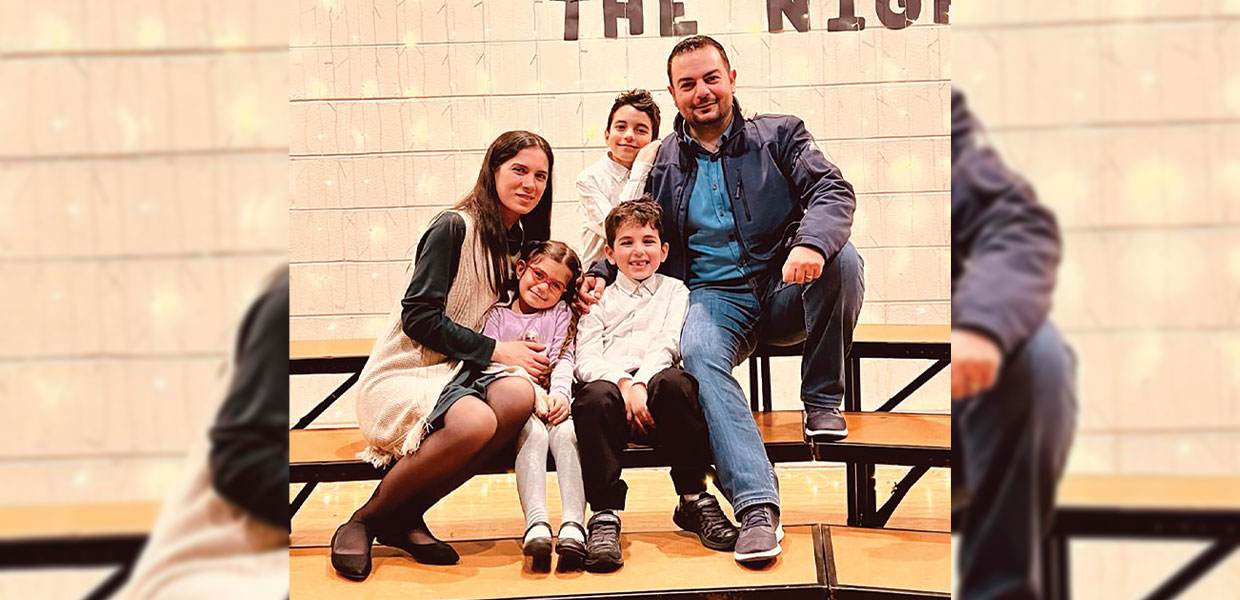 Professor Joelle Akiki (left) and her family felt God's hand in bringing them to serve at Southern Adventist University.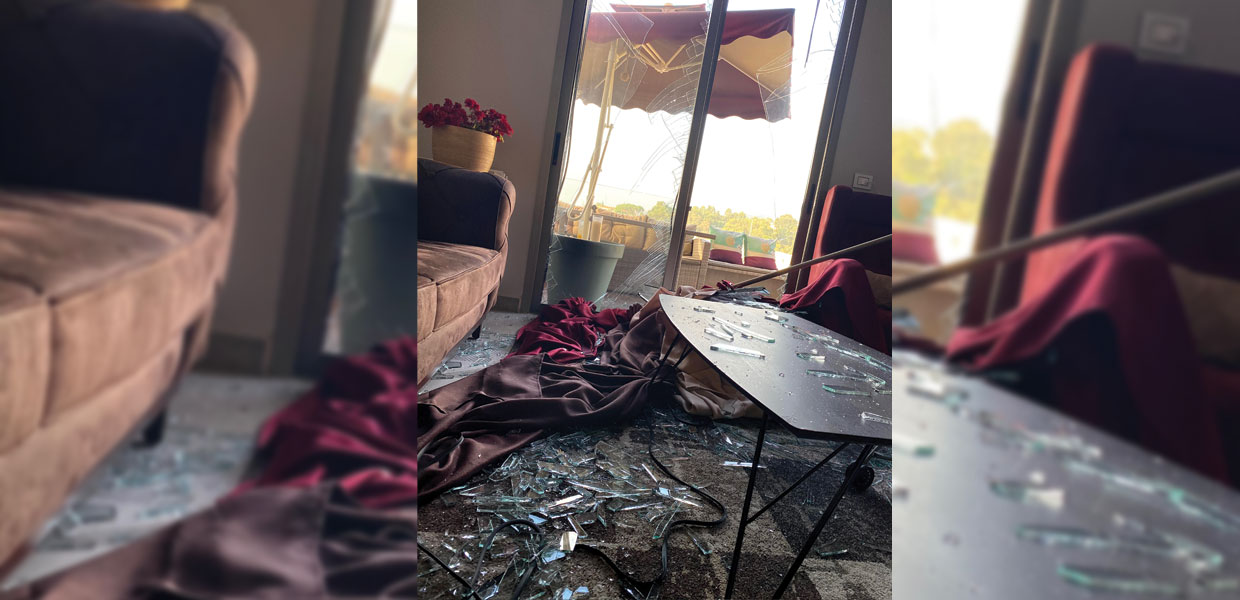 Shards of glass covered Akiki's home in Beirut, Lebanon, following the massive explosion that damaged more than half of the city.
In the flash of an eye, Joelle Akiki watched her 7-year-old son, James, fly backward. Shards of window glass collapsed onto him, rapidly followed by a heavy curtain rod.
More than 200 people died in Beirut, Lebanon, on that day, August 4, 2020, after a massive explosion in the main shipping port damaged more than half of the city, but James was not one of them. Akiki held him in her arms following the blast, repeatedly calling his name, unable to think while crouched within her home, which was damaged beyond repair. As the minutes passed, however, she realized James was all right; he did not have a single scratch. Outside, the country was in turmoil.
"What I saw — you wouldn't believe someone could survive," said Akiki. "James was saved by the angels."
Through no shortage of miracles, Akiki and her family left the Middle East, and she is now serving as a professor in Southern Adventist University's School of Business.
Led to Christ
Akiki grew up in a devout Maronite Catholic home in Lebanon. As a teenager, she aspired to become a heart surgeon, but she knew her family could not afford medical school. Her supervisor recognized this, and during a college orientation, he encouraged Akiki to apply to Middle East University, a nearby Seventh-day Adventist school, where she could pursue business.
She followed his advice and met fellow student Larry Barkanian there. Barkanian encouraged her to learn more about Adventism, and what might have seemed like a gentle nudge to onlookers was a strong knocking on Akiki's heart.
"It was a calling," Akiki described. "I really was lost, and then I was found."
She began studying the Bible. Her parents questioned her decision to embrace Adventism and approached their priests, curious about the strange religion and wondering how they could stop their daughter from straying.
One priest told Akiki's dad, "If this is where she has found herself, you need to let go. You shouldn't stand in her way, because Adventists are very good people. They pray more than we do."
"After that, my dad became more lenient," said Akiki. "It was easier."
Akiki was baptized into the Adventist Church a year later. Her parents declined to attend, but they grew to accept her decision. It helped that they and Akiki's older brothers got along with Barkanian, whom she eventually married.
Life Turned Upside-Down
Akiki and her husband now have three children: 9-year-old James, 6-year-old Peter, and 4-year-old Katelyn. The youngest was only a year old when the blast destroyed their home in Beirut, which shook the family's whole world. When Akiki's mom arrived to pick up her grandchildren following the devastation, it was difficult for Akiki to release them.
"I wouldn't let go of them because I was afraid something else would happen, and they wouldn't be close," she described. "The blast happened at 6:08 p.m. Until 11:30, I couldn't move a finger. I didn't know where to start. Glass was everywhere, and we didn't understand what had really happened. Even today, we know nothing."
The boys talked about the blast every night for months. If a door slammed loudly, they would run for cover. At times, the children were miserable in their neighborhood, where their Muslim neighbors often held celebrations involving fireworks and gunshots.
Akiki and her husband knew they couldn't live in Lebanon anymore. It was too unstable.
"A revolution and the devaluation of the currency led to lots of changes. It's constant disaster after disaster," Akiki described.
In May 2022, Akiki's friend told her about an open teaching position at Southern. She prayed deeply about the opportunity and soon decided that she had to try.
With no expectations, she submitted her application. That same day, she received an email from Stephanie Sheehan, Ph.D., dean of Southern's School of Business, asking to set up an interview. In June, Akiki received the job offer, and the couple immediately began working on travel papers.
"It's hard to get official papers done in Lebanon because riots, the revolution, the pandemic — they caused lots of closures, like at the Ministry of Education," explained Akiki.
The couple struggled in what often felt like a hopeless situation, but God consistently turned the impossible into the possible.
"Things just unfolded in front of our eyes," said Akiki. "We saw miracle after miracle. God overcame."
One day she was discouraged to hear that she couldn't get an interview with the embassy to receive her visa until March 2023, thus preventing her from accepting the job at Southern.
At 8 a.m. the next morning, however, the embassy called her and told her they could shorten the timeframe and interview in October. That was fine, Akiki responded, but then, before hanging up, she told them she'd like to start work in August for the fall 2022 semester instead of waiting until winter. After two very long minutes, the embassy called back and said they'd opened up a spot for her the next morning.
Unknown to Akiki before the interview, the embassy needed almost $12,000 to expedite the family's visa process. The couple was supposed to pay that day, but the cashier was out of the office, giving the family through the weekend to sell some of their belongings and come up with the exact amount needed.
On July 25, the family received their visas. With 14 suitcases and two backpacks, they traveled to the United States on August 1. If they had left one day later, the children's passports would have expired.
The Right Choice
The family arrived in Chattanooga, Tennessee, at midnight, where they were picked up and welcomed by Sheehan with hugs and a basket of goodies in their hotel. The next day, Akiki attended Southern's new employee orientation.
"And ever since then, I've been working," said Akiki, laughing.
With 19 aunts and uncles and more than 50 cousins in Lebanon, it was not easy for Akiki to leave the country. But, now that she is part of Southern, she knows that she and Barkanian made the right choice.
"I am growing professionally, and I am growing spiritually," she said. "I pray for my family more. I meditate more. I have time to think of things other than if there's electricity or enough water or if I can do laundry. We have time to ourselves as a family; this change has been a true blessing."
Akiki loves her students and expressed how the cheerful and giving atmosphere in the School of Business has exceeded her expectations. She is thankful for the students and faculty, who have embraced her amid culture shock and shown her exceptional kindness.
"There are very good people in the School of Business," she said. "If I have a question at any time, I can walk into someone's office, and they're always ready to help. I've made good friends."
Akiki, who holds a master's degree in finance and will soon receive a doctorate in business administration, believes her story makes her a better professor. When her classes discuss the economics of developing countries, her perspective as someone who struggled living in the Middle East is invaluable.
"I'm proud of the stories I have; I've been transformed by them," said Akiki. "I remind students of the things they take for granted, and my story gives me the opportunity to initiate such discussions. I always tell them — and it's become my motto — count your blessings."
Southern Adventist University | March 2023